Elephants are the animal kingdom's gentle giants. Most of the time.
This collection of vintage magazine covers features angry elephants and a little of everything else too. The assorted great white hunters are mandatory, but you also get half a dozen tigers, various natives in deadly peril, including one being thrown at an elephant like a piece of furniture, which we have to say is most uncool, and numerous scantily clad women. We had no idea elephants hated tigers so much. Or maybe the tigers are the haters, and the elephants are merely reacting as anyone would. In any case, there are six tigers mixing it up with nature's gentle giants in this collection and we think they all lose. Consider these covers additions to our two groups of animal attack magazine fronts, which you can visit here and here. We also have a stack of adventure magazines we haven't scanned yet, but we'll get to that in due time. We're traveling tomorrow and the next day. Hope to see you on Thursday.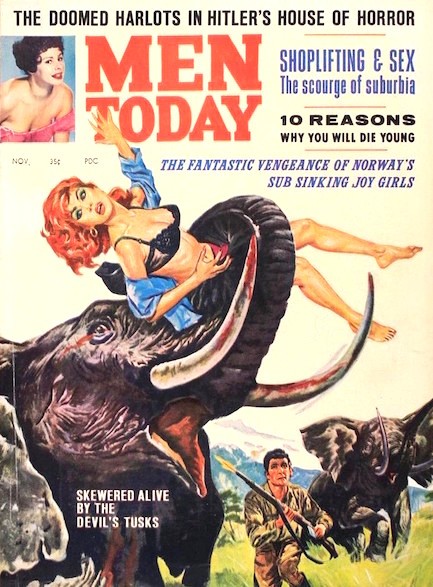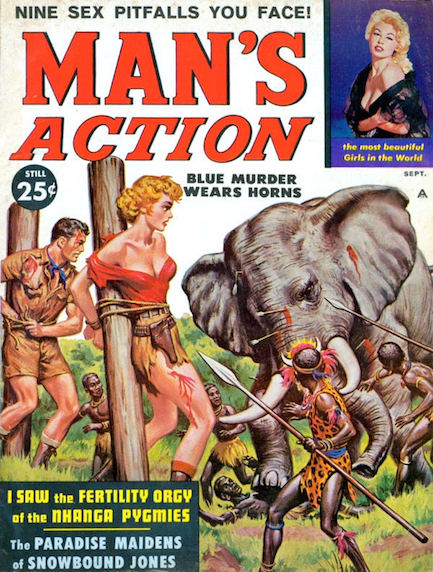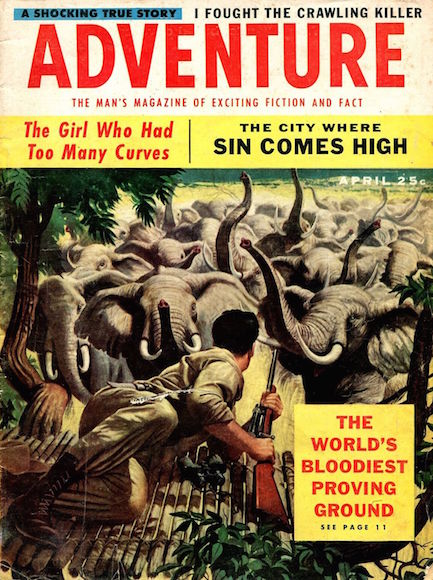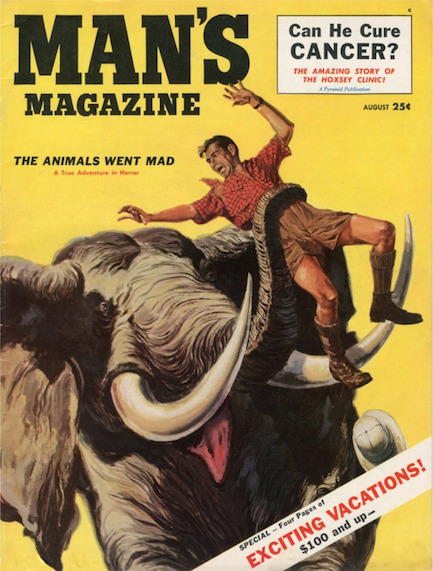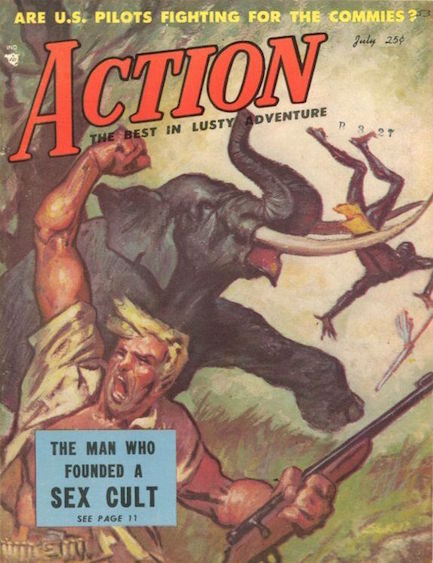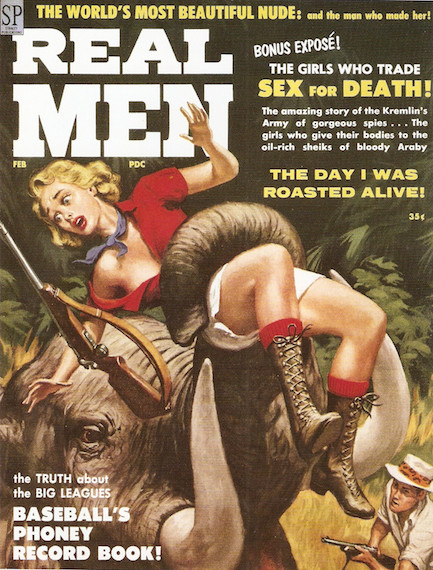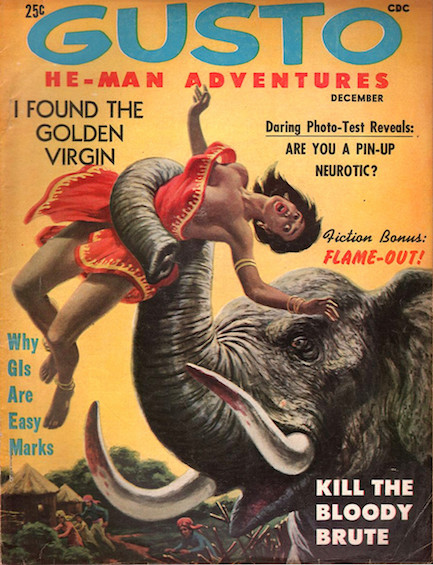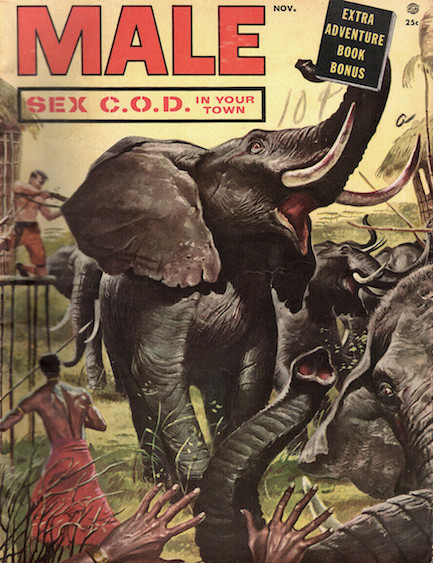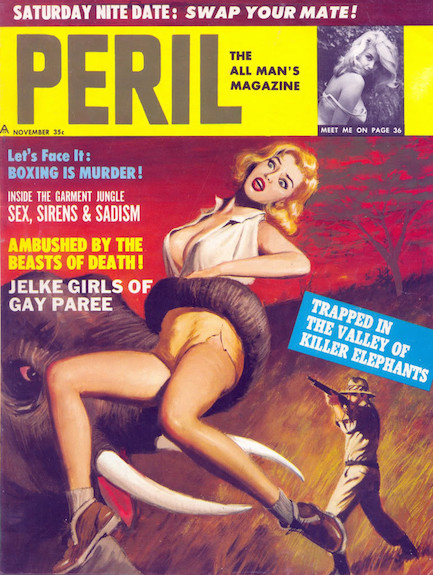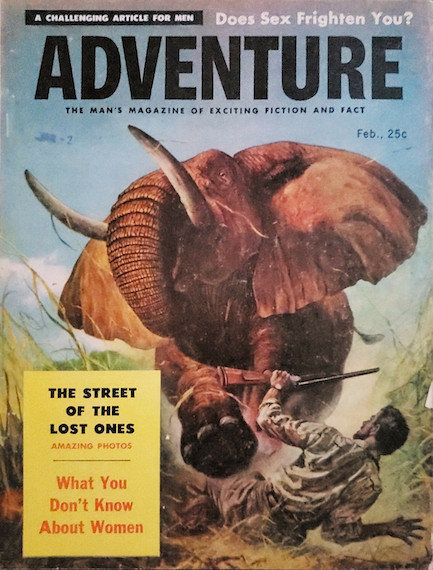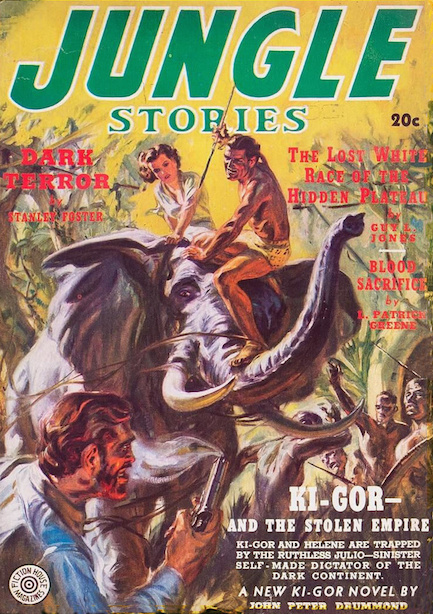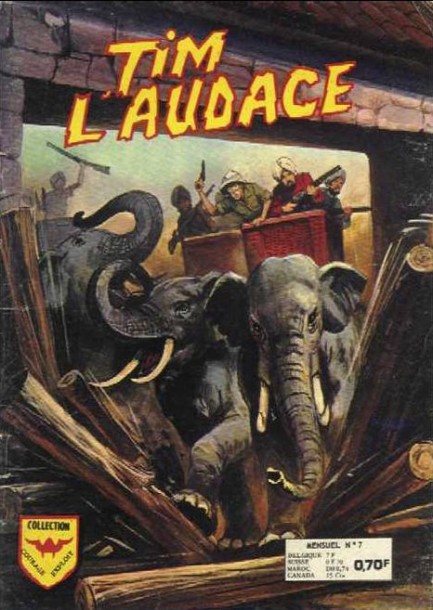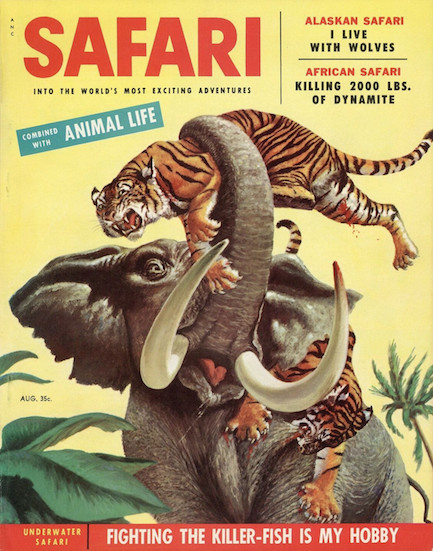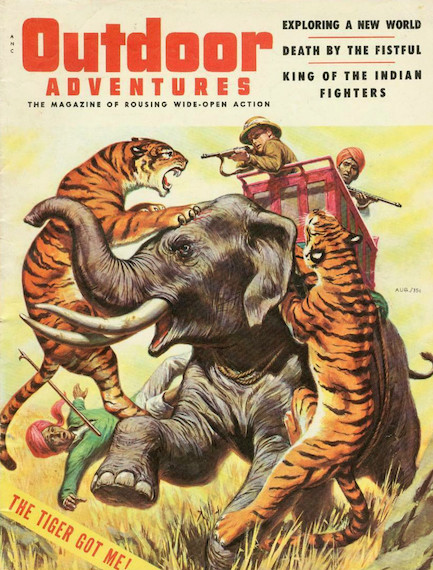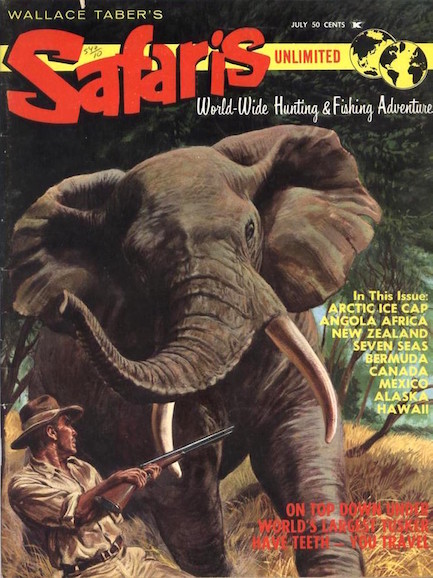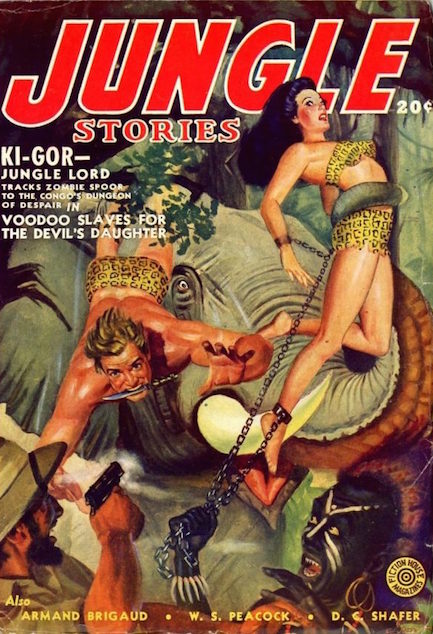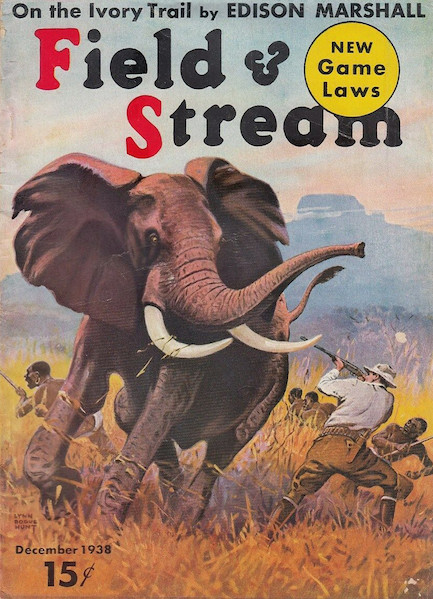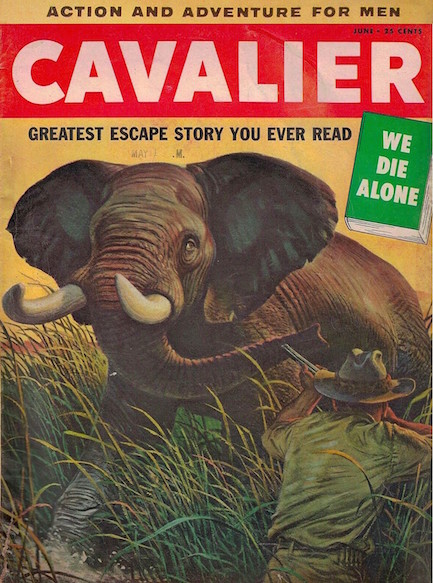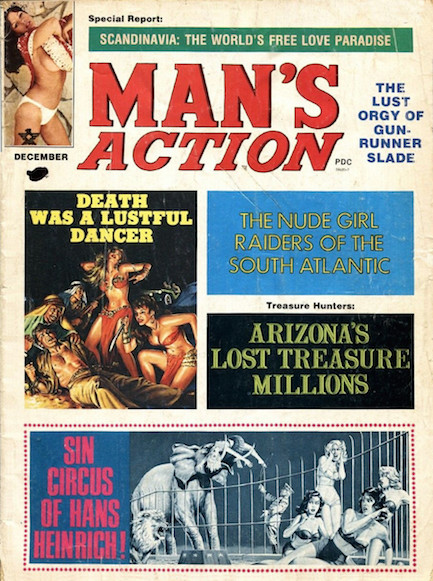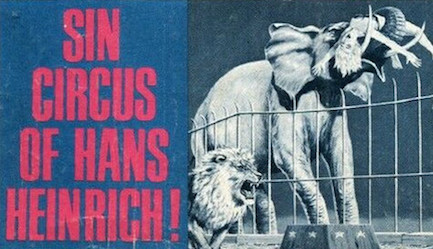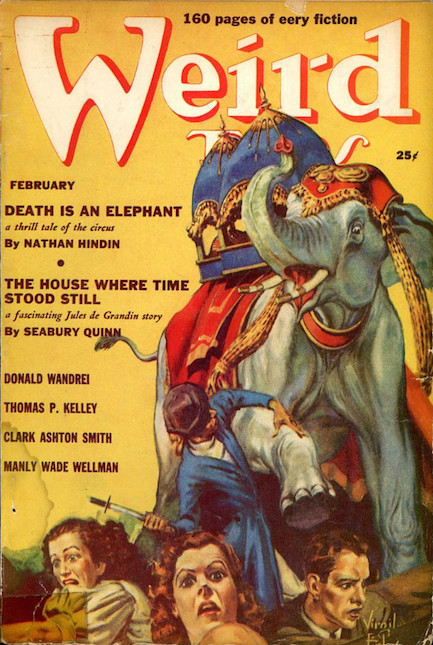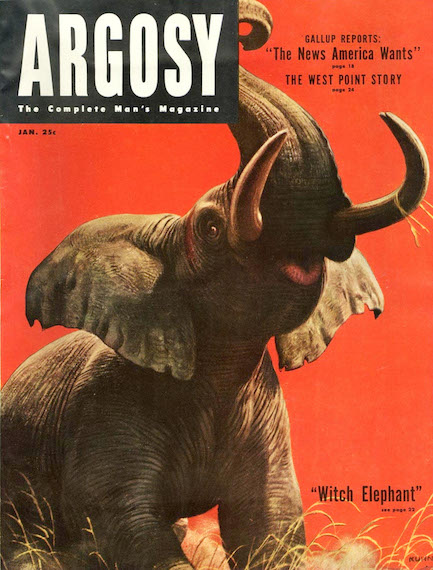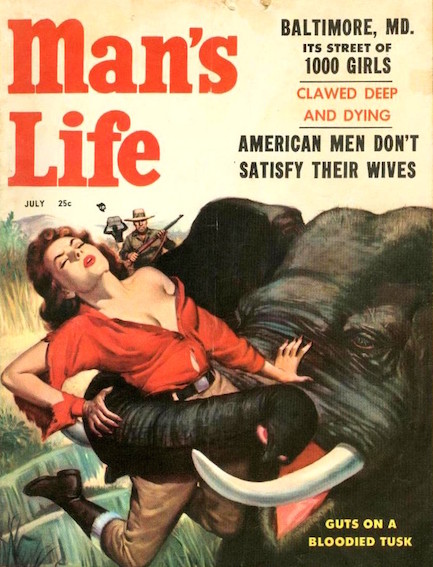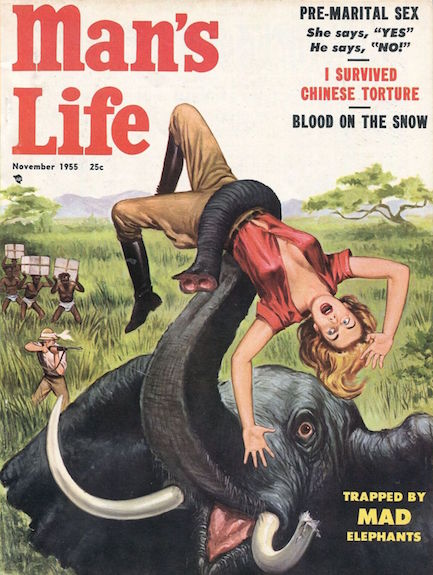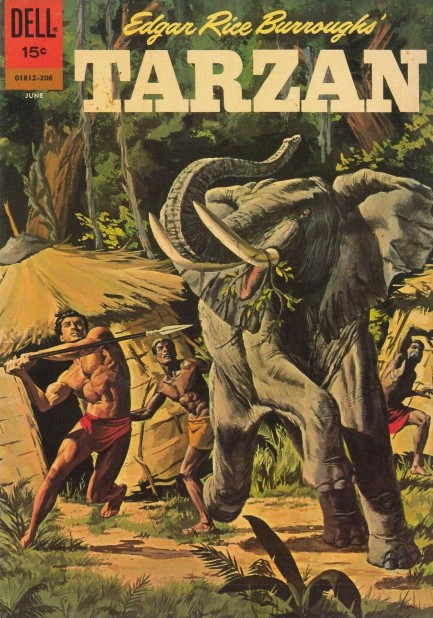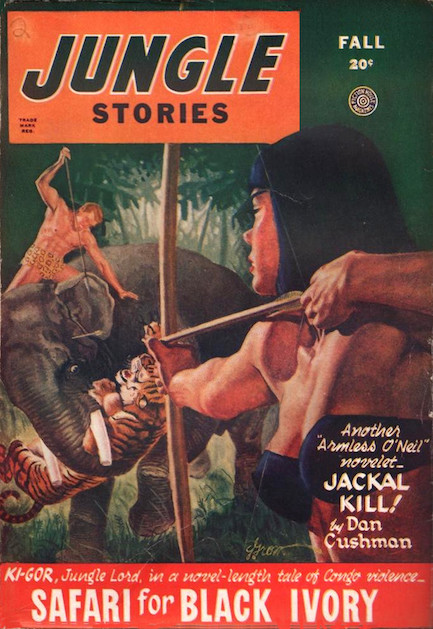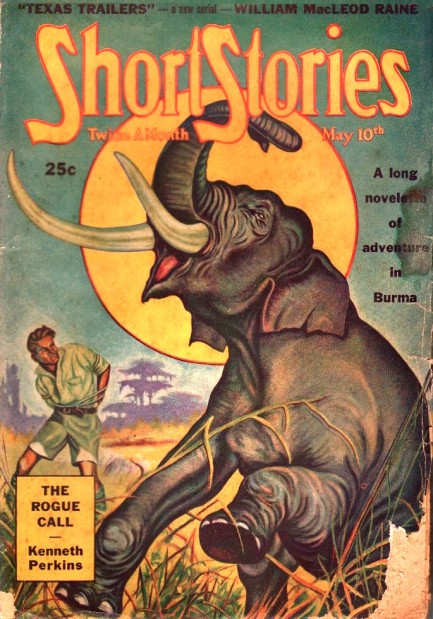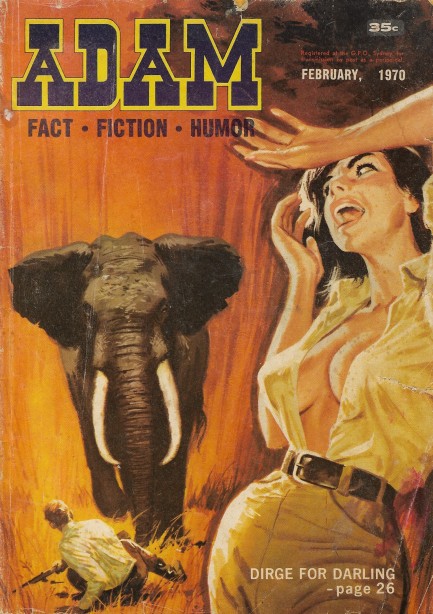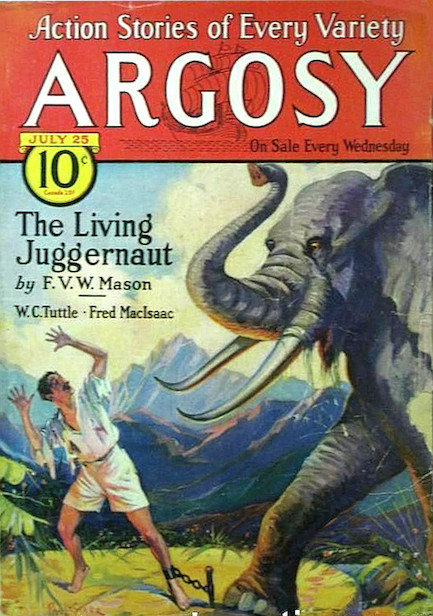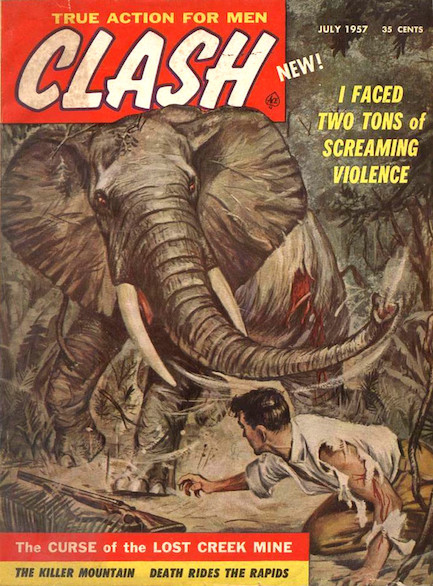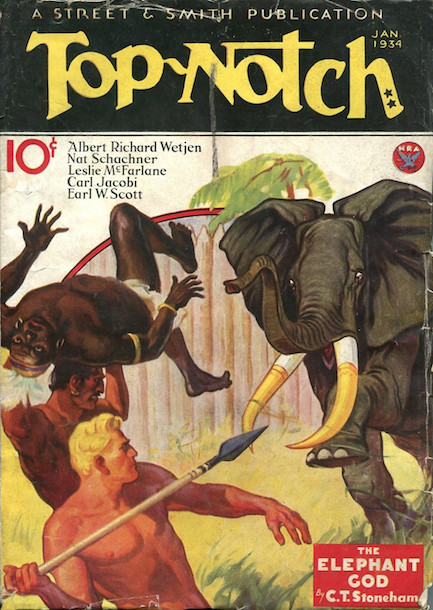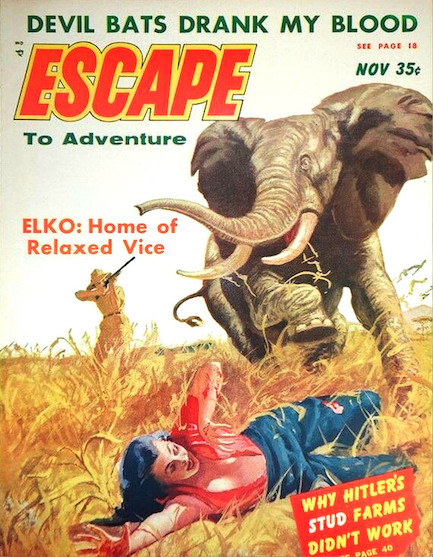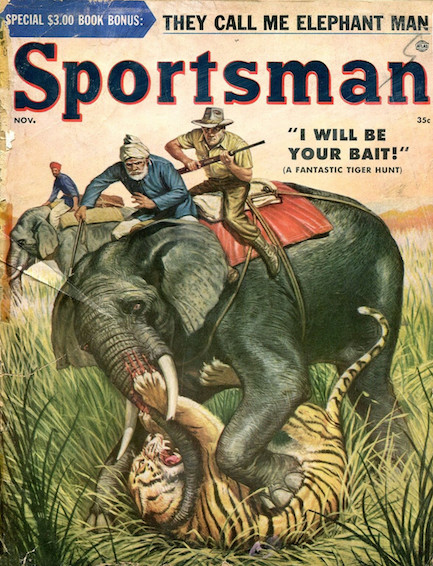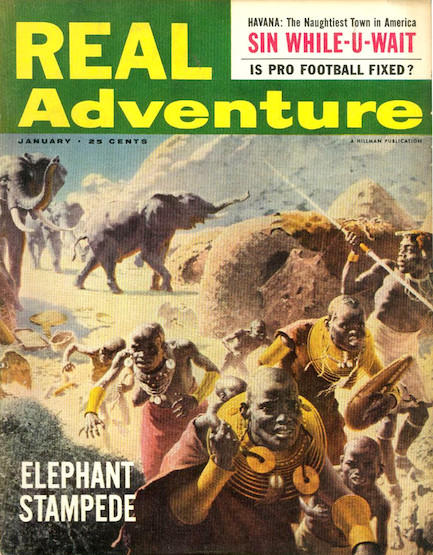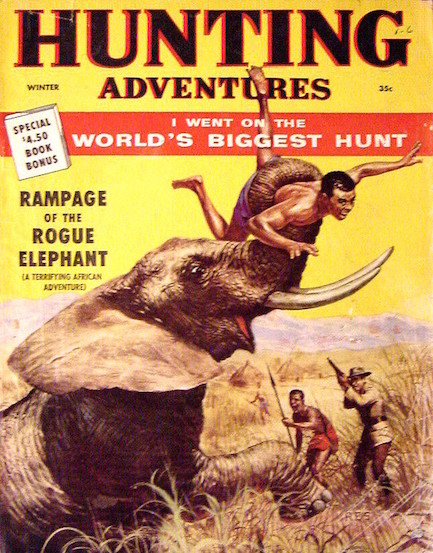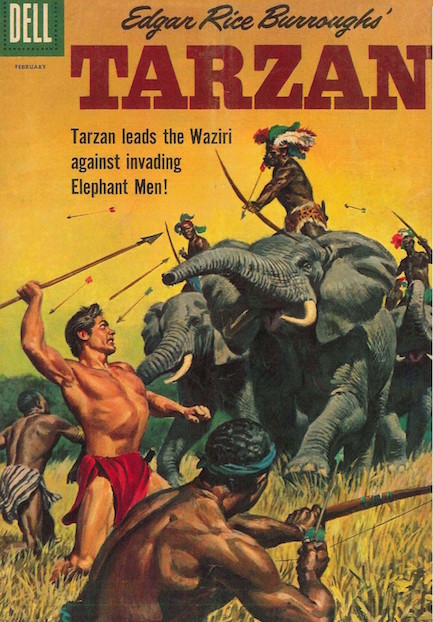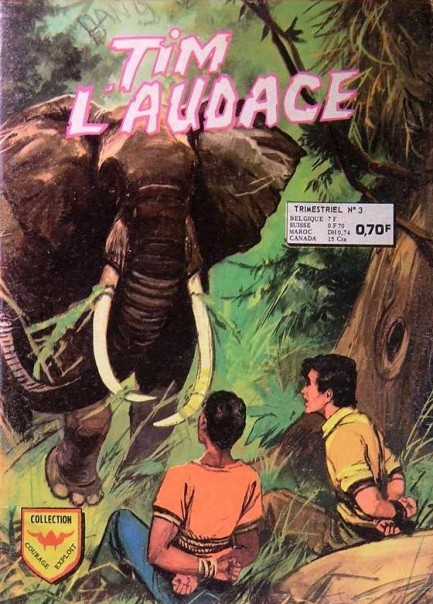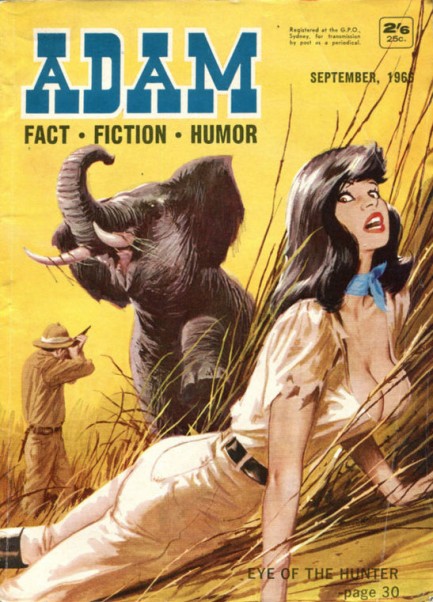 ---
Come on in boys. I've got hot lead sandwiches for everybody.
This November 1958 cover of Man's Life magazine is uncredited in the masthead, but it was painted by Wil Hulsey and illustrates the story "The Girl Who Made War Hell for Gen. Sherman" by Gene Channing. The girl is Maryellen Stone, and she stalls Sherman's advance scouts using bullets, brainpower, and her body. The story is written in a biographical style, but we found no record of such a person. Even if she existed, the tale still falls into a category of fantasy fiction about a mythical non-aggressive South and how its way of life was cruelly obliterated. This narrative is astounding, not only because it overlooks the aggression of forced bondage against millions and how that caused the South to go to war, but also because southern leaders had formulated plans to invade Latin America.
Destabilization operations were staged in Mexico and a war mapping expedition was sent to Brazil. These were mere forays, but high ranking Southerners made their opinions crystal clear in hundreds of speeches and newspaper editorials. Calls to invade Cuba were constant. Influential Mississippi Senator Albert Gallatin Brown wrote in 1858: "I want Cuba, and I know that sooner or later we must have it. If the worm-eaten throne of Spain is willing to give it for a fair equivalent, well— If not, we must take it. I want Tamaulipas, Potosi, and one or two other Mexican States; and I want them all for the same reason—for the planting and spreading of slavery." The imperative to expand was even written into the Confederate Constitution, and Confederate president Jefferson Davis was careful to select only pro-expansionists for his cabinet. We wouldn't call any of that peaceful.
Man's Life throws peace aside as well by going heavy on murder with profiles of Theresa Maguire, Leona Vlught, Thelma Rabail, and other women who died at the hands jealous men—and one jealous woman. The story is titled "Kiss Me or Die" and it comes with some pretty explicit photos. There's a lighter side to the magazine too. "Female Skippers Turn Waterways into New Lovers' Lanes" regales readers with tales of boatborne sexploits on the lakes and coastlines of the U.S. It's amusing stuff, as much of a fantasy as the Civil War story, but with happy endings for everyone involved. Elsewhere in the issue you get more adventure fiction, an extensive photo feature on model Ann Edmondson, and the usual ads and comics. We have several more entries on Man's Life in the website, and you can see two of them here and here.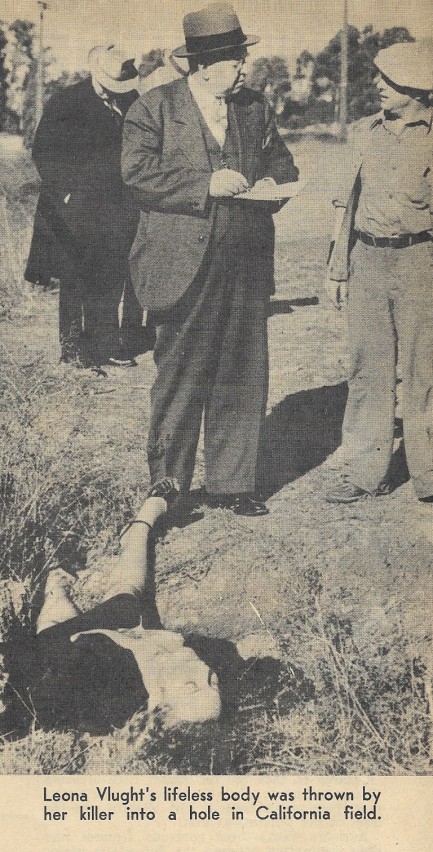 ---
But ask now the beasts, and they shall eat thee.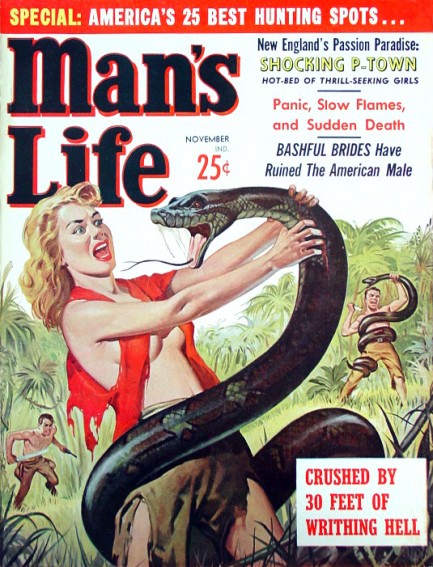 It's been a while since our last collection of animal attack magazine covers, so on this lovely Friday (at least where we are) we thought we'd give nature a chance to express its opinion about humanity. And its opinion is: "I hate all of you. Even the pretty ones." We have eleven more examples of nature's unreasonable stance below, including a great piranha cover that features the one guy who in real life would know better than to be attacked being attacked. Anyway, just to give you an idea how many men's magazines there were, and how pervasive this animal attack theme was, all the publications we've posted are different. There are actually even more, but we couldn't locate good scans of those. Which reminds us to thank the original uploaders on these.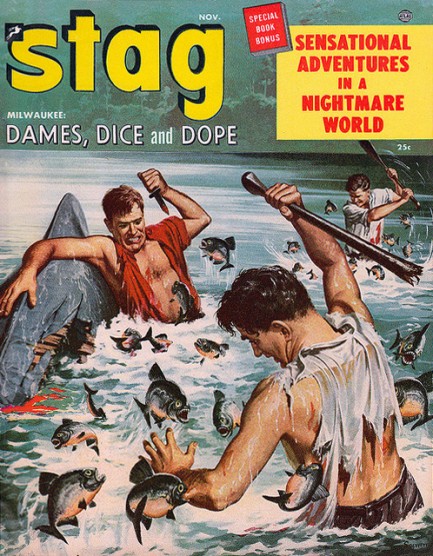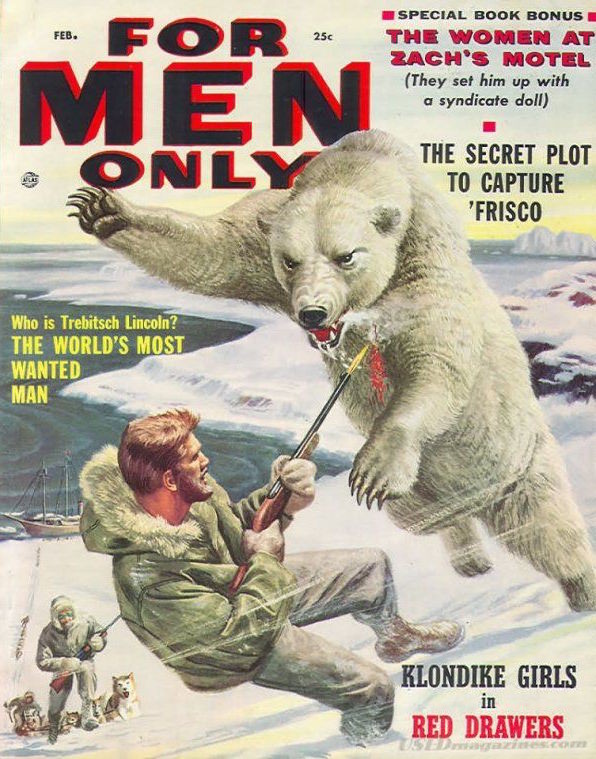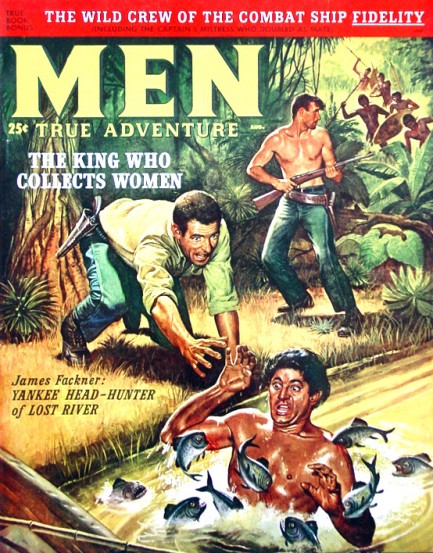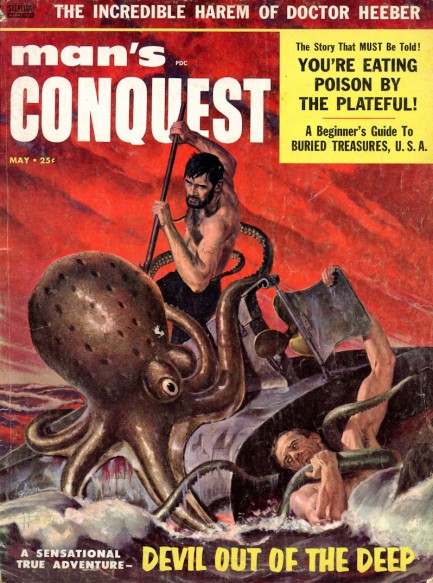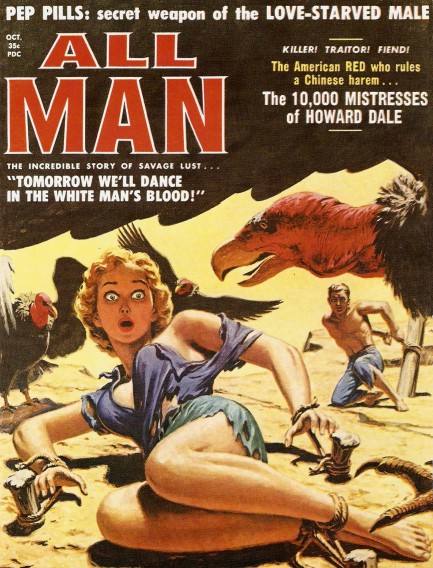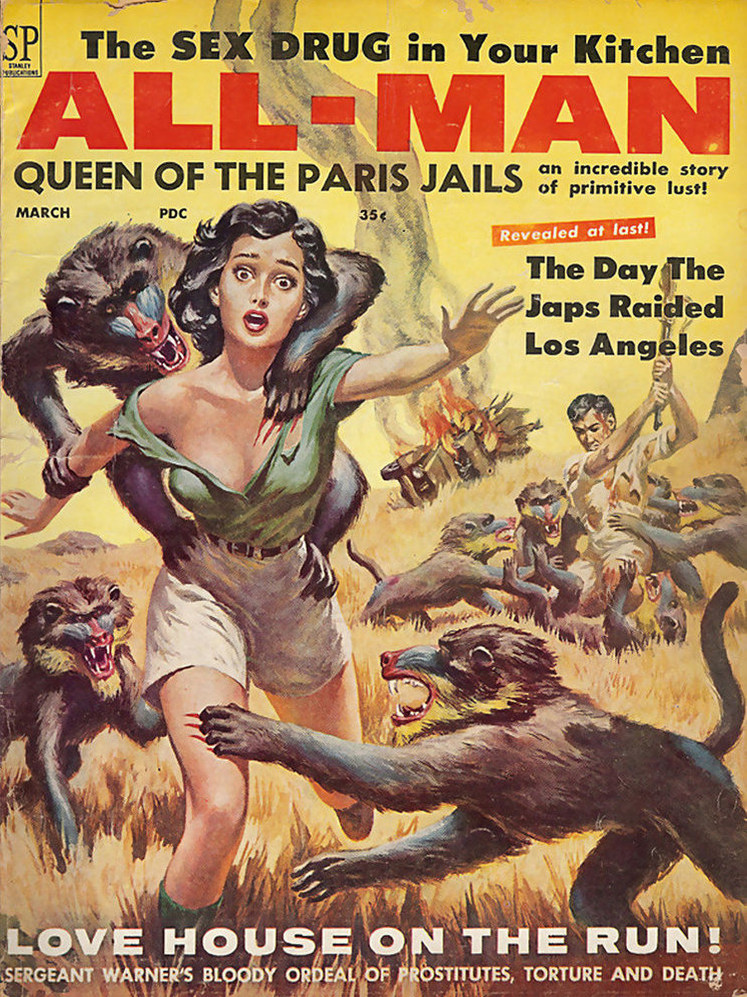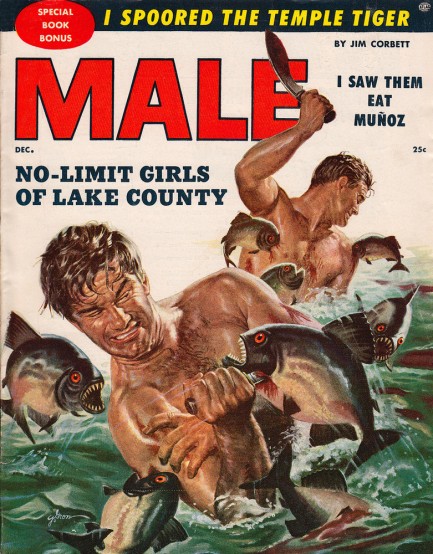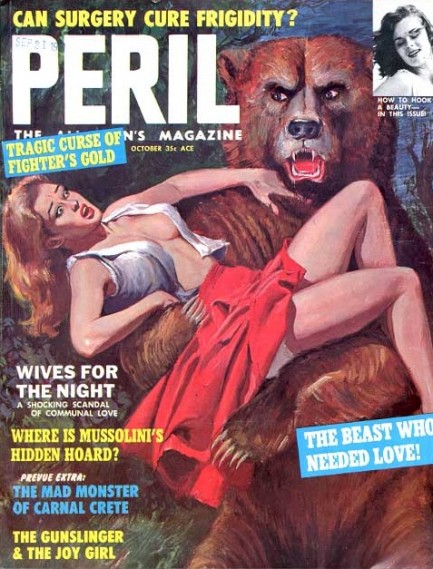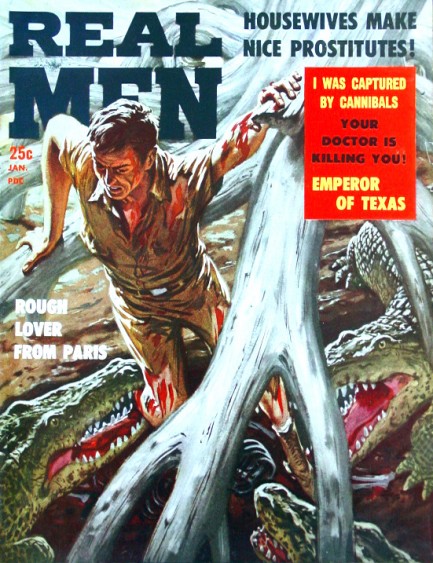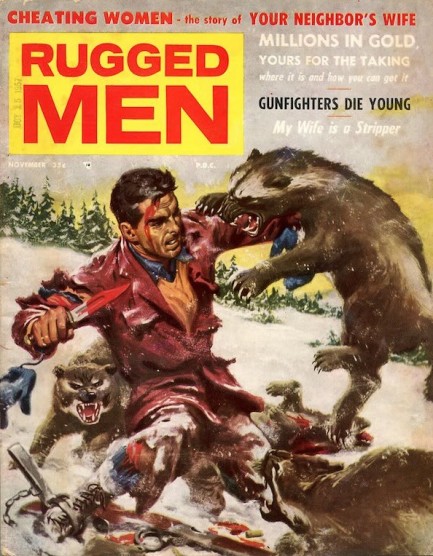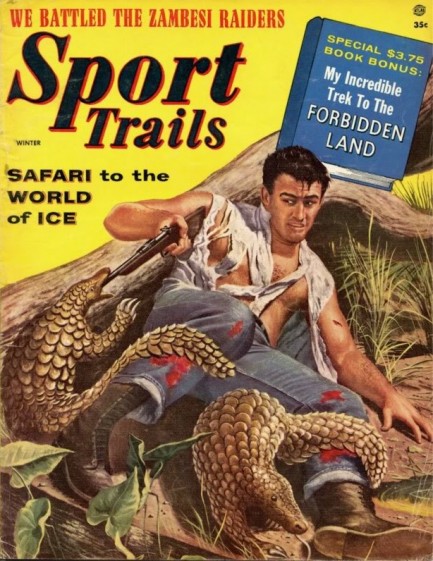 ---