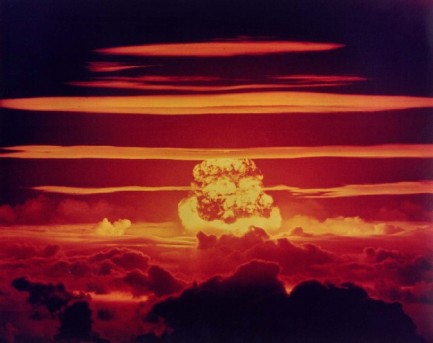 This is one of the more famous images of a nuclear detonation, a shot of the American blast codenamed Dakota, which was part of Operation Redwing, conducted at Bikini Atoll, Marshall Islands, today in 1956. The layered effect you see is sometimes called a Wilson cloud, and consists of water vapor condensed out of the atmosphere by rarefaction, an aftereffect of a shockwave traveling through humid air. In order to perform tests on Bikini Atoll, about 200 Micronesian inhabitants were forced to relocate. They and their descendants hope to return one day, but as of now their home is still too contaminated with radiation.
---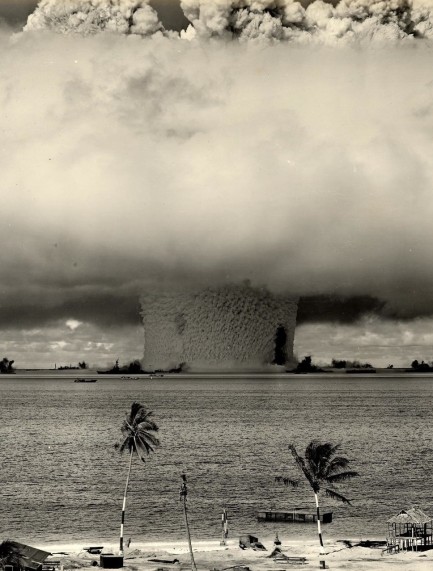 Photo of the American nuclear test Baker, July 23, 1946, part of the series Operation Crossoroads, staged in the Marshall Islands, Micronesia. The test was designed to measure a nuke's effectiveness on naval vessels (as well as about 400 live pigs and goats aboard the ships). Surprise—it was very effective.
---
How to snuff a wild Bikini.
Codenamed Castle Bravo, this is the explosion resulting from the first U.S. test of a dry fuel thermonuclear hydrogen bomb. It happened fifty-five years ago this month, on Bikini Atoll, Marshall Islands, Micronesia.
---