I dyed my hair red months ago, but the old nickname stuck. Folks around these parts ain't fond of change.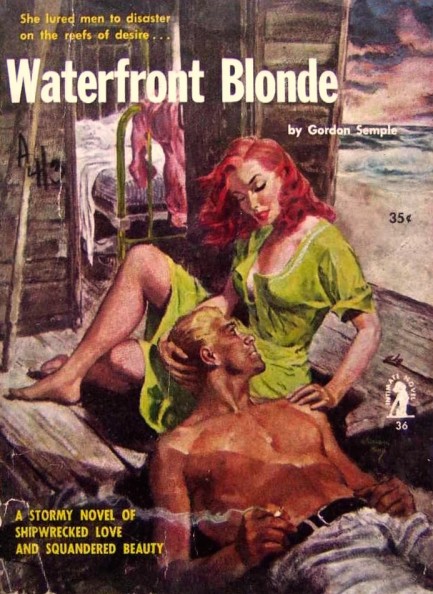 The above cover for Gordon Semple's 1953 novel Waterfront Blonde features Warren King art, possibly repurposed from the front he painted for Forbidden Fruit, below (and previously seen in this post). We say possibly only because we don't know which cover came first. Maybe Forbidden Fruit was repurposed from Waterfront Blonde. Both books are copyrighted 1953. In our non-professional opinions, we think Waterfront Blonde was second. There are several reasons why, any of which could be picked apart by someone with the opposite view. For example, if Waterfront Blonde came first, why not make the female figure's hair blonde? On the other hand, if it came second, that means King changed the hair color of the male figure, but didn't bother doing the same with the woman. Either way it's odd, but the main thing to note here is how the art has been recycled, which occurred often during the mid-century heyday of paperback fiction. We'll surely have more examples down the line.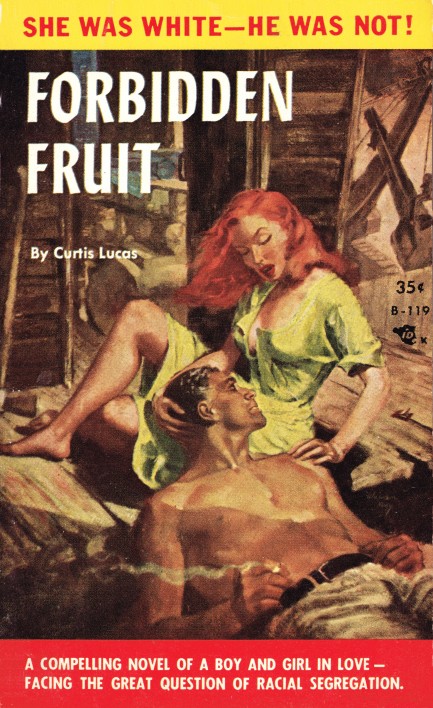 ---
When you girls invited me here I think I heard a word other than "sax."
This amazing cover was painted by Warren King. We'd give just about anything for a lithograph of this. Hot Lips is about an "all-girl" orchestra called the Musical Queens and the things they do when boys aren't around. Which we can understand. Just look at the male figure here, whose name is Pete. What exactly does he bring to this party? A sense of brooding entitlement? A vague homophobic hostility? The latter, for sure, since he lost his wife to another woman and is dismayed to find himself in sexual competition with the band's man-hating sax player. Why does saxy Mona hate men? Because her husband turned out to be a drag queen. But all Pete has to do is wait a bit, because while the wholesome, virginal object of desire in this, Althea, may be tempted by wild musical lesbians, such assignations are never permanent in mid-century genre fiction. It's heteronormativity or death—literally, sometimes. Put Hot Lips in the lesbians-are-bad bin with a pile of other novels from the period. We'll keep an eye out for more cover work from Warren King, because this is just great. It's copyright 1952.
---