Will His Majesty be cleaning the bathroom today? Because His Majesty's wife will not.
We've spent some time in tropic countries, which makes it hard for us to resist books with tropical settings. The above, His Majesty O'Keefe, is amazingly obscure considering it was made into a 1954 film by Warner Bros. starring Burt Lancaster. What you get here is a fictionalized account of actual Irish American roustabout as David Dean O'Keefe, who in 1870 flees a murder charge in Georgia by sailing away to the other side of the world. He ends up on the island of Yap, then part of Spanish East India, today part of Micronesia, and establishes himself as a respected copra trader. Other South Seas books tend toward irony and tragedy, but here O'Keefe achieves amazing success. From Yap he expands his trade to other islands, and becomes known as the King of Yap, the Monarch of Mapia, and the Sovereign of Sonsorol.
In addition, he's an enlightened type. We don't know if that part is true, considering the book was written nearly a lifetime after the real O'Keefe's death, and considering the authors Lawrence Klingman and Gerald Green seem to have a bone to pick with Germans, who are portrayed as racist brutes. We can understand that. It was published only five years after World War II, but weren't all colonials racist brutes? We suspect O'Keefe is portrayed better than he really was in order to create contrast with the hated Germans. The real O'Keefe ran Confederate cargos through Union naval blockades during the U.S. Civil War, so how enlightened could he have been? But it's possible he was opportunistic more than he was political. Or the blockade busting could have been pure fabrication. O'Keefe said so when investigated in 1867, but then what would he say?
But whatever—we're talking about the book, and we'll take the respectful and equality-minded character here over the bigoted heroes that tend to dominate novels set around this period. We're still reeling over Slave Ship. We won't go into how Klingman and Green conclude their story. We'll just say the result is pretty entertaining. We suspect the movie version is g-rated by comparison, and for sure it will be a whitewash historically, but we're going to look for it and have a watch. It has Lancaster, after all, and he's one of the reliable indicators of quality in vintage cinema—he's no Bogart or Cary Grant, mind you, but his movies tend to be good. We'll report back. His Majesty O'Keefe was originally published in 1950, and this Universal Giant edition came in 1952 with cover art by Warren King.
---
I dyed my hair red months ago, but the old nickname stuck. Folks around these parts ain't fond of change.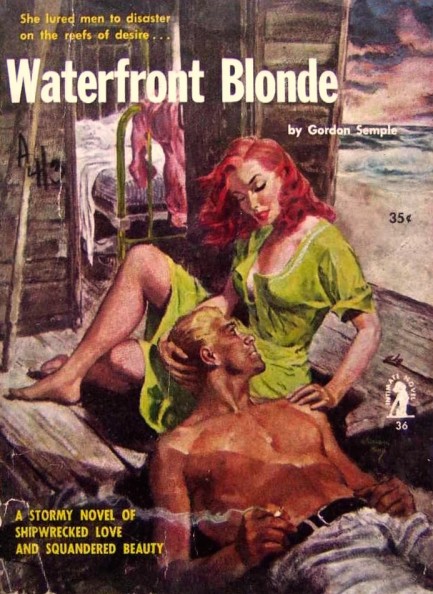 The above cover for Gordon Semple's 1953 novel Waterfront Blonde features Warren King art, possibly repurposed from the front he painted for Forbidden Fruit, below (and previously seen in this post). We say possibly only because we don't know which cover came first. Maybe Forbidden Fruit was repurposed from Waterfront Blonde. Both books are copyrighted 1953. In our non-professional opinions, we think Waterfront Blonde was second. There are several reasons why, any of which could be picked apart by someone with the opposite view. For example, if Waterfront Blonde came first, why not make the female figure's hair blonde? On the other hand, if it came second, that means King changed the hair color of the male figure, but didn't bother doing the same with the woman. Either way it's odd, but the main thing to note here is how the art has been recycled, which occurred often during the mid-century heyday of paperback fiction. We'll surely have more examples down the line.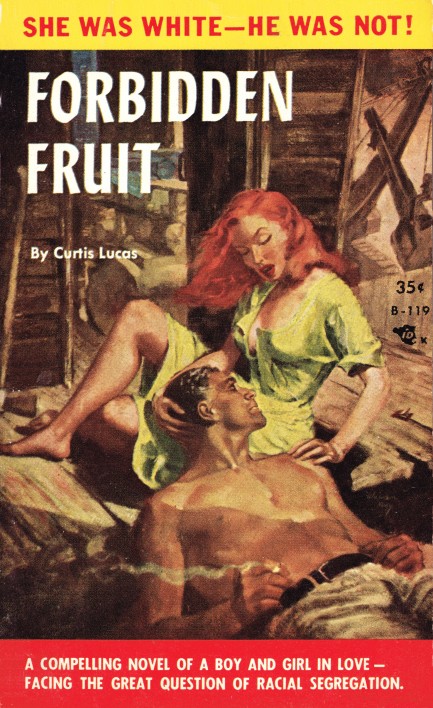 ---
When you girls invited me here I think I heard a word other than "sax."
This amazing cover was painted by Warren King. We'd give just about anything for a lithograph of this. Hot Lips is about an "all-girl" orchestra called the Musical Queens and the things they do when boys aren't around. Which we can understand. Just look at the male figure here, whose name is Pete. What exactly does he bring to this party? A sense of brooding entitlement? A vague homophobic hostility? The latter, for sure, since he lost his wife to another woman and is dismayed to find himself in sexual competition with the band's man-hating sax player. Why does saxy Mona hate men? Because her husband turned out to be a drag queen. But all Pete has to do is wait a bit, because while the wholesome, virginal object of desire in this, Althea, may be tempted by wild musical lesbians, such assignations are never permanent in mid-century genre fiction. It's heteronormativity or death—literally, sometimes. Put Hot Lips in the lesbians-are-bad bin with a pile of other novels from the period. We'll keep an eye out for more cover work from Warren King, because this is just great. It's copyright 1952.
---