If this is your idea of a romantic meeting place I don't think things will work out between us.
There isn't much online about the Japanese drama Kiri aru jyoji and we aren't going to be able to add much more. Well, except for this incredible promo poster, which we're sure has never appeared on any website before. So that's something at least. The movie premiered in 1959, came from Tokyo's venerable movie studio Shochiku Company Limited, and was directed by Minoru Shibuya. It starred Mariko Okada, a leading figure of the Japanese New Wave and one of the great stars of her era (and this era, actually, as she's still working steadily). Hopefully one day we'll track down this movie. For now—only the poster.


---
Sounds good except for the dying young part.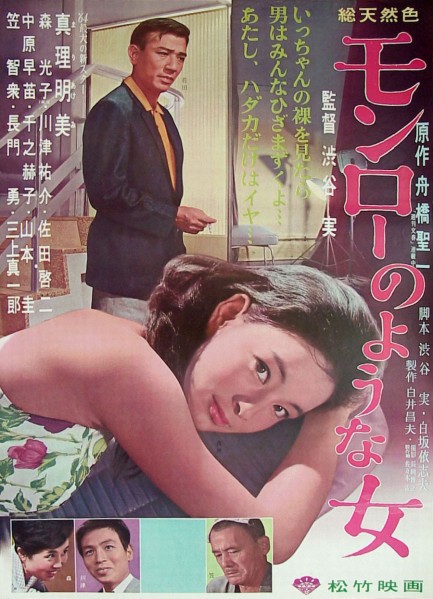 Above is a rather nice poster for the Japanese comedy Monro no youna onna, aka A Woman Like Monroe, which was released in 1964. It was adapted from Funahashi Seiichi's novel of the same name, directed by Minoru Shibuya, and starred Akemi Mari, Keiji Sada, and Chishû Ryû. We haven't seen the film, but we gather it's about a young woman who decides to become a model and deals with various conflicts related to that, including the pressure of whether to pose nude. Not much info, we know, but that's all we got. We will say, though, that the movie is yet another indication of Marilyn Monroe's unparalleled global fame. We often hear how popular she was, and the confirmation is everywhere in the form of her films, interviews, biographies, and thousands upon thousands of photos, yet we're still capable of being surprised that her name was borrowed for the title of a Japanese novel, and subsequently a movie. And speaking of titles, while poking around online we found a frame of the film's unusual main title sequence. See below. In the meantime we'll try to locate a copy of Monro no youna onna and get back to you on it.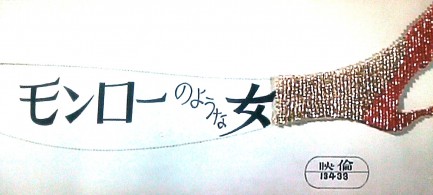 ---