Photographer fatally shot by movie star while staging publicity photo.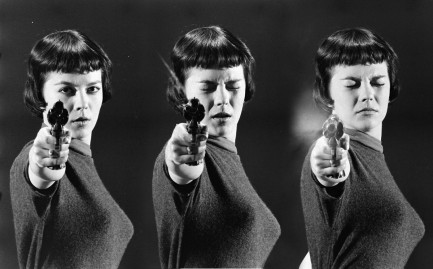 This unusual triptych shows actress Natalia Nikolaevna Zakharenko, better known as Natalie Wood, not watching as she fires off a round. You'll see these photos described simply as Wood shooting a pistol, as if she used a real gun, but we doubt it's real. We don't think the photographer Ralph Crane would have risked having her fire a real gun anywhere in the direction of either himself or an expensive remote operated camera—especially considering the shaky aim involved.
Wood is almost certainly using a Hollywood prop pistol designed to shoot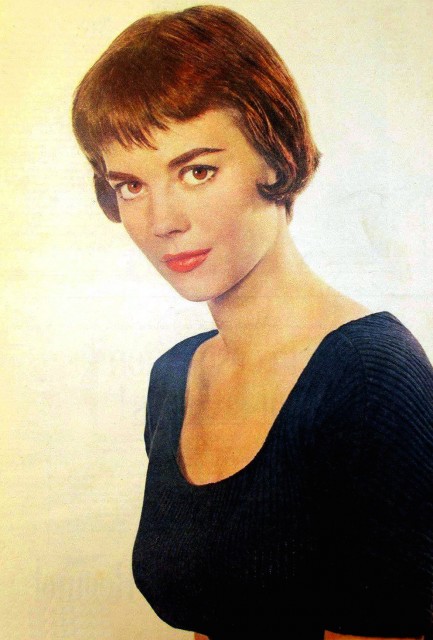 blanks. Crane probably set up about thirty feet away, where he'd be at no risk from superheated gases, blank cartridge debris, etc. On the other hand, maybe the bullet was real—because you never know what sort of crazy shit
someone
will do with a gun.
Second matter that needs clearing up—some websites say this isn't Natalie Wood. They're wrong. She was eighteen when the photos were made, and was already a big star thanks to 1955's Rebel without a Cause. We mention the film only because Wood's fame means there were hundreds of photos of her from the period, and we've uploaded a nice color one here as well. There's zero doubt. Same eyes. Same haircut. Same mouth. Natalie Wood.
The shooting photos first appeared in Life magazine, and both those and the color image are from 1956. As we've noted in the past, sometimes the narrow column width on Pulp Intl. means images are smaller than we'd like them to be, so we took the liberty of rearranging the black and whites vertically in order to offer a better look at them, and you see the result below. Interested in seeing more rare Wood images? Look here, here, and here.

---
Rare Russian tree takes root in Tinseltown.

You may not recognize her because the old Yugoslav magazine Filmski Svet, aka Film World was a little heavy handed with the retouching, but the crimson clad figure below is Natalia Nikolaevna Zakharenko. You're thinking, "Nata Zaka who?" Well, maybe you know her better as Natalie Wood, the great American actress of Russian descent who was born in California. Filmski Svet has made her into a mannequin, but we still find this a striking cover. It appeared in September 1964.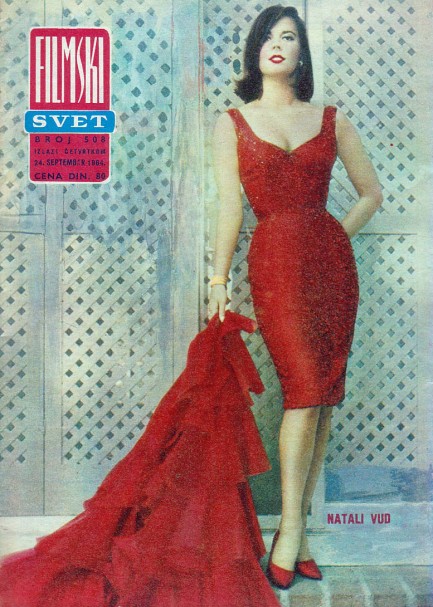 ---