And now an important message from the underbelly of American publishing.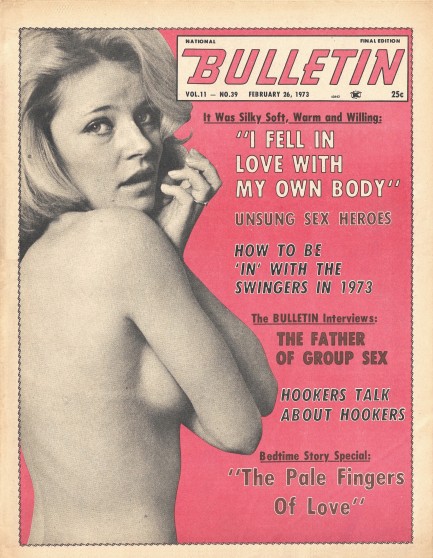 And the message is: sex sells. It's been several years since we delved into an issue of National Bulletin. It was the brainchild of New Rochelle, New York based Beta Publications, which was also behind Spotlite Extra and Close-Up Extra. All Beta's tabloids were about nudity, and this issue, published today in 1973, continues the trend. Bulletin editors used handout photos to build the issue. Handouts were, we've mentioned before, photos sent around to magazines for purposes ranging from promoting movies to generating exposure for unknown models. Of course, the process works properly only if the photos are credited, and few in this Bulletin are, not even the cover model. One face is recognizable to us, though—actress and sex symbol Nadia Cassini, whose image is used to illustrate a feature called "You Name It...We've Done It," about two women experimenting with some juicy nouvelle cuisine.
Handout photos were never meant to be used without credit, but back then it wasn't possible for publicists to know what happened to all the shots they sent out. Generally they asked magazines to send clippings back to the agency, and those mailings were then compiled into folders that publicists shared with clients to prove the efficacy of their work. But if a tabloid like Bulletin simply never mailed any clippings, publicists never knew their clients' photos had been used. A good thing, because we have a feeling Cassini wouldn't have wanted to be described as "inching her tongue between the lips of [a woman's] vee." Although, personally, we can't think of a better usage of spare time. In any case, a lot of women were borrowed to create this nudity packed issue of National Bulletin, and we doubt any of them were properly credited. Twenty-plus scans below.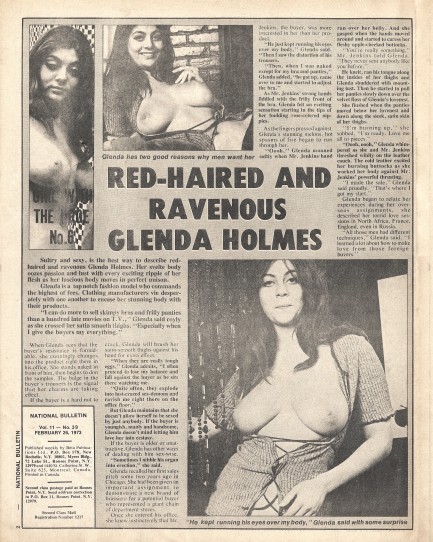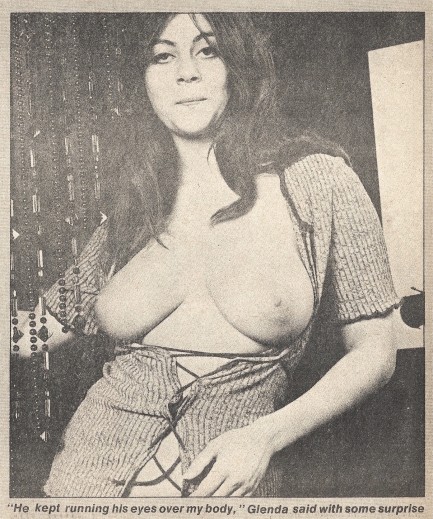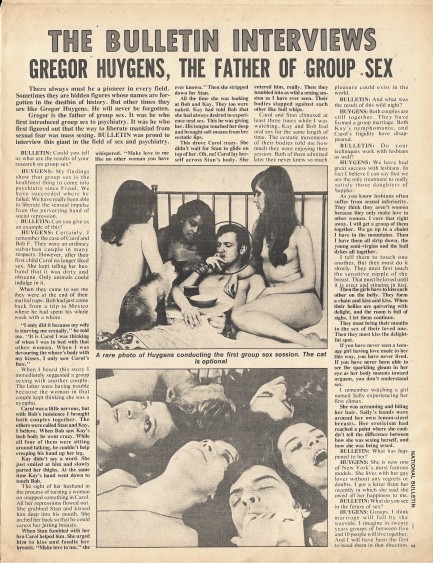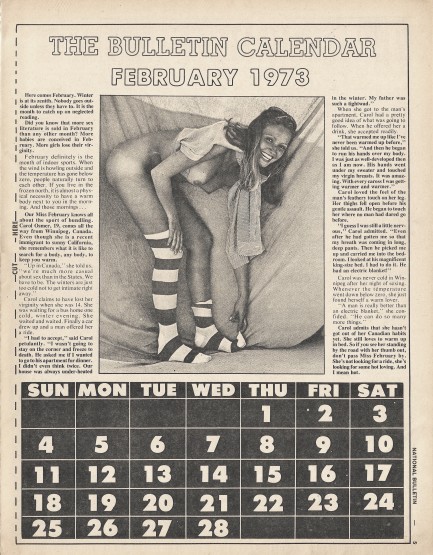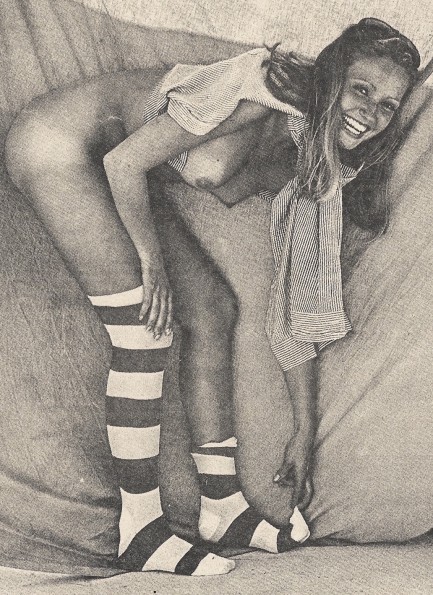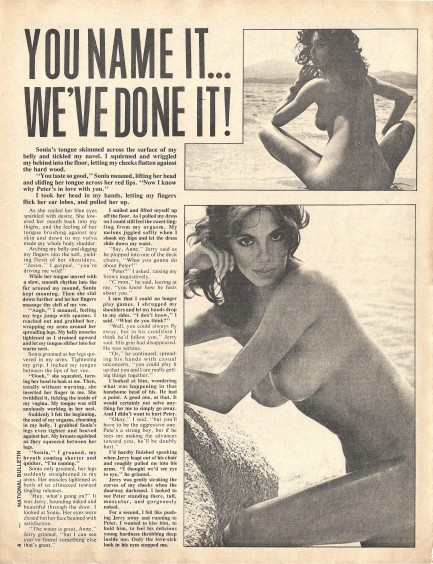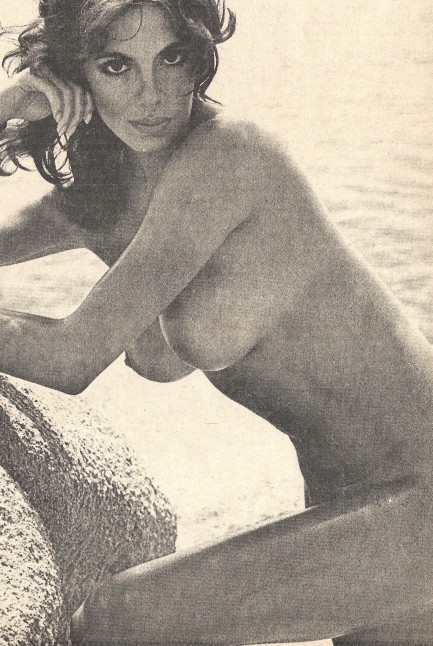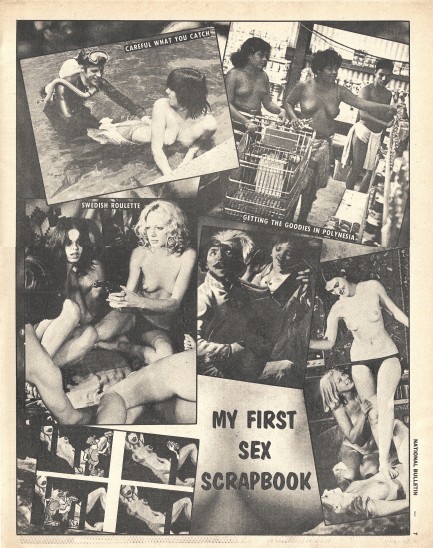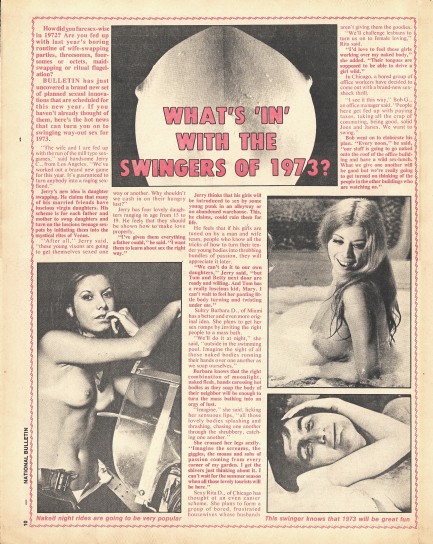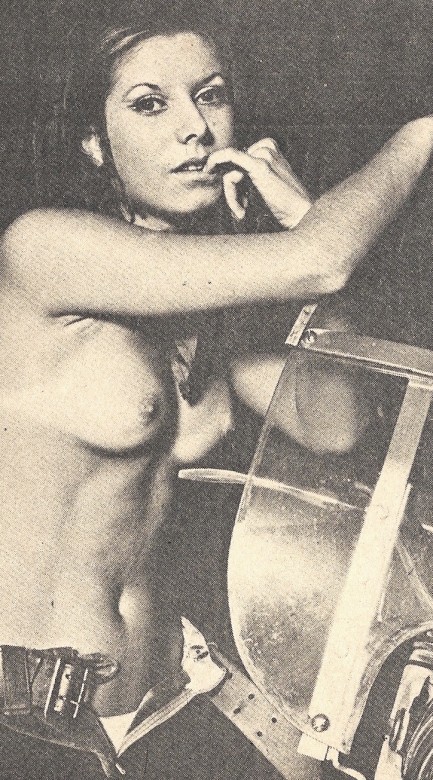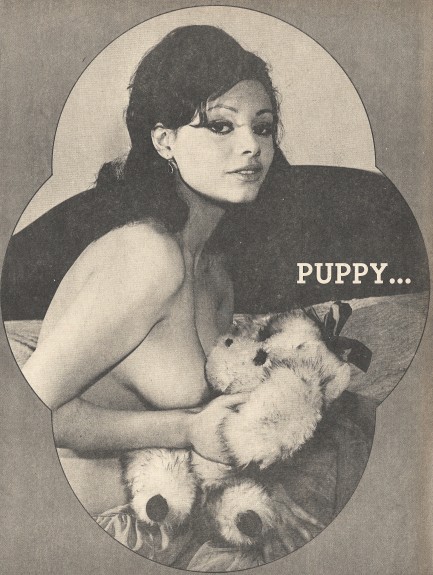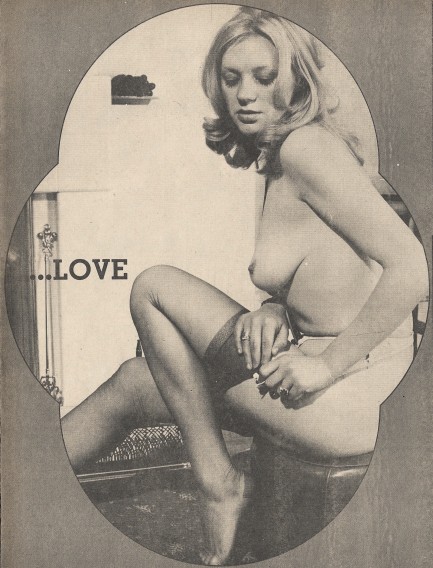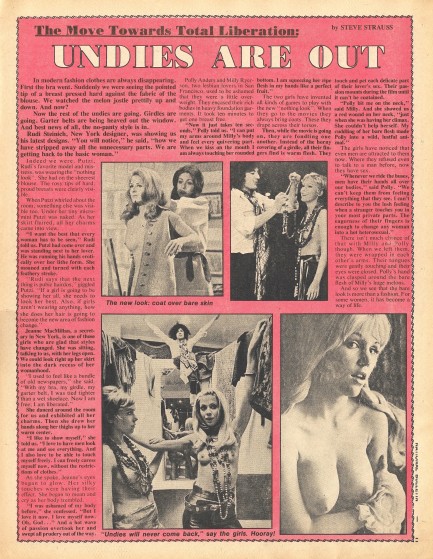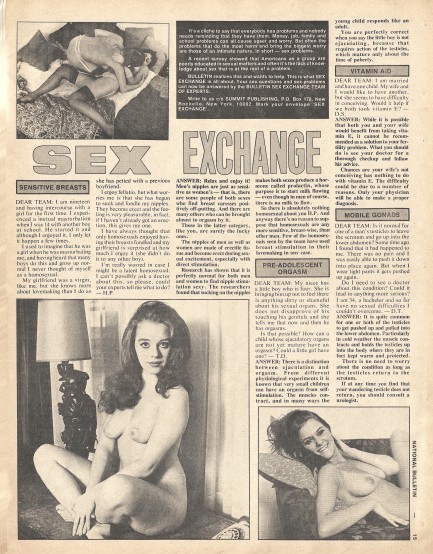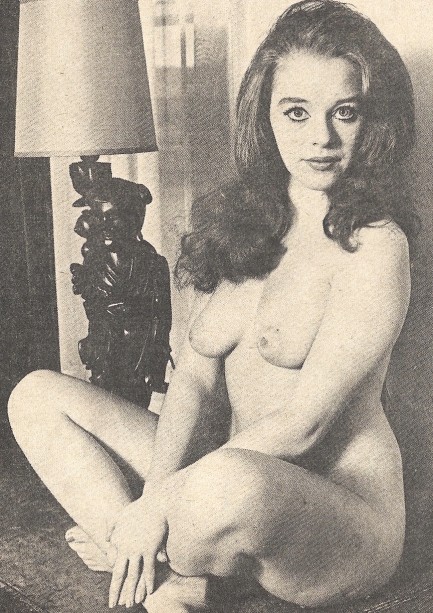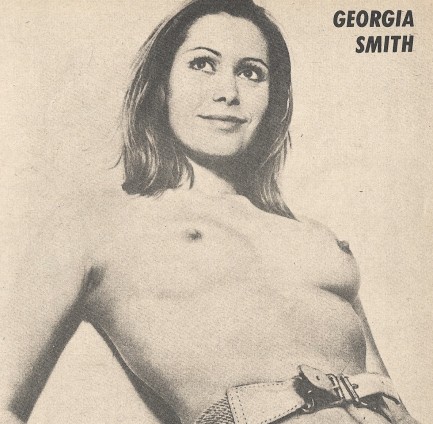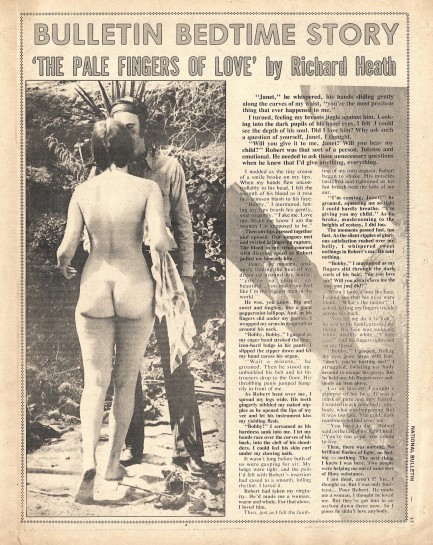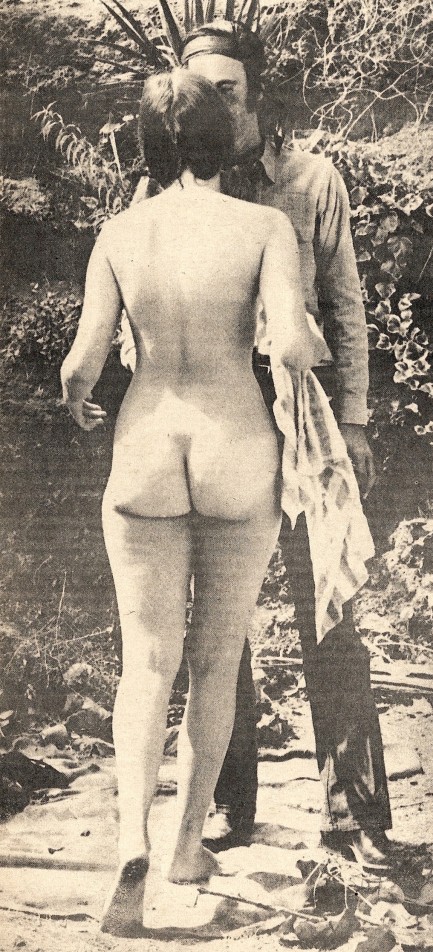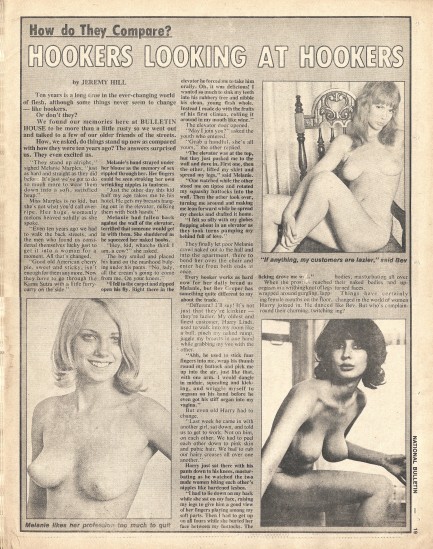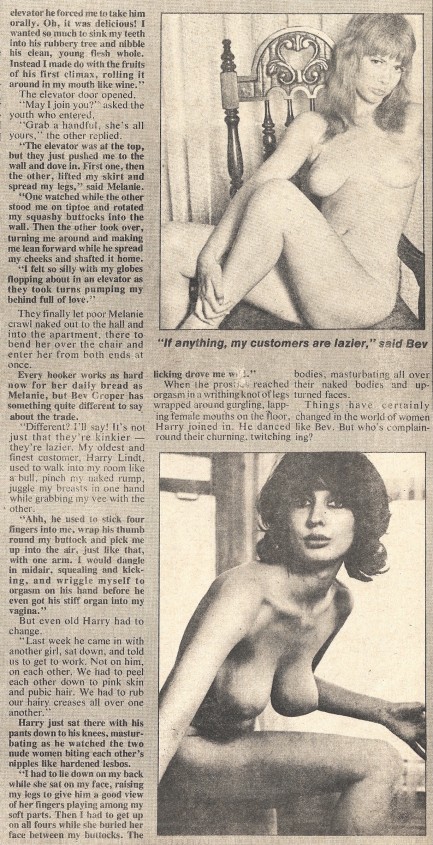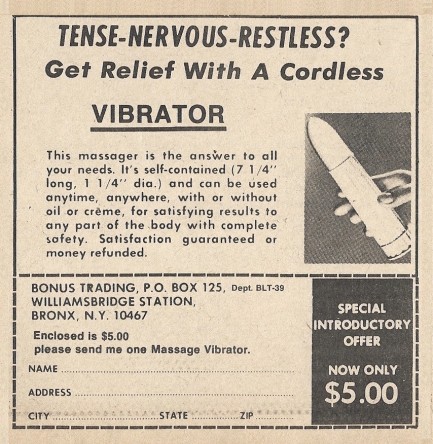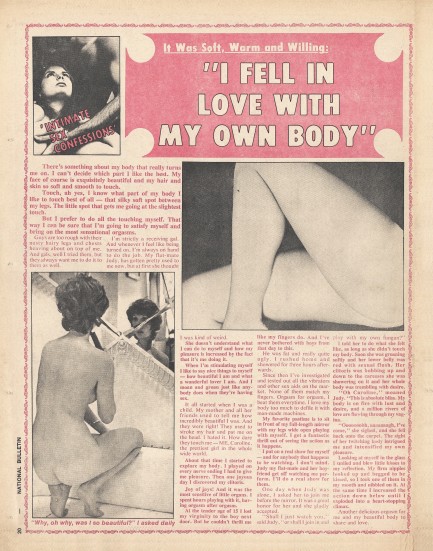 ---
Spotlite Extra promises to make your life more sexciting.
No, you're not seeing double. Yesterday's tabloid was Close-Up Extra; today's is Spotlite Extra. Both were published in July 1973, and both were the product of Beta Publications of New Rochelle, New York. Tabloid publishing must have been a veritable gold mine back in the early '70s. How else to explain all these bizarre imprints? In fact, as low-rent as this paper seems, this issue is from its second volume, according to the cover info. The format is basically the same as Close-Up Extra, complete with a model pulling double duty on the cover and in the centerfold. This time it's Ina Skole, who, though she has a name that sounds like it could belong to a European b-movie actress, leaves no trail in the historical record. Another similarity between the two publications is the cover slogan—Close-Up was "sexsational" whereas Spotlite is "sexciting." Neither of those words appears in the dictionary, sadly, but we're going to say sexsational is a bit better than sexciting. There's no need to go into detail about the contents of Spotlite Extra —just take what we wrote about its sister publication and apply it to this one. We have twenty-something scans below, and many more tabloids to come.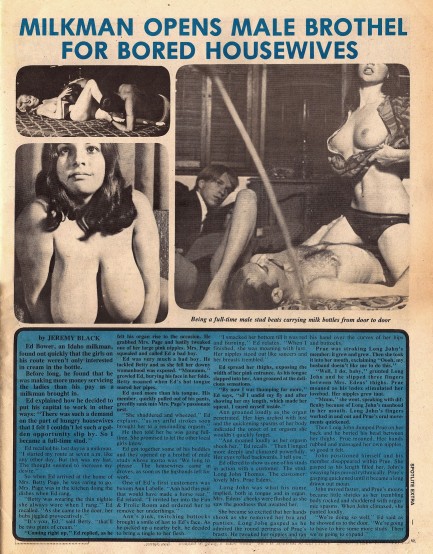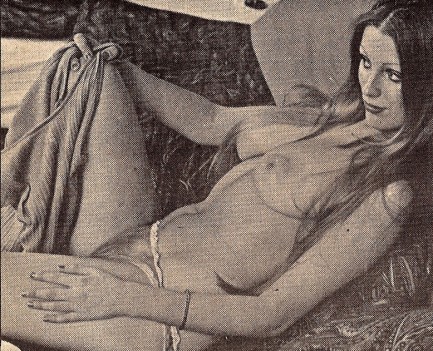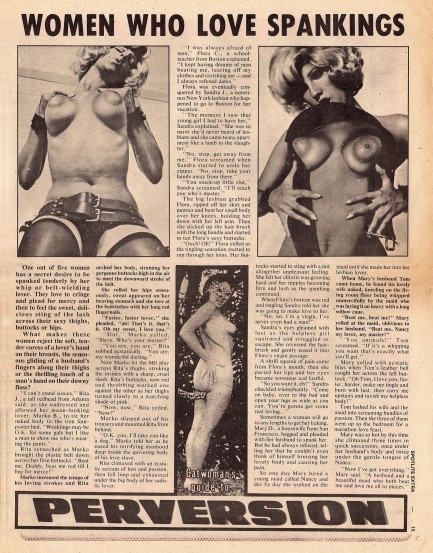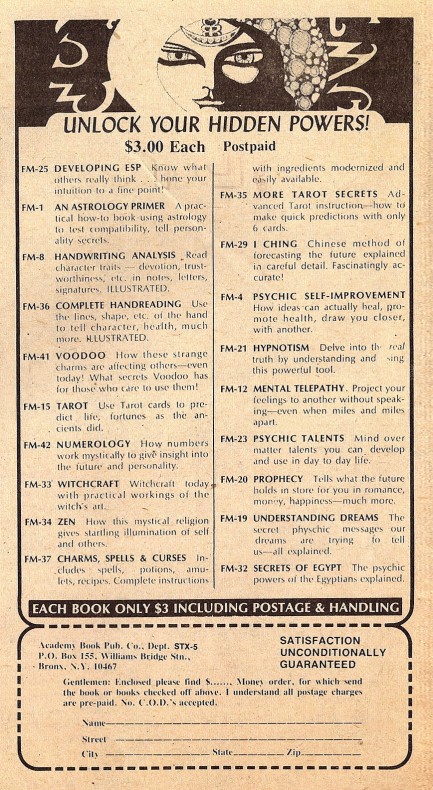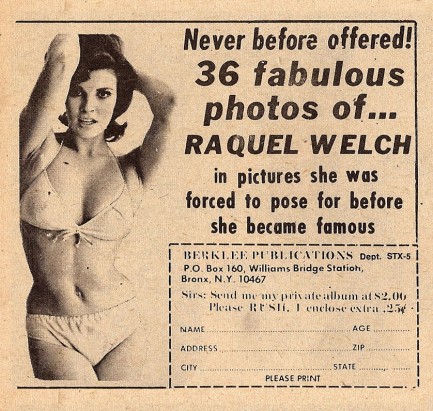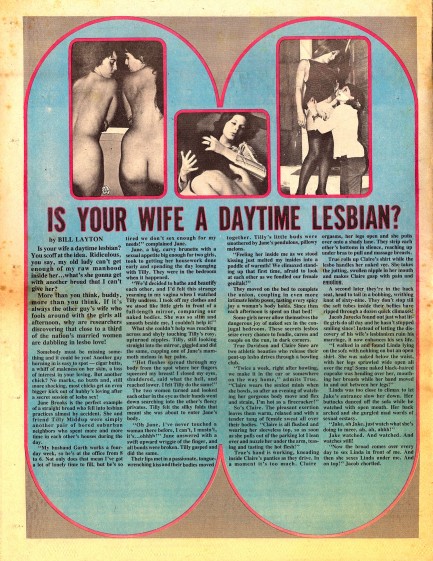 ---
Close-Up Extra makes sure readers get their fair Cher.
The tabloids keep on coming with the self-described "sexsational" Close-Up Extra from Beta Publications of New Rochelle, New York. On the cover, in the centerfold, and in the rear of this issue published exactly forty years ago appears Cher McGee, who was a… Actually, we have no idea. The editors tell readers she "just wants to be a good woman to some man."
That's nice and everything, but we checked to see if she had appeared in any movies or television shows, or whether she was a glamour model, but no, her only appearance in mass media seems to have been in Close-Up Extra. Well, if she's somewhere out there and needed evidence she was once the darling of a low rent tabloid, here's the proof. Conversely, if she hoped nobody would ever know, we're sorry to have outed her.
Elsewhere in Close-Up Extra we learn that carrot juice is an aphrodisiac, lesbianism is exploding, and one of the best places for summer sex is at camping orgies. So go ahead—dig out that bug repellent. Below, twenty scans, and if you want to see some of the other hundreds of tabloids we have, start here, and be prepared to do lots of scrolling.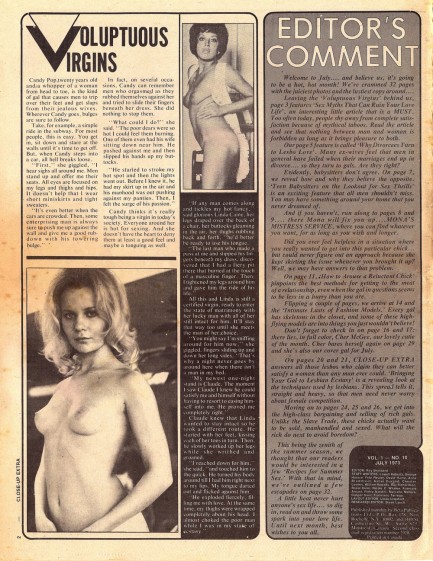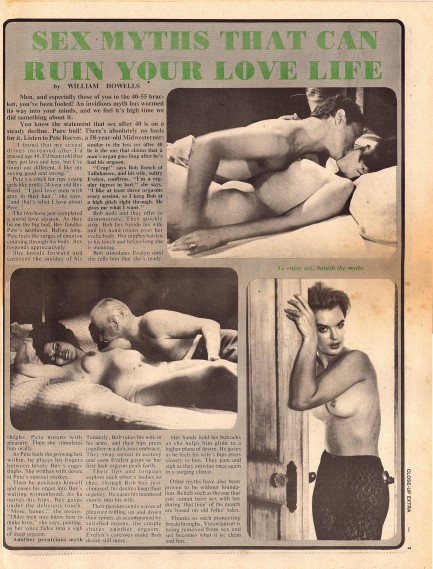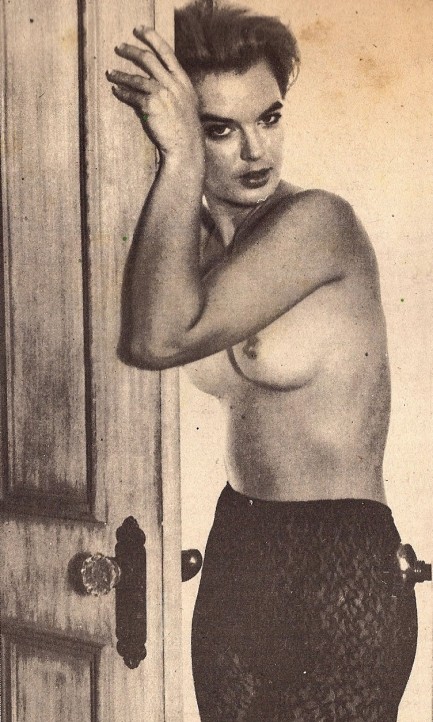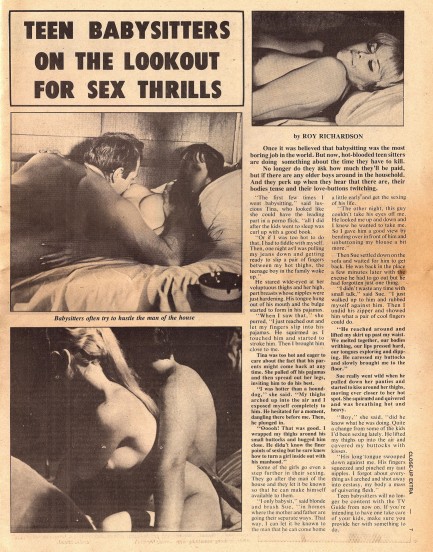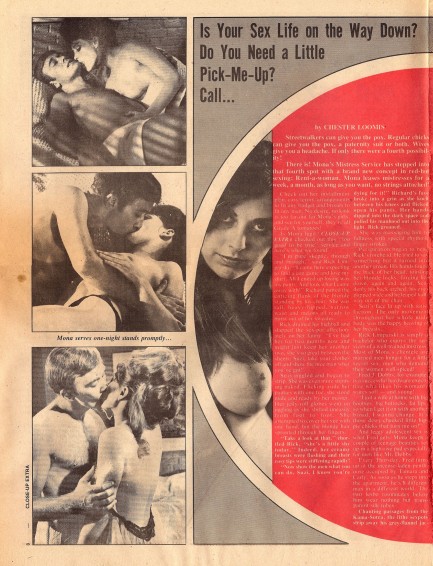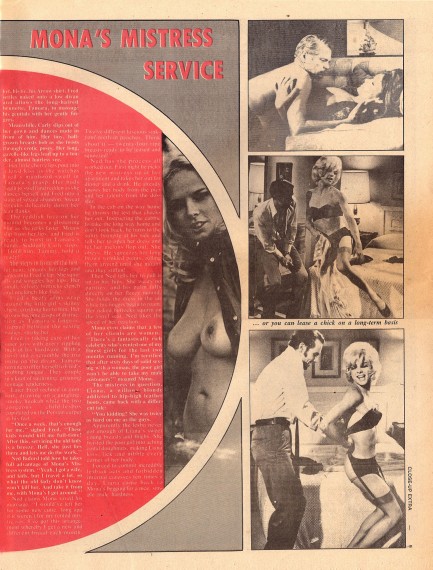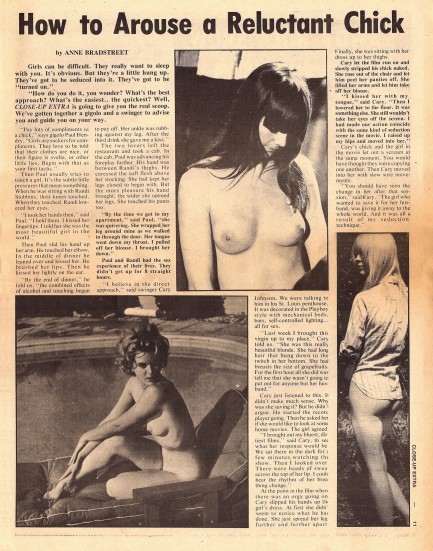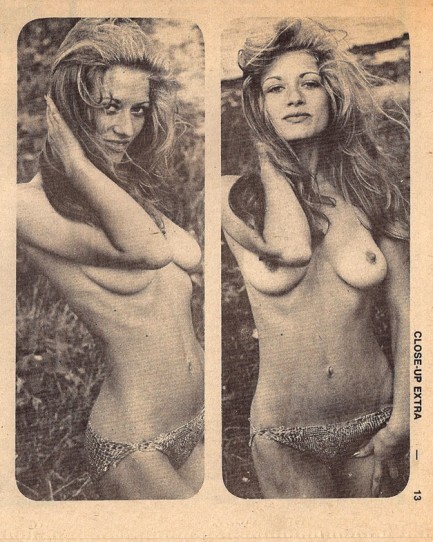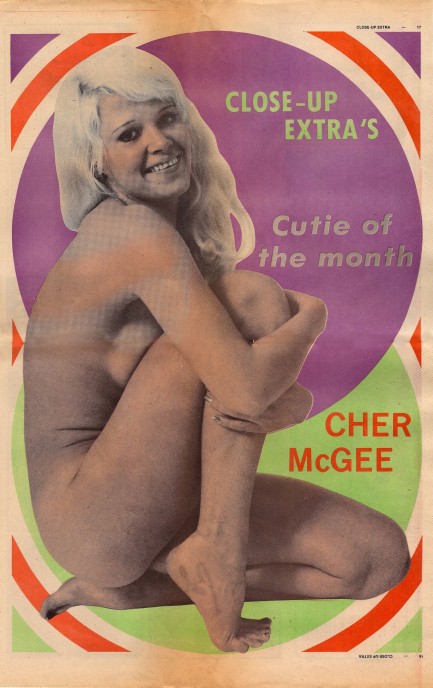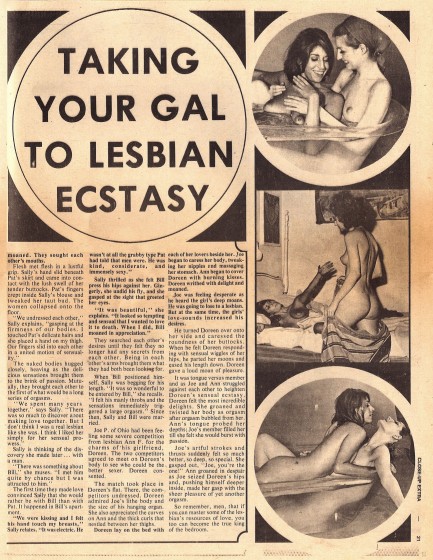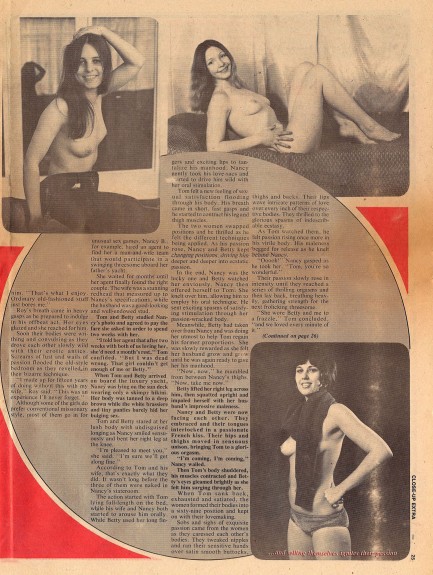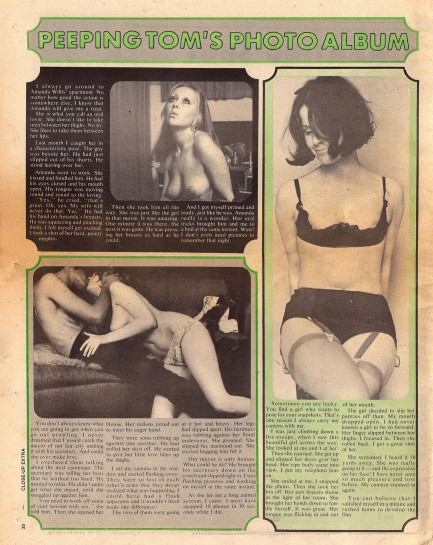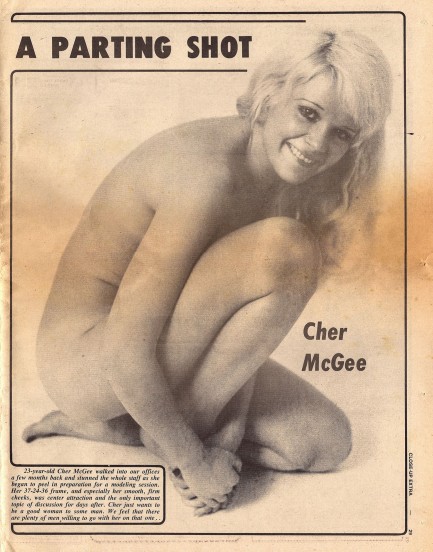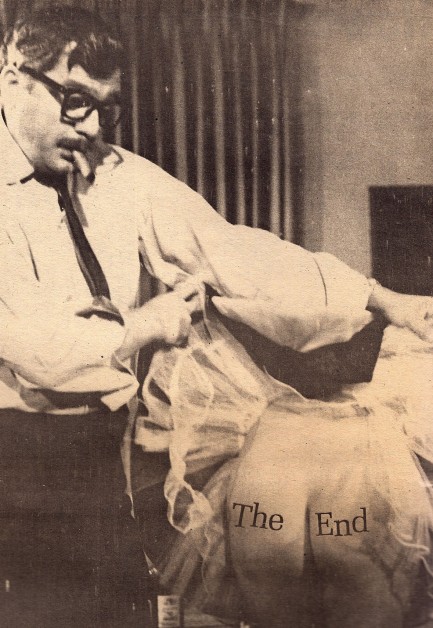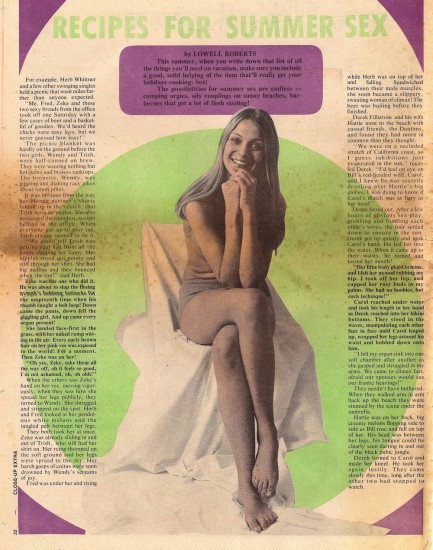 ---