Gringos take their criminal activities south of the border in Mystery in Mexico.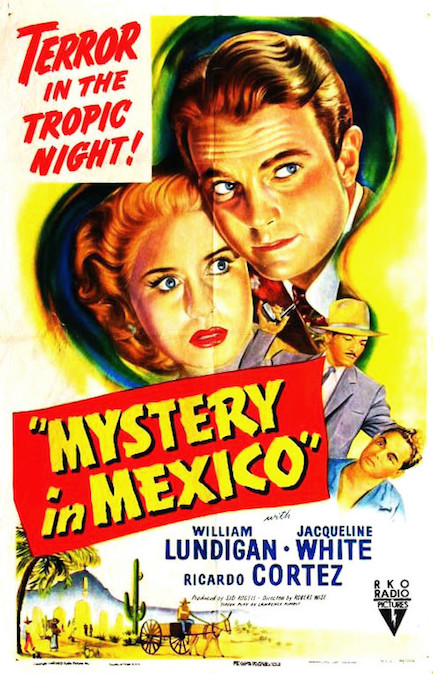 When a vintage movie is set in Mexico, it's a bonus when it's actually filmed there. Most movies with a Mexican backdrop—even good ones—didn't bother, but Mystery in Mexico goes the extra mile. And not for just a scene or two. There are numerous exteriors in city and countryside. Among the sights sharp-eyed viewers will see are the Monumento a la Revolución, the Metropolitan Cathedral, and the nightclub Ciro's, which had a Mexico City branch famous for a Diego Rivera mural in its Champagne Room. The Mexican authenticity extends to the cast, which features local superstar Ricardo Cortez and numerous bit players. Even some of the dialogue is in Spanish, including bits spoken by lead actor William Lundigan—quite a departure for a star in an old-time thriller.

So we've established that Mystery in Mexico aims for authenticity. But is it any good? Well, what you have here is a story about insurance investigator Lundigan following Jacqueline White around Mexico City hoping she'll lead him to a stash of stolen jewelry. White doesn't know where the loot is, but her brother might. Except he's missing. Also looking for the jewels is a gang of local thieves. For the most part the film plays as a romantic adventure, with love-hate turning into love-love thanks to Lundigan's dubious charm. The mystery aspect is pretty slight by comparison, but with Robert Wise in the director's chair everything looks good and runs smoothly. Mystery in Mexico won't make anyone's top 100 list, but for its novelty factor alone it's worth a look. It premiered in the U.S. today in 1948.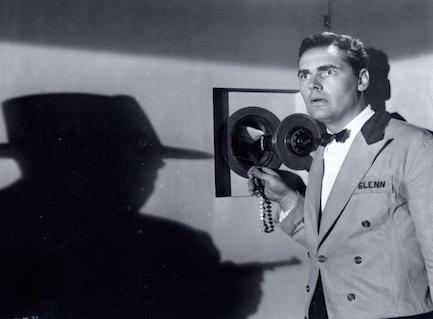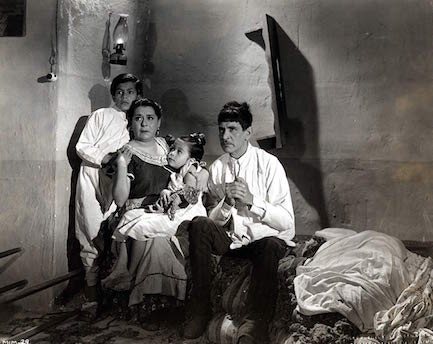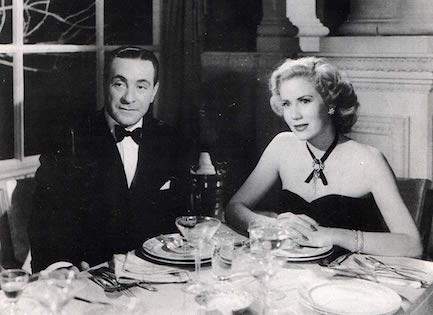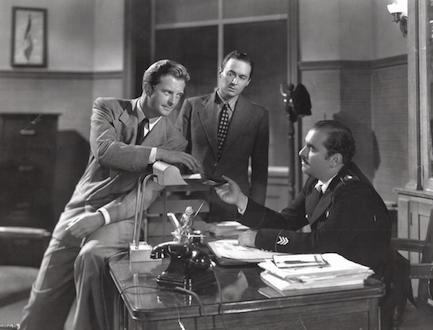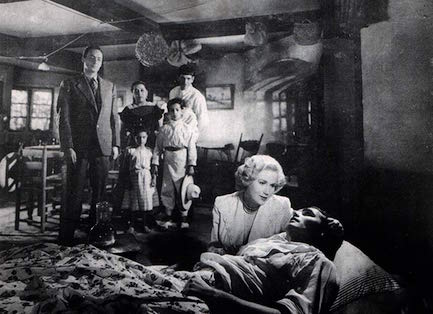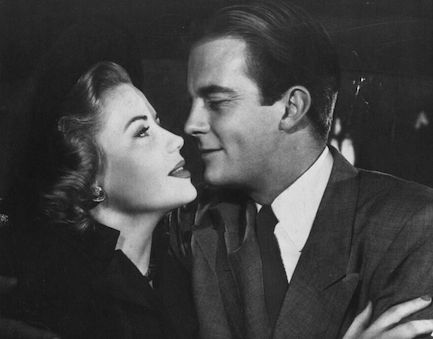 ---
RKO crime drama overcomes its humble budget to create a bit of magic.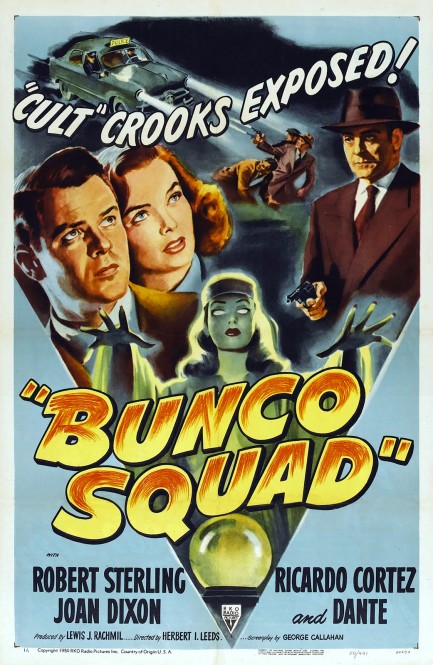 This poster for the RKO crime drama Bunco Squad drew our attention because of the creepy, white-eyed woman at its center. We assumed she represented a phony psychic, and indeed, after an introductory overview of the various types of con artists that prey on the gullible public, the plot settles around a Los Angeles detective's efforts to take down a ring of fake spiritualists.
These spiritualists plan to entice a rich widow to add their organization, the Rama Society, to her last will and testament, after which they'll arrange her death. There's a love story here as well, between the detective and his actress girlfriend, and that thread is woven neatly into the crime plot when the detective gets the idea to have her pose as a spiritualist competing for the trust of the rich widow. All of that leads to a pretty cool scene in which one of the villains drops by to threaten the girlfriend, but instead finds himself in a dark room brawling with the detective and his partner, who are dressed in black head-to-toe sheaths that render them effectively invisible.
The villain tries the old windmill-with-outstretched-fists technique, but gets his ass tossed out the door anyway, to the great amusement of the onlooking girlfriend. With car chases, fights, gunplay, humor, an interesting set of villains, a cameo by Dante the Magician, and good looks at a lot of gigantic 1950s-vintage autos, we'll go ahead and call Bunco Squad a winner. It's cheesy, moralistic, and over-earnest, but if you like old movies in general, you'll probably enjoy it. It premiered in the U.S. today in 1950.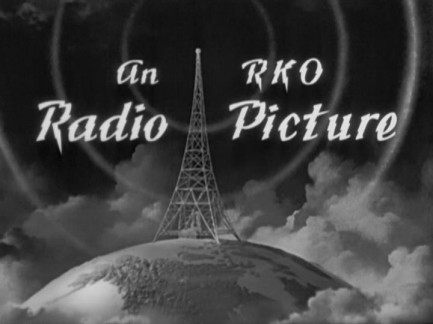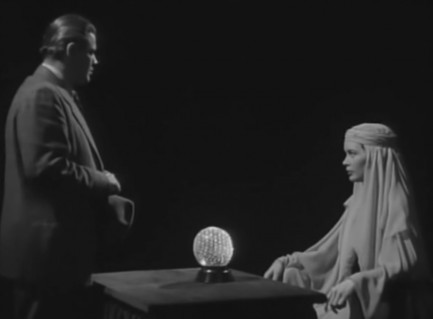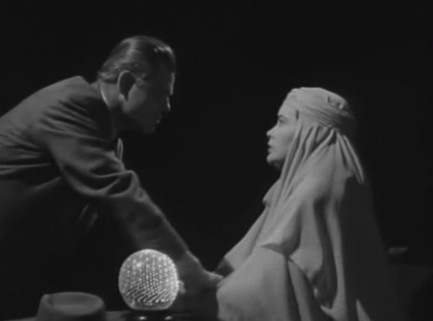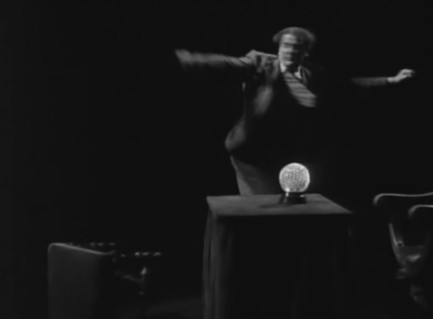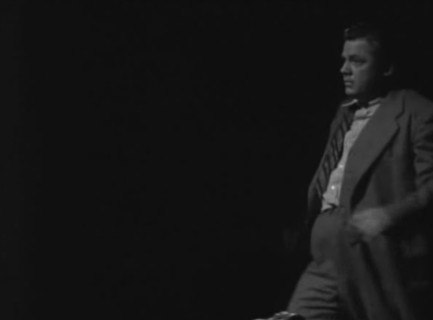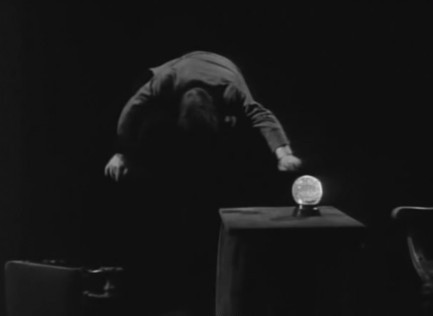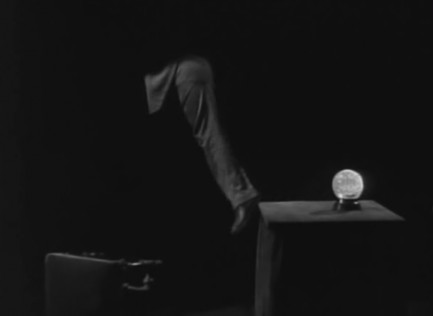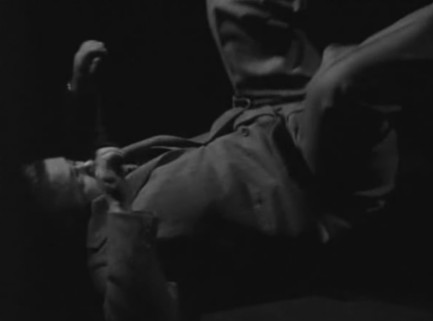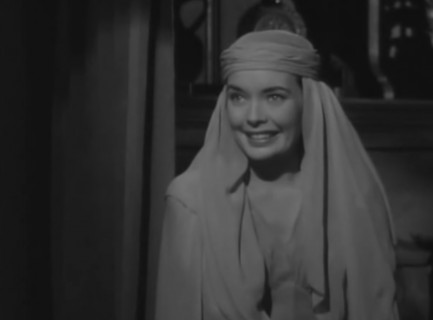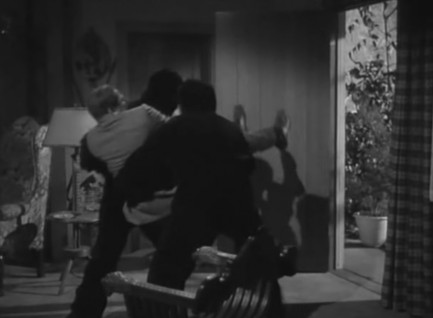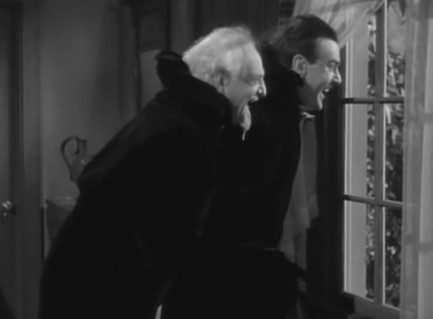 ---
Black bird singing in the dead of night.
Above are two French posters for one of our favorite movies, The Maltese Falcon. Dashiell Hammett's novel was originally adapted in 1931 by Roy Del Ruth with Bebe Daniels and Ricardo Cortez in the leads. Though that version was good, John Huston and Warner Brothers Studios chose to remake the film in 1941 and hit the jackpot pairing Humphrey Bogart and Mary Astor as Sam Spade and Brigid O'Shaugnessey. With Peter Lorre, Sydney Greenstreet and Elisha Cook, Jr. in supporting roles, the film was loaded with top talent and is considered the first film noir. If you haven't seen it, rent it. And if you like it, rent the 1931 version too—the contrast is striking. Le faucon Maltais opened in Paris today in 1946.
---