Our best option is to run as fast as we can. You can keep up with me okay in that floor length gown, right?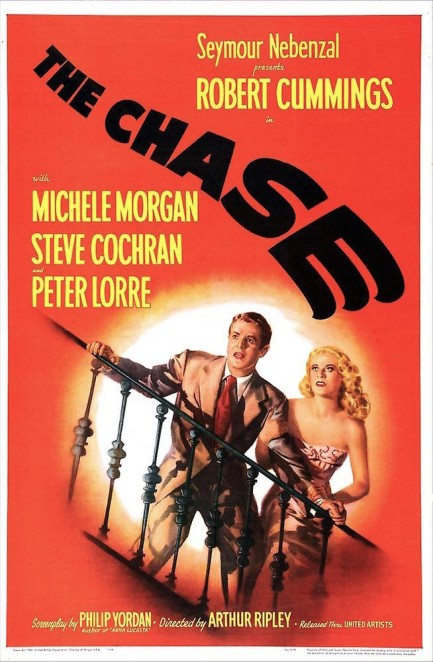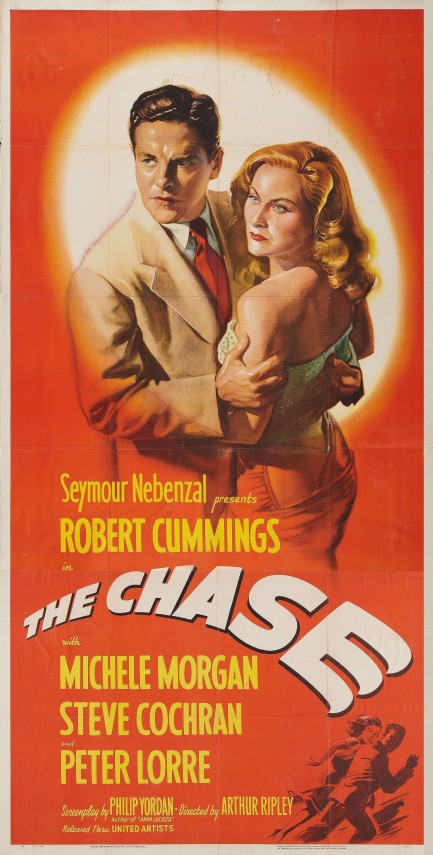 These two orange promos were made for The Chase, starring Robert Cummings as a down and out war vet and Steve Cochran as a Miami gangster. The film also has Peter Lorre as Cochran's henchman and Michèle Morgan as his wife. The plot set-up is simple. When Cummings finds a wallet packed with cash he returns it, though he's down on his luck. The wallet belongs to shady Cochran, who is impressed by Cummings' honesty and hires him to be a chauffeur. Pretty soon he's driving Morgan around too, which is a nice bonus. When she decides she wants to leave Cochran, she asks Cummings for help and he dreams up a scheme to escape by ship to Havana.
If you watch this you'll notice that Cummings is sedate, almost in a daze, but there are reasons for this that are revealed later. His escape plan does not—of course—come off without a hitch. Lorre figures it out and throws a monkey wrench in the works. That's not a spoiler. This is film noir, which means you know his initial plan won't work. But we won't reveal more. In our opinion, it would have been nice if the filmmakers had at least gotten some second unit shots from Havana to use, just a few street scenes or harbor shots, but no such luck. Though the movie has a backlot feel, some of the sets are pretty nice just the same. In the end it's worth seeing. It premiered in the U.S. today in 1946.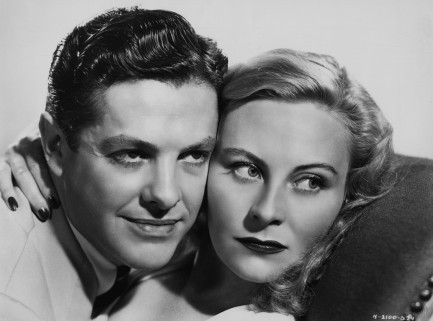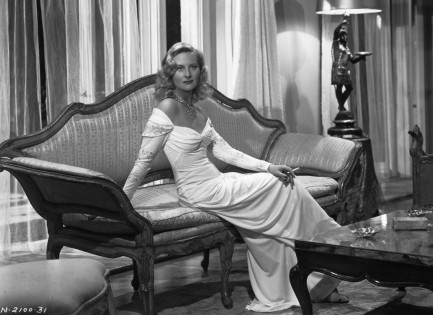 ---
Petty woman look my way.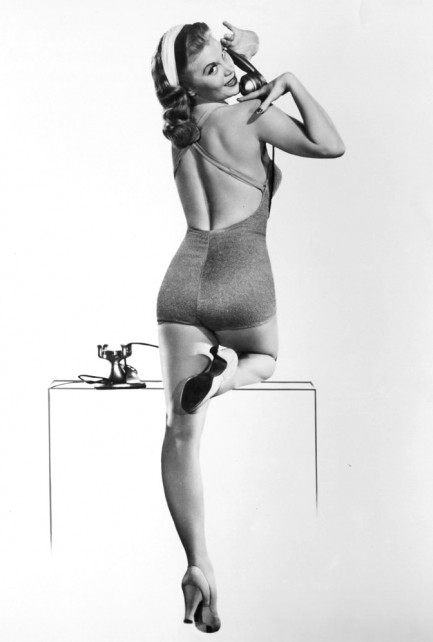 This unusual 1950 promo photo of American actress Joan Caulfield was made for her role in The Petty Girl, in which she starred with Robert Cummings. The Petty Girl was a curious movie—a famous pin-up artist based on actual pin-up king George Petty encounters a shy college professor and becomes both romantically intrigued by her, and determined to have her pose for one of his paintings. We may watch this one and get back to you.
---
Love and the single robot.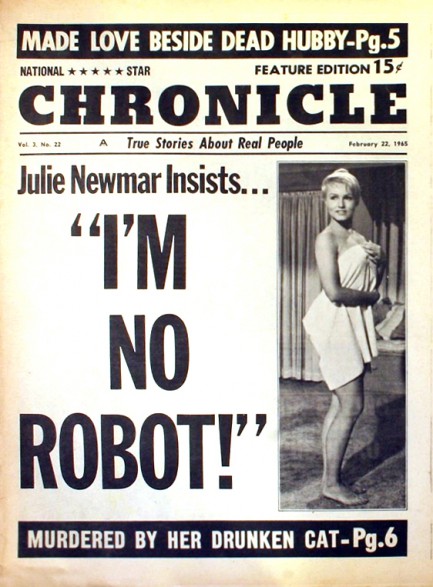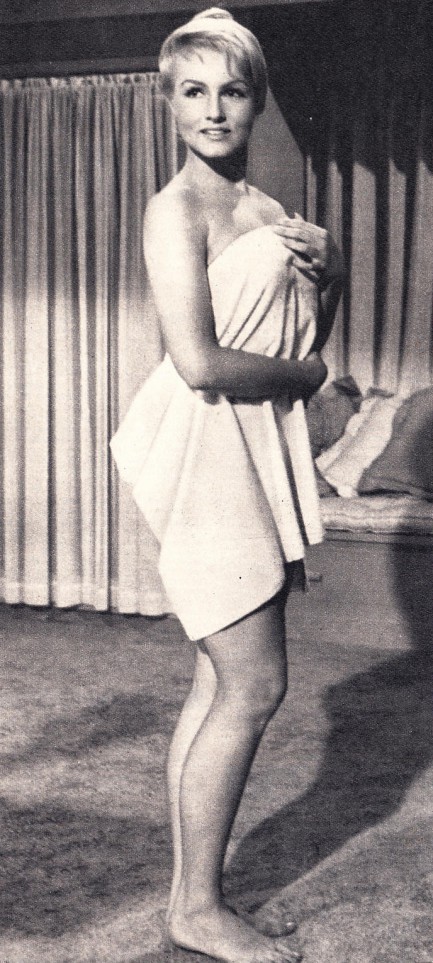 This National Star Chronicle

published today in 1965 doesn't stand up well against the more colorful

Keyhole

(above), but it does have Julie Newmar, which is something. The photo that editors opt to use is just a handout, and it's actually several years older than the issue, having appeared in glamour magazines as far back as 1961. When Newmar says she's no robot, she's referring to her role in the television series

My Living Doll

, in which she played an android named AF 709. In the show she's created as a blank slate, which prompts her maker to partner her with a psychiatrist played by Robert Cummings, whose job is to program her to behave like an actual woman. We know. We know. The job should probably be given to… erm… a woman, but where's the fun in that? Anyway, AF 709 is redubbed Rhoda Miller, given over to Cummings, and he tries to teach her things like obedience to males, and to not talk back—yes, really—but she of course develops a few quirks independent of her programming, and hilarity ensues. The show didn't last long, shockingly, but it did contribute an enduring catchphrase to the American lexicon: "Does not compute."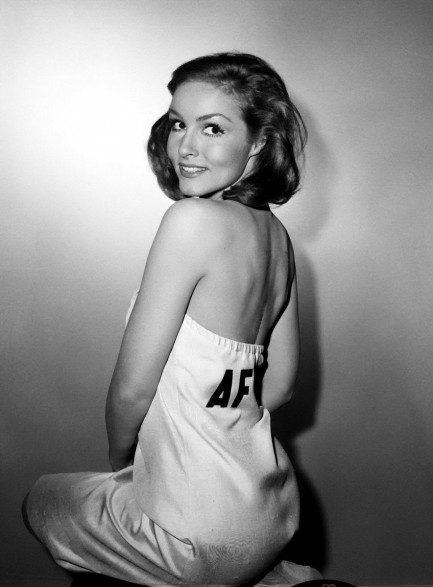 ---