Freak show on the dance floor.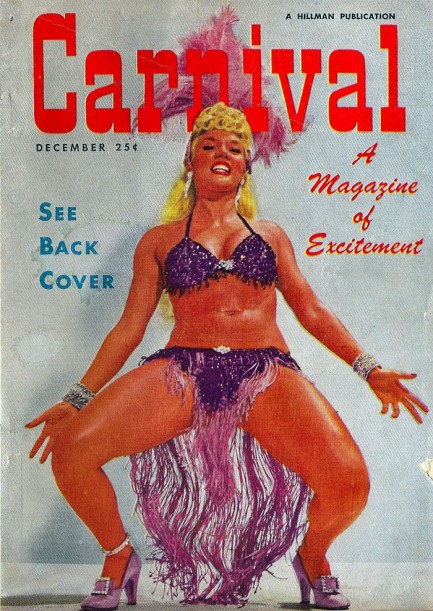 At the end of last month we posted a few images of Bettie Page that hadn't appeared online before. They came from an issue of Carnival we were too lazy too scan in its entirety at the time. Today we have the rest of that great issue, vol. 1, no. 2, published out of Chicago, U.S.A. by Hillman Periodicals, who were the same people behind the magazine Show. The cover star is burlesque queen Lilly Christine, aka The Cat Girl, and she reappears in all her wild-eyed glory in a photo set we've placed at the very bottom of this post. We've seen at least two of those photos before in other magazines, however Carnival claims it was an exclusive set, shot especially for them, and indeed, that could be true, since theirs appeared before the others we saw.
After a peek behind the scenes of the Miss Universe pageant, readers get a profile of Ernest Hemingway's most recent trip to Spain. Hemingway was visiting the Festival of San Fermin in the Basque Country town of Pamplona in order to see how his favorite sport of bullfighting had fared in the years since he'd last visited. Since the text in these digest-sized magazines scans large enough to be legible, you can read what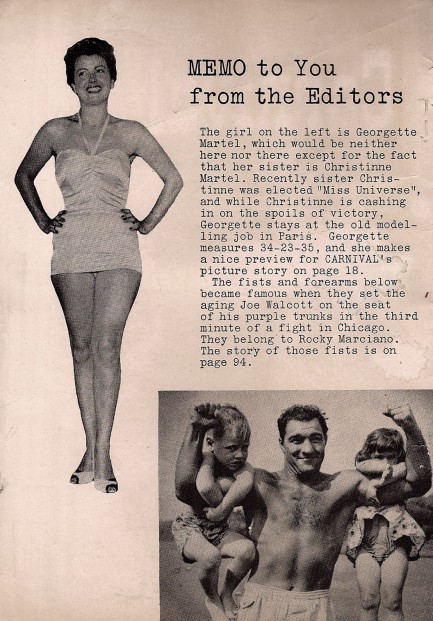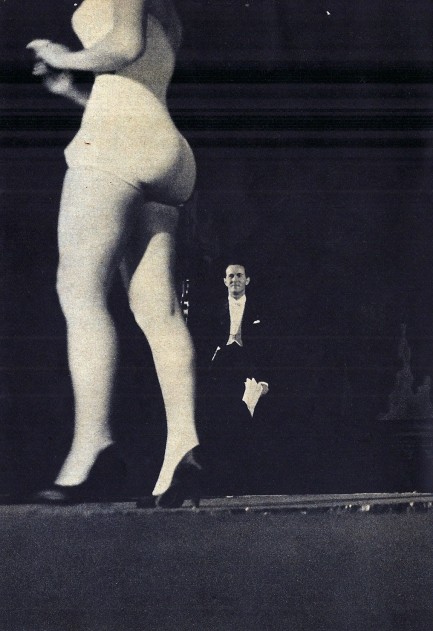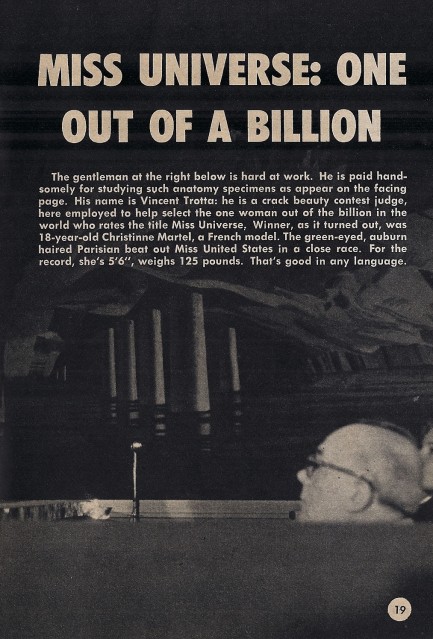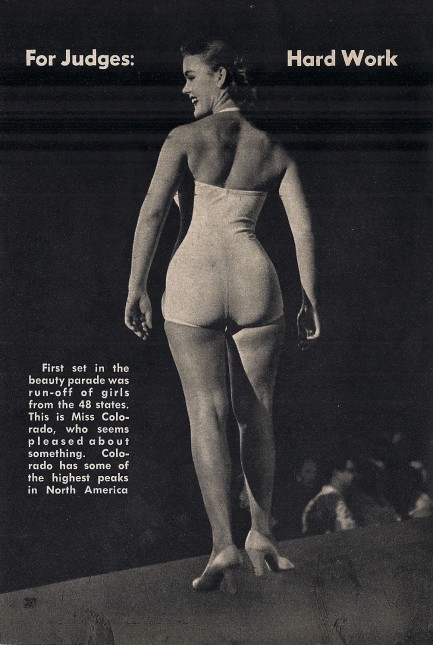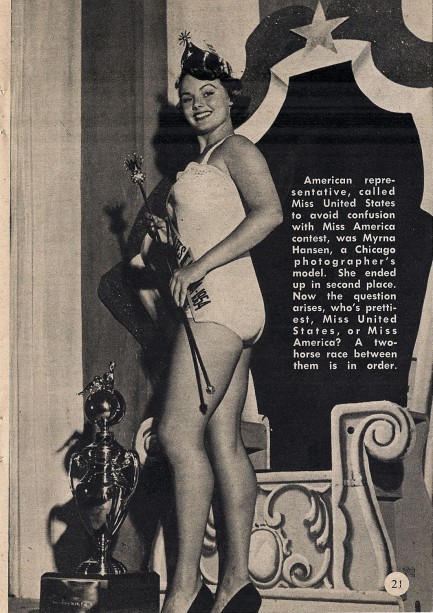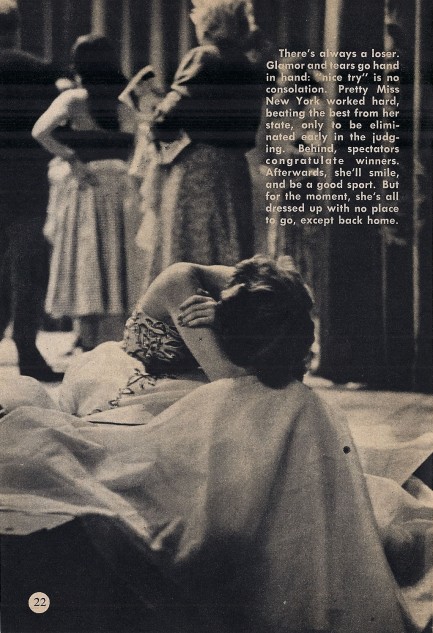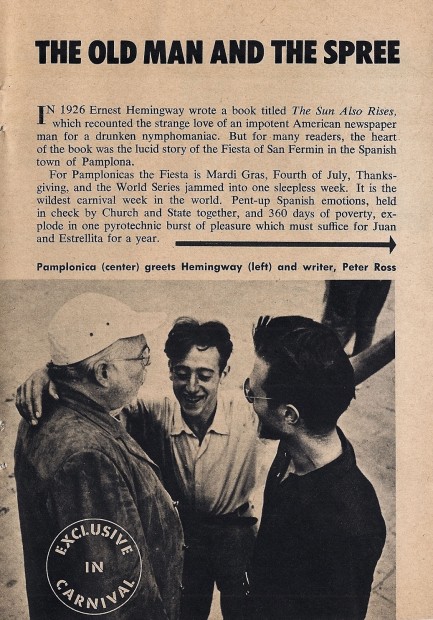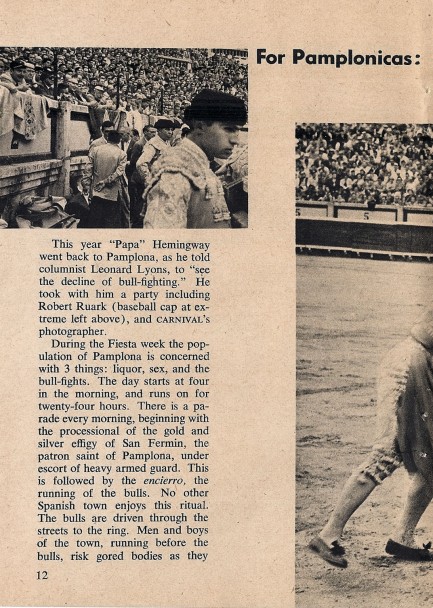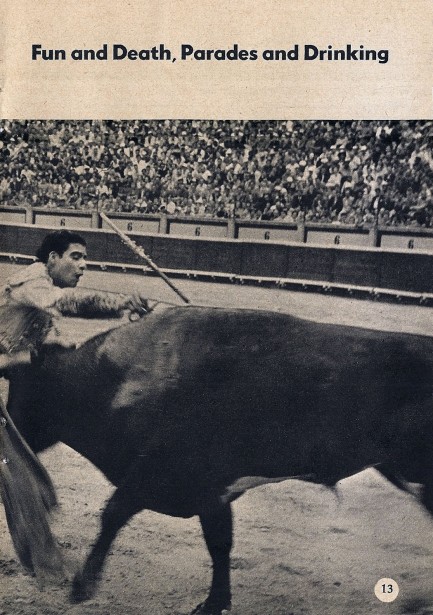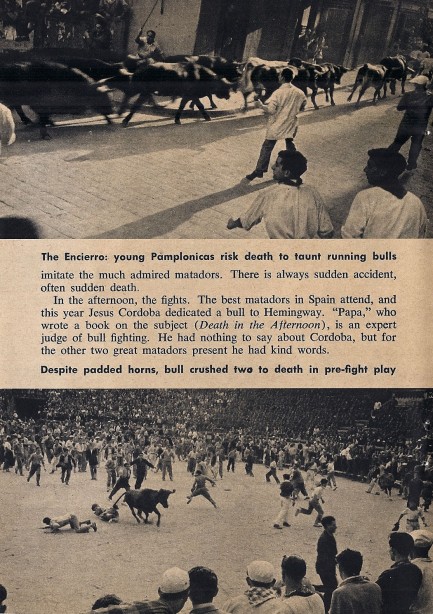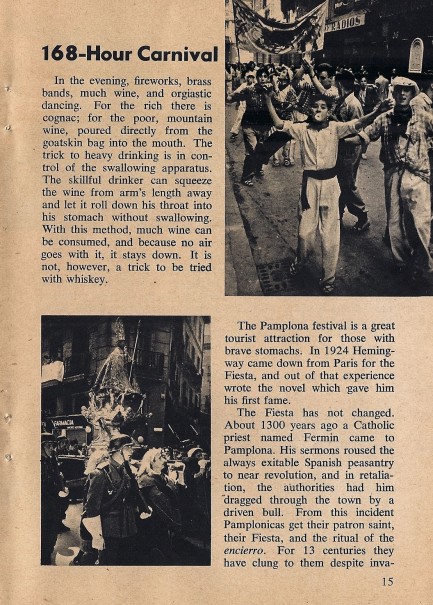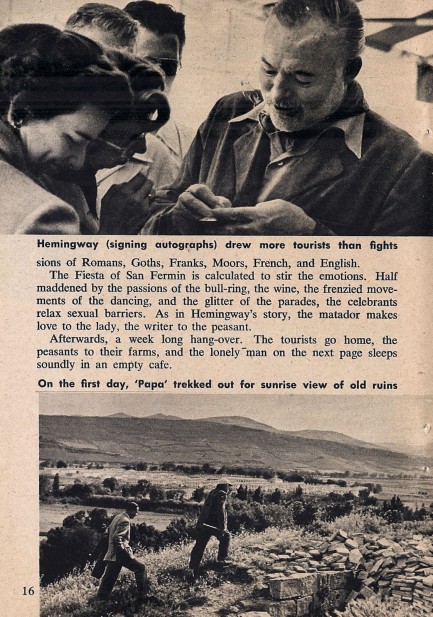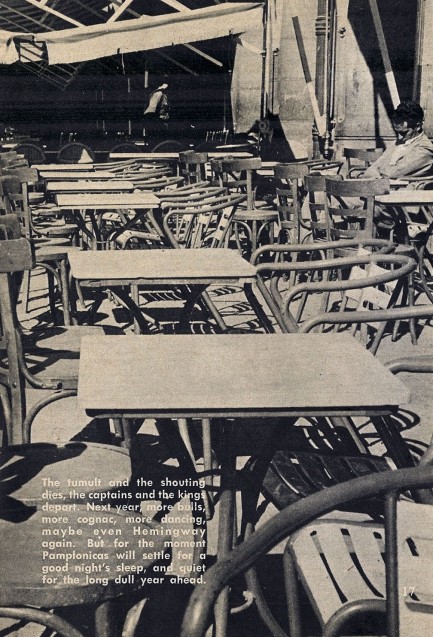 Carnival says about the famed festival yourself. We will note, however, that the writer's description of Pamplona as dull when San Fermin isn't happening is wrong. Spain in general, and the Basque Country in particular, are never dull. Trust us—we've spent a lot of time there. If you're interested, you can read our firsthand observations of San Fermin here and here.
Carnival next presents readers with photos of dancer Nejla Ates, whose short set begins just below. We first saw one of these shots in an issue of Uncensored dating from June 1954, but once again Carnival seems to have gotten there first—their photos are from 1953. Ates, who for some reason often appears online unidentified, was Romanian born of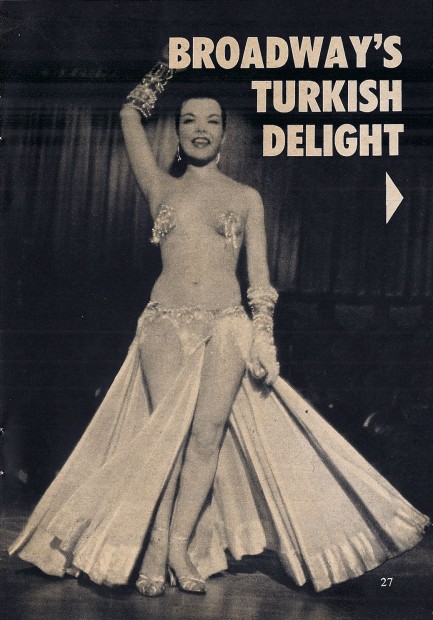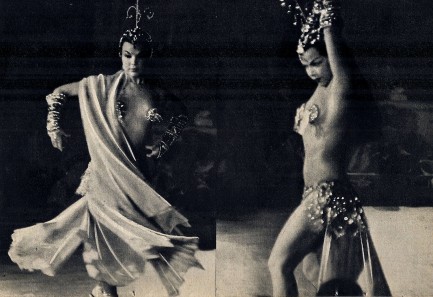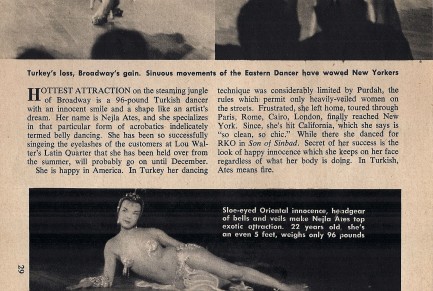 Tatar descent, and danced her way through Cairo, Rome, Paris, and London, before finally gaining international fame in New York City. She appeared in three American films during the 1950s, and was the go-to cover model for Middle-Eastern and bellydancing themed album sleeves, but despite her successes suffered the usual slate of dead end affairs and romantic heartbreaks with such men as, among others, Billy Daniels, George Sanders, and Gary Crosby.
Following Ates is a photo feature on American actress and party girl Barbara Payton, who burned a swath through Hollywood during the 1950s, bedding co-stars, feuding with her studio, and generally raising a ruckus before eventually drifting into prostitution and dying at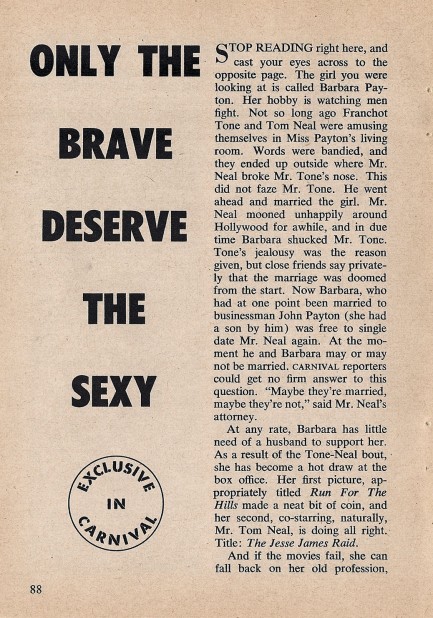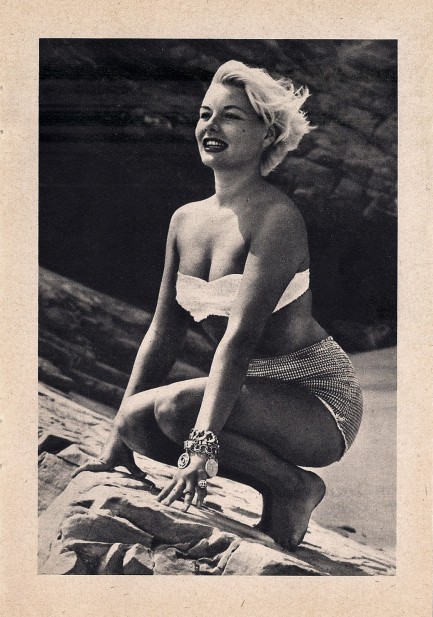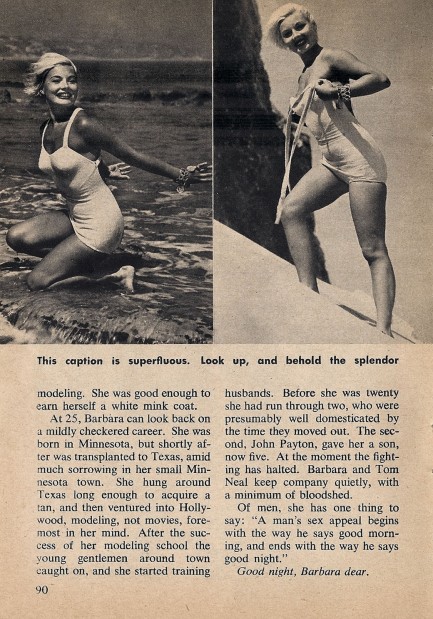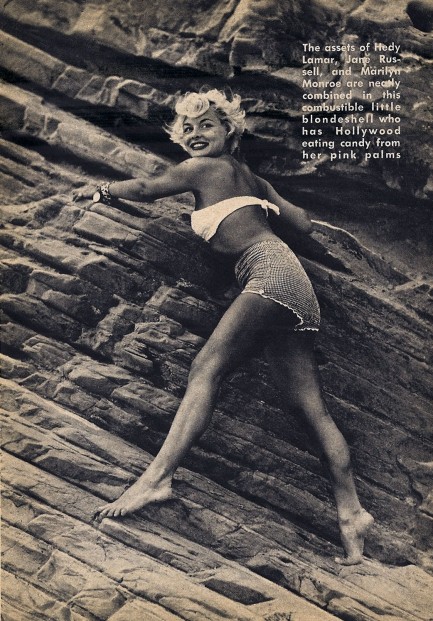 age thirty-nine of heart and liver failure. She's described here as possessing the "assets of Hedy Lamarr, Jane Russell and Marilyn Monroe" all at once. Not sure about that, but we'll be finding out more about her later, because we will be examining her very pulpish life story in detail.
Next you get a great close-up photo of Jersey Joe Walcott having a disagreement with Rocky Marciano's fist. Does that shot also look familiar? Perhaps because it was the cover of a January 1953 National Police Gazette. We had no idea that the fight was considered controversial at the time. Apparently, many thought Walcott took a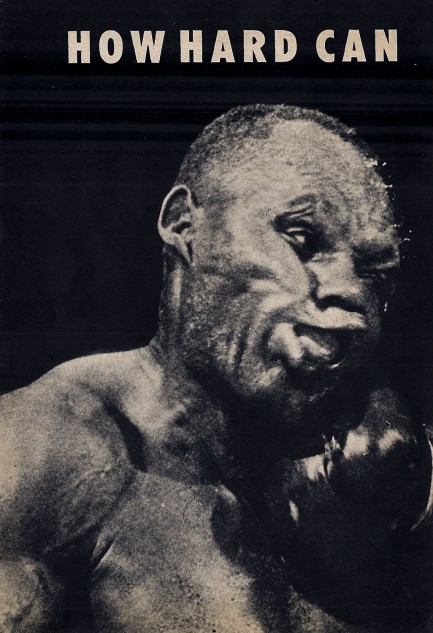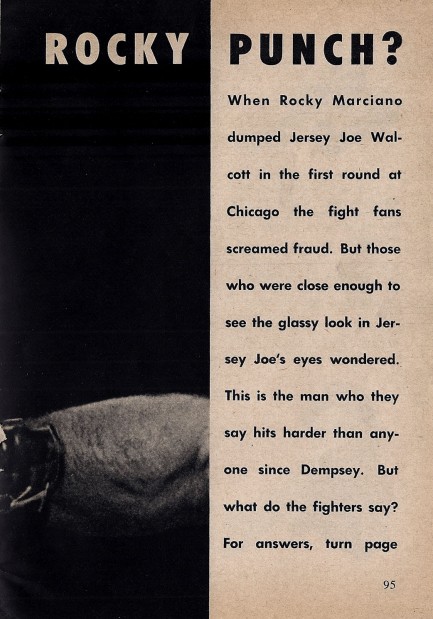 dive. Since this photo is of the actual the shot that sent Walcott to the canvas, we have to respectfully disagree. It's lights out, and anyone can see that. In any case, you can take a gander at that Gazette cover and learn a bit about Marciano and Walcott here.
A few more treats: panel 24, just below, contains a hot shot of Marilyn Monroe at a charity baseball game; panel 26 features actress Sheree North, who doesn't look very impressive, which means you should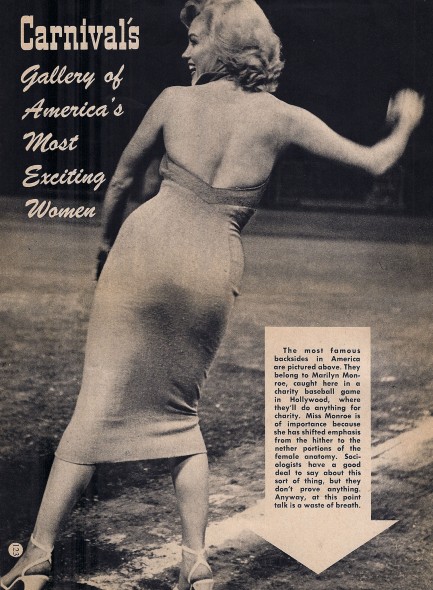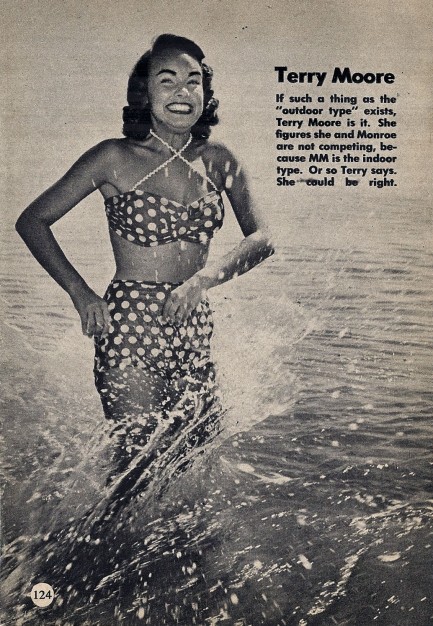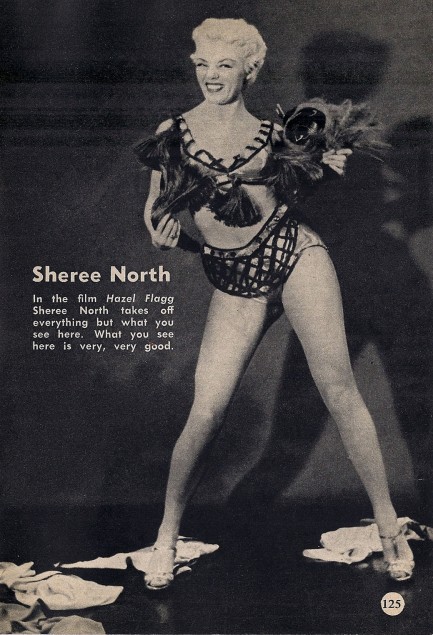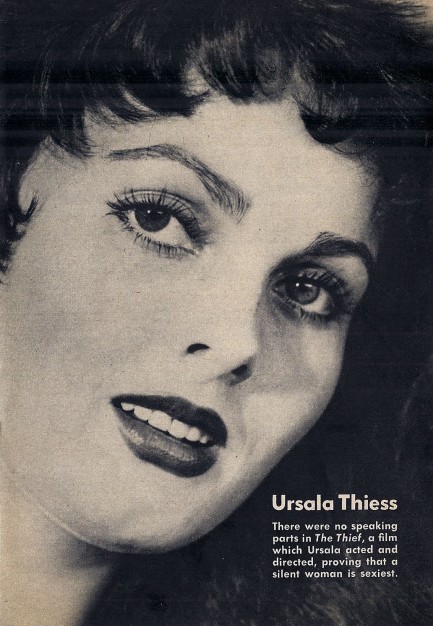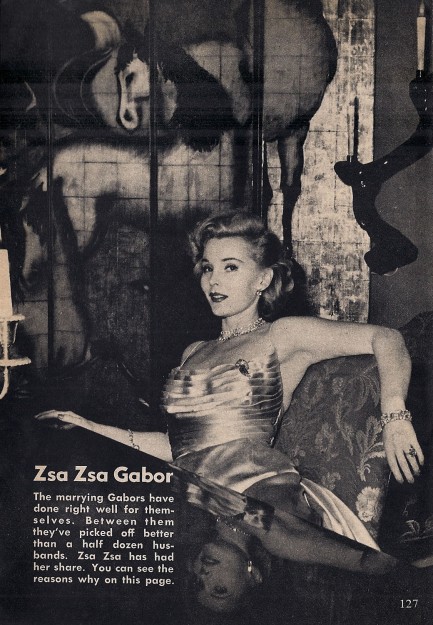 click over to our lovely femme fatale post on her here and get a sense of what a knockout she really was; and lastly, in panel 28, above, you get a killer shot of Zsa Zsa Gabor, who, believe it or not, was already nearly forty at the time and had been married three times on the way to her final tally of nine.
Looking at all these pages and visiting the accompanying links, you perhaps get a sense of how the mid-century tabloid industry was fueled by handout photos, with all the publications using the same shots but concocting editorial angles to create the illusion that the images were exclusive. But in Carnival's case, it does seem to have published many of these images first. It billed itself as "a magazine of excitement", and we have to agree. It's also a magazine that, because of its tightly bound construction, we had to destroy in order to scan. But even though this particular issue of Carnival is now only loose leaves scattered across the room, there are other issues out there, and we'll have some of them later, hopefully.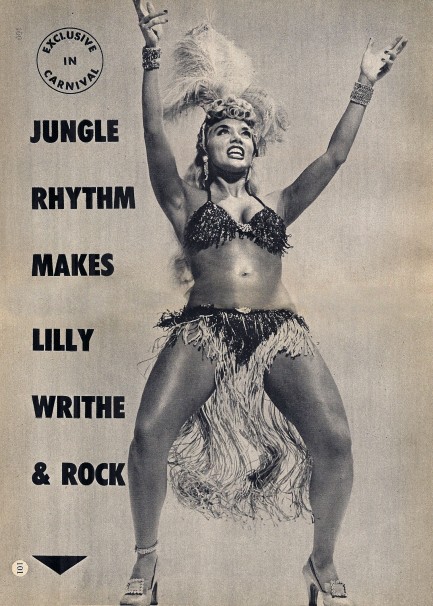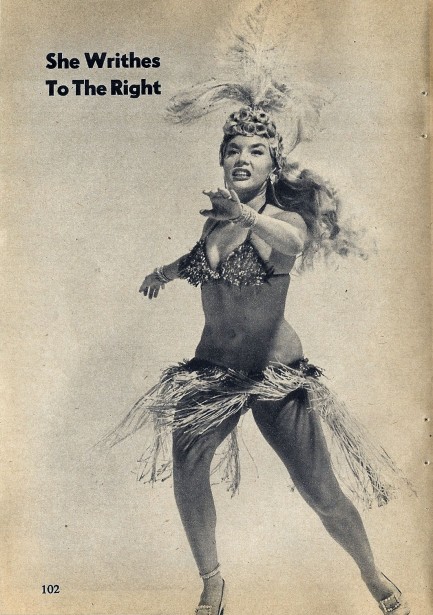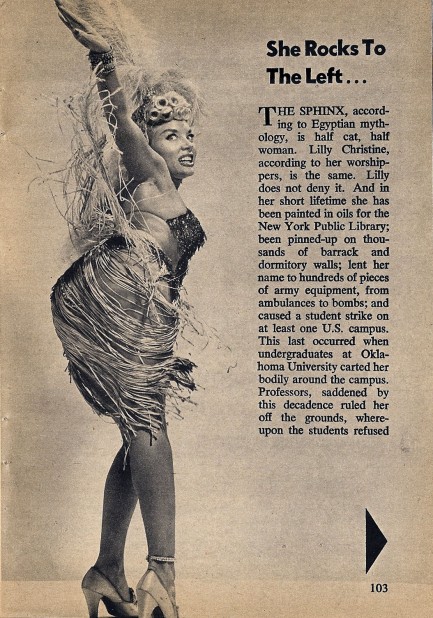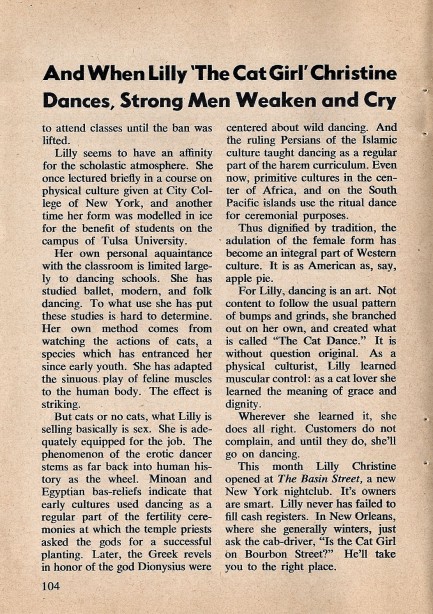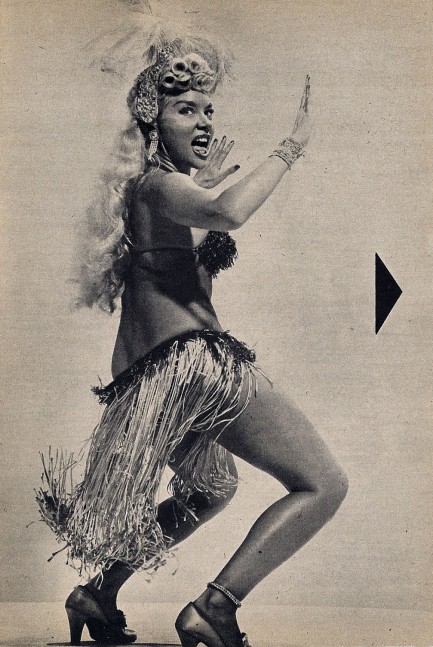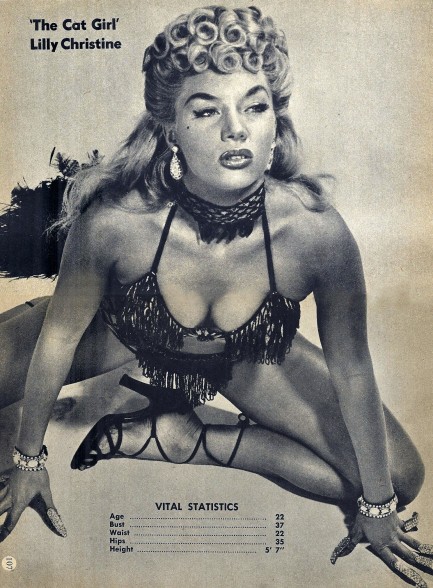 ---
What do you have to do to get a good view around here?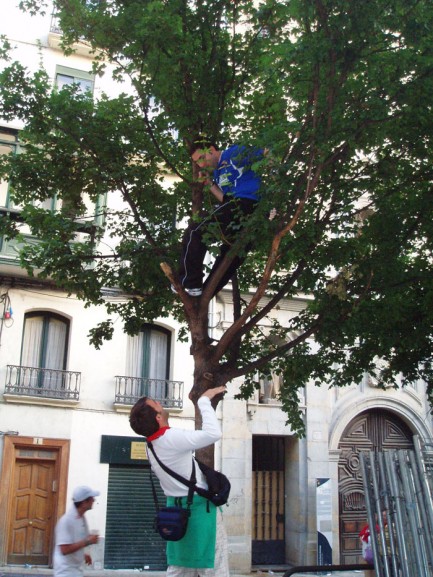 Those are our friends Jonael Esteban (in blue) and David Barbarin, finally settling on a vantage point from which to watch the encierro. This was after we all walked around for perhaps an hour hoping to find an unobstructed vantage point, and finally coming to the sad conclusion that the tree was the best option. With more than a million tourists turning up at the Festival of San Fermin every year, space is at a premium. So let this be a lesson—in order to see this spectacle you need to get to the route by 6 a.m. at the latest. And then you need to perch atop a fence post for two hours. Don't forget some snacks, but forgo the liquids unless you want to risk abandoning your spot for a bathroom break. There is one other solution: for around thirty euros you can rent a balcony. If that seems like a lot of money to see a bunch of bulls pass by in less than ten seconds, it is, but at least breakfast is included. Anyway, a few of David's treetop shots are below.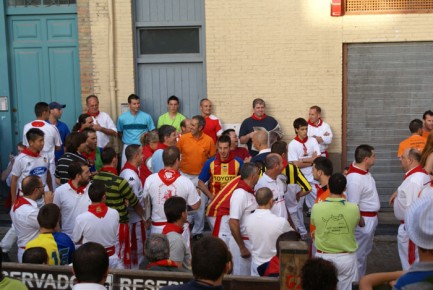 And these next photos are ones your humble authors took from ground level. We aren't trying to turn Pulp Intl. into a travel site, so this is the last you'll see of San Fermin (probably). But as we said in our very first post, sometimes an event can be pulp, and if ever one fit the bill, this is it. As a side note, we should mention that these Basques here in northern Spain, and the Spaniards in general, party with incredible abandon. They absolutely trash the town and then simply clean it up and do it all again the next night. Here's an update on today's run and gorings. Yesterday, three of the matadors who faced bulls in the Pamplona plaza de toros were hurt. One was gored on the ear, another on the hand, and a third dislocated a shoulder. We had been under the impression that when a bull beat a matador, the animal was sent back to the stables intact. Not true—at least not here. Substitute matadors were brought in, and all the bulls eventually were killed. Back with your regularly scheduled website Monday.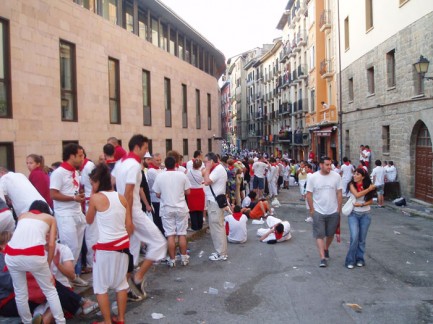 ---