Look who's all grown up.
Above, a promotional photo of Iowa born actress Sue Lyon, who played Dolores Haze in the film version of Lolita. In Vladimir Nabokov's shocking but excellent book Haze was a pre-teen, but for Stanley Kubrick's 1962 adaptation the character was made into a teen. Lyon was fourteen at the time of shooting, but this nice shot was made when she was twenty-one in 1967. She went on to good parts in Night of the Iguana and Tony Rome, but managed only about a dozen cinematic roles before leaving movies behind for good in 1980.


---
A history of Rome in three volumes.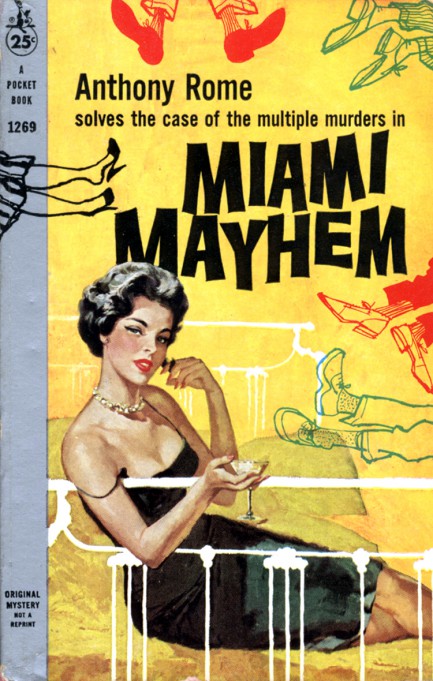 We watched Frank Sinatra's 1967 detective movie Tony Rome last week and, except for some nice Miami exteriors and the presence of Jill St. John, it was strictly average. But it did give us the idea of digging up the source material, so above you see the covers of the three popular books in the literary series, published in 1960, '61, and '62. In an attempt to make readers think the tales were real-life adventures they're credited to Anthony Rome, but they were actually written by veteran author Marvin H. Albert, who churned out more than one hundred books in the western, mystery, spy, and history categories. In addition to writing as Rome, he published as Albert Conroy, Al Conroy, Nick Quarry, Ian MacAlister, and J. D. Christilian. The cover art above is by, top to bottom, George Porter, Bob Abbett, and Victor Kalin. A while back we published a rare promo image from the film version of Lady in Cement and you can see that rather unusual shot here.
---
First rule of tabloid publishing—promise the readers sex even when there isn't any.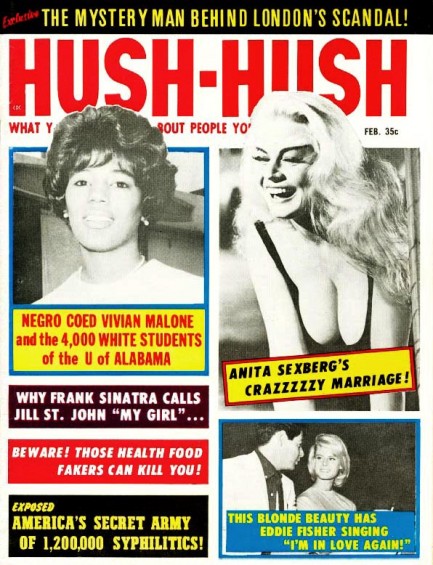 February 1964 Hush-Hush with Anita Ekberg and Vivian Malone. Malone was the woman who Alabama Governor George Wallace barred from entering the University of Alabama during the fall of 1963 after the U.S. Supreme Court ruled segregation unconstitutional. Wallace had state troopers at his back that morning, but when John F. Kennedy nationalized the Alabama National Guard later that day, they escorted Malone to school and the troopers were forced to step aside. Thanks to the court ruling, and Kennedy's executive order, Malone earned a degree and worked in the U.S. State Department for thirty-one years.
Interestingly, her brother-in-law is the current U.S. Attorney General, Eric Holder. The cover blurb on Malone reads vaguely sexual, but of course the story has nothing to do with that. The Ekberg story is similarly smoke sans fire. You also get a feature on Frank Sinatra and Jill St. John. The two worked together in Come Blow Your Horn in 1963 and Tony Rome in 1967, but most sources say their brief involvement didn't commence until 1971. However St. John was part of Sinatra's "in-crowd" for years, and to be seen palling around with Frank was to be accused of waking up in his bed.
Every actress in Hollywood knew that, and few seemed terribly concerned. Finally, after making readers think about sex for most of the issue, Hush-Hush makes them afraid to do it themselves with a story on America's syphilis epidemic. The mid-century tabs were very much like slasher movies in that way—in the end, sex must always be punished. We found a nice shot on Ebay of Sinatra and St. John together on the set of Tony Rome, and we've posted it below. Our next trick will be to try and find a tabloid that doesn't have Sinatra inside. We think we have our work cut out for us.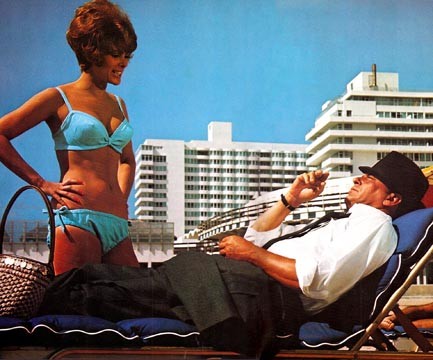 ---