A widow gets back into the swing of things and trouble soon follows.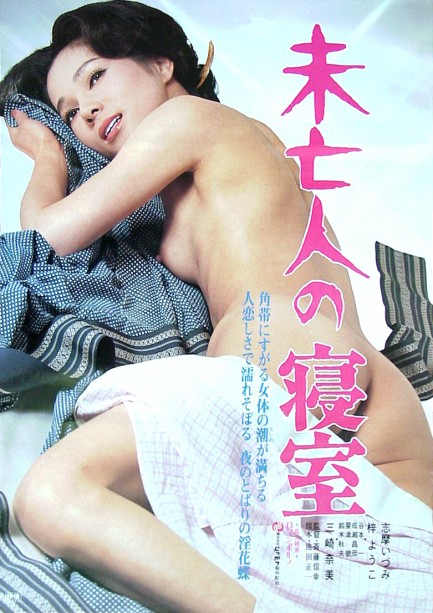 We're still working on that today-is-yesterday theory. Maybe we better explain. We planned to share both this and the ticket from the above post yesterday, but it's summer and our local beach is hopping and Saturday night we were at a party that didn't end until after sunrise, which pretty much wiped out Sunday for us, except for crawling to the aforementioned beach and sitting under a shady spot and oozing toxins until we were human again. But enough about us.
Above you see a poster for 1981's roman porno production Mibōjin no shinshitsu, aka Widow's Bedroom, which we meant to share yesterday, on its premiere day.
The movie deals with a smalltown inn proprietress whose husband has committed suicide, which is difficult enough to deal with, but whose situation is complicated by the arrival of two guests—a wheelchair bound novelist there to write a new book, and his beautiful nurse. The writer develops an obsession with the widow, the nurse likewise grows interested in a bit of same-sex fun, the widow's brother-in-law is determined to have her for himself, the dead husband reappears as a figment of the widow's imagination, and so on, in reliably complicated roman porno style, very much like the convoluted sentence we just wrote to describe the plot, and all in just about sixty minutes plus change—the movie, not the sentence.
Mibōjin no shinshitsu
stars Izumi Shima, who makes every one of those sixty-something minutes worthwhile. In order to make our writing worthwhile we've shared a rare promo image from the film below. Shima was one of Japan's top roman porno stars, and possibly the most beautiful, if one were inclined toward rankings. We've written about other movies of hers, which you can learn about by clicking here.
---