There are 777 ways to make a bad 007 movie.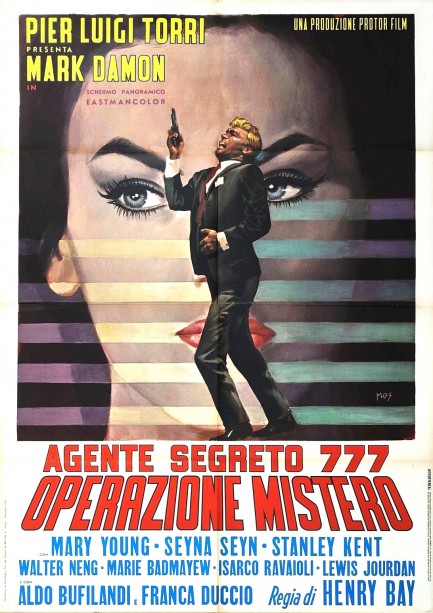 Above you see a Mario de Berardinis poster painted for the Italian spy thriller Agente segreto 777 - Operazione Mistero, known in English merely as Secret Agent 777. The plot of this revolves around a doctor's cell regeneration process—i.e. he can bring people back to life, a miracle somehow made possible through nuclear physics. No, it didn't make sense to us either. But all you need to know is that basically Agent 777 is a low rent James Bond rip-off with a touch of updated Frankenstein mixed in.

It's as silly as it sounds, and has too many problems to enumerate, but we did enjoy the Beirut setting, and it rather amused us when a character spoke of going to the "Portuguese colonies to find his fortune." Back then that meant going to Angola or Mozambique and extracting something of value that rightfully belonged to the local people—oil, antiquities, jewels, anything. The sequence struck us because at the time Agent 777 was extracting something of value from us—our patience. It premiered in Italy today in 1965.

Help! I'm trapped in this terrible film and I can't get out!


---