There are 777 ways to make a bad 007 movie.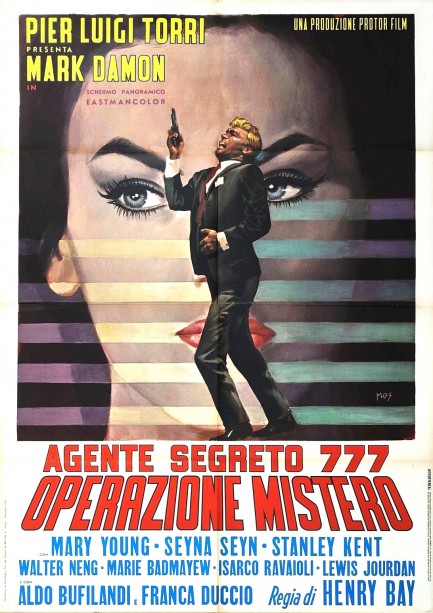 Above you see a Mario de Berardinis poster painted for the Italian spy thriller Agente segreto 777 - Operazione Mistero, known in English merely as Secret Agent 777. The plot of this revolves around a doctor's cell regeneration process—i.e. he can bring people back to life, a miracle somehow made possible through nuclear physics. No, it didn't make sense to us either. But all you need to know is that basically Agent 777 is a low rent James Bond rip-off with a touch of updated Frankenstein mixed in.

It's as silly as it sounds, and has too many problems to enumerate, but we did enjoy the Beirut setting, and it rather amused us when a character spoke of going to the "Portuguese colonies to find his fortune." Back then that meant going to Angola or Mozambique and extracting something of value that rightfully belonged to the local people—oil, antiquities, jewels, anything. The sequence struck us because at the time Agent 777 was extracting something of value from us—our patience. It premiered in Italy today in 1965.

Help! I'm trapped in this terrible film and I can't get out!


---
If it isn't on the internet did it ever really exist?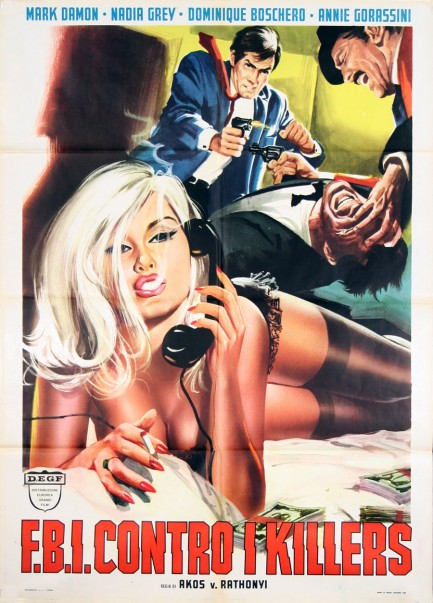 Talk about an obscure movie. F.B.I. contro i killers stars Mark Damon, Nadia Grey, Annie Gorassini, and the lovely Dominique Boschero, all of whom are known actors. It was directed by Akos Ráthonyi, a Hungarian whose résumé goes back to the 1940s. But no webpage, no wiki page, and no database anywhere gives any details on the production. After scouring our usual resources, then searching only Italy-based or Italian language pages, and finally doing both with cross-referenced data, we found only a few ad container pages that had bounced our search terms back at us, and one page that had a small version of an alternate poster from the movie. So we've got no info on this one. This highlights both the wonder and weakness of the internet—it disperses otherwise inaccessible information with infinitely more efficiency than any other real world medium, yet limits our observation of that world to that which has been digitized and uploaded. And now that we've gotten all quantum and whatnot, anyone out there with info on F.B.I. contro i killers—either the movie or the poster art—feel free to drop us a line.
---