William Powell discovers a rare species of marine life.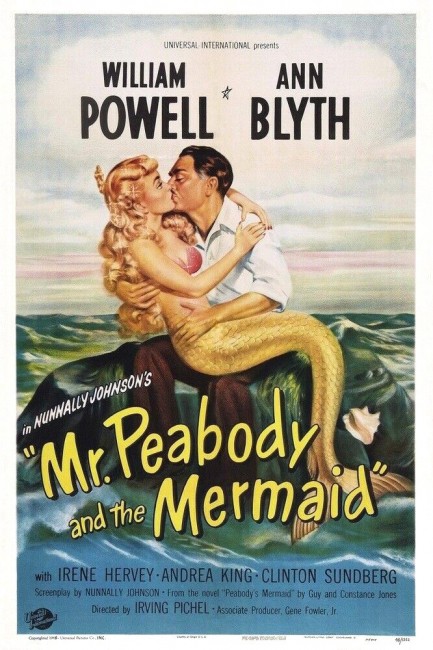 Today we're looking at a decidedly non-pulp movie—Mr. Peabody and the Mermaid, a featherweight comedy starring William Powell and Ann Blyth. We watched it because we featured Blyth as a femme fatale last year. She was wearing a mermaid costume in the photo we shared, and an image like that will make one curious. In the movie a fifty-year-old man having a bit of a two-thirds-life crisis takes a Caribbean trip with his wife, stumbles across a youthful mermaid, and falls in love with her. Powell is good, of course, as he is in everything, and Blyth is expressive—which is to say she doesn't speak. Why would she? She's a fish, silly. She does hiss, though. Irene Hervey as Powell's hot wife has a bit of a wandering eye herself, but for an actual man rather than a fantastical creature, and Andrea King plays a woman intent on making the moves on Powell. With all these potential infidelities there's lots of dramatic potential, but this is a family comedy, which means nothing too taxing to the average moviegoer occurs and everyone ends up where they belong—Powell and Hervey recommitted to their marriage, and Blyth recommitted to the sea. Cute stuff. Mr. Peabody and the Mermaid premiered in the U.S. today in 1948.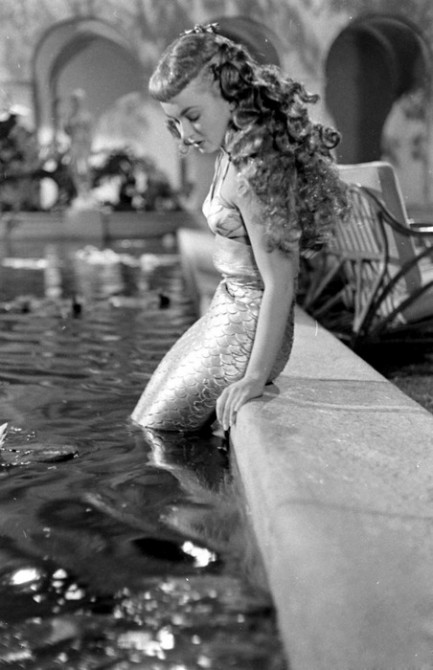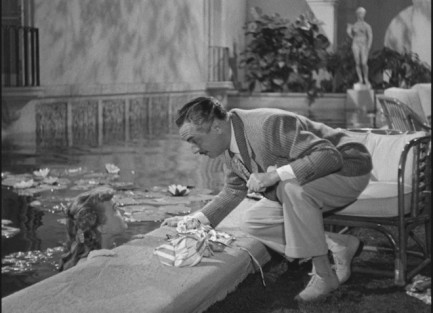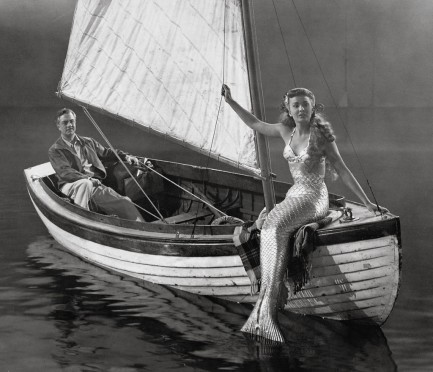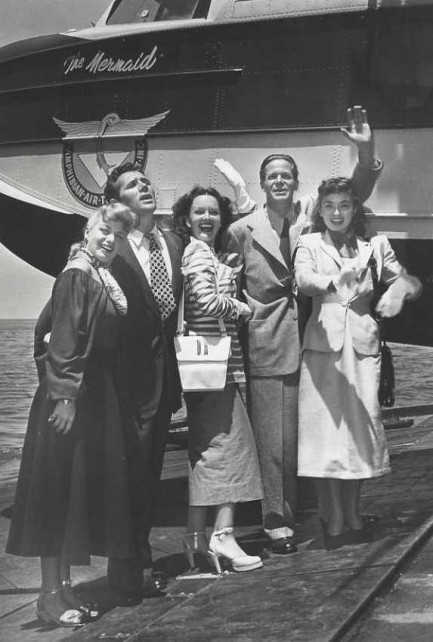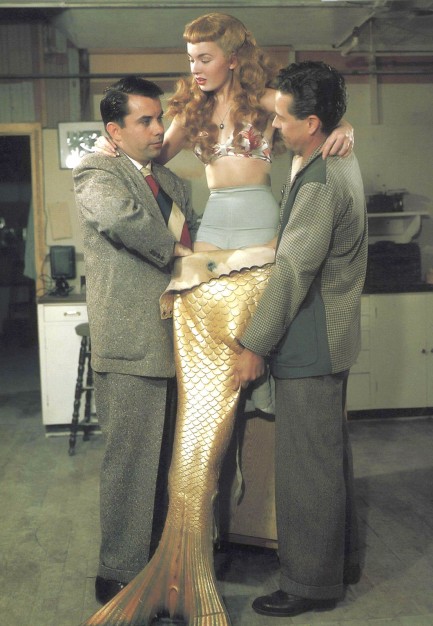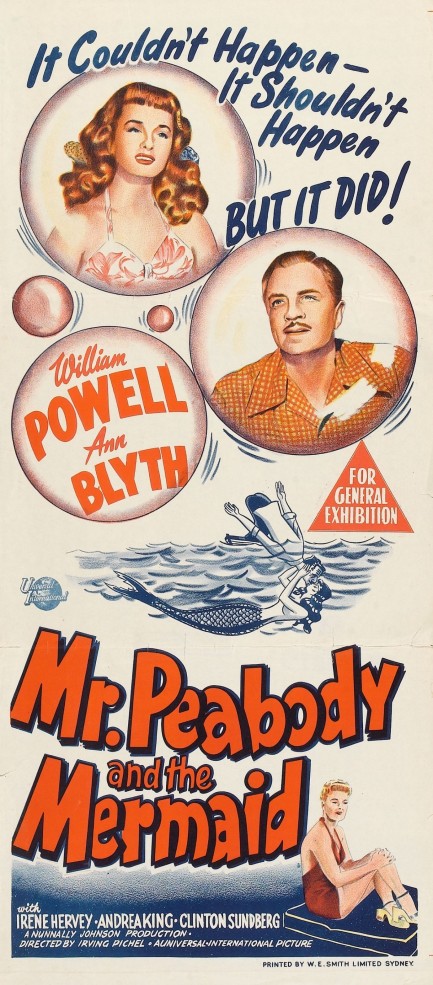 ---
Spare the rod, spoil the child.
We ran across this West German poster for Solange ein herz schlaegt, aka Mildred Pierce, and realized we had a substantial gap in our film noir résumé. So we watched the movie, and what struck us about it immediately is that it opens with a shooting. Not a lead-in to a shooting, but the shooting itself—fade in, bang bang, guy falls dead. These days most thrillers bludgeon audiences with big openings like that, but back in the day such action beats typically came mid- and late-film. So we were surprised by that. What we weren't surprised by was that Mildred Pierce is good. It's based on a James M. Cain novel, is directed by Michael Curtiz, and is headlined by Joan Crawford. These were top talents in writing, directing, and acting, which means the acclaim associated with the movie is deserved.

While Mildred Pierce is a mystery thriller it's also a family drama revolving around a twice-married woman's dysfunctional relationship with her gold-digging elder daughter, whose desperation to escape her working class roots leads her to make some very bad decisions. Her mother, trying to make her daughter happy, makes even worse decisions. The movie isn't perfect—for one, the daughter's feverish obsession with money seems extreme considering family financial circumstances continuously improve; and as in many movies of the period, the only black character is used as cringingly unkind comic relief. But those blemishes aside, this one is enjoyable, even if the central mystery isn't really much of a mystery. Solange ein herz schlaegt, aka Mildred Pierce opened in West Germany today in 1950.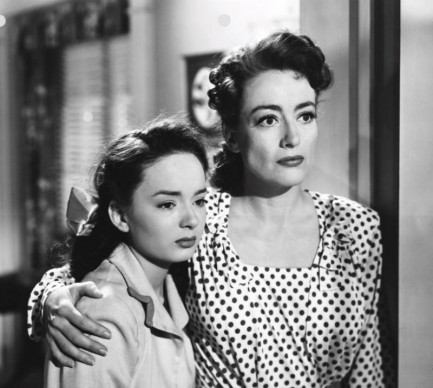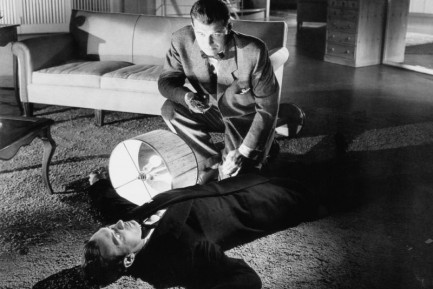 ---
I like you but there's an ocean of differences between us.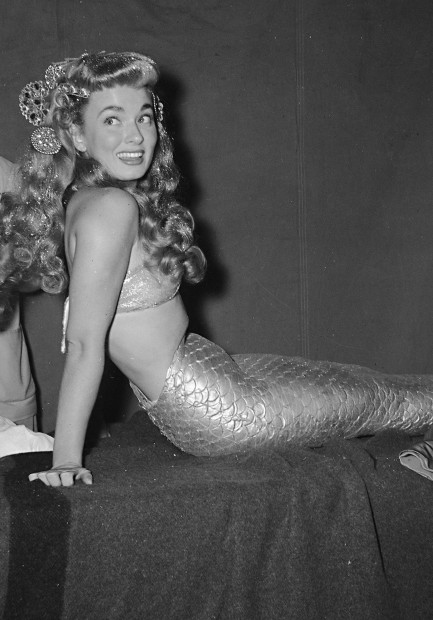 Above, a fun promo photo of American actress Ann Blyth taken on the set of her romantic comedy Mr. Peabody and the Mermaid, 1948. Blyth started in movies in 1944 and last acted in 1985, but she's still around at age eighty-seven.


---