I always appreciate attention from a handsome lifeguard, but I think someone's drowning over there.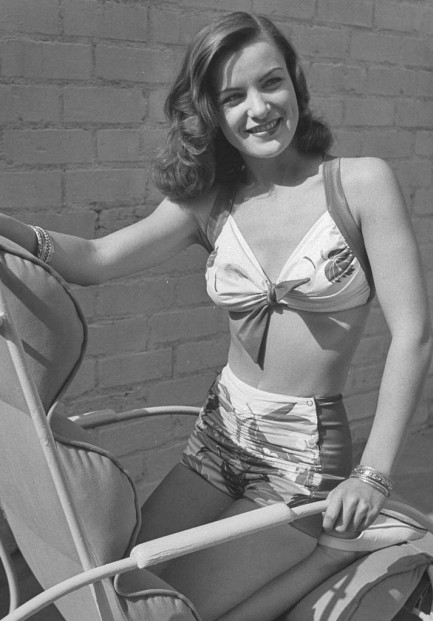 Above, U.S. born actress Ella Raines lounges in her bathing suit in this summery image from around 1945. Raines appeared in such films as Phantom Lady, Impact, and Brute Force, before transitioning to television in the 1950s. We talked about her 1947 film noir The Web a few years ago and you can read about that
here
.


---
Who needs force when you have firepower?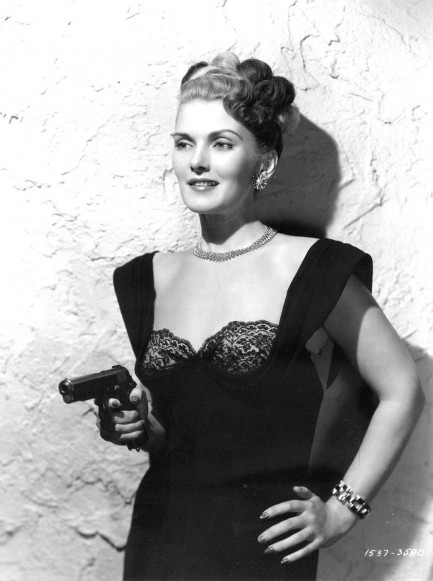 Anita Colby, née Anita Counihan, is probably most remembered for her role as the bad girl Flossie in Jules Dassin's film noir Brute Force. It was one of only a few cinematic parts she landed, but it was a memorable one—she robs John Hoyt at gunpoint, kicks him out of his own car, and leaves him stranded. But he remembers her somewhat fondly anyway. Here's how he describes her to another character: "Flossie had looks, brains and all the accessories. She was better than a deck with six aces. But I regret to report that she also knew how to handle a gun—my gun." Well, nobody's perfect. This image dates from 1947.
---
There are eight million stories in The Naked City.
Above, a great French poster for Jules Dassin's film noir La cité sans voiles, which was originally produced in the U.S. and called The Naked City. Dassin, who apprenticed under Alfred Hitchcock, was one of the quintessential noir directors, also helming 1947's Brute Force, 1949's Thieves' Highway and 1950's spectacular Night and the City. His career in the U.S. was ruined when he was named during the anti-communist hysteria of the 1950s, forcing him to live the rest of his life in more tolerant France. The Naked City, while not Dassin's best work, is certainly a significant piece, due to both its style and substance. Its tagline has become part of the American lexicon: "There are eight million stories in the naked city; this has been one of them." In 2007 the U.S. Library of Congress agreed that The Naked City was a special achievement when it selected the film for preservation in the National Film Registry for being "culturally, historically and aesthetically signifitcant." La cité sans voiles premiered in France today in 1949.
---