All these books are on our bucket list.
When you look at paperback covers every day it's interesting the common elements you notice. Of late, we've noticed buckets. They pop up on backwoods and rural sleaze novels, usually in amusing fashion, often in the possession of hardworking women going about difficult chores while nearby men don't do dick. We'll just tell you—that's not the way it works around our place.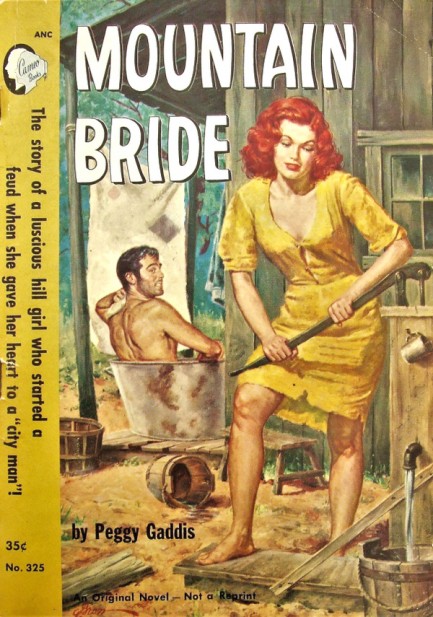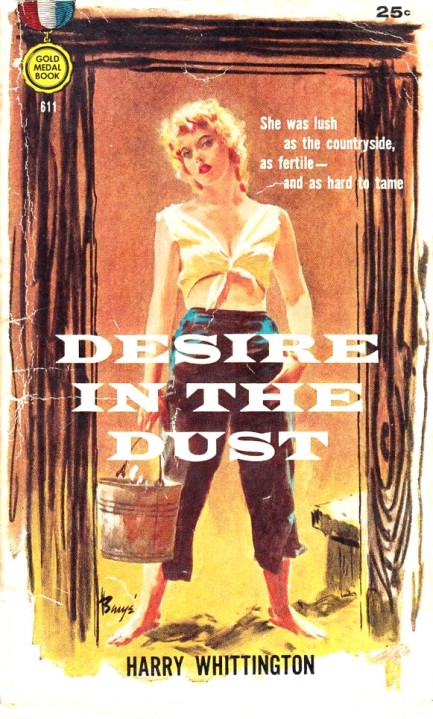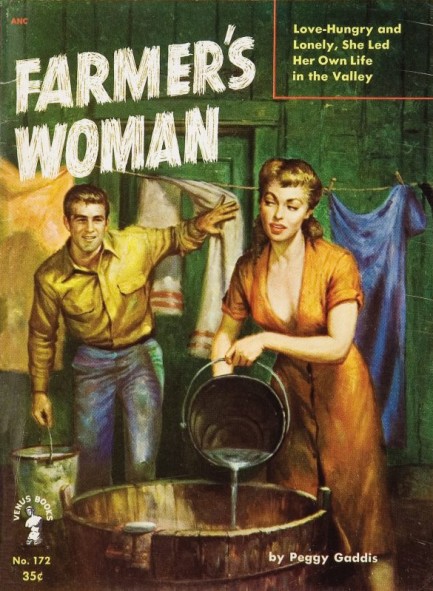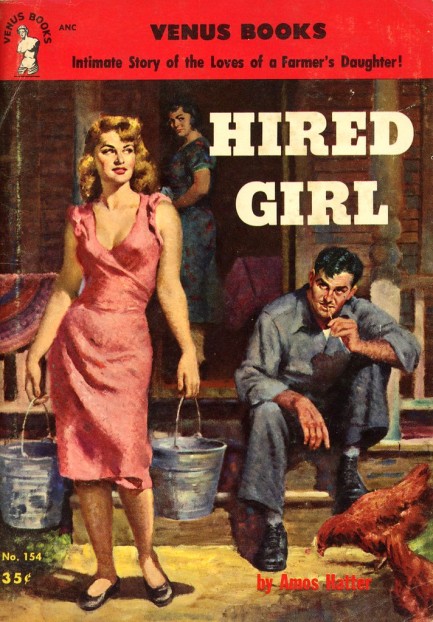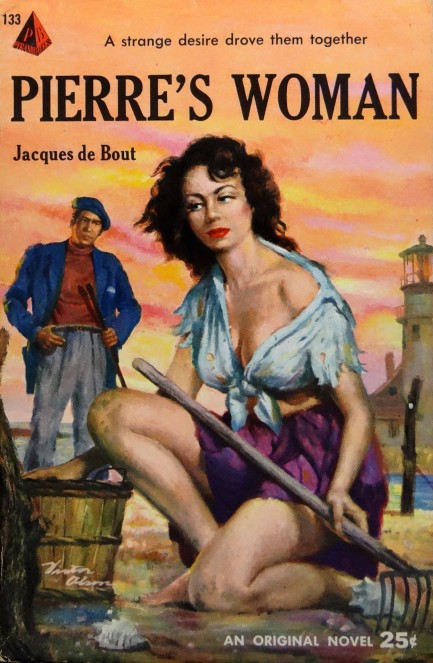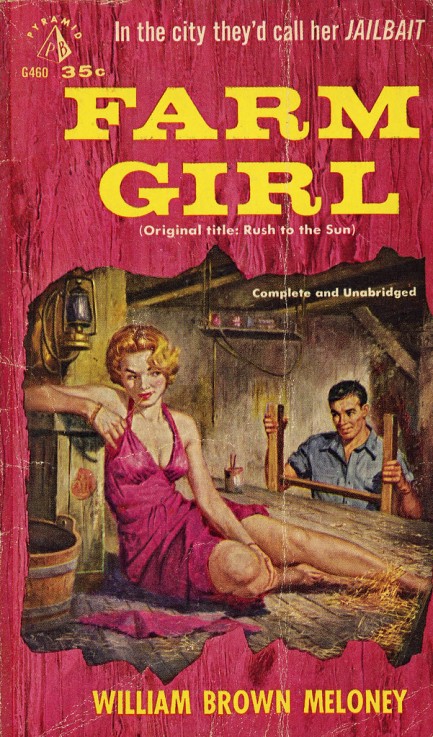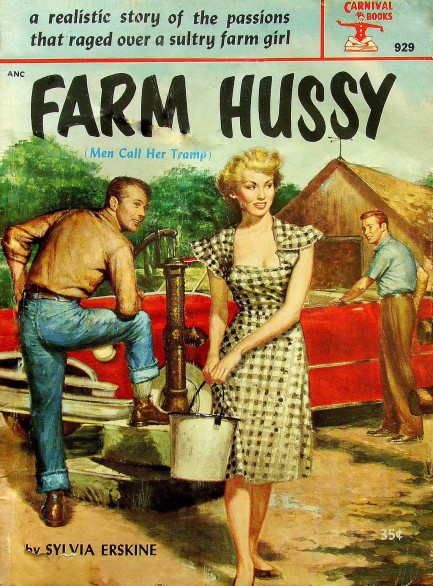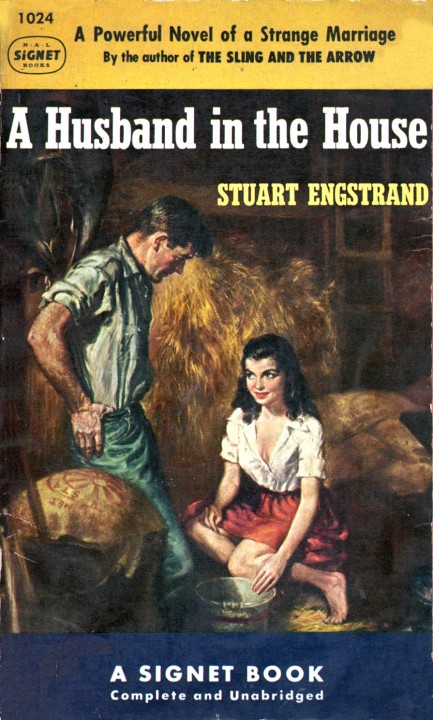 ---
Forget it. I hate being constantly poked by small pointy things. And I'm not very fond of hay either.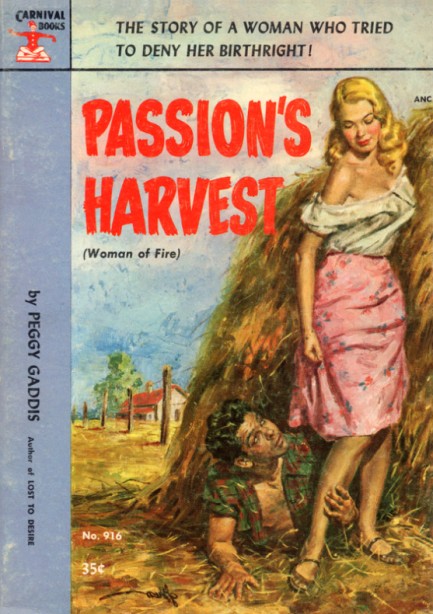 Have you ever had sex in hay? We haven't, but it seems like it would stab and stick, possibly even lodge and wedge, necessitating careful removal from bodily crevices. We could be wrong. Passion's Harvest, which features hay prominently on the cover, along with a man who has no apparent qualms about its drawbacks, was written by the prolific Peggy Gaddis and published in 1956. It was a revised re-issue of her 1952 Cameo Books paperback Woman of Fire. Basically, you get a May-December marriage, which is without fulfillment for the young wife/mother, but is secure and stable until she meets a local stud and finds herself irresistibly attracted to him. The attraction for us is the George Gross art with its unusual backward signature. As far as hay goes, we're dubious. But we live not far from farmland, so we'll maybe explore this with the Pulp Intl. girlfriends and report back.


---
What happens in the sticks stays in the sticks.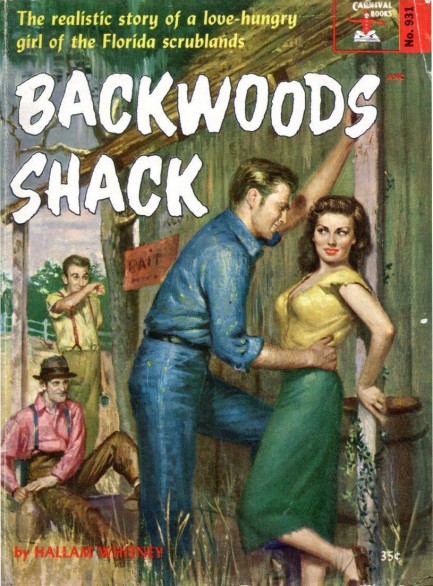 More hicksploitation from Hallam Whitney, aka Harry Whittington—Backwoods Shack, for Carnival Books, digest format with great cover art by Rudy Nappi. A love triangle in the Florida outback is centered on hot-to-trot "backwoods trash" Lora and her two suitors, uptight Roger and proudly countrified Cliff. 1954 copyright.
---