The skies may be friendly, but the ground is an entirely different story.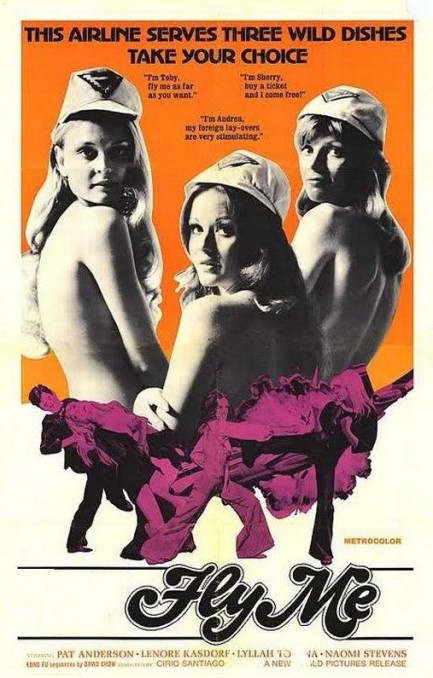 When you come across a '70s movie with bad acting, bad scripting, vaudevillian humor, nude women, and a foreign setting, there's a good chance you're dealing with the output of either American International Pictures or New World Pictures. Fly Me comes from the latter studio, and was directed by Cirio Santiago, one of the kings of Asian sleaze cinema.
The story deals with three flight attendants played by cinematic obscurities Pat Anderson, Lyllah Torena, and the gorgeous Lenore Kasdorf, who get into various pickles in Hong Kong and Manila—and get various pickles into them. One stew is secretly working for a drug cartel and is kidnapped after failing to perform up to expectations, a second meets and falls for a guy who turns out to be a British secret agent, and the third mostly tries to ditch her mother and get laid.
We'd love to tell you the movie is good, but no such luck. It lurches back and forth from sexploitation to lowbrow comedy, and as usual with Cirio Santiago's films, the action scenes are inept. We'll admit to enjoying TNT Jackson, but based on the preponderance of evidence he appears to be a real hack as a director. He's a Filipino legend, though, who helmed something like a hundred films, so he'll certainly have opportunities to redeem himself as we continue our explorations. We'll keep you posted. Fly Me premiered today in 1973.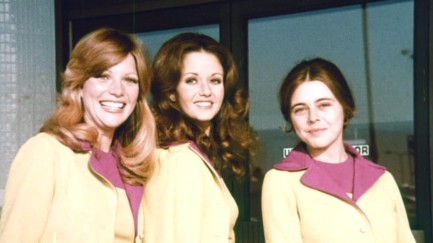 We love being stewardesses. The pay isn't great but you can't beat the travel.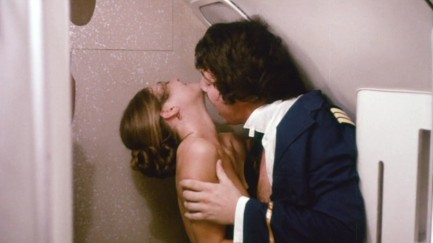 Oh, Captain, I've always wanted to join the five-inch high club.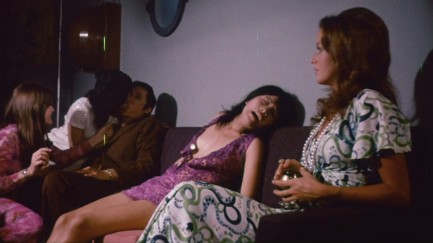 This chick is freaking the fuck out. Excuse me, sir. You're one of the hosts, right? You might want to toss this one with the rest of the empties.
Oh no. A creepy foreigner. I heard they attack if you show fear, so just keep walking. Stay calm. Don't run.
Screw that plan. Cork-soled wedge sandals, get me outta here!
I have an idea. Let's go to your room and have screaming hot monkey sex, okay?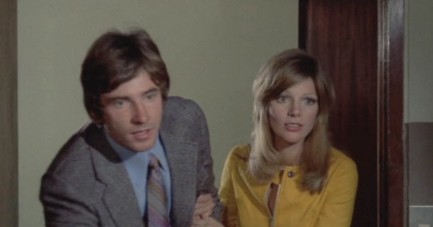 Oh! Mom! Hi!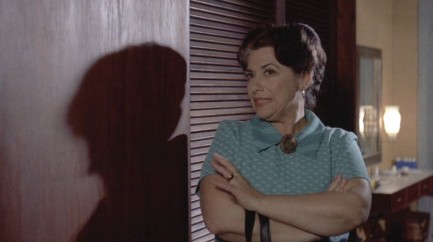 Remove your grubby fingers from my daughter's big fat '70s bush this instant!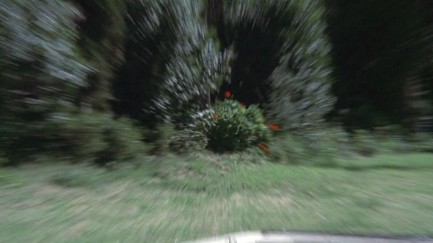 Incongruous crash-zoom of an actual bush!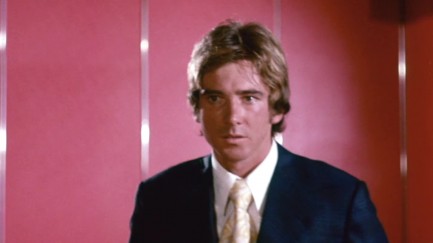 Hey everyone, I'm looking for my missing girlf—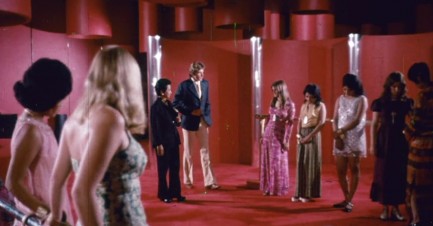 Er... did I say missing? I meant dead. And I miss her very much and would like a replacement.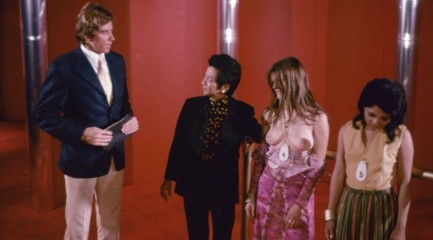 I'll take that one. Don't bother wrapping her or anything. I'm gonna eat her right in the car.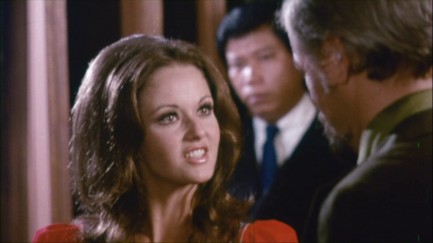 Drop dead, creep!
I didn't mean on top of me! Ugh, how rude!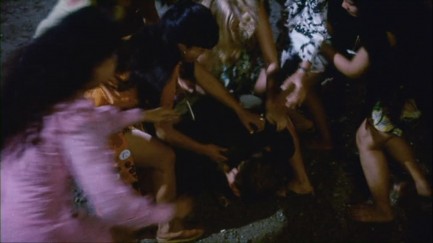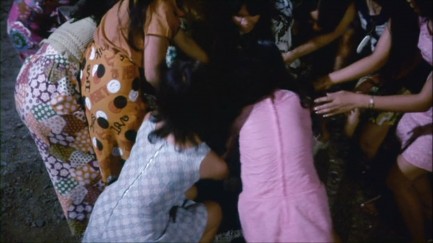 That's him! The head of the sexual slavery ring! Rip his balls off and stomp them into cracker spread!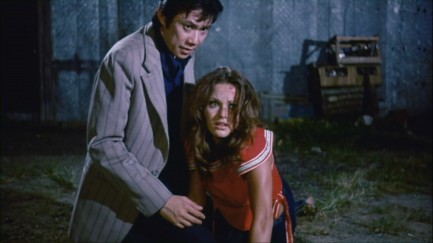 I've seen things in my police career that were hard to watch, but this is the worst of all.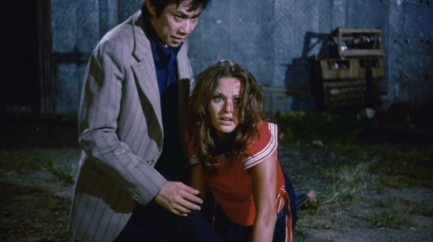 By the way, you okay? Wanna have sex again or do you need a few hours to recover from your trauma?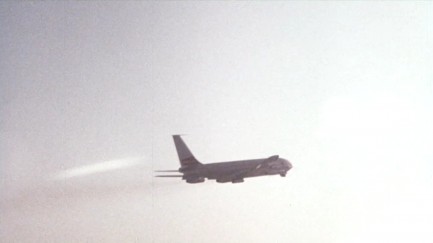 Well, girls, Manila sure was a hoot. I wonder what Mogadishu will be like?


---
Teach, nurture, encourage, love. That all comes later. Right now, they're mainly focused on killing.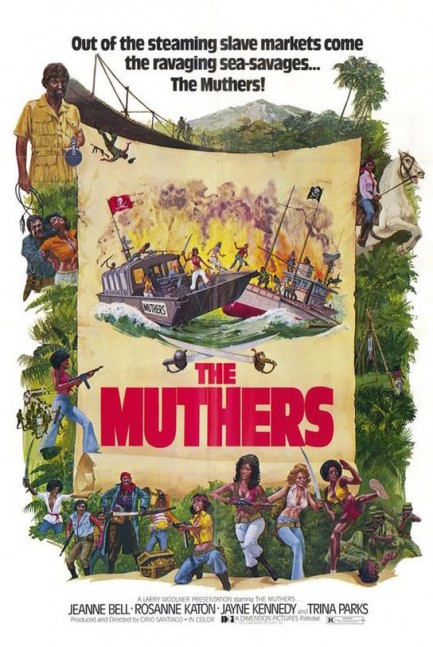 Yes, there are two movies called The Muthers. We covered the one from 1968 yesterday. Today we turn our attention to the unrelated blaxploitation flick, which premiered this month in 1976. Yesterday's Muthers was a simple nudie romp, rather innocent. Here eight years later we have a full blown savage adventure epic about a clan of female pirates who get themselves deliberately thrown in a coffee plantation/prison camp called Sal Si Puedes—Get Out If You Can—as part of a rescue mission. So what you basically have here is a women-in-prison movie, replete with sweat, cruelty, and a desperate plan to make a break for freedom.
Two of the pirates are portrayed by Playboy centerfolds Jeannie Bell and Rosanne Katon, while model Jayne Kennedy is a sort of privileged prisoner. Without getting too pervy about it, these are three of the more beautiful women from '70s b-cinema. Another pirate is played by Trina Parks, who while she isn't otherworldly like the goddesses previously mentioned, is certainly plenty hot by any normal measure. We bring up their physical characteristics because it's exactly why director/writer/producer Cirio Santiago cast them. He was an exploitation producer/director nonpareil, and his milieu was putting beautiful women—among them Pam Grier, Judith Brown, Roberta Collins, Margaret Markov, and Colleen Camp—in roles where they drove the action.
The Muthers takes place in what is supposed to be Central America, but it was really produced in the good old Philippines by Santiago and the same people who gave the world movies like She Devils in Chains and Savage! The women Santiago has assembled here karate kick, rabbit punch, and machine gun a series of anonymous bad guys, finally working their way up the prison camp's commandant, played by Tony Carreon. Who comes out on top? You never know in these jungle epics, but you can count on the end being pyrotechnic. Do we recommend this? Well... in terms of sheer quality maybe not, but in terms of watching Bell, Katon, and Kennedy? For sure. Those girls are poison!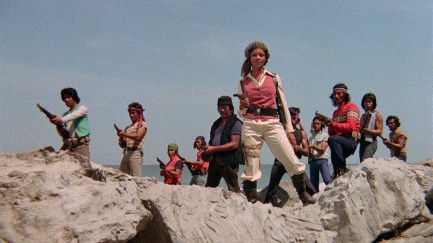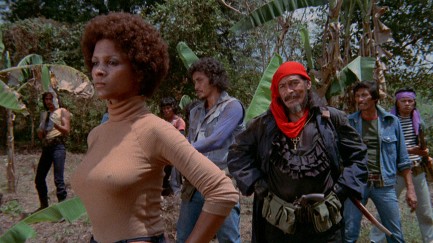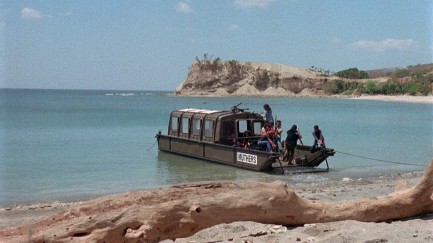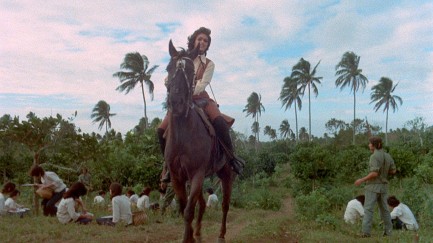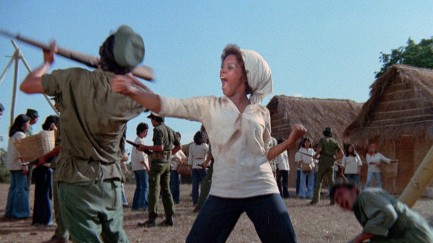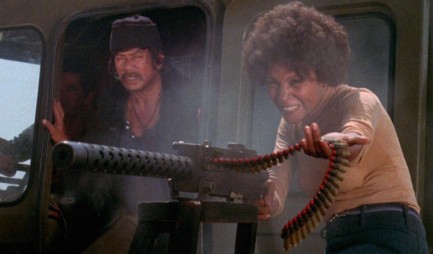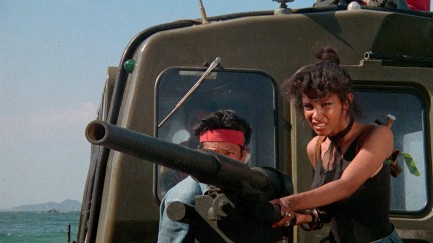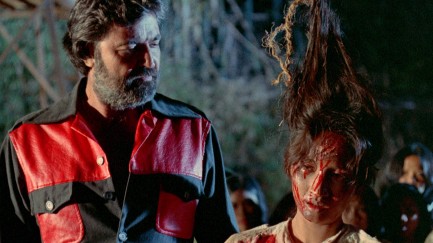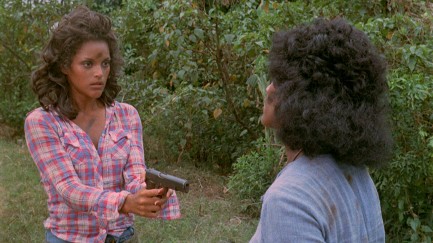 ---
Jeanne Bell karate chops her way across Hong Kong.
T.N.T. Jackson, for which you see the U.S. promo poster above, is a mid-budget blaxploitation flick shot in the Philippines and Hong Kong, built around clumsy martial arts, a flimsy plot, and shoddy acting. But it has Jeanne Bell. Playboy magazine had made Bell a centerfold in 1969. From there she launched a movie career, with T.N.T. Jackson coming ninth in her filmography. She plays Diana "T.N.T." Jackson, who learns that her brother was killed by Hong Kong drug dealers and seeks payback. While the plot is nothing special, Bell certainly is. She was twenty-five and wore a bouffant hair-do when she first appeared in Playboy; in T.N.T. she was thirty and had blossomed into an unforgettable beauty with a frosted afro, kicking and chopping her way across the movie screen. All the fight scenes are hilarious, with their cut-rate choreography and claw-handed posing, but they're fun to watch, especially the one in which she kicks the shit out of a bunch of guys while wearing only panties. That bit seems to us a clear homage to Reiko Ike's totally nude fight in 1973's Sex & Fury, another movie that surpasses its limitations by piling on style and attitude. Is T.N.T. Jackson actually good? No—but we bet it'll make you smile. It premiered in the U.S. today in 1974.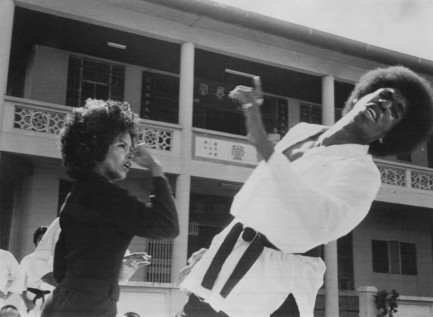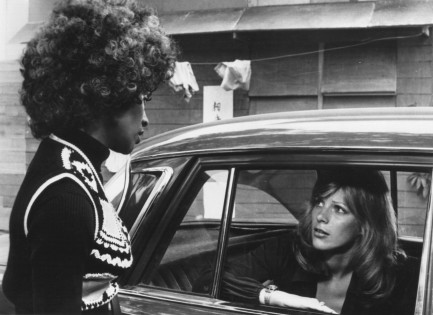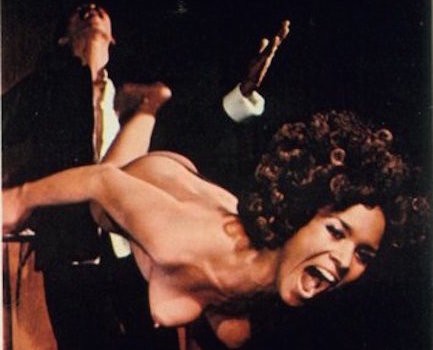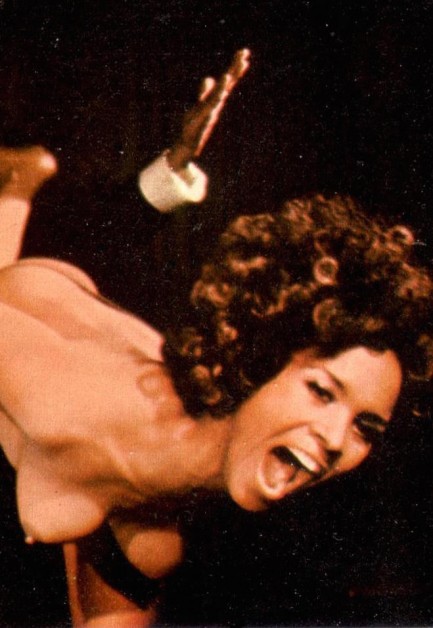 ---