1957 crime farce offers Slim pickings—at least until Dominique Wilms comes along.
We were busy little beavers last night. We watched a second vintage drama. At least, we thought it was a drama. Above you see an Italian poster for Slim Callaghan... il duro, which was originally made in France as Et par ici la sortie. It had no English title since it never had an English language release, but it was adapted from a novel by British author Peter Cheyney, who made a career of imitating American hard boiled detective novels. As many reviews of his fiction note, the vernacular was tricky for a guy who'd spent little if any time Stateside, making for some clunky prose at times.
When you watch Et par ici la sortie, it's clear that French filmmaker Willy Rozier picked up on the quirkiness of Cheyney's writing and decided to inject heavy doses of comedy into his film version. Thus in addition to gunplay there's a cream pie fight, a slapfest of attrition between Dany Dauberson and Pascale Roberts, a comedic brawl on a passenger airliner that almost results in a crash, and another brawl features that hoary vaudeville classic—seltzer water sprayed in the face. Much of this is hilarious, though not in the way Rozier and Co. intended—you'll laugh out of amazement.
The plot involves a Scotland Yard detective who is the virtual double of a criminal arms dealer, and decides he can infiltrate and bust the arms gang by relying upon this resemblance. But the arms dealer likewise realizes the resemblance and embarks on his own scheme to take advantage. Sounds positively scintillating, doesn't it? Erm... maybe not. But the movie isn't a total loss. Dominique Wilms gets a co-starring role here as the femme fatale Myrna de Maripasula. Think she isn't reason enough to watch? Think again. Et par ici la sortie premiered in France today in 1957.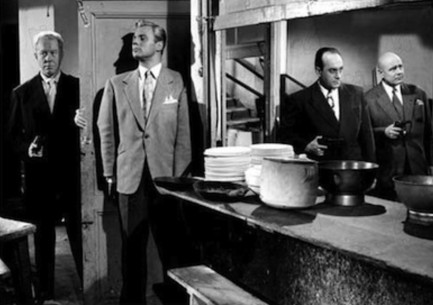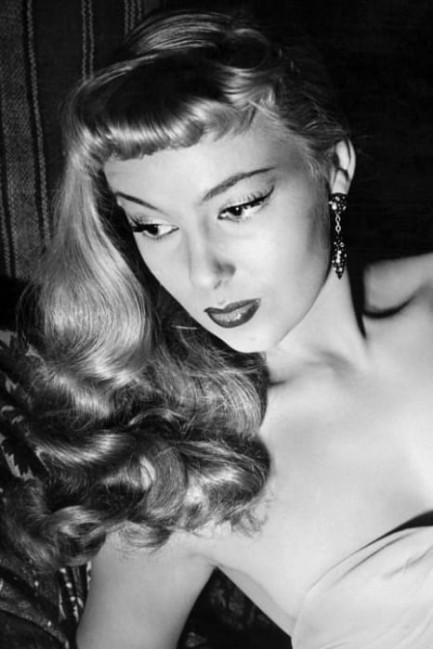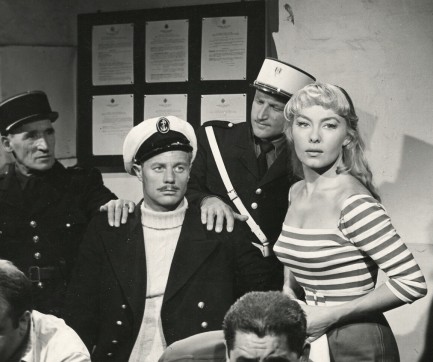 ---