She'll give you more than just a scratch if you aren't careful.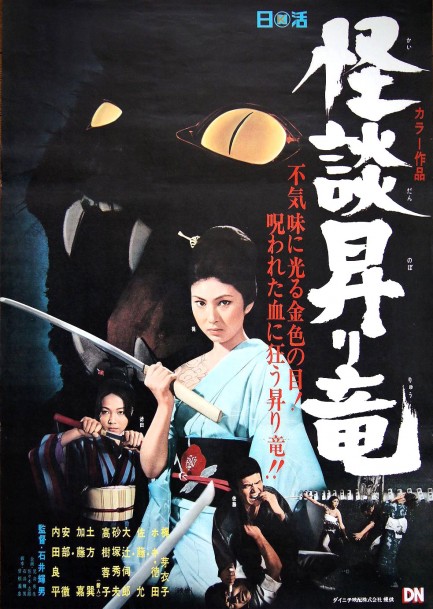 Above, an alternate promo poster for Kaidan nobori ryu, aka Blind Woman's Curse, et al, with imagery slightly different from the others we showed you, which can see here.
---
She wasn't really a blind woman—she only played one in the movies.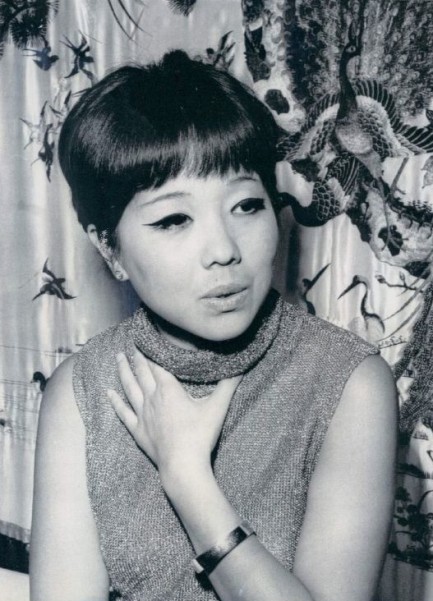 Last week we watched Meiko Kaji's Kaidan nobori ryu, aka Blind Woman's Curse, and were too busy being cute with our summary of the film to mention that the blind woman was played by Hiroko (Hoki) Tokuda, who is better known to many people as author Henry Miller's last wife. When they met she was working as a lounge pianist in L.A. and Miller, who had established himself as one of the most important American writers ever, was living in Pacific Palisades. Tokuda told the New York Times in 2011: "Henry started asking every week to meet me. I realized he just wanted a Japanese woman to add to his collection, and I would always ask myself, 'Why me?' Soon after we met, he started telling people he was going to marry me." And marry her he did in September 1967. She was twenty-nine and Miller, who had been born in 1891, was on the verge of turning seventy-six.
By early 1970 Tokuda had left Miller and was back in Japan, where that year she filmed Blind Woman's Curse. Miller died in 1980, and Tokuda is in Japan today, running a piano bar called Tropic of Cancer, after her ex-husband's most famous book. She says her marriage with Miller was never consummated, which may or may not be true—Miller isn't around to contradict her. She also says she only married him for a green card,
and has even joked about him being a bad kisser. "Terrible," she describes it. "Wet." It strikes us as a bit cynical for her to pretend the marriage was an inconvenient mistake when she's borrowing the name of his most famous book in order to brand her bar, but that's just our opinion. In any case, being a pulp site, we just thought we should offer a little background info, since Tokuda was married to a guy who changed English language literature forever. The above photos both date from September 1967, when their love—if it ever existed—was new.


---
You can't swing a dead cat without hitting Meiko Kaji.
We thought the last Meiko Kaji poster we found featured the creepiest black cat of all time. We stand corrected. The above poster is for Teruo Ishii's 1970 blood splatterer Kaidan nobori ryu, aka The Tattooed Swordswoman, aka Black Cat's Revenge, aka Blind Woman's Curse, aka Strange Tales of Dragon Tattoo, aka we'll just stop there and tell you what it's about. It's about… well, we aren't completely sure what it's about, because we had to watch it without subtitles. Sometimes that doesn't matter, but this movie is a bit abstract so the plot was hard to follow. Actually, even the actors seemed confused at times. But even if we can't tell you exactly what it's about, we can tell you what it has.
It has Meiko Kaji in the starring role. So that's good.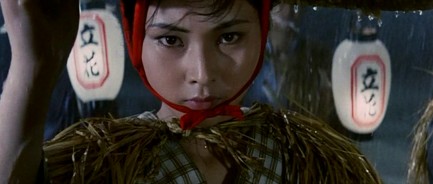 She's the leader of a gang that has a dragon collectively tattooed on its back. Which is visually interesting and a nice symbol of togetherness in these divisive times.
But she's a bit divisive herself, especially when it comes to dividing people from their body parts. She kills lots of people who deserve it, but accidentally blinds a little girl who doesn't. That's the girl in the second panel on the right, being blinded. We didn't need subtitles there. Pretty sure she shrieked, "My eyes!"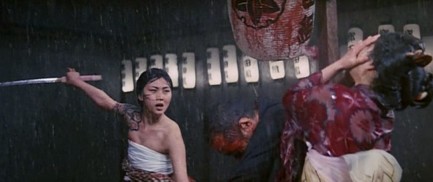 And then there's the cat. It's on the poster, so we were expecting it. What we didn't expect is that it eats blood. Which is weird, because cats are normally quite finicky.
There might be more than one black cat, now that we think about it, because it keeps popping up. Near as we can tell, Kaji thinks she's cursed by this creature, and that it was sent by the little girl she blinded.
There's something for the ladies here—ass. Prime male ass. That's only fair, considering how much female skin is usually on display in these old Japanese flicks, but apparently he smells really bad. Leave it to male filmmakers to slip a little beefcake into a movie but then put some passive aggressive twist on it. The women in the movie don't smell bad. You can be sure of that. But the one guy who shows his ass smells bad. Pretty good ass, though.
But ironically, from the front he's butt ugly. Double disappointment for female viewers, and doubly passive aggressive from the filmmakers.
There's a lot of horror movie stuff going on as well, including a guy wokking some severed body parts. Did they ever do hands on the original Iron Chef? They definitely did sea cucumber, but hands, can't be sure. Probably should have, though.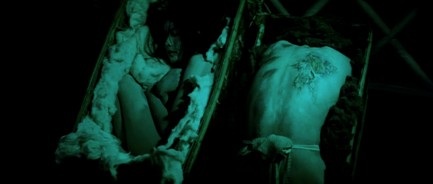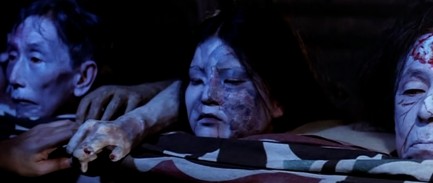 The black cat inevitably returns, but disturbingly, it's hanging from a wire. We're not supposed to notice the wire, but thanks to the wonders of pause technology, we got a clear shot of it. Apparently, the filmmakers couldn't get a live cat to jump at the camera on cue, so they used this dead one hanging from piano wire. It isn't a puppet, as far as we can tell. Best not to think about it.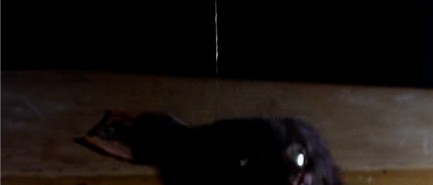 There are some flayings. Members of Kaji's gang have the dragon tattoos forcibly removed from their backs. It's fatal, in case you're wondering. One of the flayed victims ends up pressed against a pane of glass like a Delta Zeta kissing her jock boyfriend. No idea what that was about.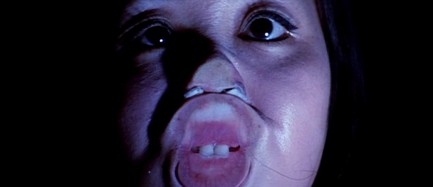 All of this leads to a climactic bloodbath. And we really mean bloodbath. Bad guys end up snorkeling in their own bodily fluids as Kaji pretty much juliennes everyone that crosses her path.
Such massacres are often the prelude to a final showdown in these movies. No exception here. Kaji has to fight the girl she blinded, who's all grown up now and not in a forgiving mood at all. At all. Teruo Ishii uses an amazing matte backdrop to frame this scene and impart a sense of both turbulence and being sucked into an unavoidable conclusion.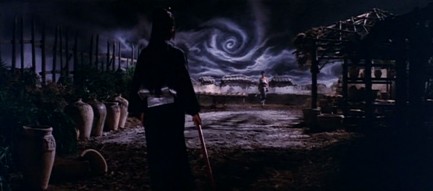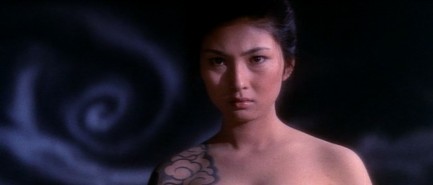 How can the blind swordswoman fight, being blind and all? We missed that explanation, if there was one, but she can definitely hear really well. So that helps. Also, we haven't seen the last of that cat. Somehow kitty seems to have something to do with helping the blind chick, but this time Kaji is intent on fixing its little red wagon for good.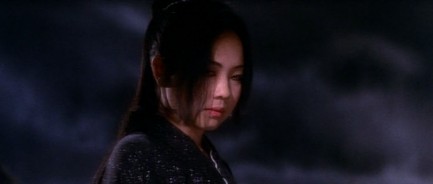 And that's all we've got, because with a command of Japanese so weak it isn't a command so much as a friendly suggestion, the plot nuances are beyond us, especially the whole haunting and evil spirit thing. But when a movie looks this good, it's easy to enjoy even without total (or even partial) comprehension. Hopefully we'll find a subtitled version somewhere and get a chance to screen this epic again. But even if we don't, it was time well spent. Check out poster number two below.

---