Los Angeles and the invention of Flight.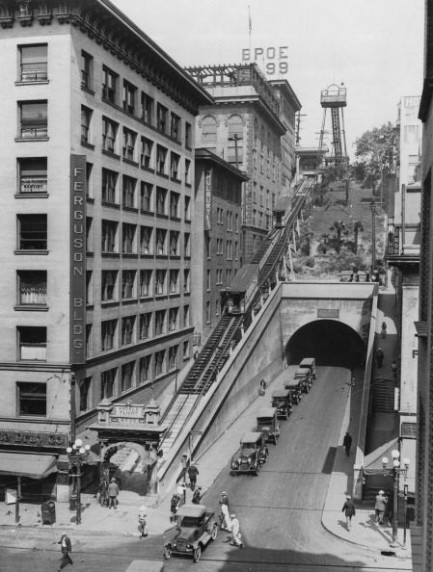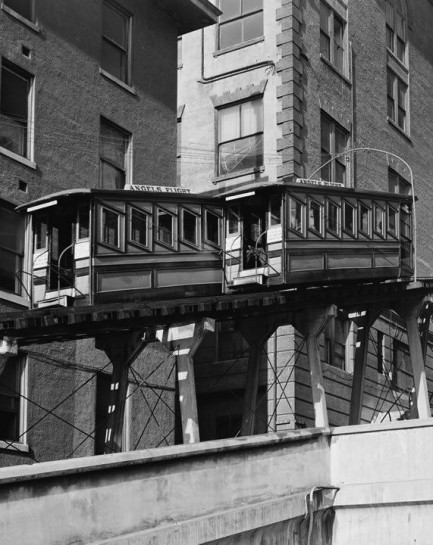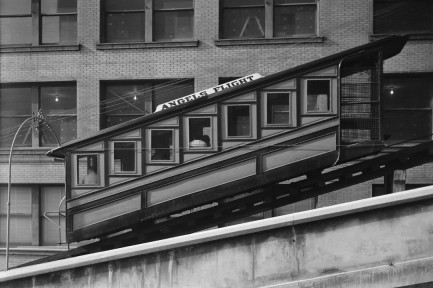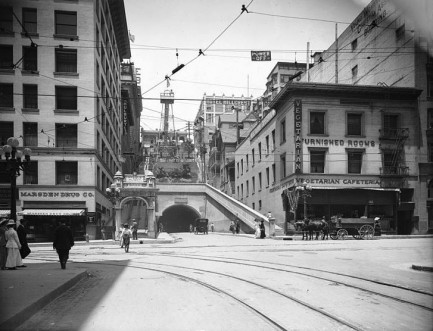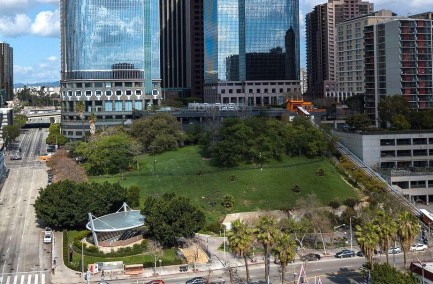 The above photos show the historic funicular railway Angels Flight, which opened in downtown Los Angeles in 1901 in the Bunker Hill area, with tracks running from Hill Street up a steep incline to Olive Street. There are only a few vintage funicular railways left in the U.S. Angels Flight—along with the impressive Monongahela Incline and the Duquesne Incline, both located in Pittsburgh—is among the most famous.
But it didn't operate without interruption. It closed in 1969 when Bunker Hill was redeveloped—in reality a destruction of an entire historic working class neighborhood—and reopened a block south in 1996. The railway's historical significance is architectural, but also cinematic. It appears in quite a few vintage films, most notably in Hollow Triumph, Night Has a Thousand Eyes, Act of Violence, Criss Cross, M, and Kiss Me Deadly.

The area near Angels Flight is set for a new redevelopment, as adjacent Angels Knoll, one of the last pieces of greenery in downtown Los Angeles, is to be bulldozed for another of the supposedly-mixed-use-but-really-millionaires-only skyscraper complexes that are popping up all over world as a way for one percenters to park their money.
Angels Flight will survive this new construction, at least for now, though it will be dwarfed by a forty story glass highrise mere feet to its south. Well, L.A. has rarely let the environment or historical significance stand in the way of making money, and when you look at it that way, the fact that Angels Flight survives at all to this day may be proof of a higher power.
---
You'd Hammer in the stomach, you'd Hammer in the jaw, you'd Hammer all over the body.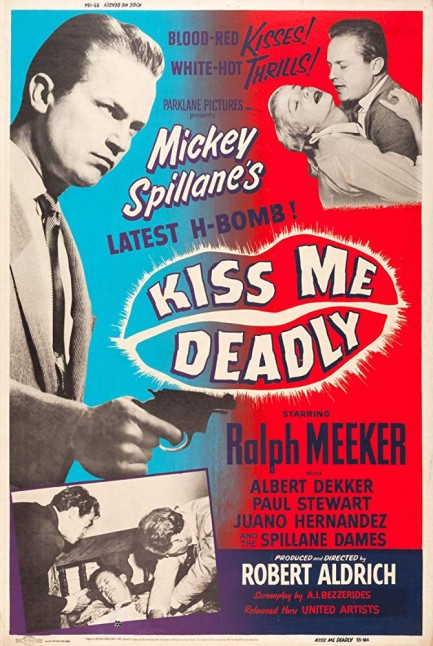 Does anyone not know what's in the suitcase in Kiss Me Deadly? We imagine almost everyone does, but we won't tell. We'll give you two hints, though: it isn't the same thing that's in the case in the novel; and the change the filmmakers made places the film on a progression along the line of such what's-in-the-case thrillers as Pulp Fiction (where you never see) and Ronin (where you never find out). Ralph Meeker stars as Mickey Spillane's harder than hard-boiled detective Mike Hammer, and Maxine Cooper plays his his assistant/friend-with-benefits (she was only his assistant in the novel) Velda Wickman.
Plotwise the first couple of reels follow the novel pretty closely, with Hammer almost running over a woman on the Pacific Coast Highway, letting her into his car, and quickly finding she's being pursued by villains of the worst kind. She and Hammer are captured, the woman is tortured, then the two are placed unconscious back in Hammer's prized Jaguar and pushed over a cliff. But the murder attempt only snuffs one of them—Hammer is left alive to seek answers and vengeance. With the help of his slinky sidekick he sets about turning the town upside down.
We wanted to watch Kiss Me Deadly again after reading the novel for the first time several years ago, but didn't get back to it until spurred to do so by Noir City, which is showing the film tonight on a double bill with Killer's Kiss. It's a pretty streamlined adaptation in parts, courtesy of A. I. Bezzerides. Spillane hated the movie, and we imagine he was particularly critical of some of the choices Bezzerides made. But the production is helmed by Robert Aldrich, who shows general flair along with impressive creativity in getting shots that were fresh for the time.
Best exchange of dialogue in this one:
"According to our information he calls himself a private investigator."
"His specialty is divorce cases."
Yeah, we're juvenile. Kiss Me Deadly is aimless in the beginning, and is marred by a silly Greek stereotype used for discordant comic relief, but picks up greatly in the second half and hurtles toward an explosive conclusion. The final product would have been merely decent had the movie stayed on the same course as the book, but Bezzerides wrenched the second half into a hard left turn, and his final commentary—an inspired change—saves the movie, in our opinion. It's preposterous, what Bezzerides does, but it works. So in the end Kiss Me Deadly earns its place on the list of twenty or so best entries in the film noir genre.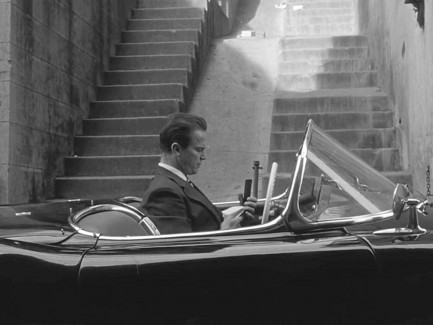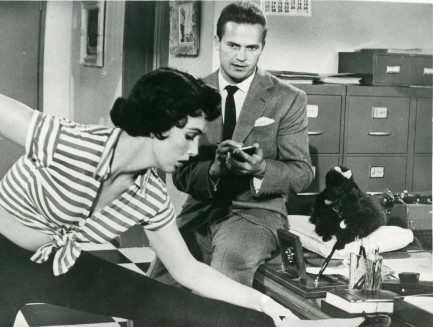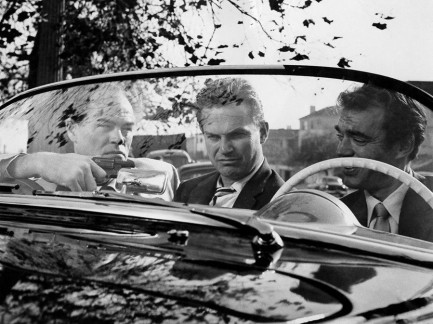 ---
Mike Hammer lets his inner predator come out.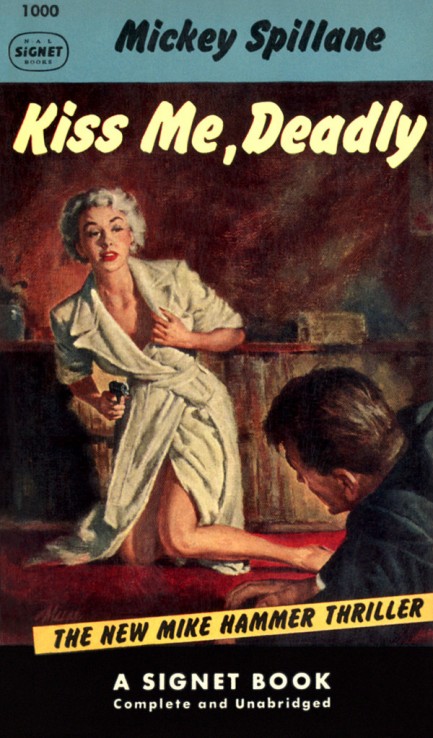 Mickey Spillane's iconic private dick Mike Hammer is a lethal weapon and he wants everyone to know it. He constantly tells others and the reader how tough he is, how willing he is to kill, how afraid others are of him, and why they're right to be afraid. At some point that changed in crime novels and these days the toughest characters almost never boast about their abilities, or it's done in a leftfield way, such as in Lee Child's novels, in which Jack Reacher sometimes explains clinically how he's going to get the better of somebody. But Hammer just comes out with it: "I'm mean, I'm tough, I'm better than you, I have a code you can't possibly understand, and I'm going to kill you and everyone who tries to help you."
This is never more true than in 1952's Kiss Me, Deadly, which revolves around Hammer accidentally becoming the patsy in a murder plot and seeking revenge, not only for the murdered woman (who's Swedish and has the awesome name Berga Torn), but also because anyone who would dare try to put him on the spot, and anyone who would wreck his custom built car, simply deserves to die. Spillane is great. This is still genre fiction, so it's never perfect, but the writing is visceral and the tightness of the plotting is unbeatable. When Hammer gets violent it's serious business. He rips a guys eyes out. He rips another guy's jaw loose. The man is a hammer alright, only his first name should be Jack.

Film buffs should note that Kiss Me, Deadly diverges significantly from the 1955 film version. There's no suitcase of— Well, if you haven't seen the movie we won't tell you what there's no suitcase of, but those who've seen it will know what we were going to say. Here the MacGuffin is drugs with a street value of two million dollars. Kiss Me, Deadly is fast, clever, unexpected, and quite a pleasure to read. It's basically preposterous, of course, the male antipode to the romance novel, with Hammer fulfilling male desires to be tough, unbeatable, irresistible, still basically a good guy, but never, ever to be fucked with. But we don't care if it's male wish fulfillment. It's a ton of fun.


---