I plan to rise from soul crushing poverty into the soul crushing middle class, and if you play your cards right I'll take you with me.
This 1955 Bantam edition of Steve Fisher's 1954 novel Giveaway has a front by James Hill that's at once beautiful and sordid. We've always been drawn to this art, so after seeing the book around for years we finally decided it was time to give it a read. Fisher tells the story of a seventeen-year-old Midwestern runaway named Eddie Shelton who ends up in Los Angeles and meets a mother and daughter who make their living by selling prizes they win for appearing on (fictional) game shows such as Down Melody Street and Cookies or Cash. It's difficult to get on the shows because the producers prefer novices, rather than "pros." Jane, the daughter in this duo, sees Eddie as her ticket to being booked on a show called Man and Wife that offers huge prizes, including a trip to Hawaii and a year's wardrobe. She's willing to do anything for the chance—even convince Eddie she's in love with him.

The allegory is strong with this book. It reminded us of They Shoot Horses, Don't They?, with its capitalist critique folded within the characters' constant hope that a jackpot will lift them out of their meager circumstances, but it's also indebted to Catcher in the Rye because it features the same sort of youngish character who thinks the entire world is phony bullshit. Like that book, Giveaway is written in first person with copious slang and the feel of trying to make sense of a confusing society. We saw it labeled somewhere as juvenile fiction. It isn't. It stars two teens, but the themes from veteran pulp magazine contributor, crime novelist, and screenwriter Fisher are adult, and overall he crafts a good tale. His screenplays include Dead Reckoning, Lady in the Lake, and Johnny Angel, so a foray into the criminal underworld with him is mandatory. We have one of his crime novels, so that'll be an upcoming read, and we'll report back.

---
Philip Marlowe tries not to go under for the third time in Lady in the Lake.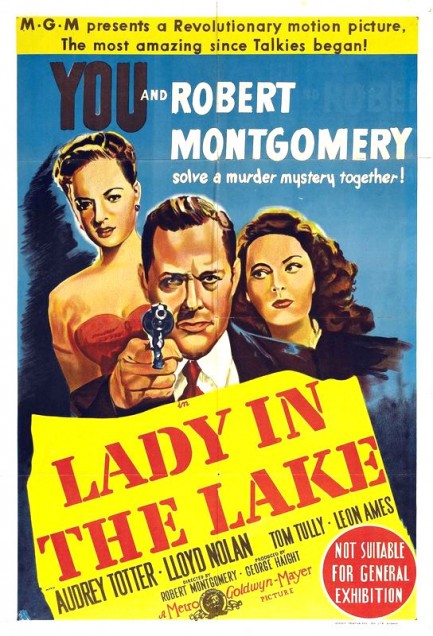 Lady in the Lake, for which you see a promo poster above, was the first motion picture shot almost entirely from the visual perspective of a single character. That character is Raymond Chandler's iconic private dick Philip Marlowe, played by Robert Montgomery, who also directed. As both a mystery and a seeing-eye curiosity, this is something film buffs should check out. You won't think it's perfect. Montgomery's version of Marlowe regularly crosses the line from hard-boiled to straight-up asshole, but that's the way these film noir sleuths were sometimes written.
Though the bad attitude is tedious at times, the mystery is interesting, there's plenty of directorial prowess on display from Montgomery, and a bit of unintentional comedy occurs when he gets knocked cold twice in that first person p.o.v. Seriously, Marlowe, you couldn't see those punches coming? We were reclined on the sofa with glasses of wine in our hands and we could have dodged them without spilling a drop. It's all in good fun, though. Every shamus gets forcibly put to sleep now and again.
If the movie has a major flaw it's that co-star Audrey Totter gives a clinic in overdone facial expressions before overcoming these bizarre poker tells to finally settle into normal human behavior around the halfway mark. Despite that bit of weirdness, film noir fans will like this. Those new to the genre maybe will find it too strange to fully enjoy. But it's indisputably a landmark, and that's worth something. Lady in the Lake premiered in London in late 1946, and went into general release in the U.S. today in 1947.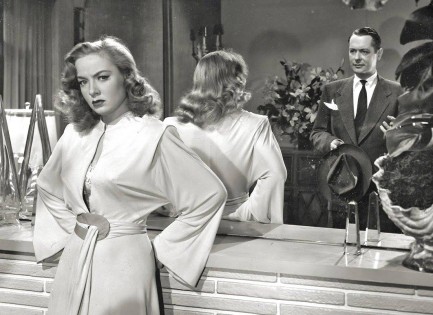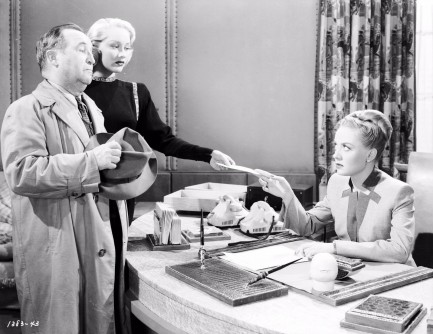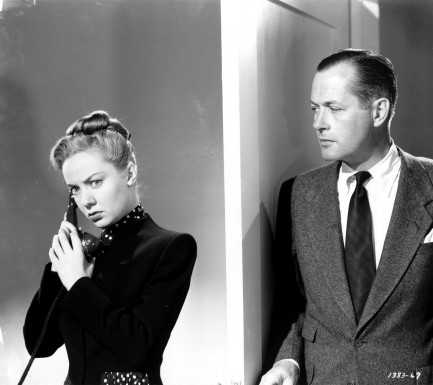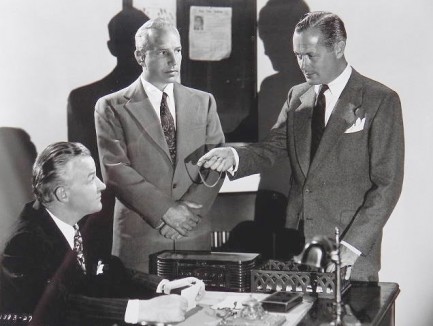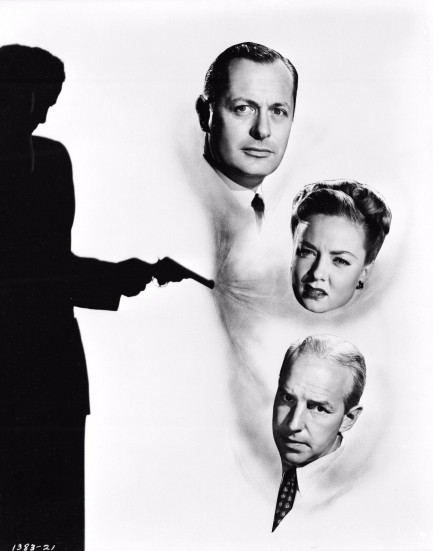 ---
Whoa... is the floor swaying or is that me?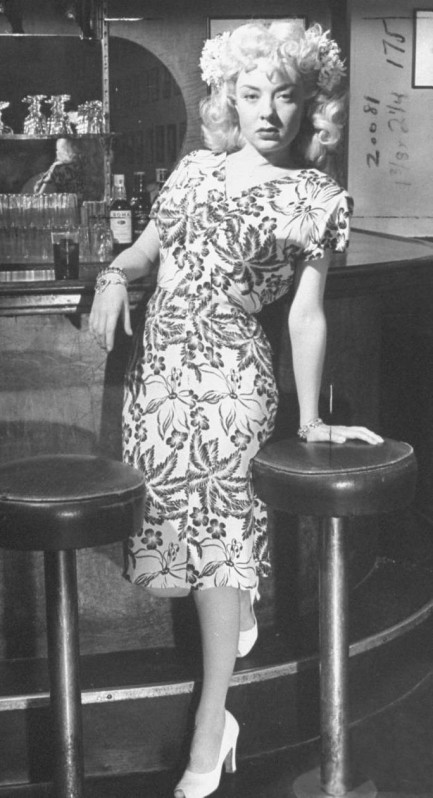 Audrey Totter isn't as well known today as she should be, considering she appeared in The Postman Always Rings Twice, The Lady in the Lake, F.B.I Girl, The Unsuspected, The Set-Up, Main Street After Dark, and Tension, but she was well appreciated in her day as a bad girl and film noir stalwart. Her career spanned radio, cinema, and television, and her life spanned ninety-five years, a good run on both counts. This promo photo of her in the typical bad girl's natural habitat—the local gin mill—was made in 1946 and appeared in Life magazine.


---