Lange novel has plenty of friction but not enough heat.
This photo cover was made for the 1968 thriller Zero Cool, written by John Lange, who was in reality a guy named Michael Crichton. Zero Cool is a fantastic title for a crime novel, but there's little else to suggest Crichton would become the zillion-selling author of Jurassic Park and The Andromeda Strain, except possibly a flair for gimmicky ideas. In this case, several unlucky people are dispatched by a means unknown, their bodies torn as if they had been attacked by a madman wielding a scalpel. The truth of how these killings are accomplished is classic Crichton—i.e. high-concept and probably impossible. The deaths are ancillary—the main plot involves an American doctor in Spain coerced into performing an autopsy, and forced to insert an unknown object into the body. This act leads to dangerous repercussions, but there's no heft or menace to the narrative, which means we can't recommend the book. For Crichton and crime, you're better off with later, more accomplished efforts like The Great Train Robbery and Rising Sun. In Zero Cool he's just warming up.
---
Live by the gun, die by the gun.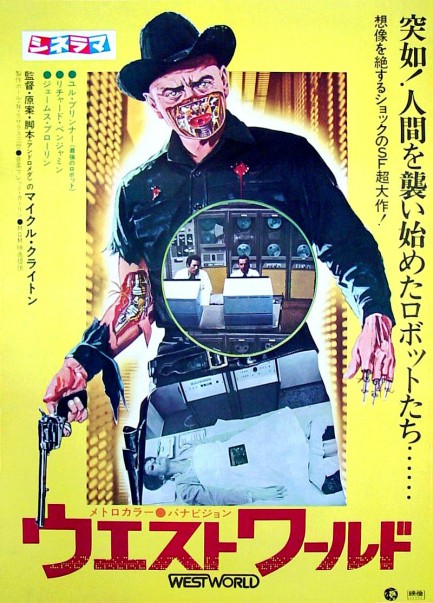 The sci-fi thriller Westworld—for which you see a rare Japanese poster above—was sourced from a novel by Michael Crichton and uses the same idea he would later update for his novel Jurassic Park—i.e. the attractions at a high-tech amusement park go awry and start slaughtering the guests. One of those robotic amusements is played by Yul Brynner, who is programmed to start fights then, inevitably, be shot down by Westworld guests after croaking, "Draw!" It's all fun and games at first, but when a computer virus attacks the park's robots Brynner returns from the repair shop pissed-off and harboring a notion to ventilate the customer who killed him twice. As compelling as this set-up seems, Westworld isn't flawless. While Brynner is excellent as the villain and James Brolin is adequate in a supporting role, lead actor Richard Benjamin seems to be sedated, and Crichton, who directed, somehow manages to give the whole project the feel of a television movie. The stuntwork is partly to blame for this. Crichton makes ample usage of hoary gags like the candied glass bottle shattered over the head and the balsa wood chair smashed across the back, even though more sophisticated approaches were being utilized at the time in other, better films. But we recommend Westworld anyway, and we absolutely love the poster—it's appearing here for the first time on any website, and it's definitely in our top ten, even if the movie isn't. Westworld premiered in Japan today in 1973.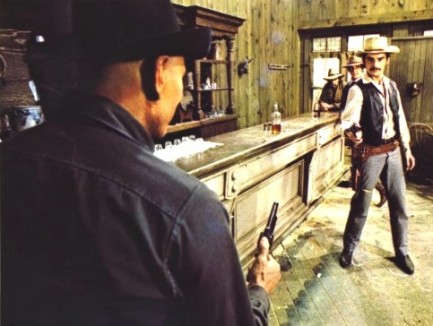 ---