Columbia Pictures gives moviegoers a fuller picture of one of its top stars.

Above is a poster advertising the drama Miss Sadie Thompson. When we watched the movie a few years ago we had no idea it had been in 3-D. It seems like a strange choice for such treatment. Now we'll have to watch it again and see what things are thrust at the camera. We're hoping whatever they are, they're all attached to Rita Hayworth. In the meantime, below is a flyer also touting the film's 3-D run. Though it was supposed to premiere "at Christmas," the American Film Institute tells us it actually first showed on December 23 in New York City, before receiving a nationwide opening in February 1954. The phrase "at Christmas," we suppose, might imply anytime during the season. Sadie Thompson is an interesting movie, though not Hayworth's best. You can read our pithy thoughts here.

---
*sigh* Maybe I should have left this outfit back home and packed a raincoat instead.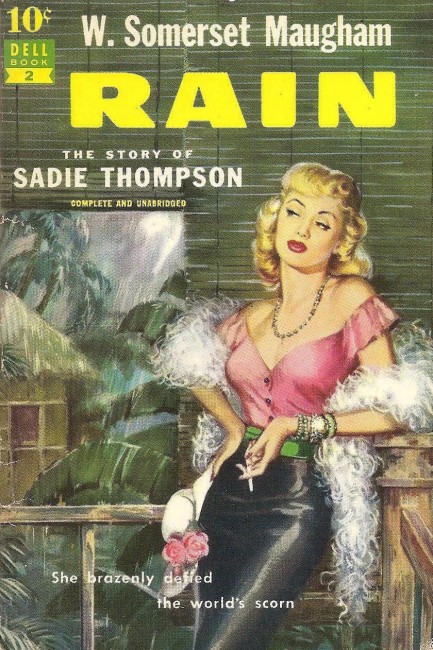 We talked about the 1953 Rita Hayworth film Miss Sadie Thompson back in December. The source material, written by W. Somerset Maugham, first appeared in the literary magazine The Smart Set in 1921 as "Miss Thompson," and was published by Dell as Rain in 1951. This edition has beautiful cover art from Victor Kalin, belying the dark story Maugham weaves inside. The movie sticks reasonably close to the book, so if you want to know more about the plot you can check here.
---
Hayworth hits land and a storm soon follows.
Party girl Rita Hayworth is bound for New Caledonia to start a new job, but makes a stopover on Pago Pago along the way, where her wild ways make a splash at a military garrison and nearby village. A pompous missionary who was on the same boat seems to think Hayworth was run out of Honolulu because she was a prostitute. He has no problem spreading this rumor, but is the point to punish her, save her, or bed her? In style Miss Sadie Thompson is classic Hayworth, with her fun-loving ways raising eyebrows and smiting men around the heart, but in execution the movie falls short of her best. No fault of Rita's, though. She makes the film worth watching, even if it's pretty much guaranteed to leave you going, "Huh?" when the credits roll. Maybe the real value here is the lesson the movie provides about the perils of censorship. Read the W. Somerset Maugham source material and you'll see what we mean. Miss Sadie Thompson premiered in the U.S. today in 1953.
I really don't want to think about what I did in Honolulu.
But I want to think about it. I'm thinking about it right now. That's why I'm using a hat to cover my little missionary.
Sadie comes.
And Sadie goes.


---