They're trouble in triplicate.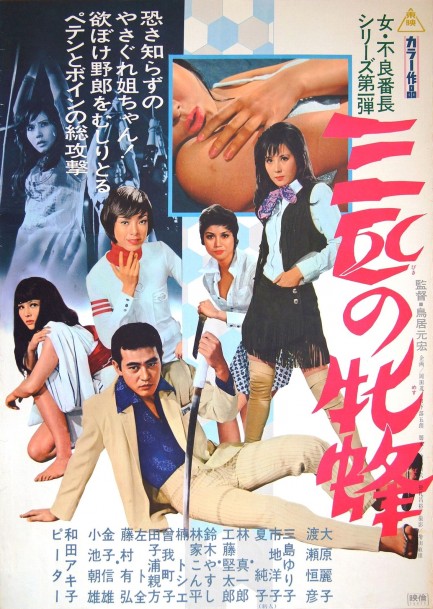 The above poster was made for Sanbiki no mesubachi, usually known in English as Three Pretty Devils, starring Reiko Ohara, Yoko Ichiji, and Junko Natsu. It concerns three female con artists who are running loose during the gigantic World Expo in Osaka. They engage in every type of grift—they pick pockets, sell counterfeit parking passes, coax free meals from bedazzled older men, engage in a little sexual blackmail, and more. Eventually they get the bright idea to put together an escort service for foreigners, but in order to do so have to cross the local yakuza. Needless to say, that's a bad idea.
The yakuza boss, who's played to the edge of caricature by a frowning, sneering Tsunehiko Watase, perceives the girls more as an opportunity than as competition, and wants to turn them into escorts. Ohara's mancrush Saburo, a yakuza footsoldier, tells her to leave Osaka before it's too late, but when the yakuza find out about his betrayal they shoot the poor sap dead. No self-respecting devil gives up easily, so even cold-blooded murder doesn't end the girls' scheming ways. Eventually their chance for a big score finally comes when Natsu appropriates a bank document worth 200 million yen. The yakuza, as always, stands in their way.
Our synopsis makes this all sound dramatic, but the movie is mostly lightweight, with serious moments but a lot of comedy and music. Regarding the latter, legendary gay performer Pītā has a featured role as a transvestite nightclub singer. It was an early role for him. He's on the promo art in the red turtleneck, which is why there are seemingly four pretty devils on a poster where you'd expect three. While he serves as local color in a nightclub that features prominently in the plot, his treatment by the filmmakers is completely respectful, which is noteworthy considering the year. On the whole, Sanbiki no mesubachi is a pretty good movie. It premiered today in 1970.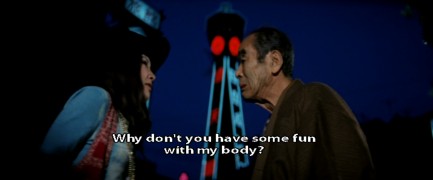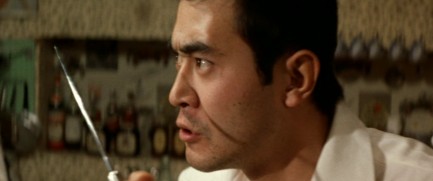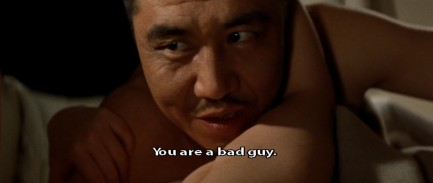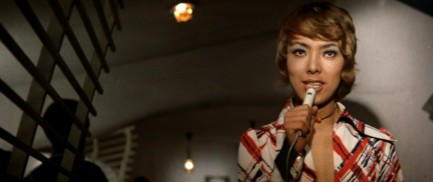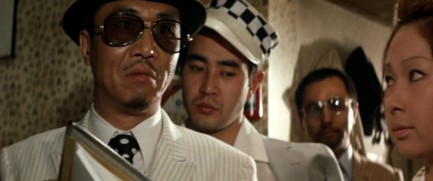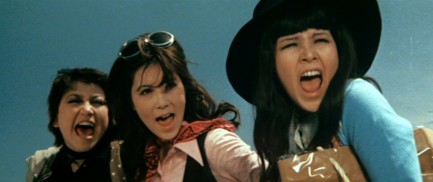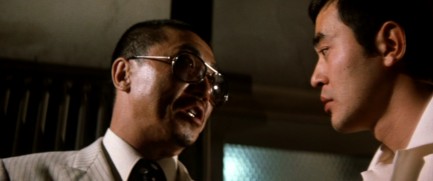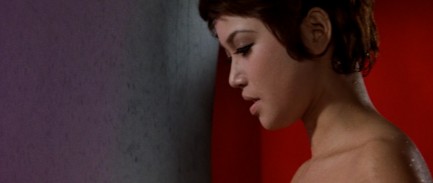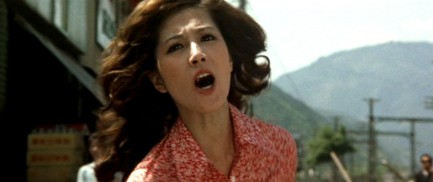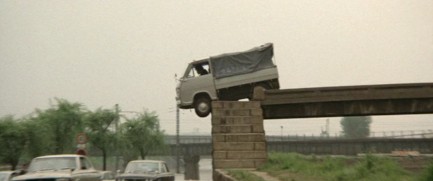 ---
A little bit ruffled yet totally chilled out.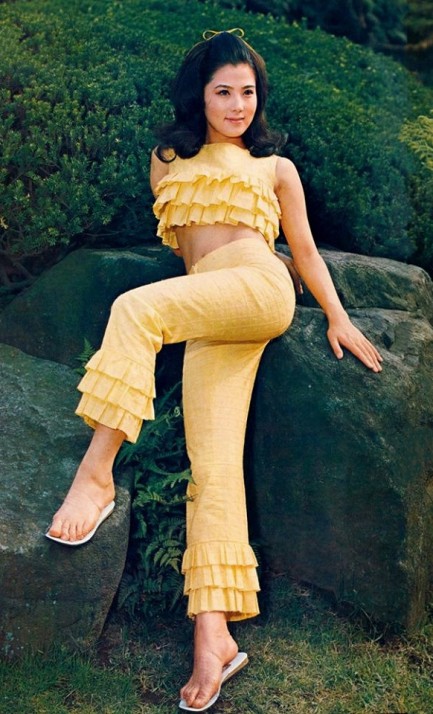 This photo of Japanese actress Reiko Ohara in an amazing ruffled two-piece something-or-other stands in stark contrast to the last time we saw her, when she was brandishing a pistol almost as big as her forearm. Given a choice, we prefer her summer look, but on the other hand what's more pulp than a woman with a gun? You can judge for yourself here.


---
I keep this gun under my pillow in case of home invasion by my namesakes.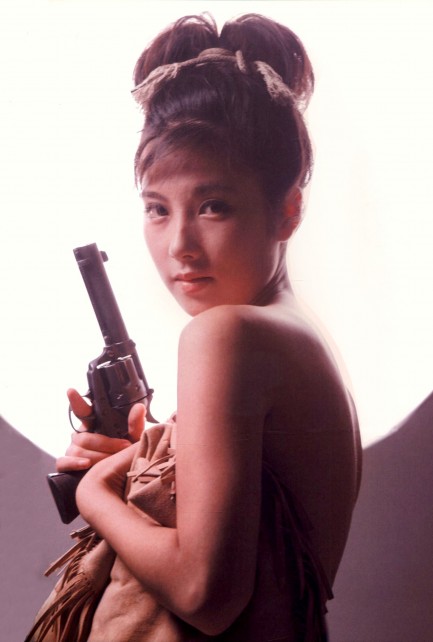 There are several Reikos in the realm of pinku but we've talked about only two—Pulp Intl. favorite Reiko Ike, who we featured a few days ago, and action star Reiko Oshida. Time for some new blood. Above you see a beautiful image of Reiko Ohara, who was also a big star in Japanese filmdom, appearing in dozens of action and comedy flicks beginning in 1965, including Furyo bancho te haccho kuchi haccho, aka Wolves of the City: Blue Soldiers, and Yagyû ichizoku no inbô aka Shogun's Samurai. She has an unusually large gun here, or perhaps is an unusually small person. We don't know which. But we know the photo originally appeared in a large art book called 大原麗子メモリーずっと好きでいて, which translates as something like, "Reiko Ohara Memory I've Always Liked." The book was published in 2010, but Ohara was born in 1946, so we'd say the image was originally shot way back around 1970. She died in 2009, so it's possible the book was published as a tribute, but we aren't sure about that. We have other images of her and she's posing with a massive gun in many of those too. Like below, for example. We figure she thought she needed it around at all times for protection from the other Reikos.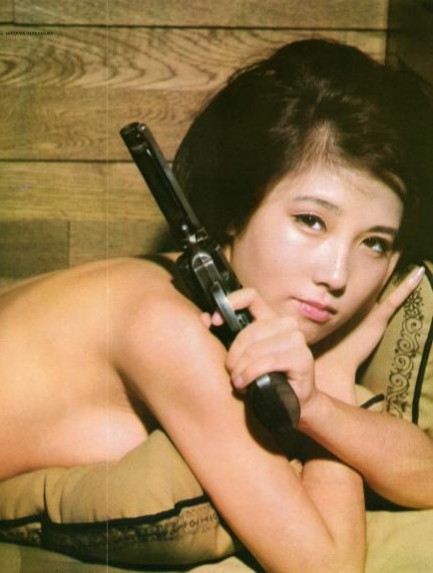 ---