She's tougher than Tarzan, meaner than Sheena, and lustier than Gungala.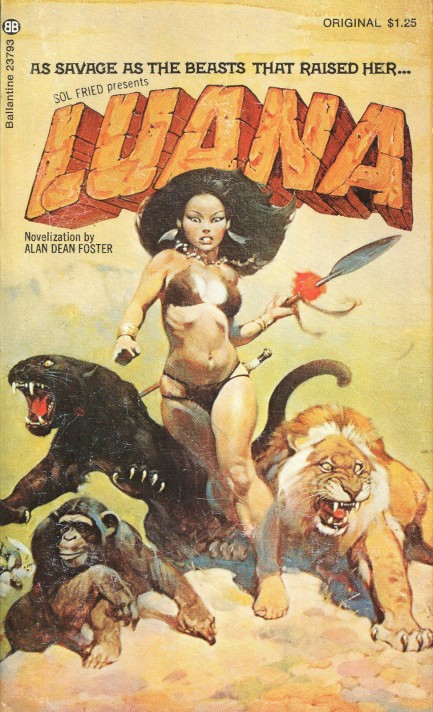 You can look at this cover and correctly assume that we've shared it because it was painted by Frank Frazetta, considered by many to be the master of sword and sorcery art. It's a beautiful piece, rightly famous. Alan Dean Foster is a master too. He isn't what you'd call a significant author in the sense that he's produced lauded original material, but he may be the king of movie novelizations. Among his output: The Black Hole, Clash of the Titans, Outland, Starman, Pale Rider, and The Chronicles of Riddick, as well as novelized series based on Star Wars, Star Trek, and Alien. We love Foster for his Star Wars sequel Splinter of the Mind's Eye, which came out before The Empire Strikes Back (notice we don't bother with that Episode nonsense) and followed Luke and Leia—not siblings in Foster's universe—as they adventured on strange worlds and discovered their love for each other. We still think the film series should have followed Foster's lead, but whatever.

His Luana is a novelization of the 1968 movie of the same name starring Mei Chen Chalais, which we talked about a while back. Sometimes novelizations are published before the film, sometimes after. Foster published Luana six years after the film in 1974 for reasons that are obscure. It was among his first published books. While template for a novelization is provided by the filmmakers, the author is who gives it color and life. Foster fulfills that duty with obvious relish, mining literary and cinematic antecedents like Tarzan, Tarzana, Gungala, Sheena, Shuna, and Ka-Zar for familiar tropes. A kilometer long pit filled with army ants? A lion and panther, both larger than any ever seen before, working in tandem with a huge chimp? A pitched battle between blowgun wielding Tanzanian tribesmen and an expedition of white explorers? A secret city of solid gold buildings? As lost world tales go, by standing on the shoulders of his predecessors, Foster crafts something better than average. And far better than the movie too.


---
The statue was for the public. The photos were strictly private.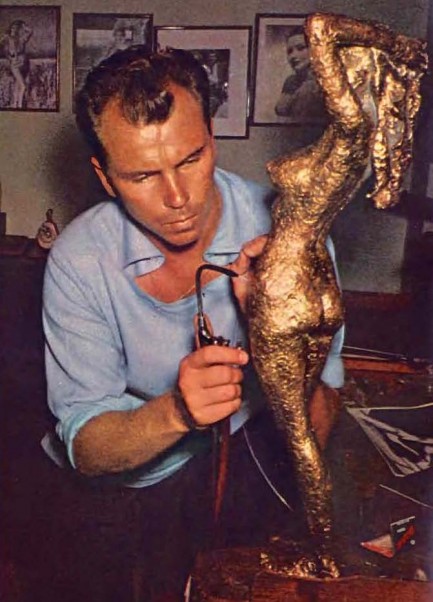 Hungarian artist Sepy Dobronyi puts the finsihing touches on what was for a while possibly the most famous statue in the world—his stylized sculpture of Swedish sex bomb Anita Ekberg. Dobronyi made it by using nude reference photos he'd shot of his subject, and it was those photos, more than the statue, that interested the public. Ekberg was one of the world's biggest stars at the time and the idea that nude shots existed was flogged by the tabloids and helped burnish Dobronyi's reputation as a sort of jetsetting artist. His depiction of her became known as the Ekberg Bronze. He went on to sculpt Brigitte Bardot, Ava Gardner, Beverly Aadland, and Jayne Mansfield, though as far as we know no nude photographs were involved in those efforts.
Dobronyi sold and collected many works and used his fame and fortune to become a traveller and adventurer, visiting nearly ninety countries and climbing Mount Kilimanjaro in Tanzania. Actually, he's probably worthy of a book or movie at some point, but then so are dozens of nearly forgotten Hollywood figures. He died in 2010 and as far as we know his Ekberg reference nudes never turned up, though we imagine they'd be worth plenty. But Dobronyi was a gentleman—other Ekberg nudes appeared over the years but he never revealed his and may have destroyed them at some point. We talked a bit about the Ekberg Bronze previously, which means you can learn a few more details of the story by clicking this
link.


---
A tale of albinos...and the witchdoctors who slice and dice them for cash.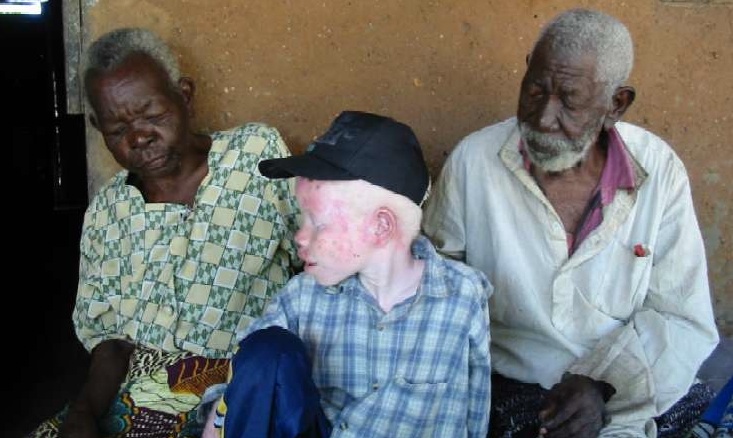 Tanzania has been recognized as one of Africa's most politically stable and progressive nations since achieving independence in 1960. But this reputation has taken a hit since the killings of at least 30 albinos, perpetrated by men seeking body parts for witchcraft. Most of the killings have occurred in the past 10 months, including a grisly triple murder that took place hours after a large rally was staged in the capital city of Dar es Salaam to denounce the practice.

Among Tanzania's population of 40 million are more than 200,000 albinos, whom superstition has surrounded since antiquity. But only recently have reports of killings begun to surface. The first confirmed albino killing for the purposes of witchcraft took place eight years ago, when half a dozen people were killed and skinned in Mbeya, in the southwest of the country.

Authorities say those involved in witchcraft—especially workers in the mining and fishing industries—believe albino body parts bring good luck. Demand is particularly high for albino skins, not just in Tanzania, but throughout a swath of Africa that includes Malawi, Zambia, Mozambique, South Africa, and the Democratic Republic of Congo. A single skin reportedly sells for anywhere between US $134 and $537. Killers also harvest victims' arms, legs, hair, breasts and genitals, according to police. Local media have reported incidents of armless and legless victims who were left bleeding to death.

Zihada Msembo, who serves as secretary general of the Tanzania Albino Society and who is an albino herself, said, "When you sleep, you are unsure of waking up in one piece. They are cutting us up like chickens." On her office wall hangs a photo of a limbless, partially skinned corpse, the result of a 2007 attack.

A Tanzanian woman named Susannah Rutahiro recently witnessed a killing, and gave a chilling first-person account that sounded like something out of a horror movie. She described eating dinner in an enclosed courtyard with her husband Nyerere when four men burst through the door and began to hack at him with machetes, screaming, "We want your legs! We want your legs!" What was left of her husband was laid to rest sealed in cement to prevent graverobbers from raiding his coffin.
---