Ms. Smith goes to New York City.
Above is an alternate poster for the thriller Undercover Girl, a film we talked about previously on its premiere date, which was today in 1950. Read the other write-up and see the other poster here.
---
The cops and robbers go coast to coast in Undercover Girl.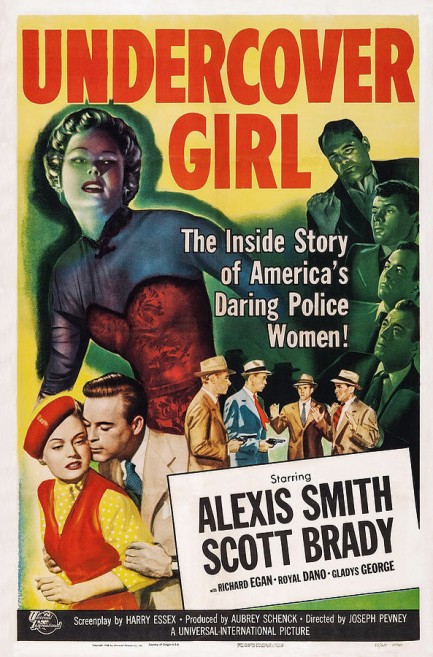 Above, a promo poster for Undercover Girl. The depiction of star Alexis Smith at upper left is modeled directly after the image of her we shared a couple of weeks ago, minus the pistol she was holding. Undercover Girl is about a rookie NYC policewoman detached to L.A. to pose as a Chicago drug buyer, and who joined the force to avenge her cop father's death. Lucky, then, one of the drug dealers she's going after was coincidentally responsible. We probably don't have to tell you her cover is blown later in the film—it's a standard feature of these deep cover dramas even today. It's still worth a glance, though, and we're glad we mixed it into the slate of five horror movies we watched this weekend. Undercover Girl premiered in the U.S. today in 1950.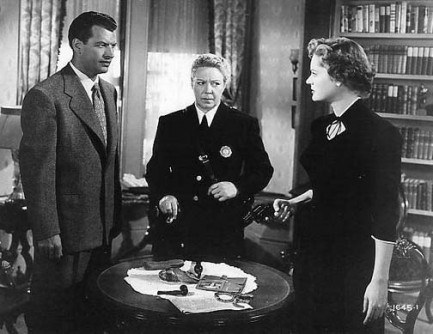 ---
At this point why bother leaving it on?
Here's the latest page from Goodtime Weekly with a shot from Don Ornitz of February 1958 Playboy centerfold Cheryl Kubert. Kubert is a bit of a mystery. Early Playboy centerfolds were pretty demure, and she showed less than normal. She had already appeared in magazines such as Pageant, Gala and Argosy, and after her Playboy appearance was featured in their 1959 calendar, but after that there's only a bit appearance in the movie Pal Joey, and a bit part in 1980's Smokey and the Judge. She died in 1989, supposedly from suicide. The calendar quips are below.

Jan 20: "Many a girl is only as strong as her weakest wink."—Sam Cowling
Jan 21: "A girl is grown up when she stops counting on her fingers and starts counting on her legs."—Irv Kupcinet
Jan 22: "A wizard is a man who can describe—without gesture—an accordion or a girl."—Quin Ryan
Jan 23: "Fashion is what a her does to a hem to get a him."—Joe Hamilton
Jan 24: "A clever girl is one who knows how to give a man her own way."—Tom Poston
Jan 25: "The greatest mystery in the world is a woman who is a bachelor."—Loretta Young
Jan 26: "A confirmed bachelor is a guy who'll go to a drive-in on a motorcycle."—Scott Brady
---