The winds of war blow hard and cruel over man and woman alike.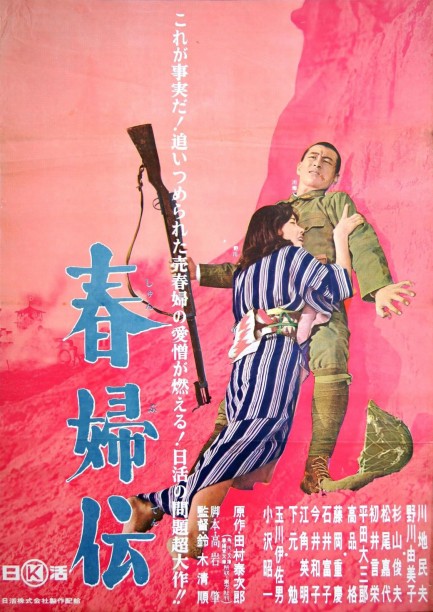 This striking pink poster was made to promote Shunpu den, known in English as Story of a Prostitute. Based on a novel by Taijiro Tamura, this is another of director Seijun Suzuki's envelope pushing dramas. He made a habit of disobeying the directives of his studio Nikkatsu and here he crafts a tale that refuses to simply extol the virtues and glories of the Japanese military. Plotwise, a woman falls in love with a lieutenant's lowly aide, and as the superior officer torments her, she and the subordinate embark on a forbidden affair. This occurs during the Sino-Japanese War circa 1935, and when the Chinese attack, the question of honor versus survival comes to the fore.
A lot of reviews call the lead character here, played by Yumiko Nogawa, a prostitute, but that's a simplification. She plays an ianfu or comfort woman, which was a form of sexual bondage usually reserved for foreigners. Ianfu were sent around to military garrisons to have sex with soldiers, and sometimes the ratio of women to men was very lopsided. We've seen 1:1000 cited, but can't confirm that independently. Lawsuits about this are still crawling through international courts. Japan's oldest English language newspaper The Japan Times recently was called out for acquiescing to Prime Minster Shinzō Abe's insistence that ianfu be referred to by terminology less embarrassing to Japan.

Westerners generally won't have all this history in mind when watching Shunpu den, but it's useful to consider. Nogawa's character Harumi is Japanese and a volunteer, so in both respects she's atypical compared to the reality of Korean, Indonesian, and Filipino women abducted by the tens of thousands. With this type of subtext to the backstory, and a foreground occupied by men indoctrinated into a military corps bound by an intractable and sometimes suicidal code of conduct, a happy ending seems like an impossibility. But you never know. However it turns out, the worth of dramatic cinema is in the trying. Shunpu den premiered in Japan today in 1965
---
Lovers in a dangerous time.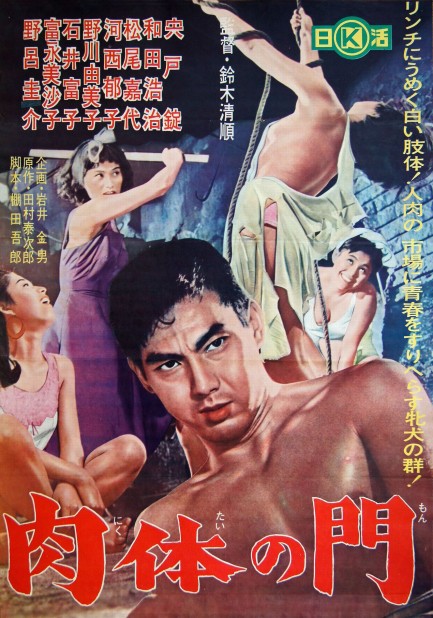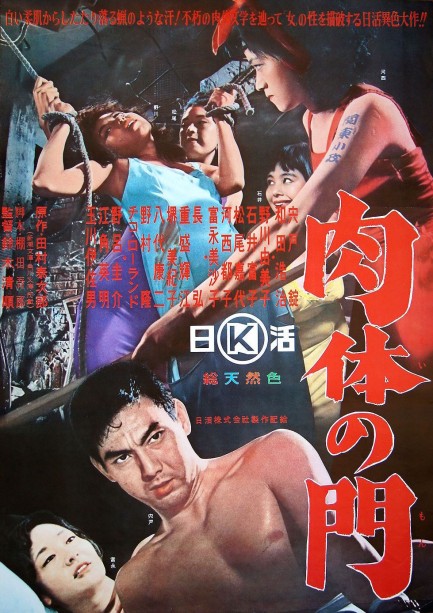 Above are two posters for Nikutai no mon, aka Gate of Flesh, one of the most famous films to come out of Japan during the post-war period. We talked about the pinku remake of this, which appeared in 1977. The original was directed by Seijun Suzuki and stars Jo Shishido, Satoko Kasai, and Yumiko Nogawa. It closely follows the plot of Tajiro Tamura's novel, in which a group of tough prostitutes survive in bombed out post-World War II Tokyo thanks to camaraderie and a strict code of conduct, of which the most important rule is never to have sex for free. When a wounded ex-soldier takes shelter with them, some of the women find emotional distance difficult to keep, while one finds maintaining physical distance even harder. The novel is a tragedy, and since the film tracks the fiction closely, don't expect to walk away from this one with a smile on your face. It premiered in Japan today in 1964.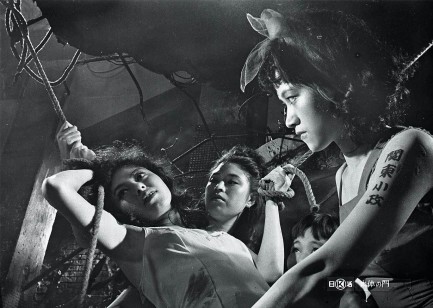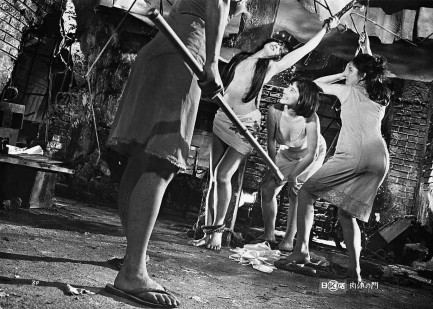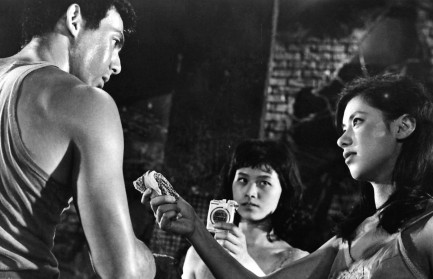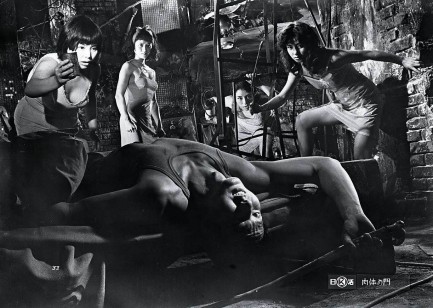 ---
Crime, mayhem, and murder in Japan.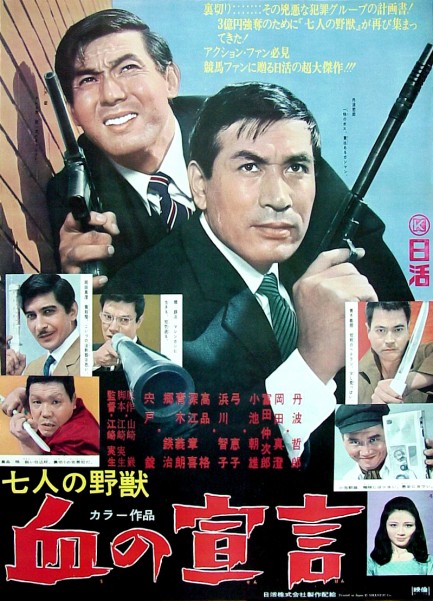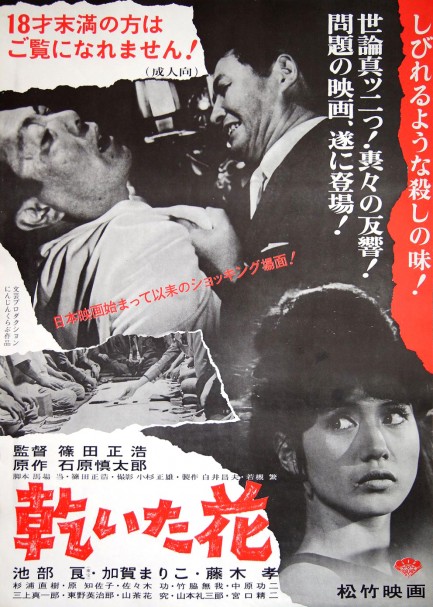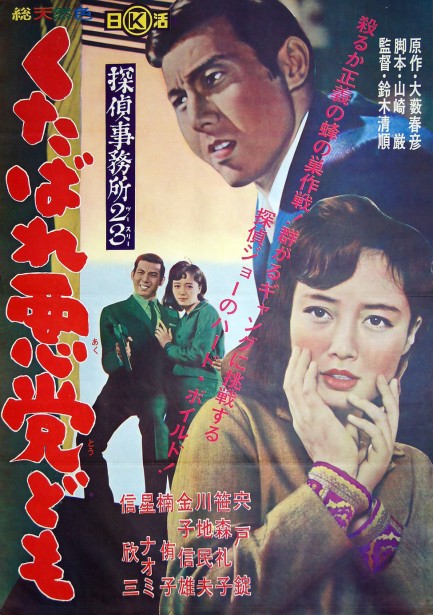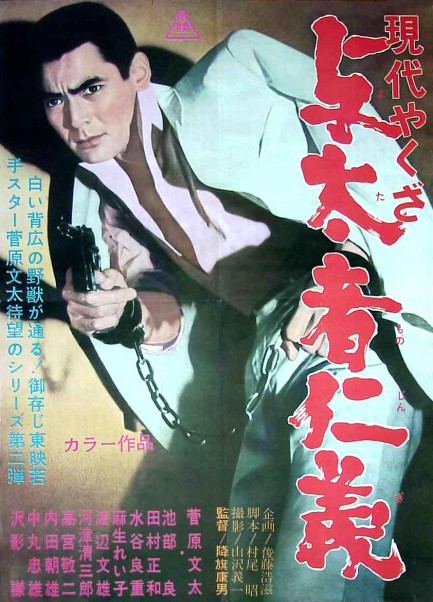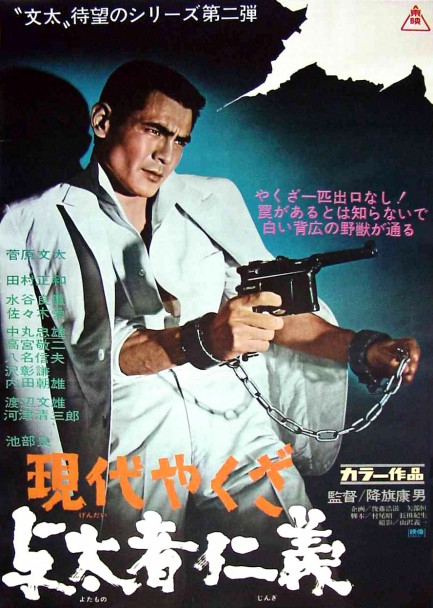 Above, six Japanese posters for 1950s and 1960s gangster movies. These are, top to bottom, Shichinin no yajû: chi no sengen, aka Return of the Filthy Seven, Sono gosôsha wo nerae: "Jûsangô taihisen" yori, aka Take Aim at the Police Van, Kawaita hana, aka The Pale Flower, Kutabare akutô-domo—Tantei jimusho 23, aka Detective Bureau 2-3: Go to Hell Bastards, and finally two versions of Gendai yakuza: yotamono jingi, aka Hoodlum Yakuza.
---