American sex stars make a big splash in Japan.
As promised
earlier
this month, below we have more adult film posters from Japan for U.S. based productions. We're pretty proud of these because you simply won't find them anywhere else, or if so certainly not in the quality you see here. And we have at least a hundred more.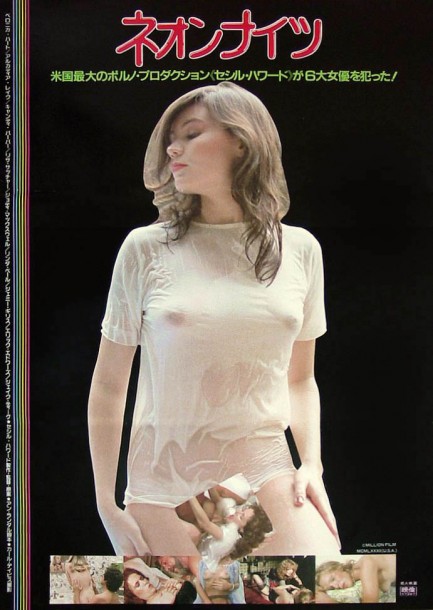 Neon Nights, 1981, with Veronica Hart.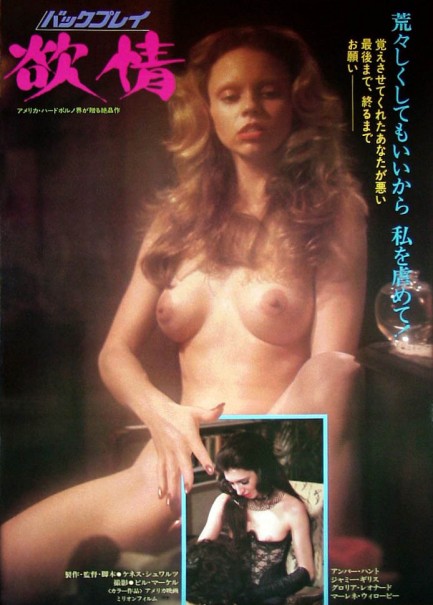 Fiona on Fire, 1978, with Amber Hunt.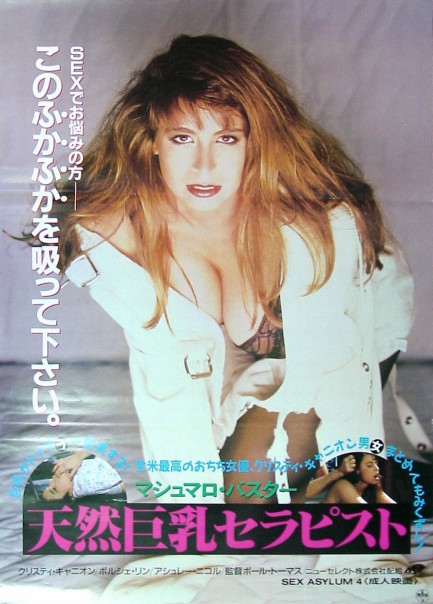 Sex Asylum 4, 1993, with Christy Canyon.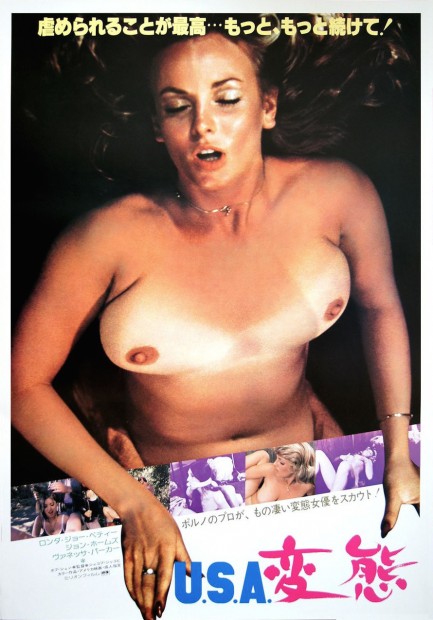 Little Orphan Dusty, 1978, with Rhonda Jo Petty.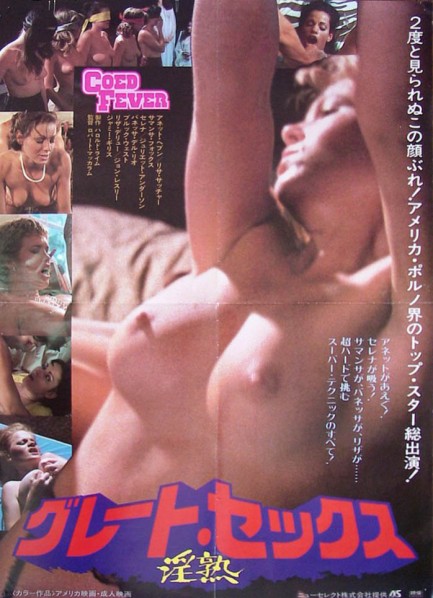 Co-Ed Fever, 1980, with Annette Haven.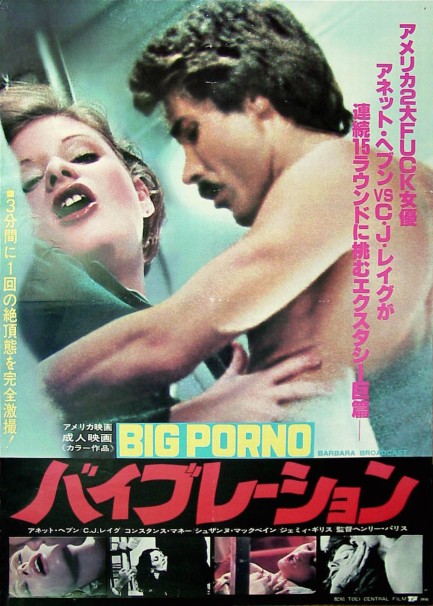 Barbara Broadcast, 1977, with Annette Haven and Harry Reems.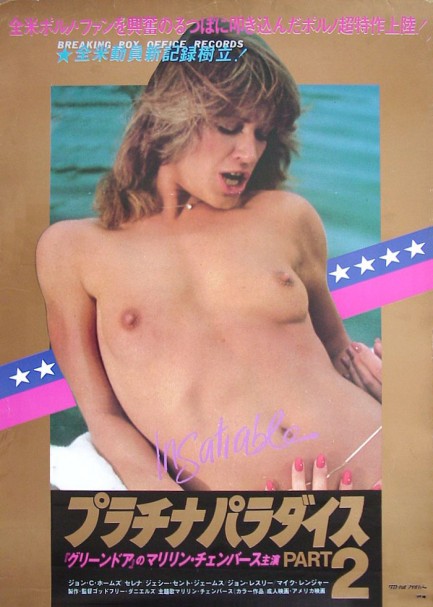 Insatiable II, aka Insatiable Part 2, 1984, with Marilyn Chambers.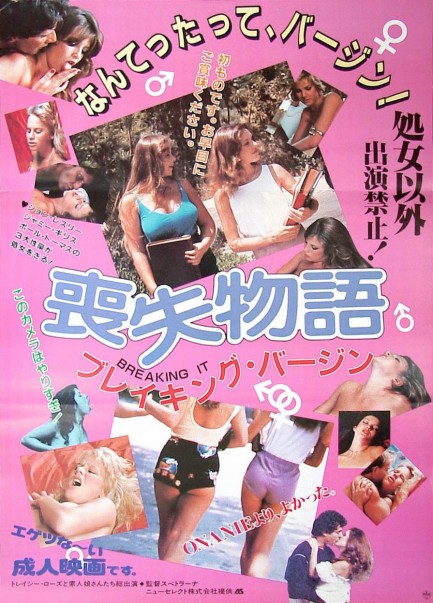 Breaking It, 1984, with Traci Lords.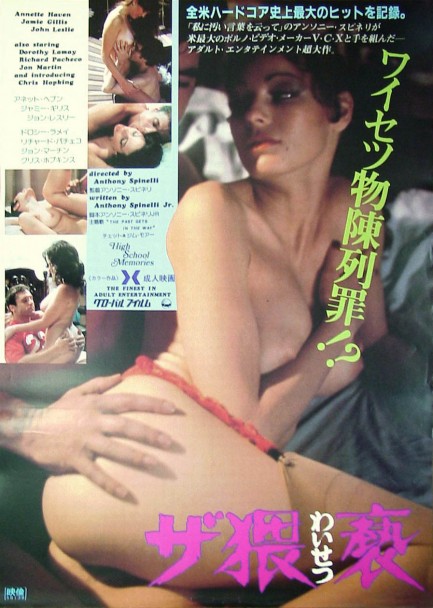 High School Memories, 1980, with Annette Haven.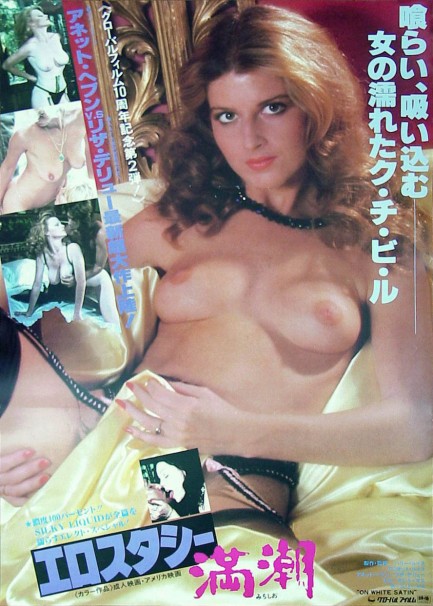 On White Satin, 1980, with unknown poster star. We were able to visually identify all the main performers in this film and none of them seem to be the person shown here. This is not unusual for a Japanese poster. Their makers occasionally used the most photogenic person rather than the top-billed performer, but in any case we don't know who this is.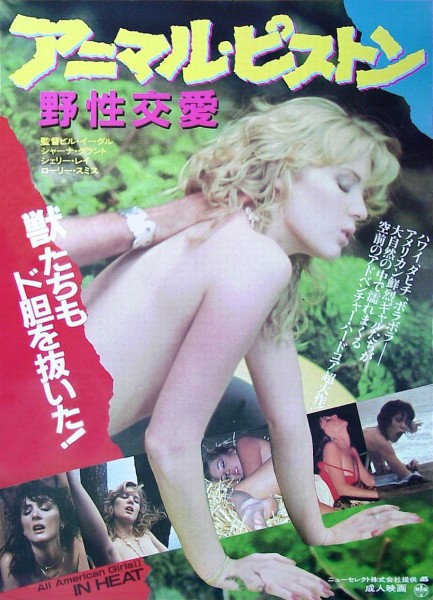 All American Girls in Heat II, 1983, with Shauna Grant.


---
The porn industry welcomed her with open arms. Two years later she was dead.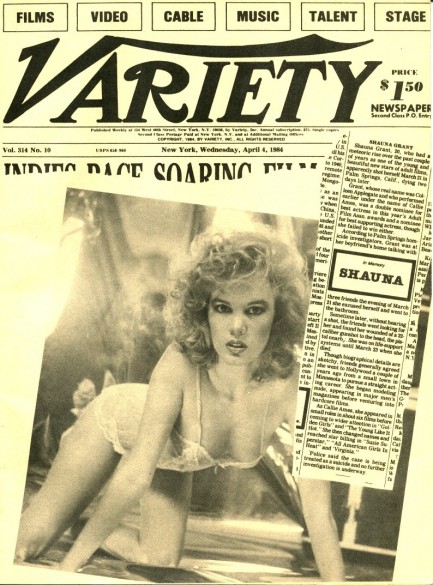 Above is a cover of Variety magazine published today in 1984 reporting the death of porn starlet Shauna Grant the previous month. Born Colleen Applegate in Minnesota, she became a top-earning adult film performer over her two-year career in Los Angeles, but was also a heavy cocaine user and was ambivalent at best about her work. In fact, despite her popularity with the paying public she sometimes had difficulty acquiring roles because directors were well aware that she had no zest for what she did and they believed it showed in her performances. But her lack of enthusiasm wasn't just for her work—it was for her entire life, which was fueled by cash and parties, but also filled with hangers-on, bad men, and dodgy friends.
At some point she contracted herpes, and though many accounts assume it came from her career, it's just as likely she got the disease from her many outside-the-industry acquaintances, considering the incredibly high infection rates among the general public. In any case, with a drug habit and an STD, as well as an abortion and a broken relationship weighing on her, not to mention a career that she was ashamed of, Grant shot herself in the head with a .22 rifle on 23 March, and appeared posthumously on the Variety cover above. We chose the photo below because she seems so isolated in it, even lonely. A while back we shared an amazing Japanese poster with her, which you can see here, and we'll get back to more promo material from her later.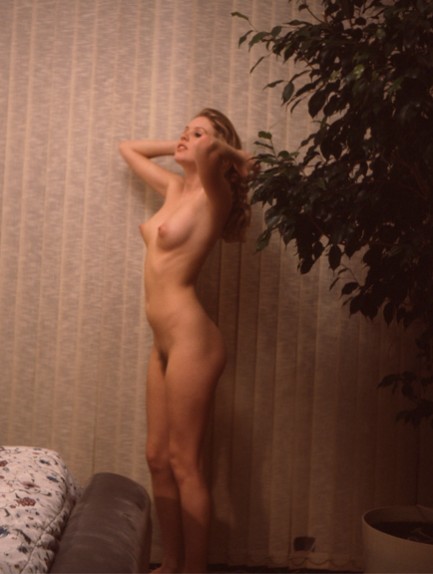 ---
She'll Grant your deepest wishes.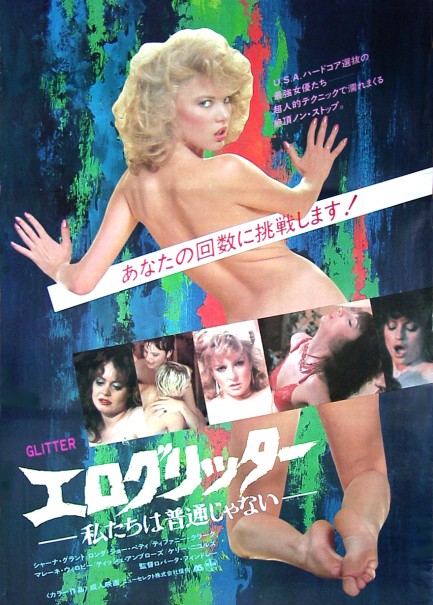 Japanese promo poster for the American porno flick Glitter, with an image of star Shauna Grant, 1983. Grant was considered one of the most beautiful adult actresses of her time, so we've provided some evidence below. One of porn's most infamous cautionary tales, she committed suicide by shooting herself in the head with a rifle a year after this film was released.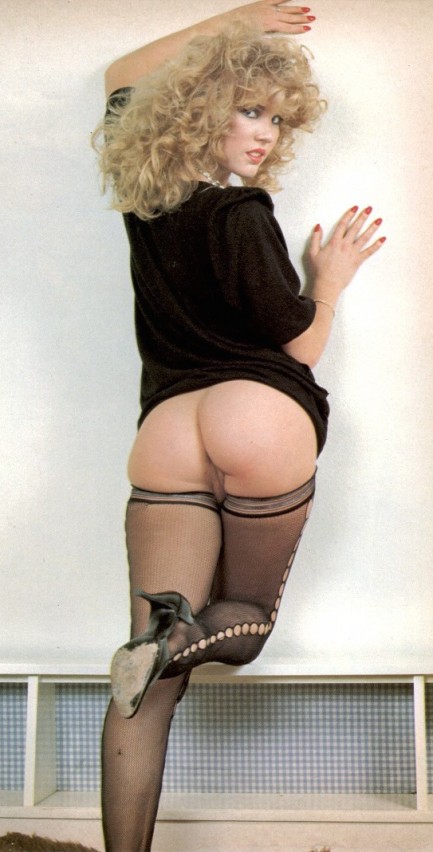 ---