You can attain enlightenment through years of mental discipline, rigid study, and incessant ritual. Or you can just get properly laid once.
Above you see a poster for Yakuza kannon: Iro Jingi, known in English as Yakuza Justice: Erotic Code of Honor, and to dive right into this one, the movie starts bizarrely when a fisherman hooks the corpse of a drowned woman. She died pregnant, and defying all scientific laws, the fisherman delivers the child, though a cadaver obviously can't produce the labor contractions needed to push a baby out. But perhaps there's something mystical at work.
The infant grows into handsome Jirô Okazaki, who has been indoctrinated into monkdom and lives and works on the grounds of a vast temple complex. Onto those grounds one day comes Nozomi Yasuda, who is the daughter of a yakuza boss, and is promised to another yakuza boss. But she's broken the engagement, and when her erstwhile fiancée sends men to kidnap her the attempted snatch happens right in front of Okazaki. Boy saves girl, and sparks fly.
Okazaki's days had been filled by the typical meditation and drudgery of monks, but dealing with the slick yakuza and getting some sweet, sweet Yasuda lovin' changes him to the point where he soon sees the world through a modern, violent, sexual lens. He says at one point (speaking about himself in third person, which we guess monks do): "Seigen has had a taste of earthly life—starting with the tip of his cock." The eloquence of the man is stunning.
The tale then takes a circular route that explains how Okazaki's mother ended up dead in that river in the first place. It's a stretch, but when it comes to Japanese films from this era that was their stock-in-trade. Okazaki continues down a dark path and eventually risks losing himself. Or finding himself, if you believe this is always who he was under his monk's robes. Birth or rebirth—in either case, Yakuza kannon: Iro Jingi is a pretty interesting story of transformation. It premiered today in 1973.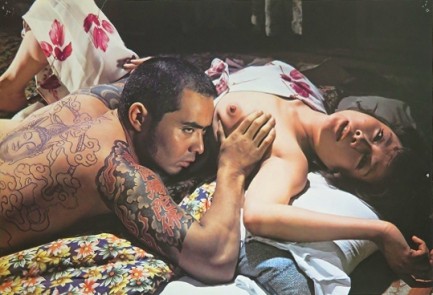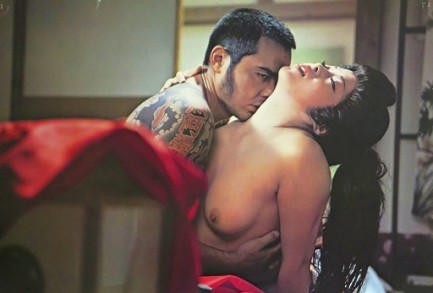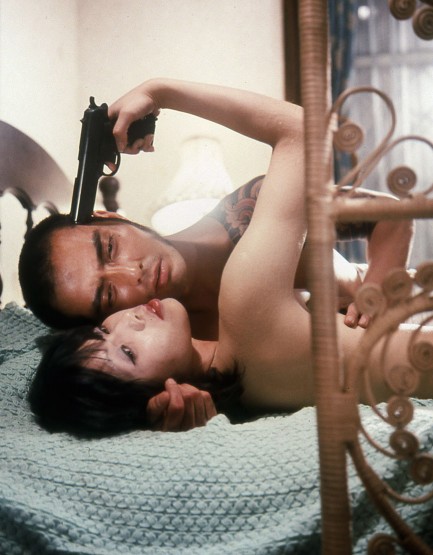 ---