There. I shot him. Now will you get off my back about never helping you out around here?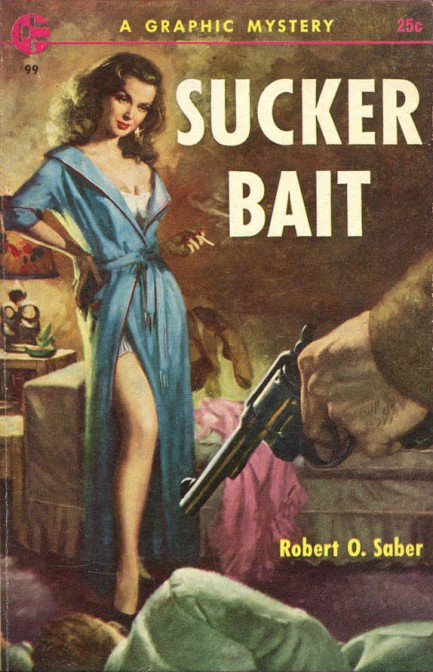 Above, the cover of Sucker Bait by Robert O. Saber, aka Milton K. Ozaki, 1955 from Graphic Books. Rich men pay $1,000 for entry into the Purple Door Club, where they procure the services of Chicago's most beautiful prostitutes, but also become targets for blackmailers. Hero Carl Good is accused of murdering one of the women and has to clear himself by finding the real killer. Good thing he's a detective. The cool cover art here is by Robert Maguire.
---
Dress for the job you want, not the job you have.
We love this Walter Popp cover art for Graphic Books' 1954 edition of Milton Ozaki's Dressed To Kill. He painted a couple of favorite covers, including A Time for Murder and New York Model, which we showed you here and here. In Dressed To Kill a private eye takes a job repossessing cars, and the first one he goes after is driven by a beautiful blonde and has a corpse in the trunk. The corpse of course leads to loot, and the loot of course attracts the villains—a bunch of Chicago mobsters. Generally well reviewed, but not Ozaki's best, according to most sources.


---
Hah! That was your last bullet! You're out! You're utterly screwed! Now what are you gonna—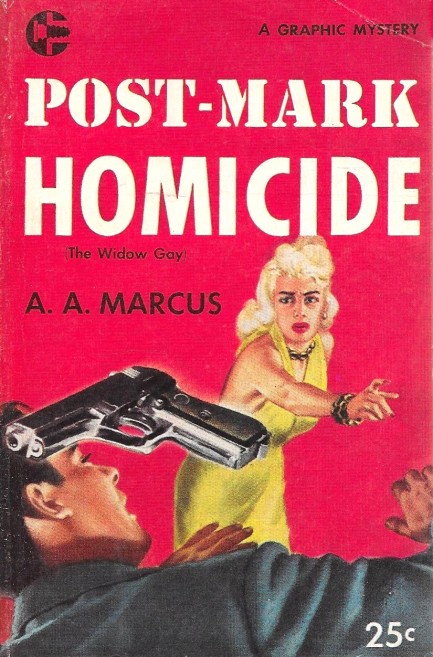 On this amusing cover from Graphic Books a surprised P.I. narrowly avoids a serious beaning from a woman who definitely doesn't want to be his valentine. 1953's Post-Mark Homicide originally appeared as The Widow Gay in 1950 with the same art, painted by unknown on both editions, sadly. The novel is these days published with the author credited as Arthur A. Marcus. So what happens here? A crooked D.A. needs to recover a set of incriminating letters, hires a studly P.I. to do it, who in turn has to deal with a recently widowed—like, earlier that day—but not exactly grieving gangster's moll. This pistol-slinging move never worked in the movies, and it doesn't work here either, but we always love to see it.
---