Vintage shockumentary explores the evils of witchcraft.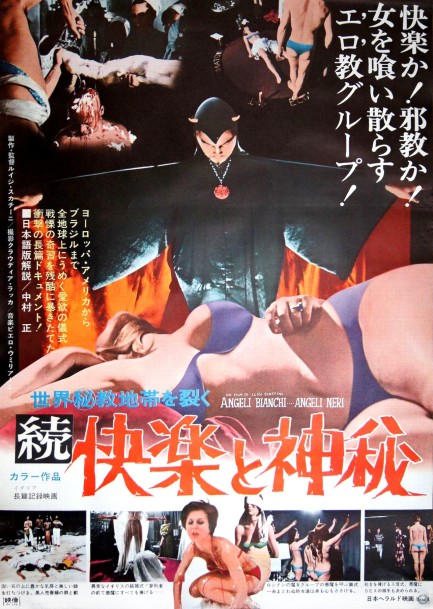 The above promo was made for the mondo style occult documentary Angeli bianchi… angeli neri, known in English as Witchcraft '70 and White Angel, Black Angel. It opened in Japan today in 1970 after premiering the previous year in Italy. In English "mondo" and "shockumentary" are synonymous terms, but foreign web pages sometimes say the latter is a misnomer. They don't explain how it's a misnomer, so until they do, this movie is both mondo and shockumentary. It was one of our first film write-ups, way back in 2008, before we decided PSGP's previous stint as an indie film reviewer gave us the excuse we needed to get all opinionated. Can you imagine us unopinionated at this point? You can experience it here.
---
The Exploiter's prediction about our future was wrong, but it still says quite a bit about where we are today.
Above is a cover of the tabloid The Exploiter, from an issue published thirty-nine years ago today. This is the first time we've featured this publication, and you can see, with stories about Christine Keeler and Marilyn Monroe, that it was just as focused on sex and violence as the rest. It also had a regular column from Church of Satan leader Anton LaVey—an advice column, no less. But what we really like here is the story about Danish porn flooding America. In it, a criminologist named Bert Kutchlinski says that though pornography was exploding, it would disappear entirely in the next ten to fifteen years—after serving its purpose of liberating women and educating men—and that "participation will become the order of the day." Kutchlinski's predictive powers are like a comedy routine, right? Porn will disappear! Hah hah. Because everyone will be happily getting laid! Bwahaha. But consider the idealism involved. In 1971 tens of millions of Americans still had these utopian dreams. Today? Well, not so much. Wait, who were we just laughing at? Suddenly we can't remember.
---
Double double toil and trouble...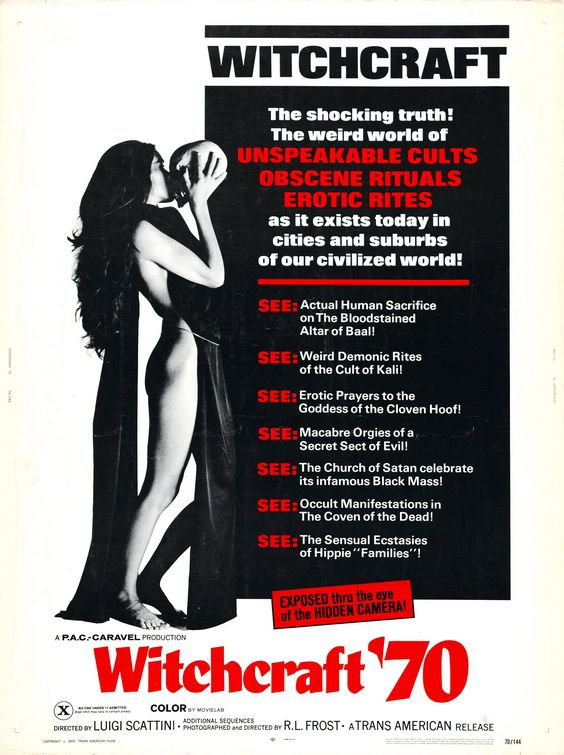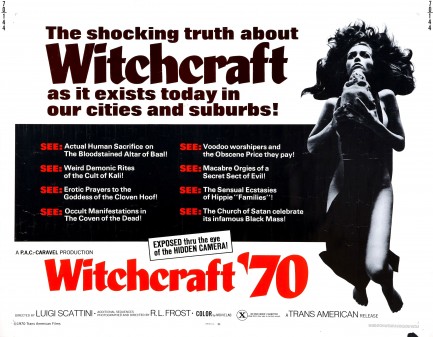 The Italian shockumentary Angeli bianchi … angeli neri—which translates into English as White Angel, Black Angel—was released in the United States under neither title, but as Witchcraft '70. The film, which featured Anton and Diane LaVey, purported to be a Mondo Cane-style exposé of contemporary witchcraft, voodoo cults, and pagan rituals shot via hidden camera. But its sonorously narrated segments showing naked exorcism, a nude girl drenched in boar's blood and other lurid rituals, were staged by veteran italo-director Luigi Scattini. Nevertheless, the film enjoyed a wide release, playing in far-flung locales such as Sweden and Japan. It premiered today in the U.S. in 1970.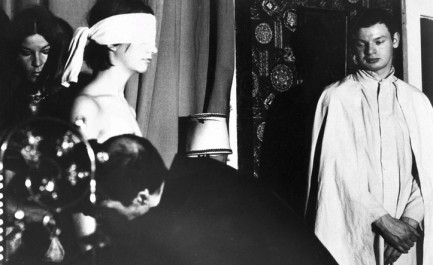 ---