Look! Smooth as two baby peaches. Anywhere else you want me to shave?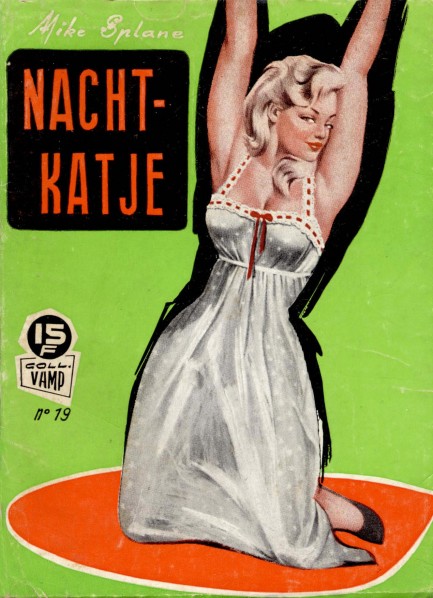 Here's a nice cover for a Dutch paperback titled Nachtkatje, which translates as "night kitten," written by Mike Splane, and published by Antwerp based Uitgeverij A.B.C. for its Collection Vamp in 1957. This publisher is not the same as Uitgeversmij, based in Rotterdam, Netherlands, and whose output we've shown you here and here. The cover on this is uncredited, but A.B.C.'s Vamp series often had Alain Gourdon art that had been modified from a previous form, and this piece has that look.
Everything we just wrote, we learned with minimal research. Now comes the part where our research falls short. You might guess that this is a translated Mickey Spillane novel, but we can't confirm that. If it's a translated Spillane it's mighty short—just sixty-plus pages. Which presents a problem. Spillane's short stories weren't published in book form until after 1957, at least not in the U.S. So finding out if this is a Spillane short—which we actually doubt—will have to wait for more knowledgable people than us. See more covers in the same vein here.
---
Mansfield and her crew try to steal a million.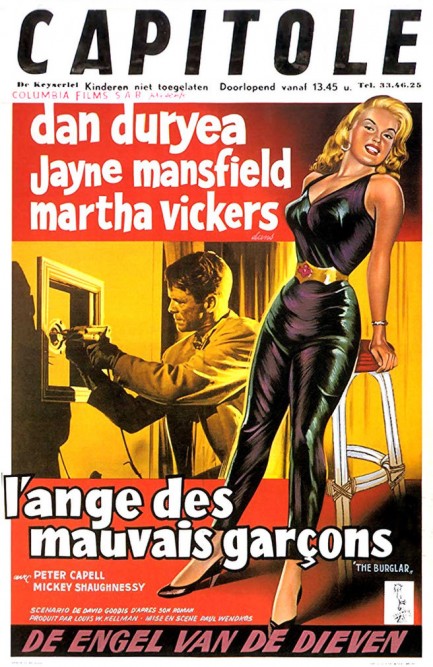 This fantastic Belgian poster with lettering in French and Dutch was made for the 1957 film noir L'Ange des mauvais garçons, better known as The Burglar. Well, better known is relative. The movie is somewhat obscure but it shouldn't be—it's a film noir clinic, and this great promo, which was made for its run at the Ciné Capitole in Antwerp, befits such an artful movie. It's unsigned, so the creator will have to remain unrecognized for now. Conversely, we think the movie will garner more recognition as time passes. Jayne Mansfield co-stars but don't get your hopes up—she doesn't wear a black jumpsuit. Not even close. You can read more about the movie here.


---
Peter Driben's cover girl is all thumbs, but Driben himself was the opposite.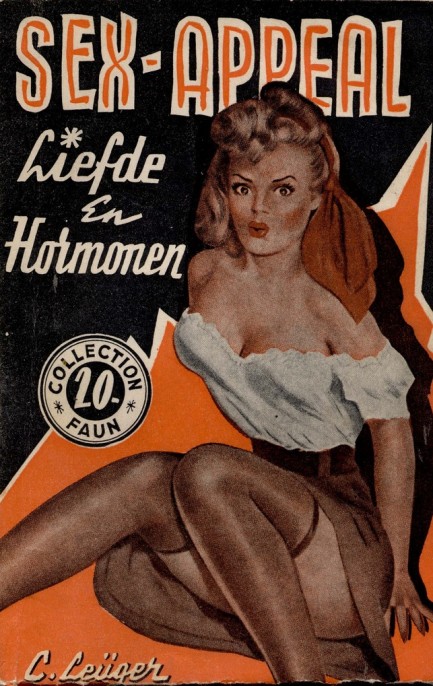 Above are three Dutch language covers for Antwerp based Uitgeverij Publiforce and author Conald Leüger painted by the famed American pin-up artist Peter Driben. Sex Appeal en Bloedzuigers (Sex Appeal and Extortionists) and Sex Appeal Liefde en Hormonen (Sex Appeal Love and Hormones) date from 1957, and De Pekelzonde (The Peccadillo) with its charming image of a girl having trouble hanging a picture dates from 1963. If you're inclined you can see more Dutch language pulp at this Flickr group.
---