We'd to hate to find out what the other thirty-five are like.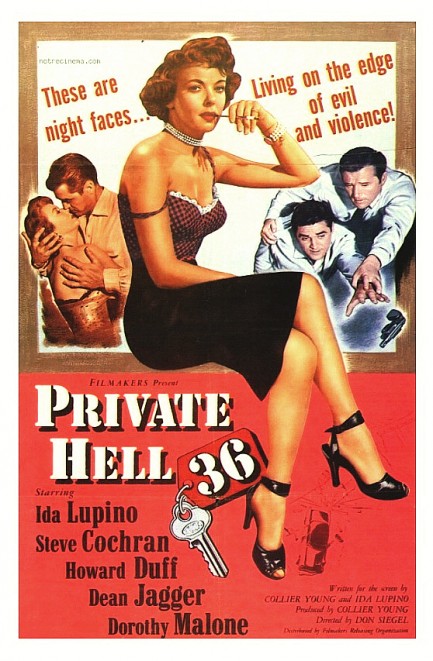 Private Hell 36. It doesn't mean anything, but what a great title. And it comes with two great promo posters. These are probably in the first two chambers of hell to lure you in. Made in 1954, this film noir co-stars and was co-written by Ida Lupino, who plays a woman who is convinced to help the police on a stakeout for a counterfeiter. She'd been passed a fake fifty but the police can't identify the crook unless she sees him and fingers him. As the days pass cop Steven Cochran takes a liking to her, and she to him. Star-crossed love in the noirish night. Lupino wants the finer things in life. Cochran wants to give them to her. When counterfeit bills start blowing on the wind, Cochran and his partner split over stealing the cash. You know where this goes—nowhere good.

Cochran is really good in this. As his decisions hurt those around him and his circumstances constrict his possibilities in the worst way, the performance he gives generates tension and empathy. Lupino does her usual great job, and the support from Dorothy Malone and Howard Duff is perfect, so in the end what you have is a solid film noir tinged with affecting interpersonal drama and working class pathos. In real life we don't feel the least bit bad for dirty cops, but that's the beauty of art—it puts you in other people's shoes and for an hour or two you understand. Private Hell 36 is short and to the point. It asks: If $80,000 landed in your lap would you keep it? In film noir, you better not.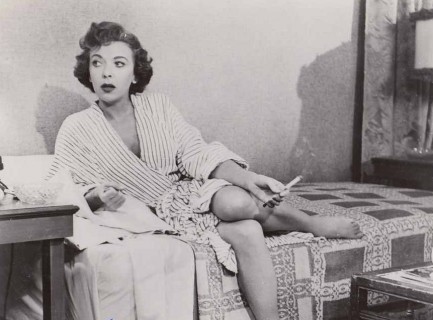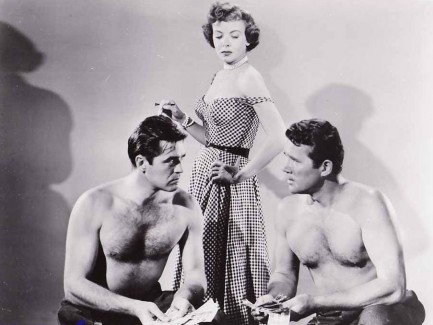 ---
There are eight million stories in The Naked City.
Above, a great French poster for Jules Dassin's film noir La cité sans voiles, which was originally produced in the U.S. and called The Naked City. Dassin, who apprenticed under Alfred Hitchcock, was one of the quintessential noir directors, also helming 1947's Brute Force, 1949's Thieves' Highway and 1950's spectacular Night and the City. His career in the U.S. was ruined when he was named during the anti-communist hysteria of the 1950s, forcing him to live the rest of his life in more tolerant France. The Naked City, while not Dassin's best work, is certainly a significant piece, due to both its style and substance. Its tagline has become part of the American lexicon: "There are eight million stories in the naked city; this has been one of them." In 2007 the U.S. Library of Congress agreed that The Naked City was a special achievement when it selected the film for preservation in the National Film Registry for being "culturally, historically and aesthetically signifitcant." La cité sans voiles premiered in France today in 1949.
---