The fundamental things apply.
Here's something nice we ran across on an auction site. It's a piece of sheet music for "As Time Goes By", which is a song written by German composer Herman Hupfeld and sung by Dooley Wilson's character Sam in 1942's Casablanca. The tune is inextricably identified with the film, but it was actually written for the 1931 Broadway show Everybody's Welcome, where, in its complete form, it becomes clear the song is just as much about stress as about romance. You wouldn't know that of course, because you don't know the lyrics—really, who does? But today's your lucky Monday—you can brush up on the words here. Just remember these two music fundamentals: if you sing, please do so from the diaphragm; and if you sing badly, blame it on booze.
---
Classic movie teaches us you only need two things in this world—a tuxedo and a gun.

There really isn't much to say about it except that most critics rank it as one of the top five motion pictures ever made. So it's befitting that the promo art is among the best we've seen. Below we have two Japanese posters for Casablanca, the classic war adventure set in exotic French Morocco. It premiered in Tokyo today in 1946.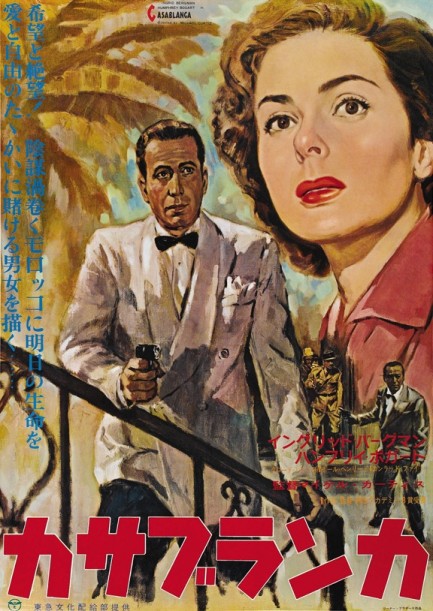 ---