Murder on the disoriented express.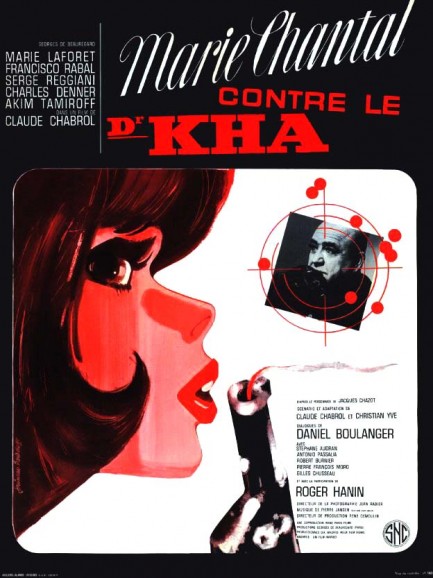 Marie-Chantal contra le docteur Kha is yet another take on James Bond, this one by Claude Chabrol, who would later direct such films as Le Scandale and Le Boucher. Marie-Chantal is played by singer Marie LaForêt. During a train trip to Switzerland her character is given a tiger-shaped piece of jewelry with ruby eyes. The eyes contain a deadly virus and, since it kills, it's priceless. So naturally all sorts of shady types are after the trinket and one of them is the sinister Dr. Kha, portrayed with hammy perfection by Akim Tamiroff. This isn't the best tongue-in-cheek spy caper we've seen. In fact it isn't even the best tongue-in-cheek spy caper with swarthy villains, bad accents, transcontinental trains, and secret jewels we've seen. But at least the poster rocks. Marie-Chantal contra le docteur Kha opened in France today in 1965.
---
Overnight to many distant cities.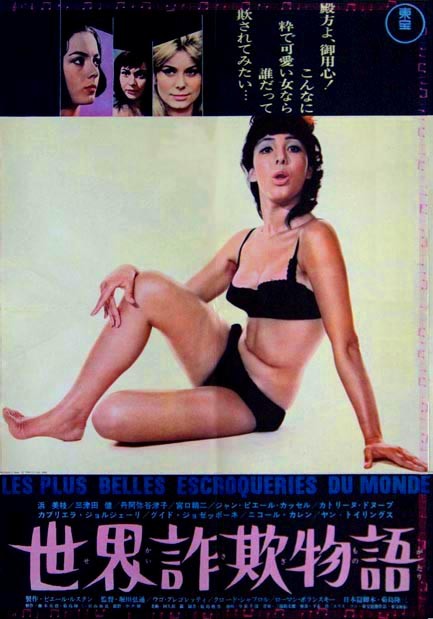 Above are two lovely Japanese posters for the French film Les plus belles escroqueries du monde, aka The World's Most Beautiful Swindlers. It's an anthology divided into four segments shot by four directors—Claude Chabrol, Francis Ford Coppola, Hiromichi Horikawa, and Jean-Luc Godard. Not a slouch in the bunch, and the film, which is about crimes committed by four larcenous women in various cities across the globe, is said to be quite entertaining. We haven't seen it yet, but when we do we'll give you our opinion. In the meantime dig the art. Les plus belles escroqueries du monde opened in France today in 1964, and Japan in 1965.

---
It's a mad mad mad mad Perkins.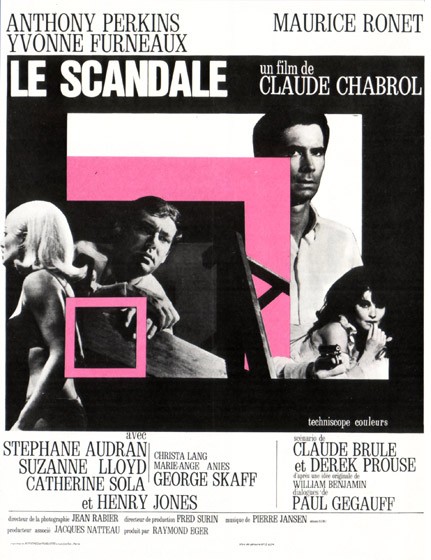 It's difficult to imagine Anthony Perkins in any role save that of Norman Bates, but he made a number of post-Psycho films, several in France, including this oft-maligned effort by directorial legend Claude Chabrol about murder and mayhem among the feckless Parisian bourgeoisie. Perkins continued to land serious roles through the rest of the sixties and seventies, before the 1983-to-1986 triple whammy of Psycho II, Crimes of Passion and Psycho III entrenched him as cinema's all time greatest (and twitchiest) madman. In Le Scandale he wasn't what you'd call clinically mad, but he wasn't exactly playing with a full deck either. Le Scandale, aka The Champagne Murders, premiered in France today in 1967.

---