Then I asked the photographer if the heater was off, he said yes, and long story short—that's how I burned my butt off.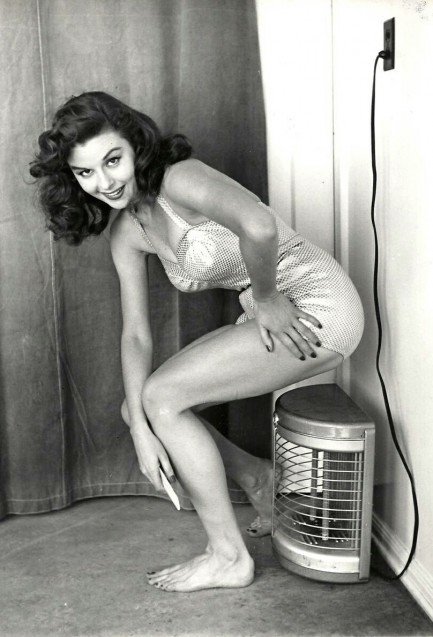 Above, a nice shot of U.S. actress Elaine Stewart the instant before she lets out a yowl that shatters every window in a five block radius. We've featured Stewart before, and seeing as she's quite lovely and has numerous great promo images, we'll probably circle back to her again. No date on this, but figure around 1955.


---
He who goes up must one day come down.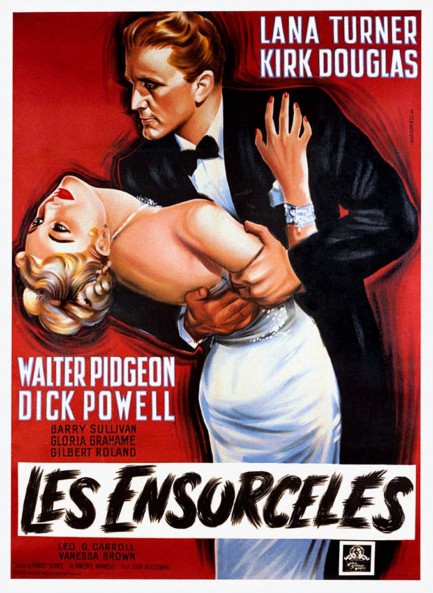 This beautiful poster for Vicente Minelli's 1952 drama The Bad and the Beautiful was made for the film's French release as Les ensorceles. A behind-the-scenes look at the rise of a legendary Hollywood producer, the story is told in triptych, with each section focused on someone the producer betrayed during his rise to the top. The three sections are wrapped in a framing device wherein the betrayed have been called together to hear the producer's pitch for working together again. Of course, all of them are too angry to consider such a collaboration—at least at first.
The real attraction here is seeing 1950s Hollywood turn its camera inward for a look at the machinations behind the magic of movies. The cast—Kirk Douglas, Dick Powell, Lana Turner, Walter Pidgeon, and Gloria Grahame—range from excellent to adequate, and the story of ruthlessness being rewarded in Tinseltown has a contemporary feel. The saying goes that it's best to be nice to everyone you meet on the way up because you run into the same people on the way down. Doubtless that's true, but even better advice would be to never come down at all.
Turning our attention to the poster, you may notice that the design was inspired by the promo shot just below. Except—hold on a sec. Is that Douglas and Turner? No, it isn't. It's Gilbert Roland and super hottie Elaine Stewart. The producers must have liked their dance bit so much they decided to use it as inspiration for the promo art, basically putting Douglas's and Turner's heads atop Roland's and Stewart's bodies. That's like being left on the cutting room floor, but somehow even worse. In Stewart's case at least, we will be sure to get back to both her head and body. Les ensorceles

premiered in France today in 1953.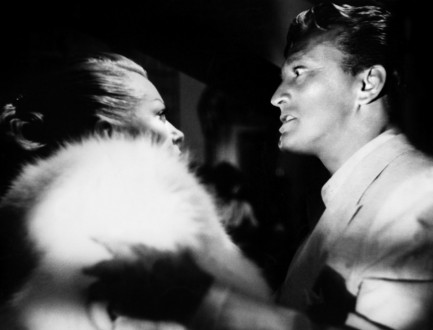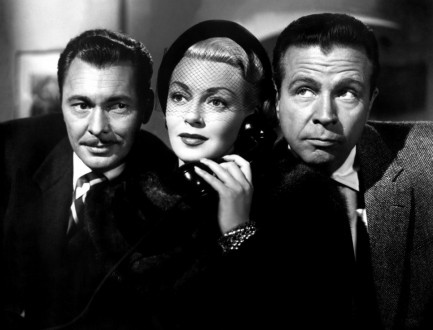 ---
Having a merry go 'round in Hollywood.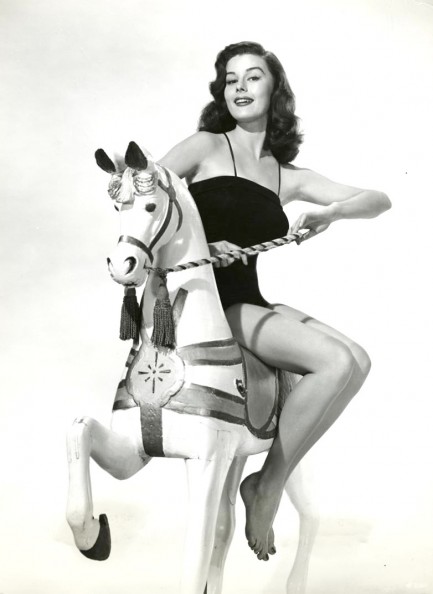 American actress and model Elaine Stewart first caught Hollywood's attention as See magazine's Miss See for the month of January 1952. She immediately launched a film career, winning small roles in seven movies that year, and eventually appearing in The Tattered Dress, Night Passage, High Hell, The Bad and the Beautiful and other productions, as well as in several television shows. This shot was made in 1954 when she was filming MGM's musical classic Brigadoon.
---