Lindberg brings some warmth to the end of winter.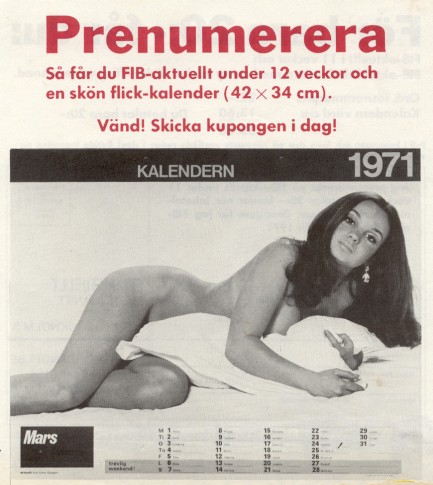 This March calendar page is from fifty years ago, was published by the magazine FIB Aktuellt, and features Swedish actress and sex symbol Christina Lindberg, who was just beginning her ascent to international stardom. This is not the first calendar page we've seen her on. We posted a rare one many years ago, and were the first to do so. Have a look here.
---
Straight to the toplessness.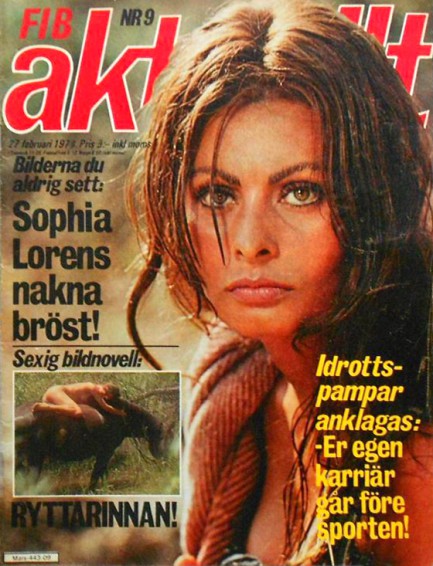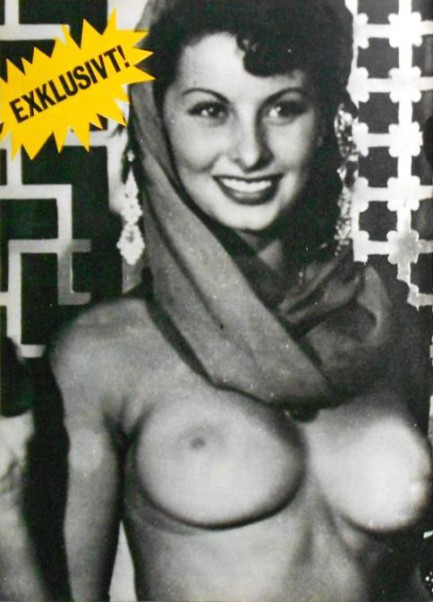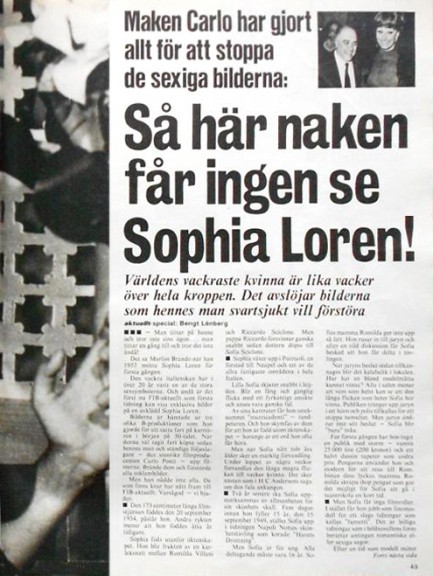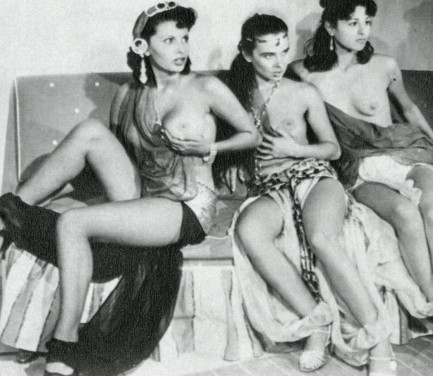 This issue of the Swedish magazine FIB Aktuellt appeared today in 1973 and its cover star, Sophia Loren, is exposed inside in exklusivt! photos from her 1951 campfest Era lui... sì! sì, aka It's Him!... Yes! Yes! You probably know the story by now. Loren described the decision that led to her toplessness this way: "The scene involved several girls like myself in harem costume and, for the Italian version it was all right to wear clothes. The director asked that we do one take topless for the French version. I did not want to, but I was hungry. The other girls obliged him and, after a moment's hesitation, I did too." Loren said later that in general she couldn't bear to be naked. "I'm not exactly a tiny woman. When Sophia Loren is naked, this is a lot of nakedness."
It's interesting that the photos are labeled exclusive by FIB Aktuellt, considering images from Era lui... sì! sì! had been floating around for years. We shared a page from the low rent Goodtime Weekly Calendar of 1963 featuring the same topless shot you see above. But we suppose in the days before the global internet the images were a scoop each time a new magazine acquired them. Playboy made a big deal of printing them in 1966. Loren's nudity remained mildly controversial for decades due to her superstar status, but time marches on, and in 2011 she appeared on prime time television on Italy's RAI 1 with a humungous topless still from Era lui... si! sì! in the background. That's progress.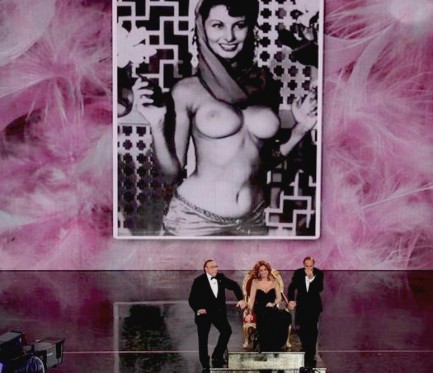 ---
On the Ege of survival.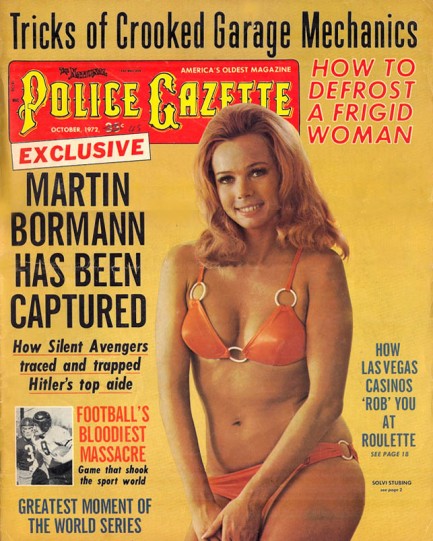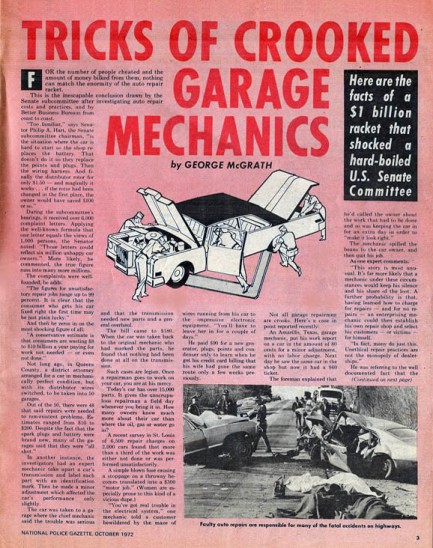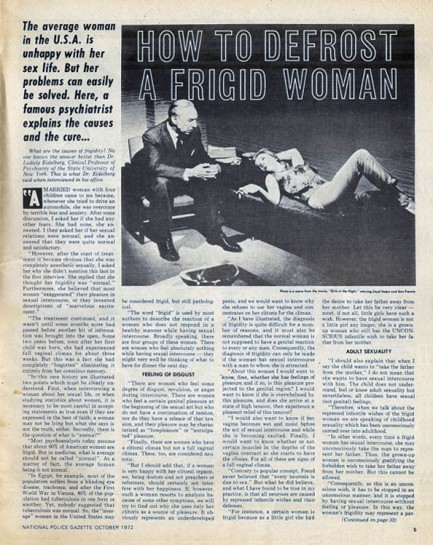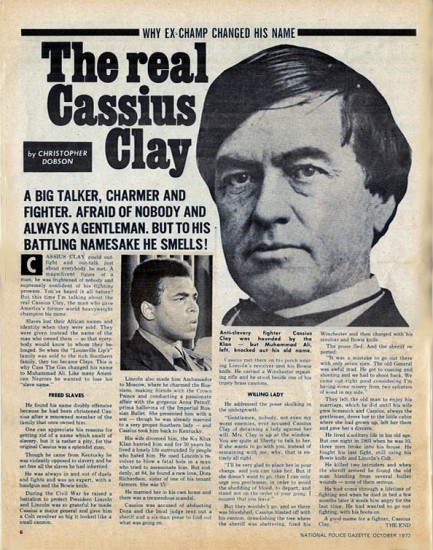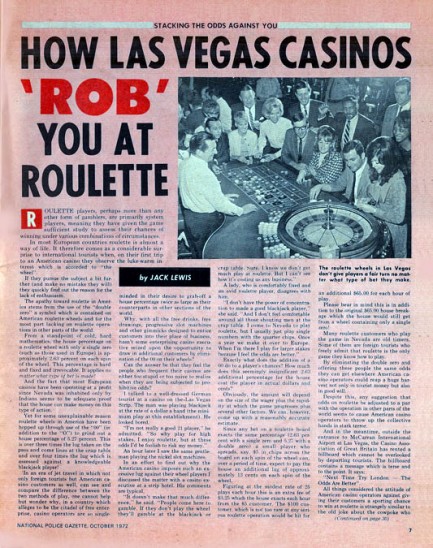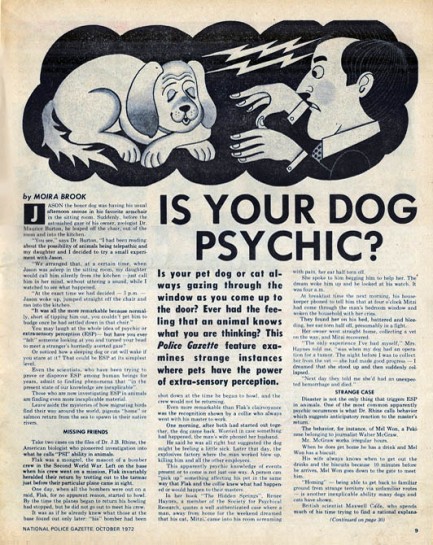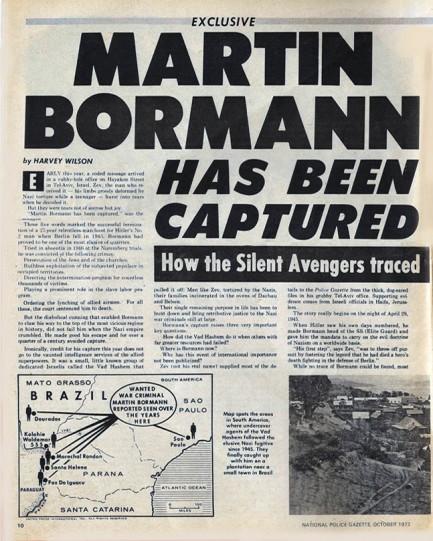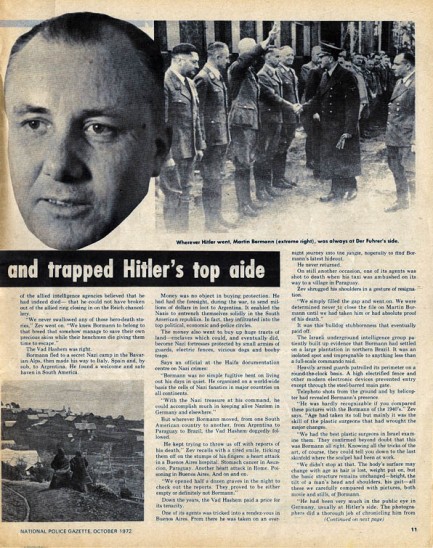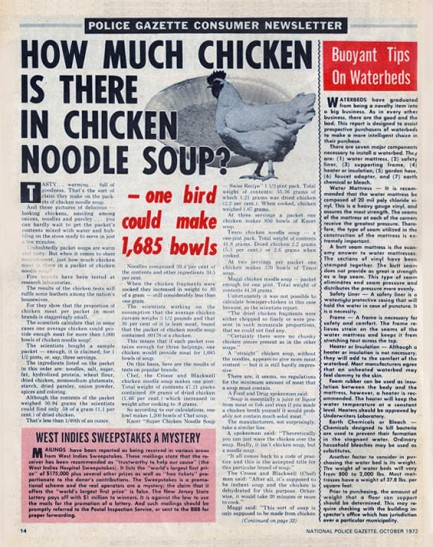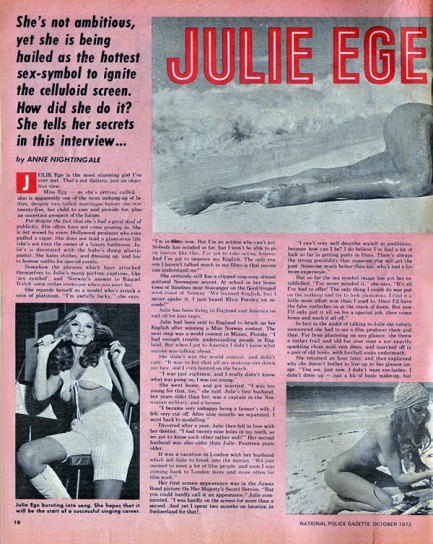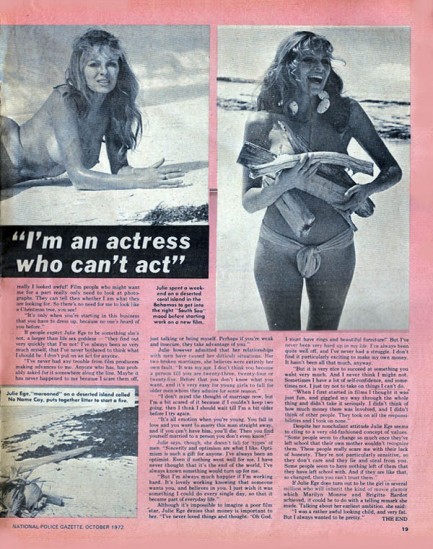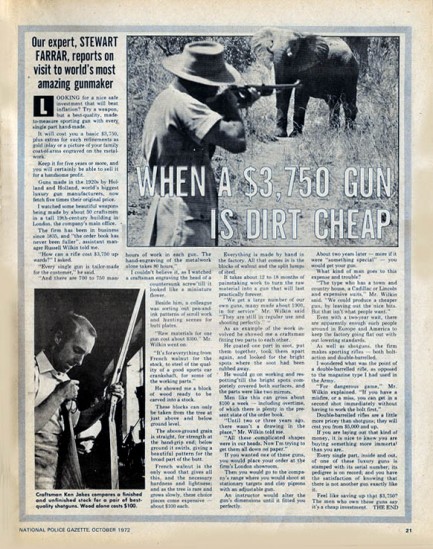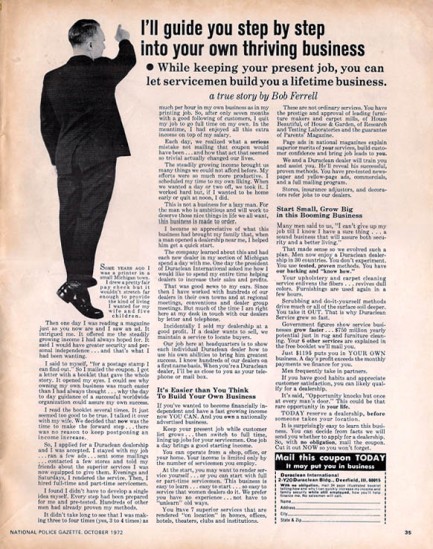 Above are selected pages from an October 1972 issue of The National Police Gazette, with cover star Solvi Stubing, who appeared in many films, including Strip Nude for Your Killer, Pussycat Pussycat I Love You, and Yearning for Love. You also get Norwegian beauty Julie Ege in the centerspread. The Ege shots are handouts, part of a larger set that had appeared a year earlier in the Swedish magazine FIB Aktuellt leading up to her starring role in Creatures the World Forgot. To prepare for the movie she supposedly spent a weekend on a deserted island, alone save for a photographer documenting her experience—i.e., here's Julie gathering wood while wearing only a loincloth, and here's Julie gnawing on some hearts of palm she's managed to forage, etc. All in all, we think it was one of the cleverest publicity stunts ever. Producers of Survivor take note—loincloths for everyone. But we digress. We've re-posted clearer versions of some of the Gazette's borrowed images below, and perhaps down the line we'll even post the entire FIB Aktuellt shoot. In the meantime, you can see one more Ege photo here.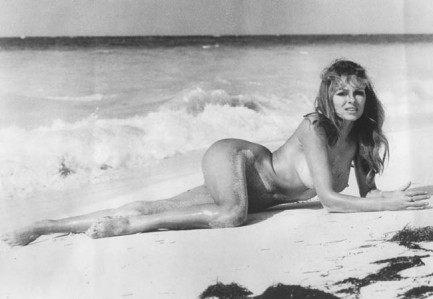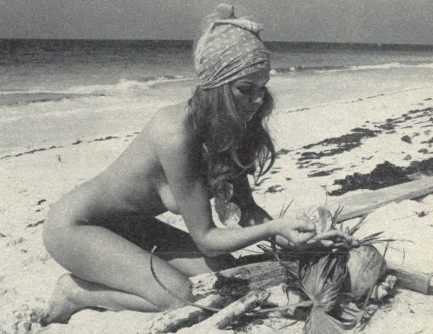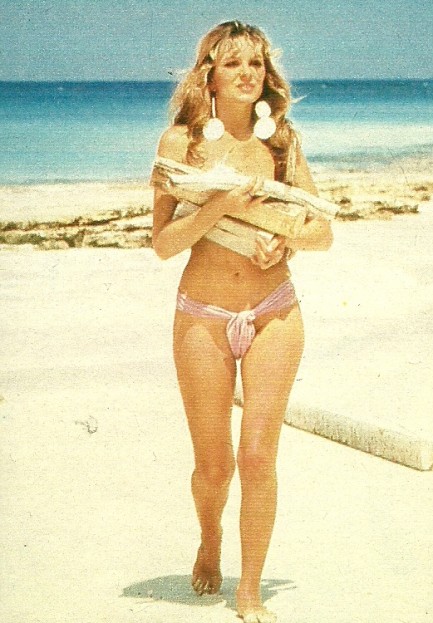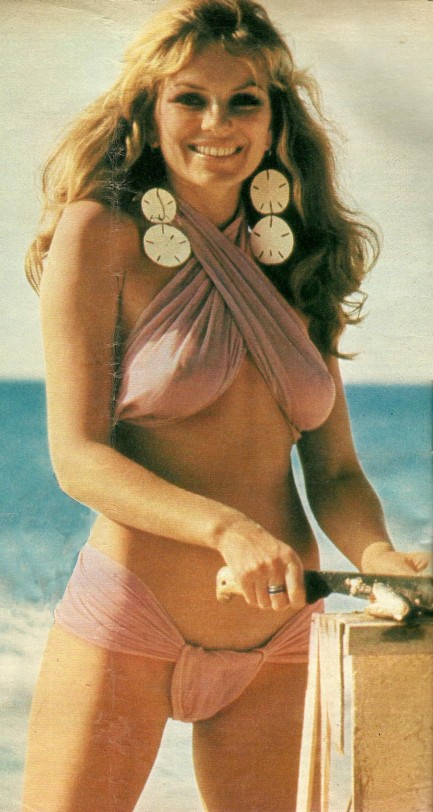 ---