From chieftain's daughter to chief attraction.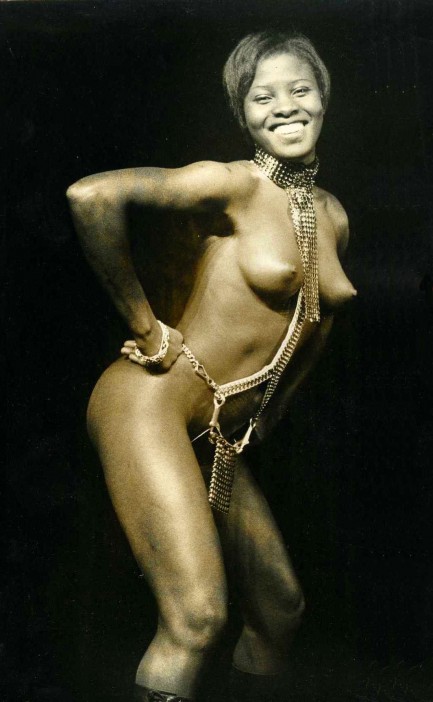 We're back to burlesque today with a photo of the famed Crazy Horse dancer who went by the name of Miss Zabou. Born and raised in Mali, she was the daughter of a village chieftain, and at sixteen became a member of Mali's Le Troupe de Ballet. After a few years she went to Dakar, Senegal for more prosaic work as a hairdresser, and from there moved on to Paris to do the same. Upon visiting Crazy Horse she became interested once more in dance, which we imagine says a lot about either how thrilling Crazy Horse extravaganzas were, or how much more money Parisian burlesqueteers made than Malian ballerinas. In any case, she jettisoned hairdressing, and the beautiful Zabou and her radiant smile became the talk of Paris. We have one more photo of her we may post a little later.


---
It's a yellow banana occasion—no exceptions, no excuses.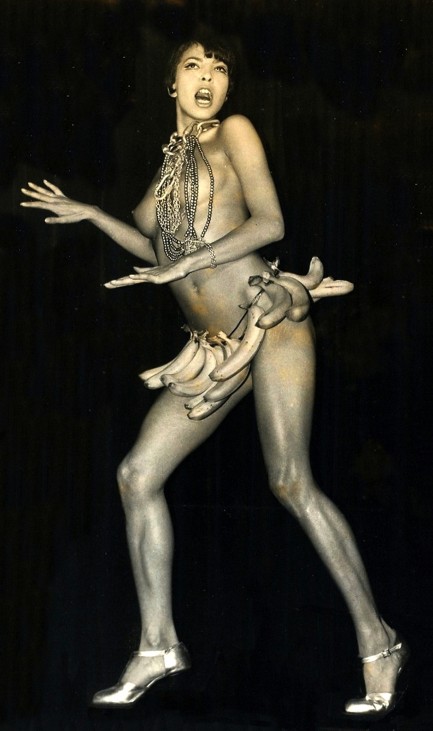 This brilliant photo features the famed French burlesque dancer who billed herself as Maria Tuxedo. She appeared onstage at Le Crazy Horse cabaret, and this image was made there probably around 1968. We think it's amazing. There are other frames from this session, which was shot by Giancarlo Botti, and some of those are even in realistic color, but we like this desaturated look best.
Those of you in the know concerning burlesque have noticed that Tuxedo is channeling Josephine Baker. Baker may or may not have been the first to wear a skirt of bananas, but she undoubtedly was the one who made the look
iconic. Ironically, the most famous photos of Baker in this mode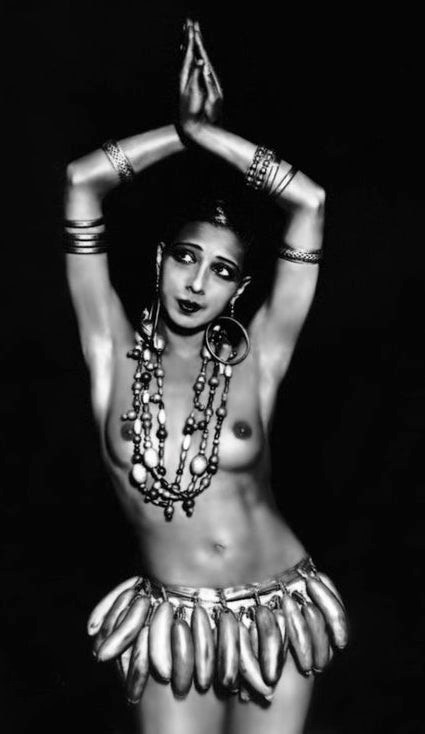 don't feature her with real bananas, but rather costuming constructed to resemble them. The shots of her with actual bananas—such as the one you see here—are less famous.
But the gimmick was indeed made into something lasting by Baker, and Tuxedo was definitely paying tribute when she wore her ungainly accoutrement. Yet she managed to make it look effortless, which shows yet again that, while beautiful women graced all niches of show business, burlesque dancers were special, aesthetically and athletically. We don't think they get enough credit for being some of the most inspiring figures of the mid-century era. But we always do our best to promote them, particularly in the jawdropping examples we've shared here, here, here, and here.


---
Damn, missed again. Can I try one more time or do you need a paramedic like immediately?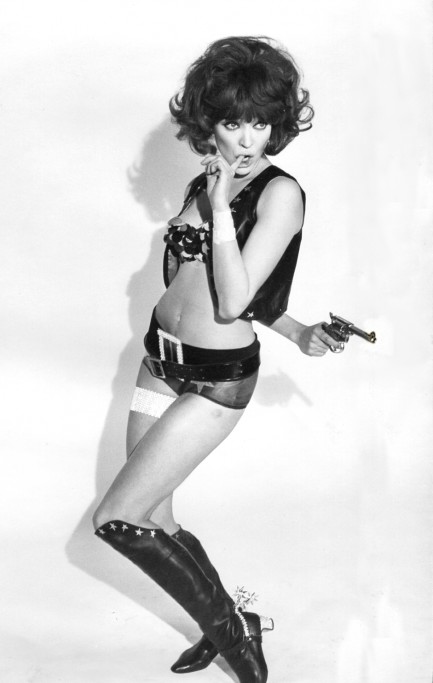 This photo of Danish actress, director, writer, and singer Anna Karina, née Hanne Karin Bayer, was made by Italian photographer Giancarlo Botti, and is one of the most famous images of the famed French New Wave icon. Botti shot this when Karina was filming the musical comedy Anna in 1966 (some sources say 1967). She died a few months ago and many nice tributes appeared
online, but the best tribute of all is simply watching one of her highly regarded films. We recommend 1964's
Bande à part.
See another Karina image
here
.
---