A Wood time was had by all at 1995 triple bill.
Above, a very nice chirashi mini-poster made in 1995 to promote a cinematic triple-bill of three Ed Wood films—Plan 9 from Outer Space, Glen or Glenda, and Bride of the Monster. None of the three played in Japan when originally released—and if you've seen any of them you realize there's no reason they should have—so this poster is for their premieres. The reason this happened is because Tim Burton's biopic Ed Wood became a hit in the U.S. in 1994 and this triple bill occurred about a month in advance of that film's arrival in Japan.
The art is signed, which you can see in the inset image at right, but we can make neither heads nor tails of it. Or rather, we can make out the letters just fine for the most part, but we can't really determine how they should be arranged. Conjizukin or
Comjizukin
seem most likely, but we get nothing on either of those names with online searches. We weren't surprised. These artists with their esoteric sigantures. We guess none of them imagine they might one day be obscure and their abstract autographs might actually be a hinderance to recognition. If anyone can identify who this is drop us a line.
Update: The answer has arrived. A reader has informed us the artist is Suzuki Cohjizukin. We'll dig up more work from him a bit later, and thanks very much to the person who wrote in.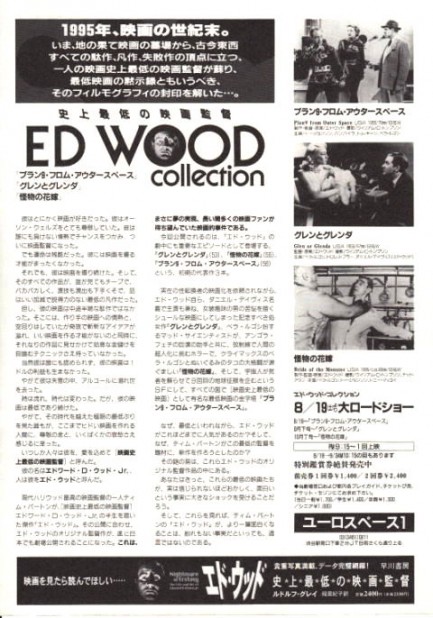 ---
A good old-fashioned orgy.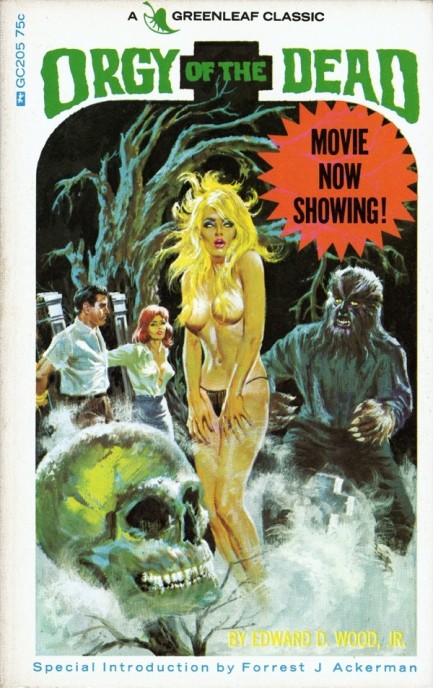 A reader of this website sent in a nice piece of Robert Bonfils art we hadn't seen before. This is the cover for Orgy of the Dead

, novelized from the motion picture of the same name by its screenwriter, schlock film maestro Ed Wood, who gave the world

Glen or Glenda

and

Plan 9 from Outer Space

. If you haven't seen

Orgy of the Dead

, we'll tell you that it's got a werewolf, a mummy, and the (not so) Great Criswell as the Emperor of the Dead. It's also—of crucial importance—got a bunch of burlesque dancers cavorting in a graveyard, which leads to this classic couplet of Ed Wood dialogue between Pat Barrington and William Bates as they secretly watch Barbara Nordin do a slinky topless dance:
Barrington: "Could it be some kind of college initiation?"
Bates (breathlessly): "It's an initiation, alright—but not of a college as you and I know of it."
Well, clearly Bill Bates went to the wrong college. See below. We don't say Orgy of the Dead is a good movie. But it's probably perfect background visuals for your next party. Thanks to Andy for sending this book cover our way.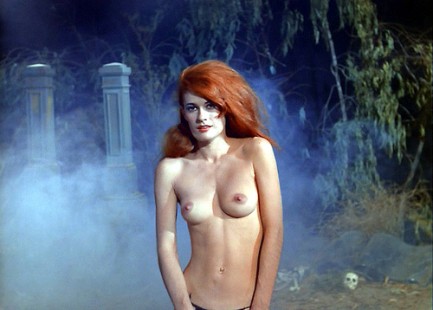 ---