Schell, Mercouri, and Ustinov plan a field trip to the local museum.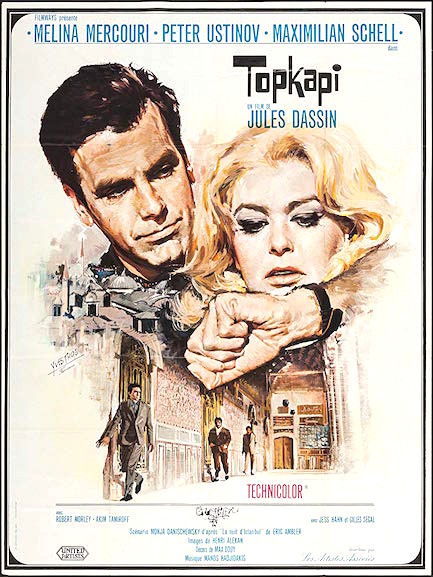 This French promo poster was made for the big screen Technicolor thriller Topkapi, which was based on a novel by Eric Ambler, who was such a popular author that the book was optioned before it even hit bookstores. The sedateness of the poster, which was painted by Yves Thos and René Ferracci, belies how outlandish the movie is at points. It starred Greek actress Melina Mercouri, British actor Peter Ustinov, and Austrian actor Maximilian Schell, with American Jules Dassin in the director's chair, filming mainly in Istanbul and using the location to voyeuristic effect as he documents exotic aspects of Turkish life. Inside all the window dressing is a heist flick about a group intent on stealing a priceless jewel encrusted dagger from the Topkapi Palace Museum. Aspects of this will look familiar to fans of the Mission: Impossible films, but Dassin adds extravagances such as direct-to-audience narration by Mercouri, a touch of Hitchcockian vertigo, and some overly broad comedic digressions that make the final result thrilling and bizarre in equal parts. While we had issues with the movie, who are we to argue with the top critics of the day? They mostly liked it and audiences did too. Topkapi had its world premiere in France today in 1965.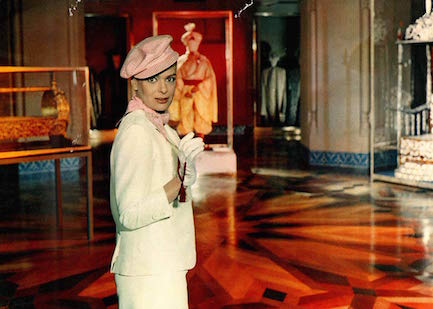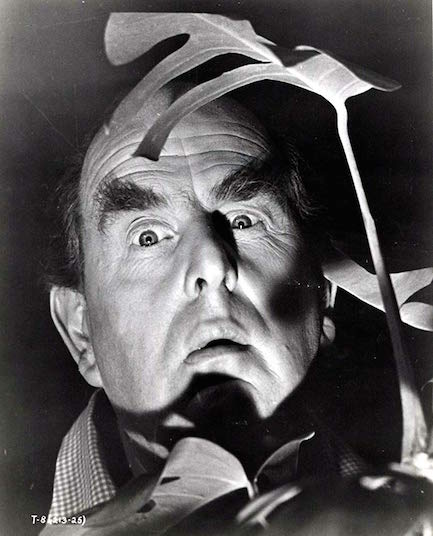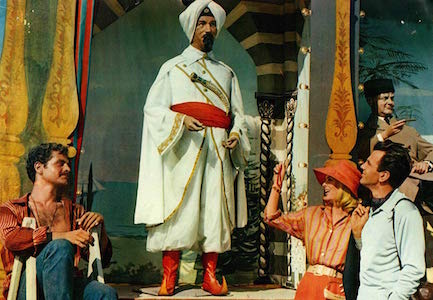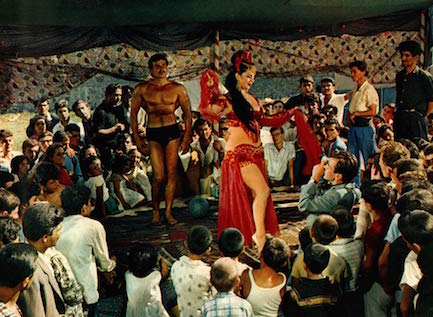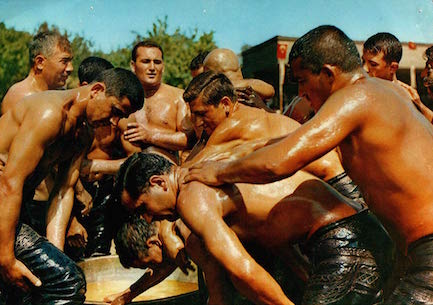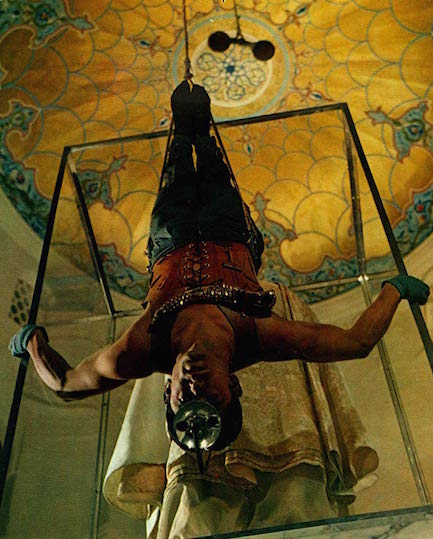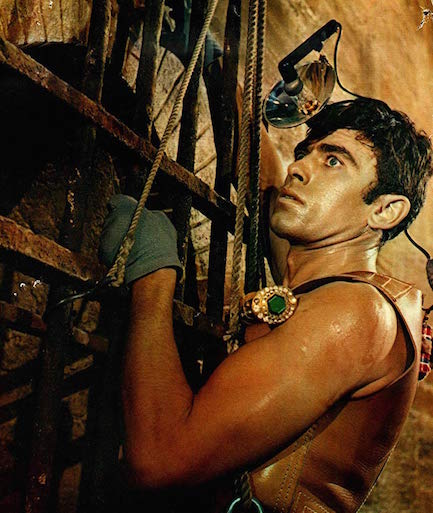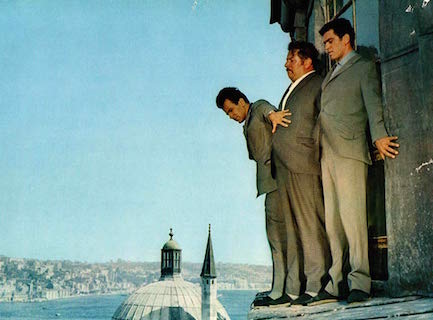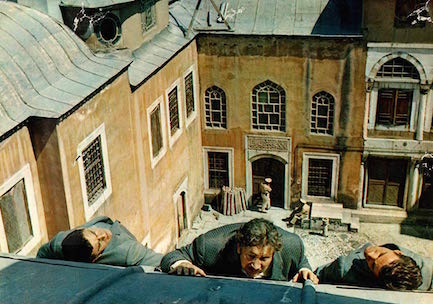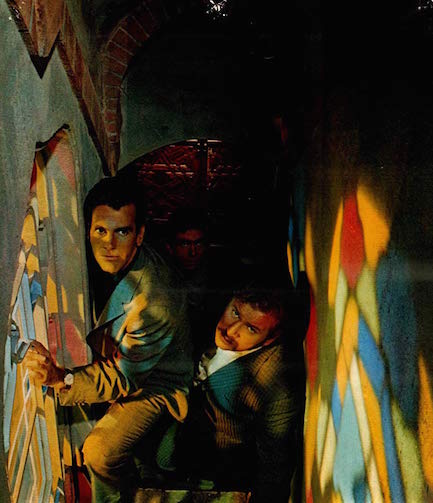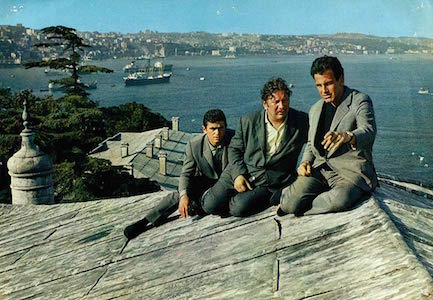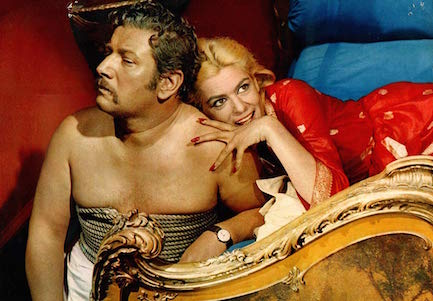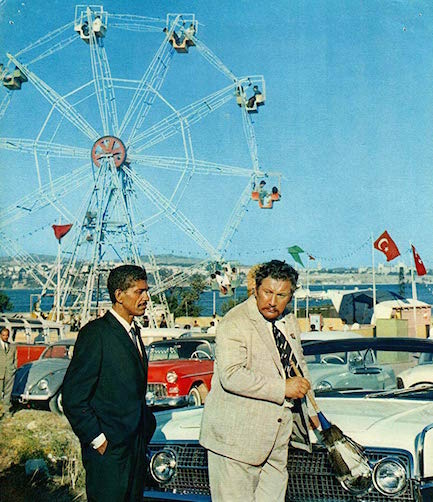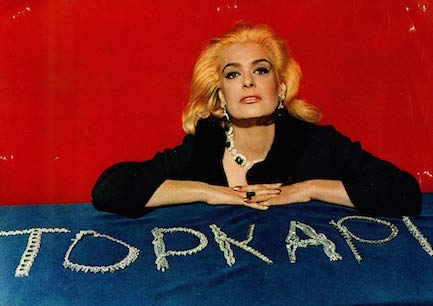 ---
One of Rome's foremost celeb photographers gives On the Q.T. the lowdown on his profession.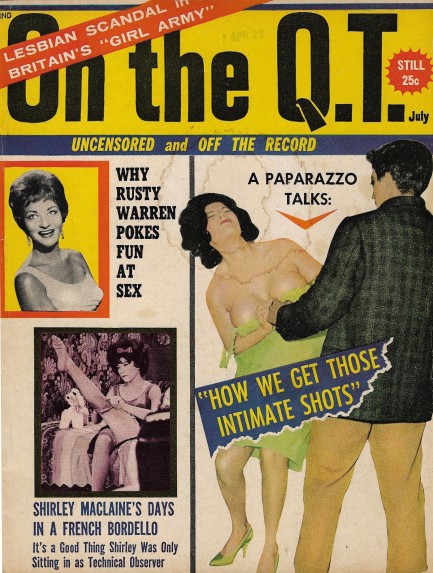 We managed to buy this issue of On the Q.T. published in July 1963 for seven dollars, which is about the range we prefer for a tabloid that's often overpriced. Inside we found Shirley MacLaine, Melina Mercouri, Elsa Martinelli, Richard Burton and Liz Taylor. As expected the focus is on Hollywood, but in this issue the piece that jumped out at us was an insider's account of the Italian paparazzi lifestyle written by top paparazzo Vito Canessi. He details his techniques for obtaining photos, his legal obligations, and the lengths some paps go to in getting saleable shots.

One of his examples involves taunting a target into a chase: "When French sexpot Brigitte Bardot and her flame of the moment, actor Sammy Frey, were conducting a sizzling romance which ranged across most of Italy, the paparazzi taunted love-hungry but brave Sammy into chasing them. But unknown to Sammy, his furious foot race was being photographed by other paparazzi behind him. It was a hilarious set of pictures of frail Sam, arms swinging and feet churning, zig-zagging through the streets of Rome..."
But sometimes their tactics backfire. Paparazzo Umberto Spragna, a 260-pound giant, tried to shoot photos of the married Burt Lancaster walking in Rome with Italian starlet Beatrice Altariba. "The big photog didn't know it, but Lancaster is quite a man himself. He found himself flying through the air, his camera smashed, and a furious Lancaster punching him liberally. The paparazzo fled the scene. Later he sued the actor for assault. Lancaster simply ignored the action and it was forgotten. That kind of thing gives me cold chills."
Paparazzi behavior was closely examined—briefly—decades later with the paparazzi-involved death of Princess Diana of Wales. But a look at various celeb videos from recent years reveal the paps to be basically unchanged, as they sometimes taunt celebrities verbally, hoping for photographable retaliation. But one need not feel more than passingly sorry for celebs. Occasional harassment is the price of fame. It may be unpleasant, but it's better than working for a living.
Though paparazzi come under the umbrella of defenders of press rights, with their often malleable ethics they're probably not people you'd have at your dinner table. It often works that way. Rights defenders tend to be either people actually testing the limits of rights, or people negatively affected by forces that would curtail those rights. Either way, they're sometimes outside the social mainstream. But the rights they defend apply to all. Thirty scans below.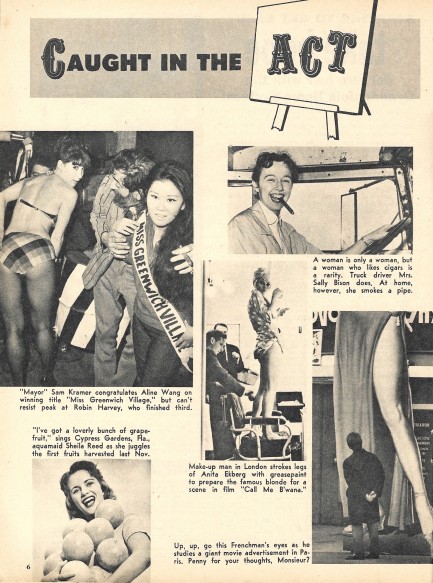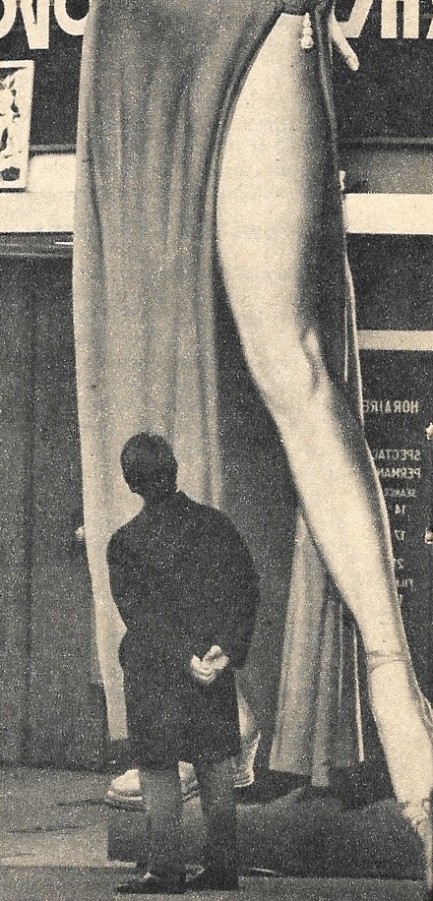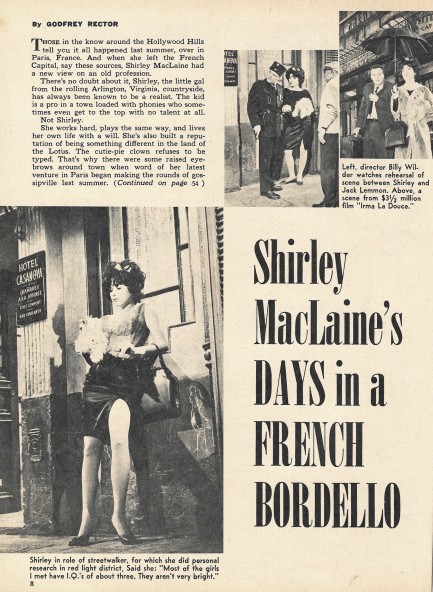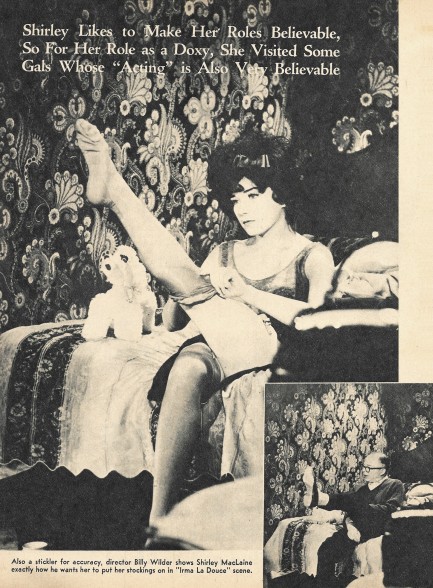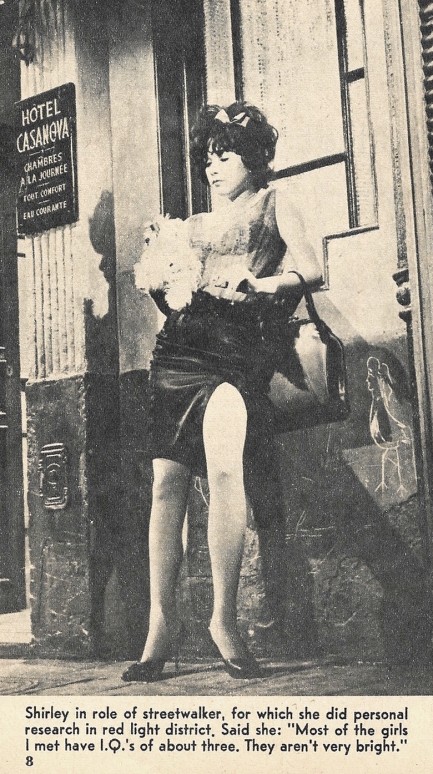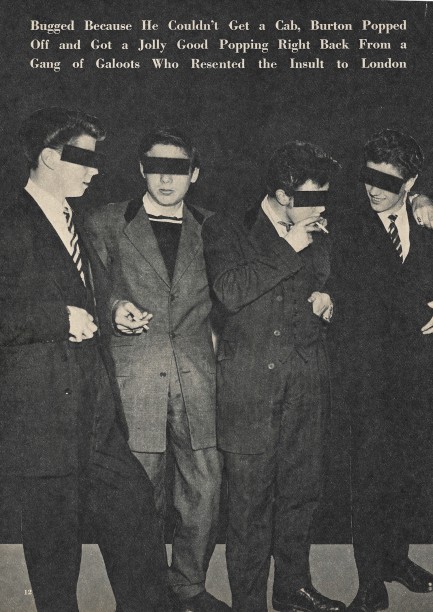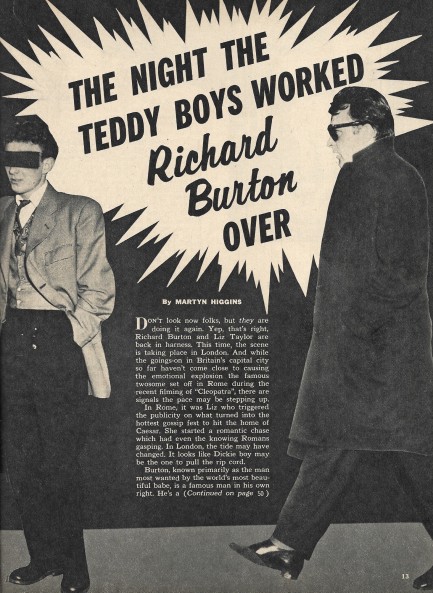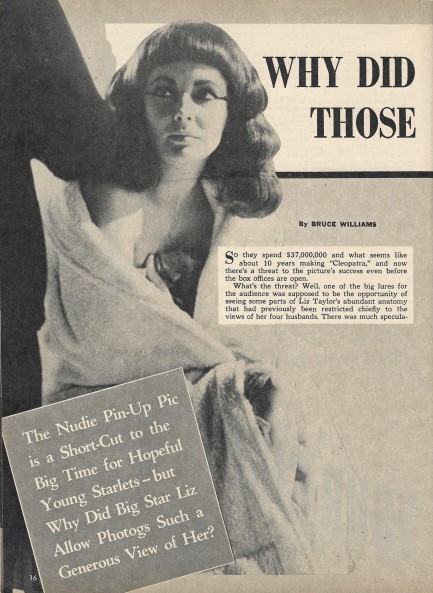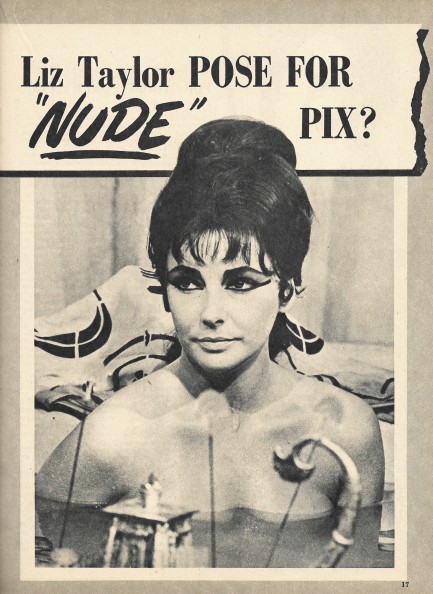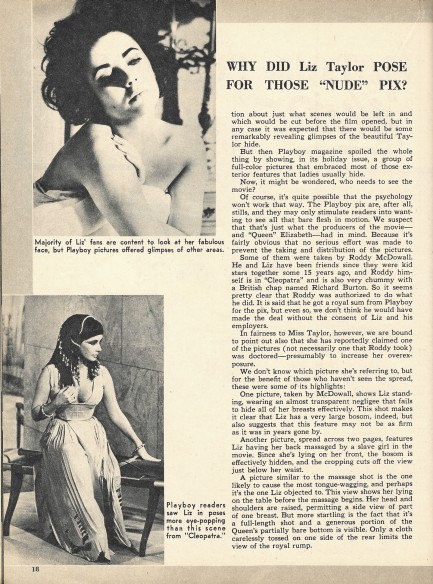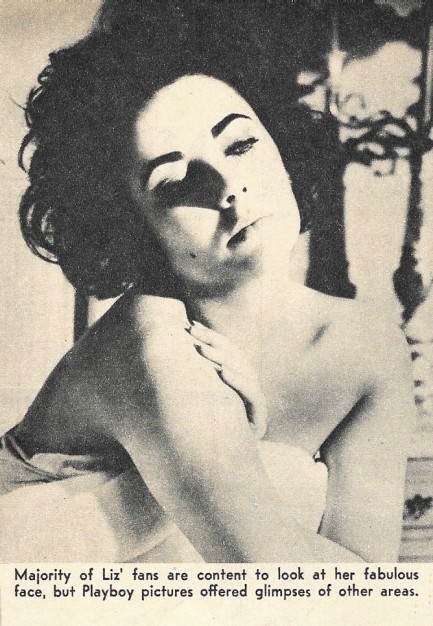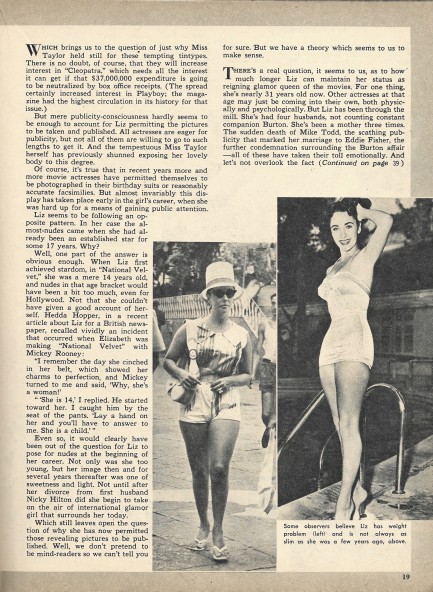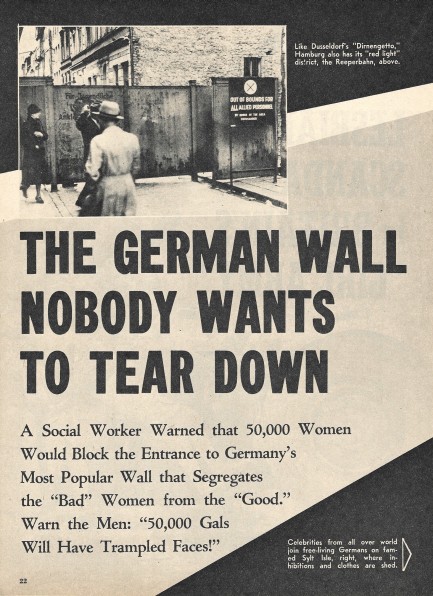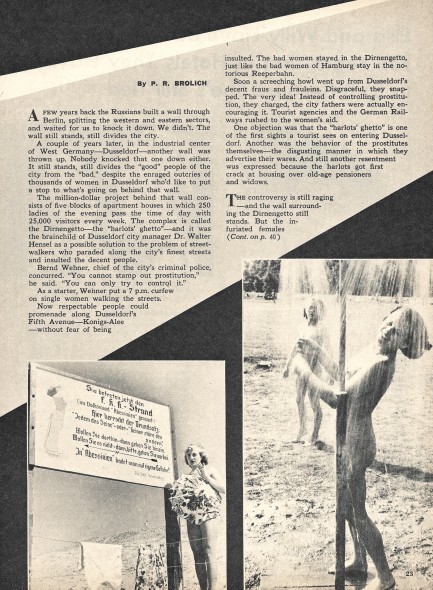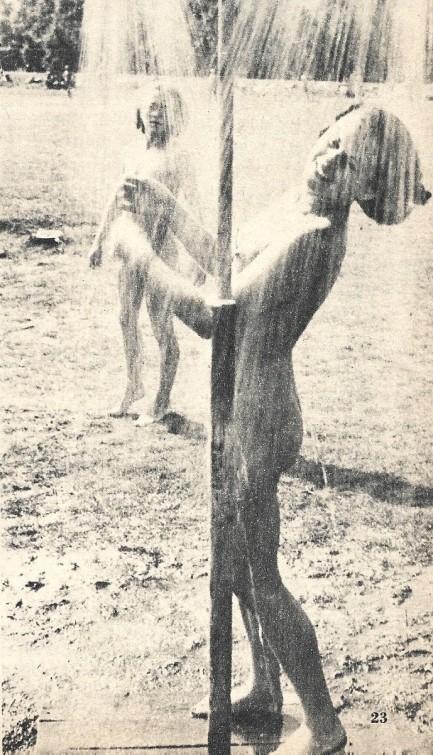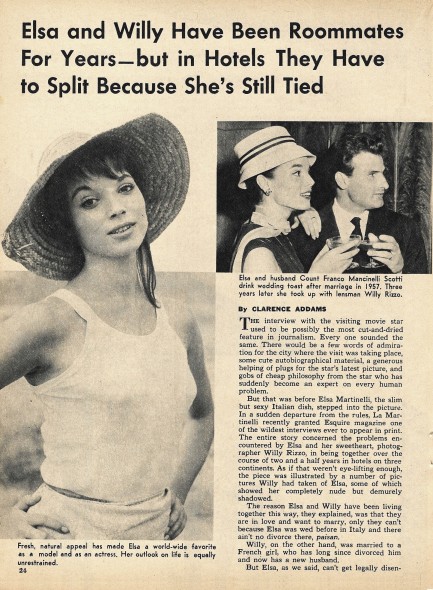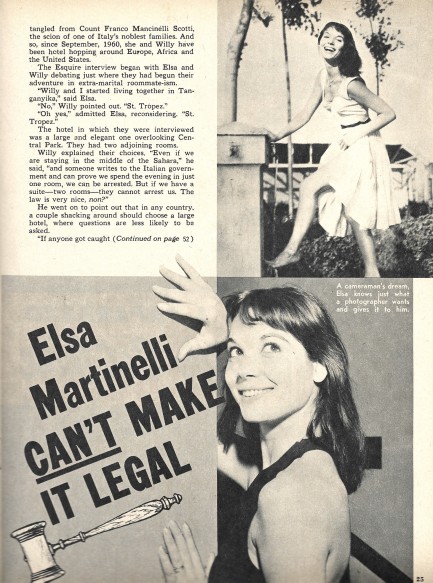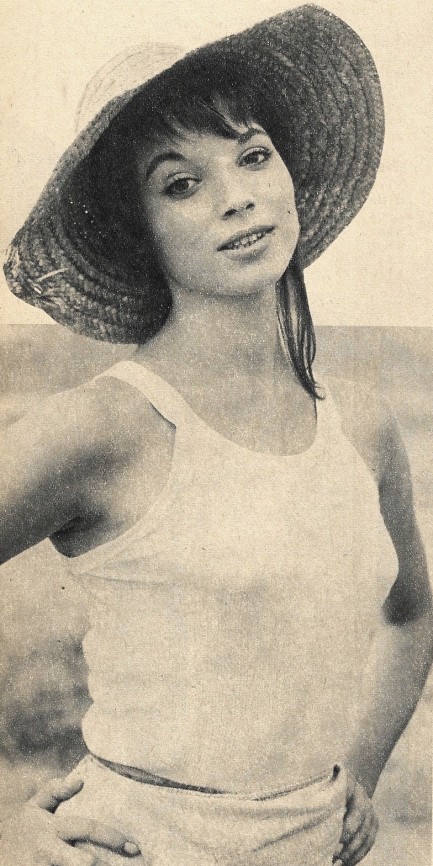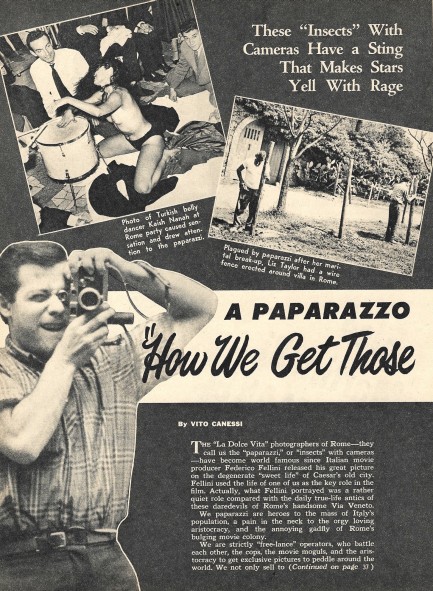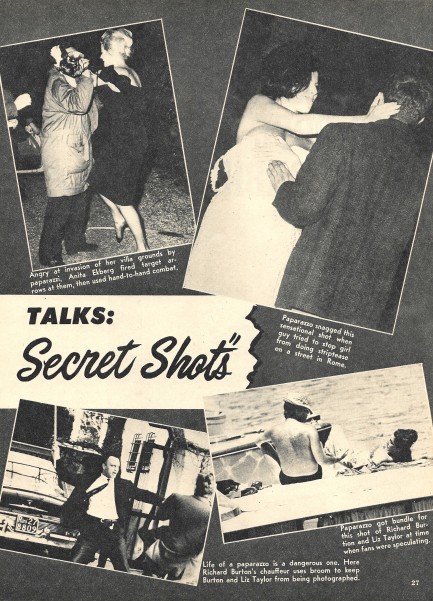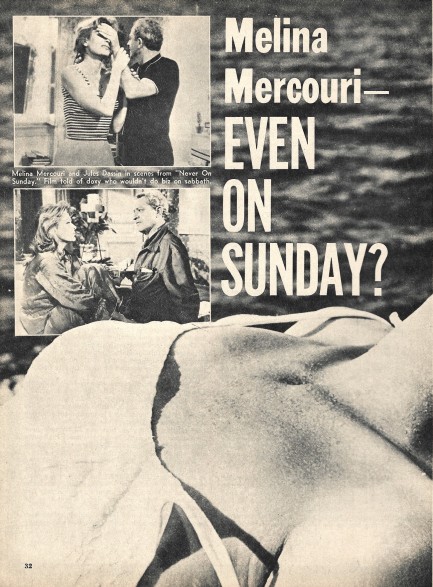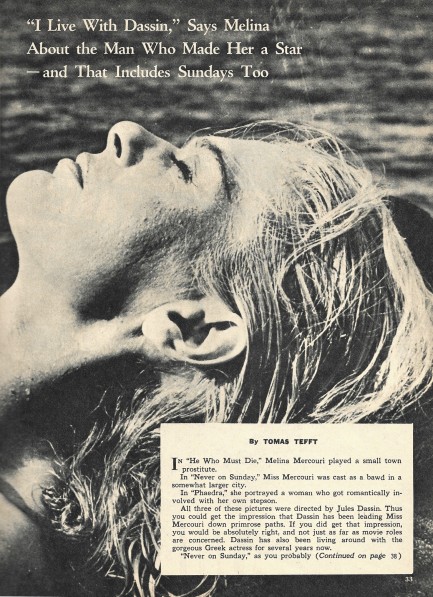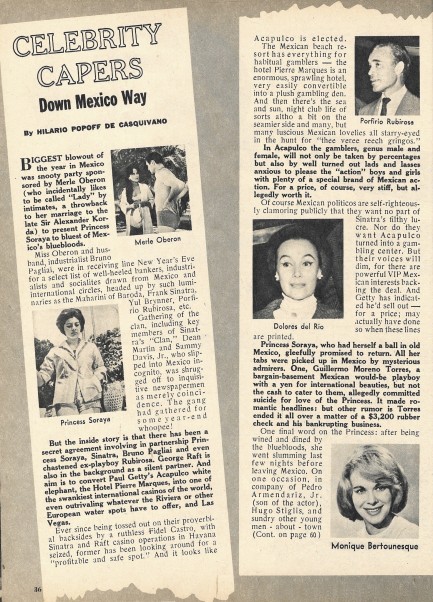 ---
Bad girls, sad girls, you're such dirty bad girls.
It's been five years since our last National Tattler, but we're returning to it because this cover published today in 1967 caught our eye. There were only two types of lesbians in mid-century tabloids—those to be converted to hetero love, and the dangerous kind. Tattler claims to have caught wind of a gang of the dangerous kind, rapists no less, and bikers to boot. We have our doubts. In addition to brutal lesbians you get Melina Mercouri kicked out of Greece by fascists. This story is actually true. Mercouri helped bring international attention to the cabal of colonels who had illegally taken over the country and in retaliation they revoked her citizenship and confiscated her property. But Mercouri outlasted the military junta, resettled in Greece in 1974, and later became the country's minister of culture.


---