One of Rome's foremost celeb photographers gives On the Q.T. the lowdown on his profession.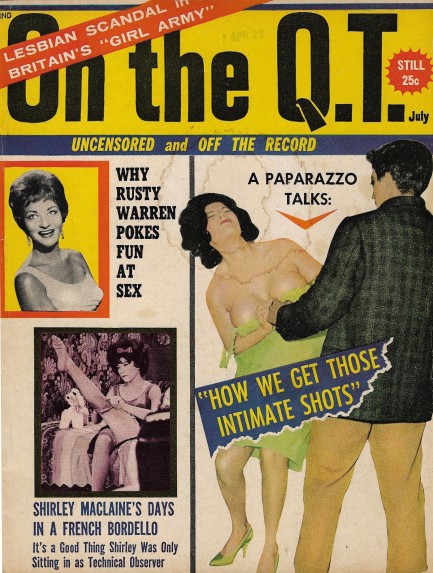 We managed to buy this issue of On the Q.T. published in July 1963 for seven dollars, which is about the range we prefer for a tabloid that's often overpriced. Inside we found Shirley MacLaine, Melina Mercouri, Elsa Martinelli, Richard Burton and Liz Taylor. As expected the focus is on Hollywood, but in this issue the piece that jumped out at us was an insider's account of the Italian paparazzi lifestyle written by top paparazzo Vito Canessi. He details his techniques for obtaining photos, his legal obligations, and the lengths some paps go to in getting saleable shots.

One of his examples involves taunting a target into a chase: "When French sexpot Brigitte Bardot and her flame of the moment, actor Sammy Frey, were conducting a sizzling romance which ranged across most of Italy, the paparazzi taunted love-hungry but brave Sammy into chasing them. But unknown to Sammy, his furious foot race was being photographed by other paparazzi behind him. It was a hilarious set of pictures of frail Sam, arms swinging and feet churning, zig-zagging through the streets of Rome..."
But sometimes their tactics backfire. Paparazzo Umberto Spragna, a 260-pound giant, tried to shoot photos of the married Burt Lancaster walking in Rome with Italian starlet Beatrice Altariba. "The big photog didn't know it, but Lancaster is quite a man himself. He found himself flying through the air, his camera smashed, and a furious Lancaster punching him liberally. The paparazzo fled the scene. Later he sued the actor for assault. Lancaster simply ignored the action and it was forgotten. That kind of thing gives me cold chills."
Paparazzi behavior was closely examined—briefly—decades later with the paparazzi-involved death of Princess Diana of Wales. But a look at various celeb videos from recent years reveal the paps to be basically unchanged, as they sometimes taunt celebrities verbally, hoping for photographable retaliation. But one need not feel more than passingly sorry for celebs. Occasional harassment is the price of fame. It may be unpleasant, but it's better than working for a living.
Though paparazzi come under the umbrella of defenders of press rights, with their often malleable ethics they're probably not people you'd have at your dinner table. It often works that way. Rights defenders tend to be either people actually testing the limits of rights, or people negatively affected by forces that would curtail those rights. Either way, they're sometimes outside the social mainstream. But the rights they defend apply to all. Thirty scans below.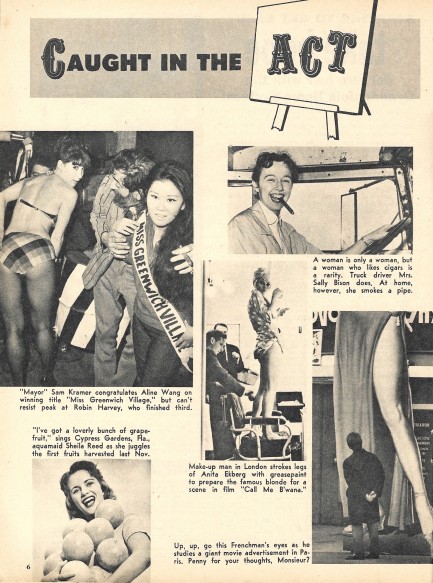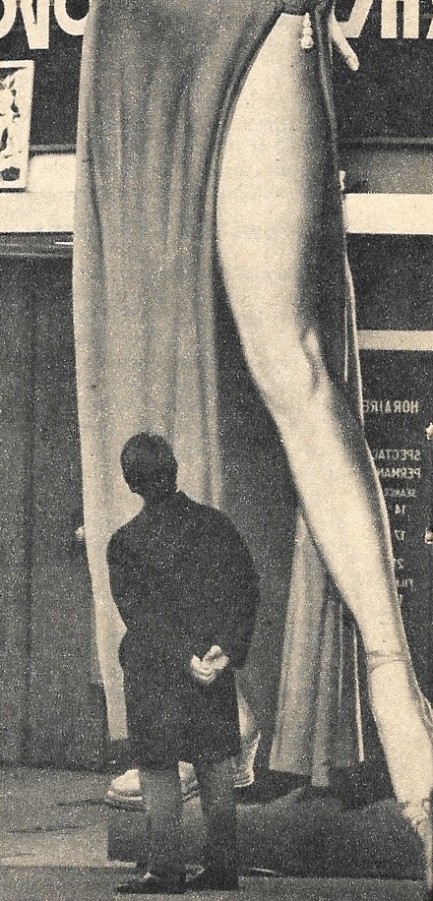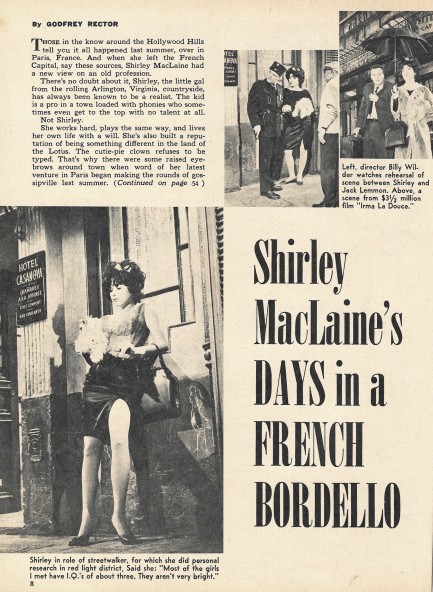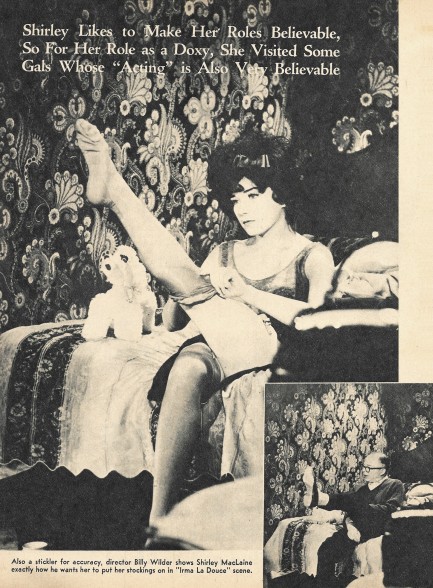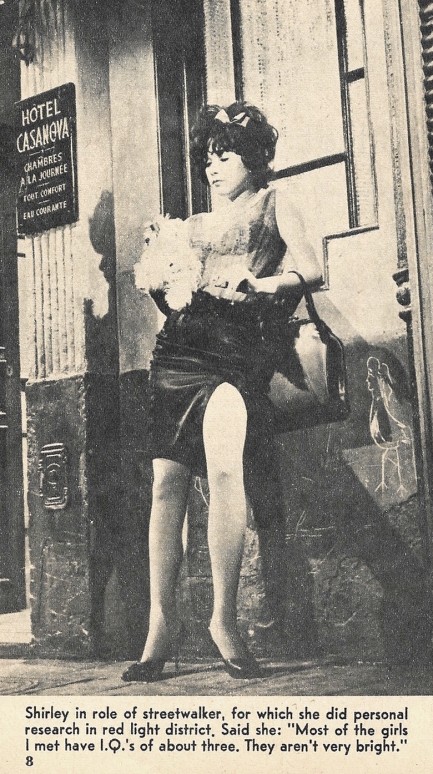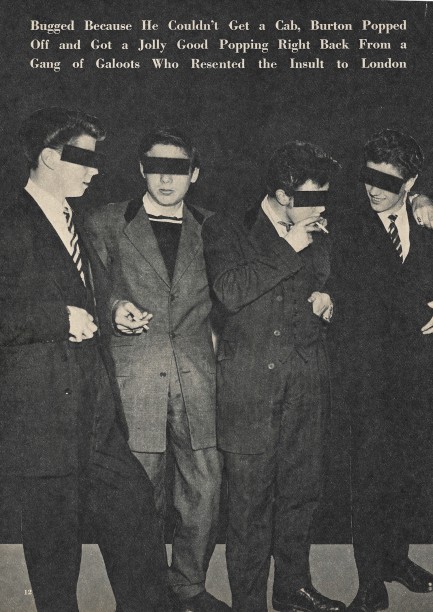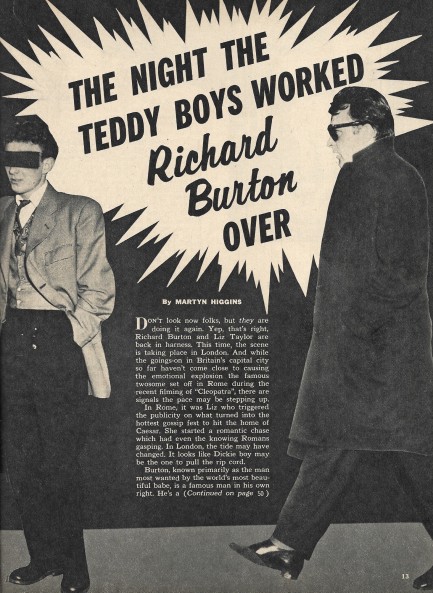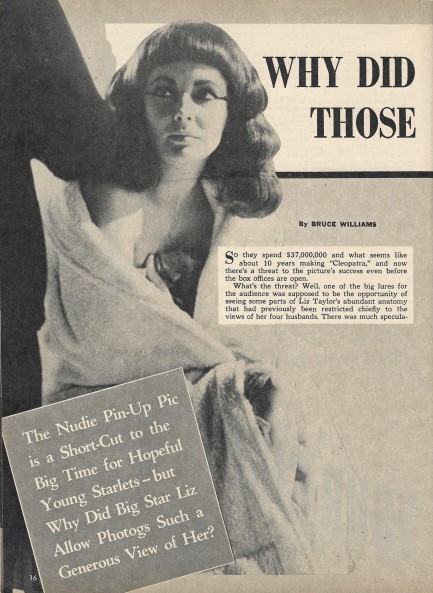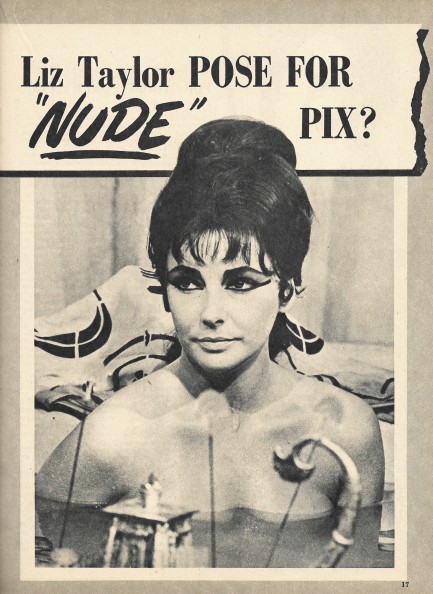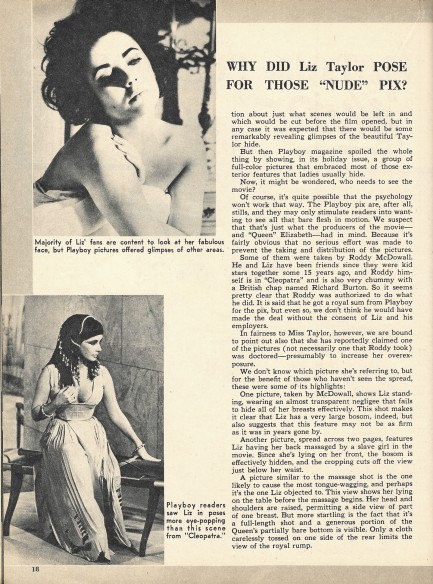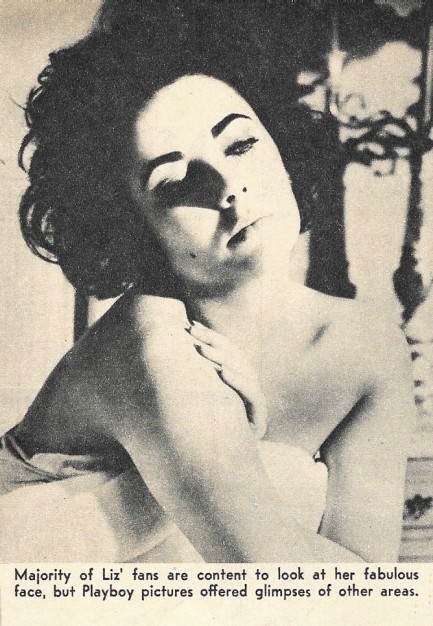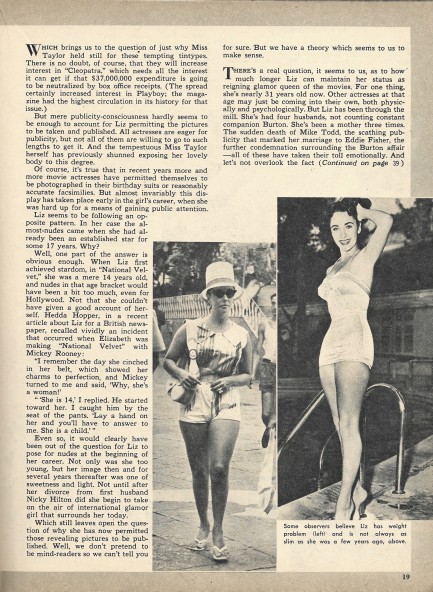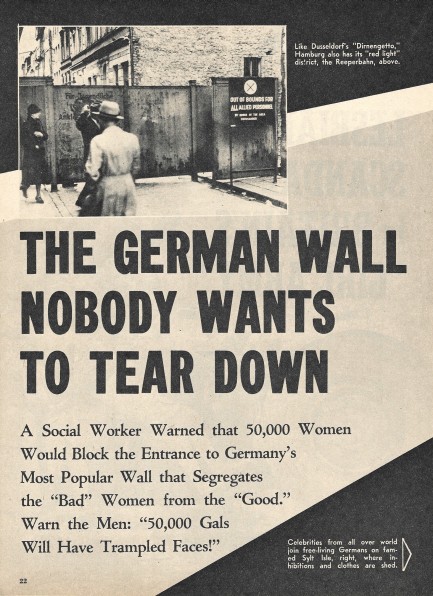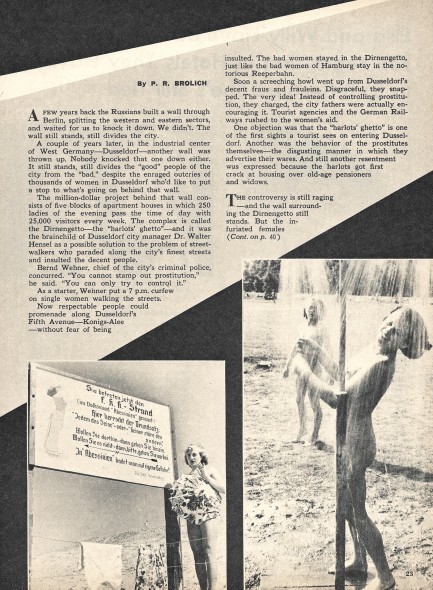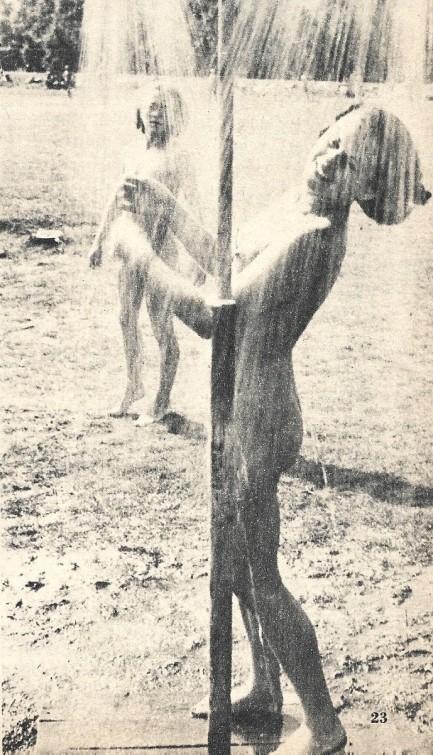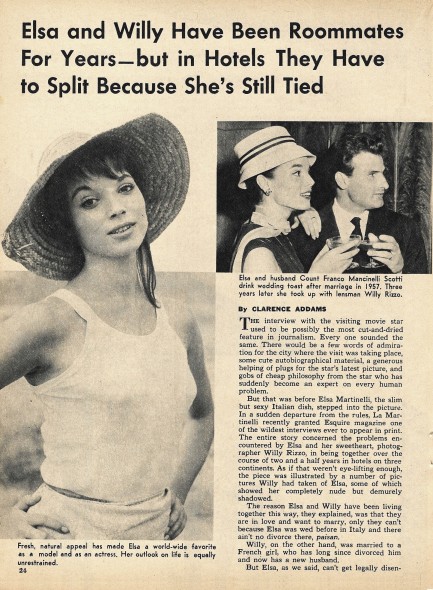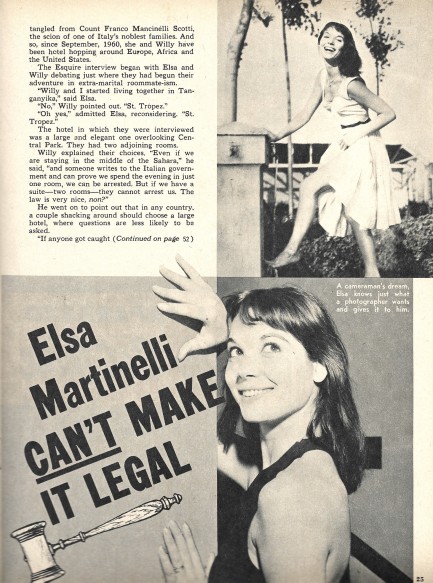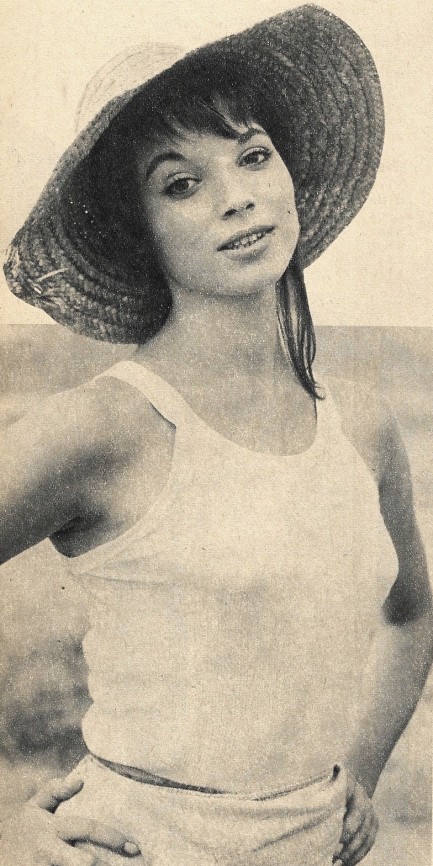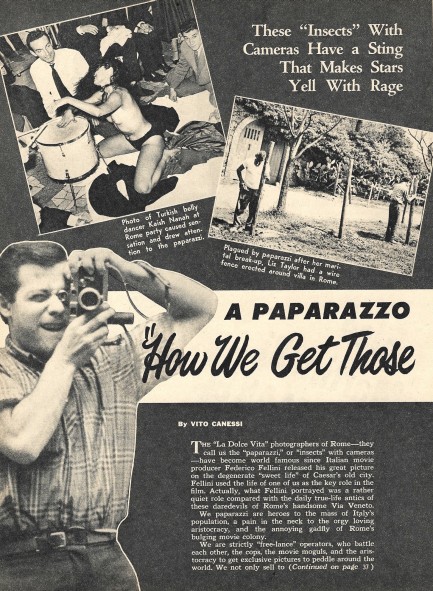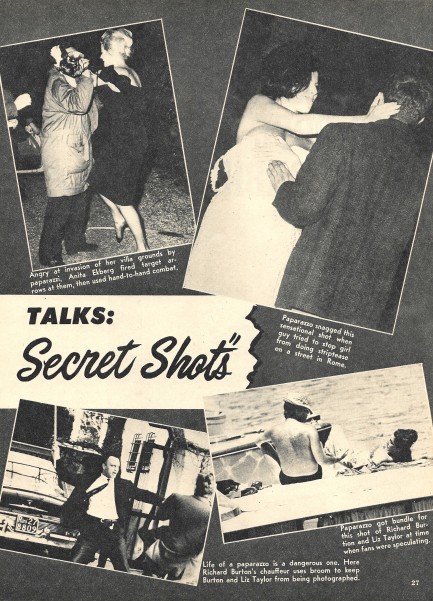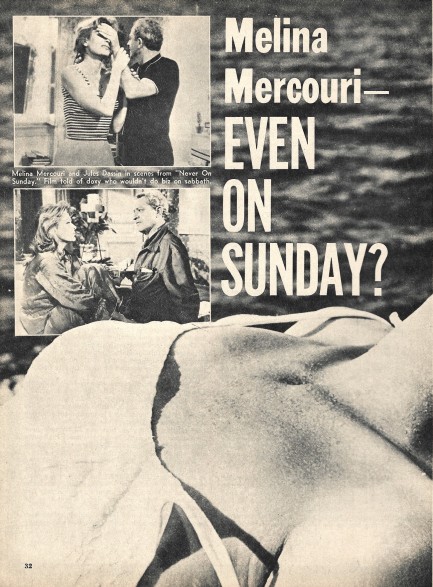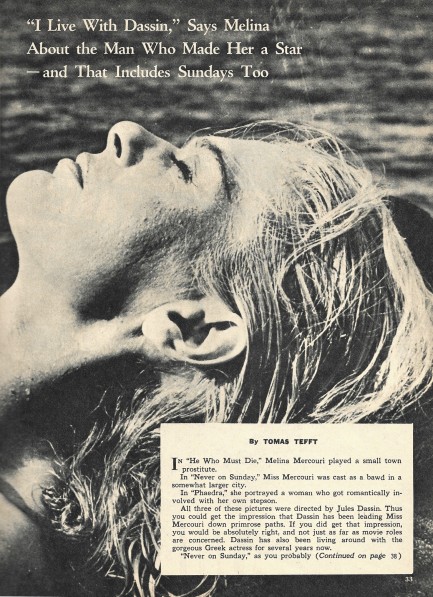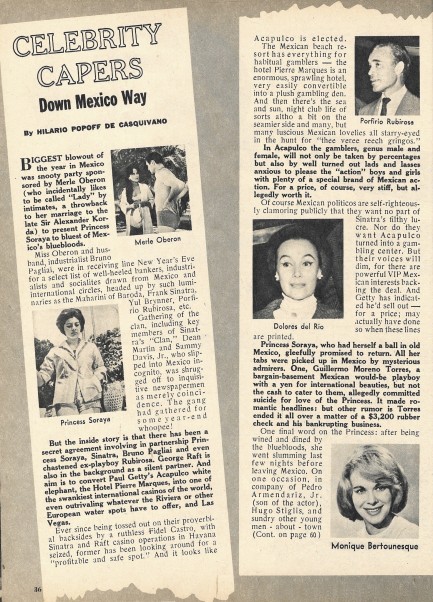 ---
Tabloid tells curious readers everything they always wanted to know about things that are none of their business.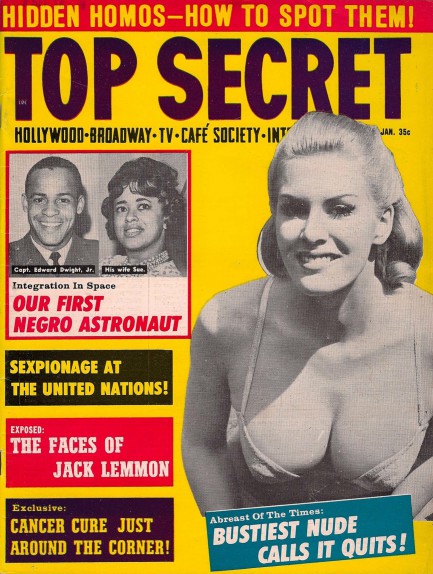 The last time we checked in on Top Secret was with their October 1962 issue. Today we're visiting January 1964 and plenty has changed in the intervening months. Foremost—the paper and printing quality have degraded to what surely must have been the lowest standard available at the time, which is why our scans are grainy. But we can still recognize June Wilkinson on the cover, who we're told is retiring from modeling, and inside readers hear from Ursula Andress, Jack Lemmon, Brigitte Bardot, Shirley MacLaine, Mandy Rice-Davies and more.
Editors also tout "one of the most earth-shaking advances in the exploration of outer space!" Wow. Was it warp drive? A transporter beam? A stargate? No. It was that America's newest astronaut, Edward Dwight, Jr., was a different skin color than the other astronauts. We might deign to call that an advance in the attitudes of NASA during an age of state apartheid. Space travel, on the other hand, remained space travel, unchanged. Top Secret

implies Dwight was the first black American qualified to be an astronaut, and by so doing avoids admitting that the door was simply closed before his arrival. You know this game—all backslapping, zero introspection. But we get it. "

Our First Negro Astronaut!

" is a bit more celebratory than, "We should have done this from the beginning."
But we must move on, because the real gem in this issue comes later, in the story you see announced in the cover's blazing red banner: Hidden Homos—How To Spot Them! Goodness, where to begin with this? First, we'll say we would dearly love to reproduce this entire article as an artifact of an intellectual dark age, but it's Saturday, and time is fleeting. Just know that the language is baroque in its viciousness. The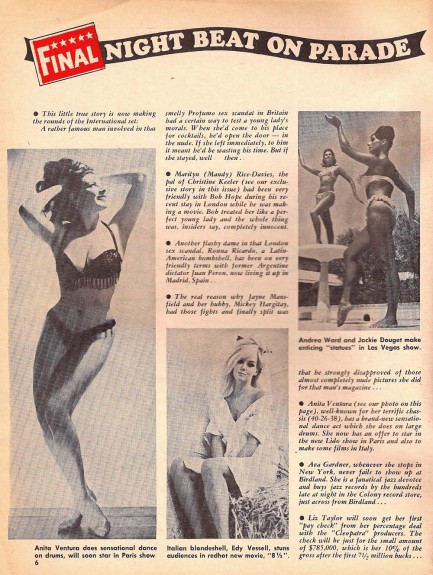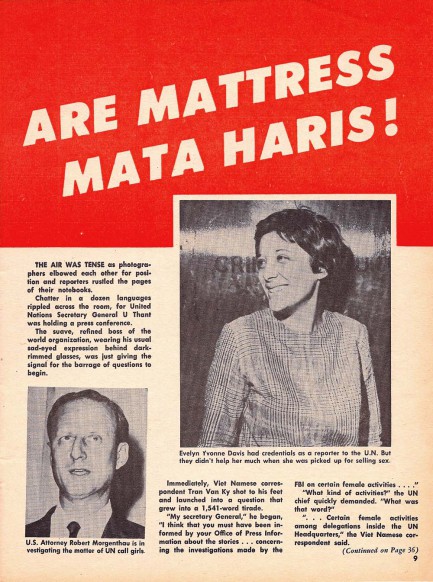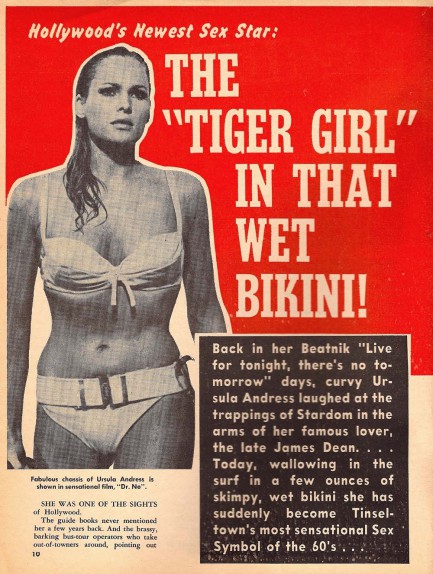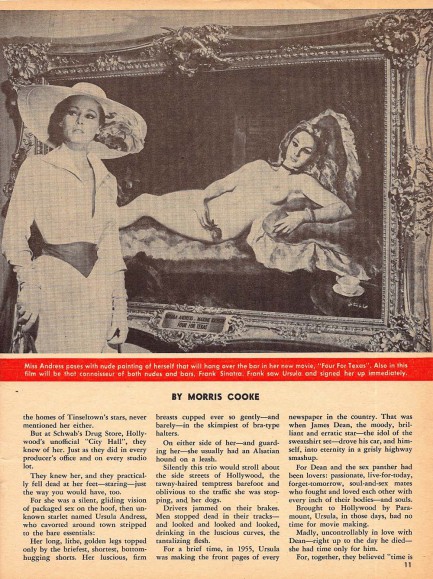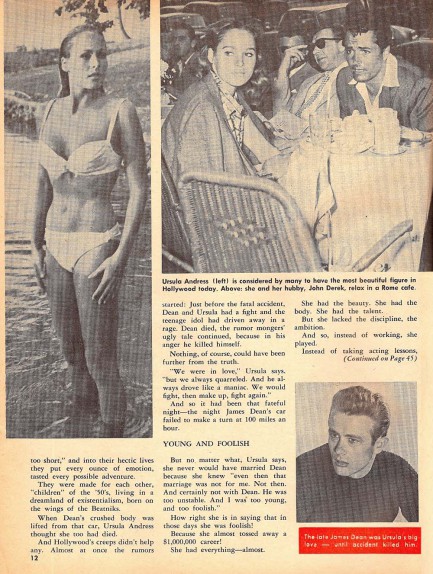 story begins with the tale of a company president who unknowingly hired a gay man and had no idea until several years later when the hiree—now a manager—got drunk at a company party and began slapping and scratching another man. Soon four employees were involved in this spat. The company president exclaimed: "My God! Those men are all queers!"
Top Secret
explains: "
Once the camouflaged homosexual has gotten himself a snug berth, he starts easing others of his ilk into the office. Before long, most of the straight male employees are out on their ears and the camouflaged fags have taken over
." Editors then list the eight most common types of gay men against whom normal, red-blooded Americans must be vigilant (by refusing to hire for any sort of job, potentially harassing out of the neighborhood, and possibly reporting to the authorities). Ready? Here we go with a few highlights:
1: The Overly Fastidious Dresser—obsessive interest in clothes is a feminine trait, and in men it may well be a danger signal.
2: The Overly Hygenic Type—their faces are invariably too-closely shaven. They make a fetish of washing their hands.
3: The Uriah Heep Type—he seeks to prove how very humble and insignificant he is by heaping praise upon others.
4: The Maiden Aunt's Delight—these men associate with older women because such women make no heterosexual erotic demands upon them.
5: The Solitary Drinker—although he is not gregarious or even friendly, his eyes are constantly roving, covertly peering at others in the bar, particularly other men, seeking a sign of recognition from another secret swish. When he sees one he will give a signal in return and soon both fruitcakes will depart to enjoy a "courtesy exchange."
6: The Octopus—they put their hands on other men's shoulders, dig them in the ribs, slap their thighs…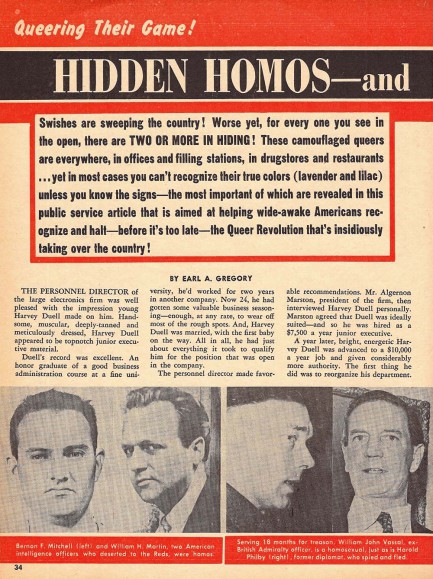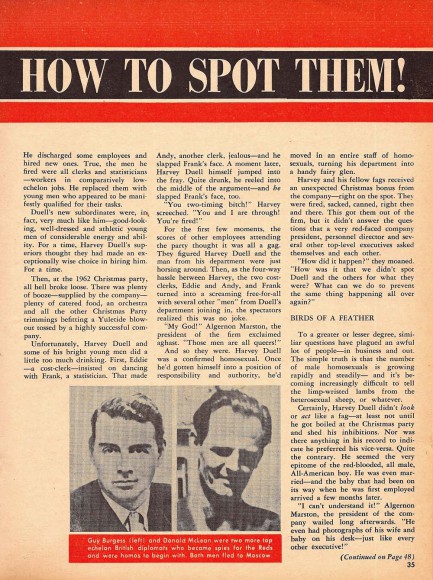 7: The Middle-Aged Mama's Boy—such an obvious Oedipal situation may indicate homosexual tendencies or homosexuality in adult men of any age, married or single.
8: The Youth Lover—he is constantly engaged in youth work, organizing clubs, leading outings, playing the part of the jolly, ebullient uncle.
It would be interesting to do the opposite of everything on this list and see how long it takes our social, family and sex lives to fall apart. Just a thought. Anyway, Top Secret finishes the article with this bomb: "These are by no means the only types of secret swishes but they are the ones the average person is most likely to encounter." So basically, the list is all well and good, but anyone can be gay. To which your average non-Neanderthal would reply, "Yes, anyone can be gay. And?" Well, and the editors of Top Secret suggest that anyone displaying suspicious behavior should be investigated more closely. Hmm… we wonder what depth and form those investigations should take? More scans below.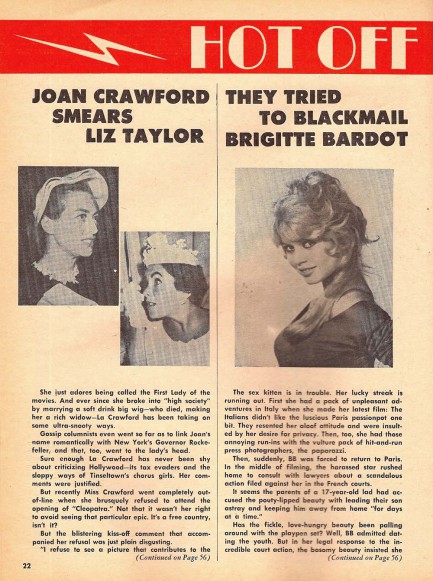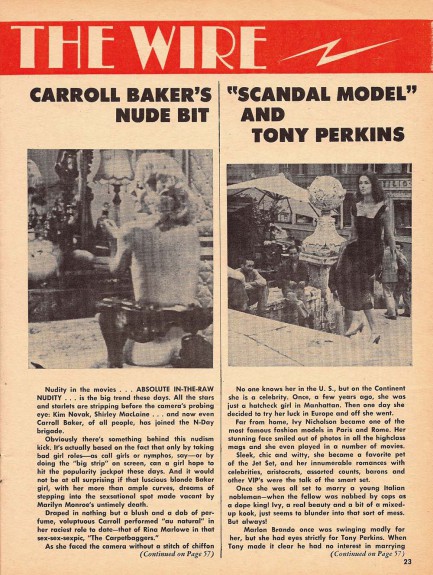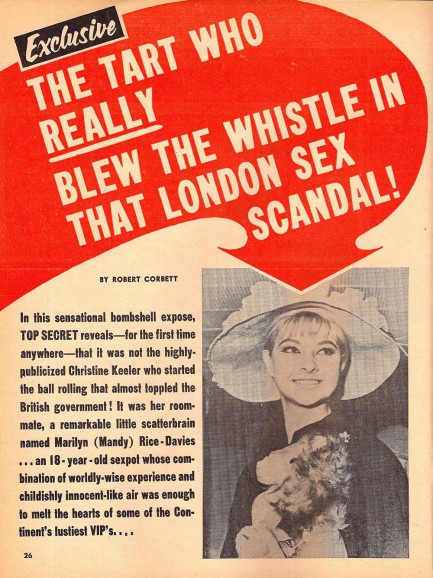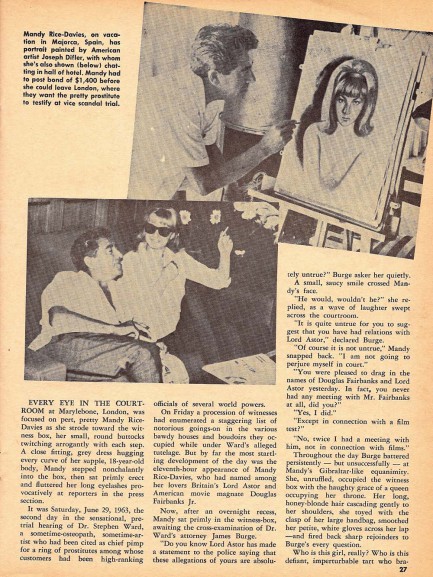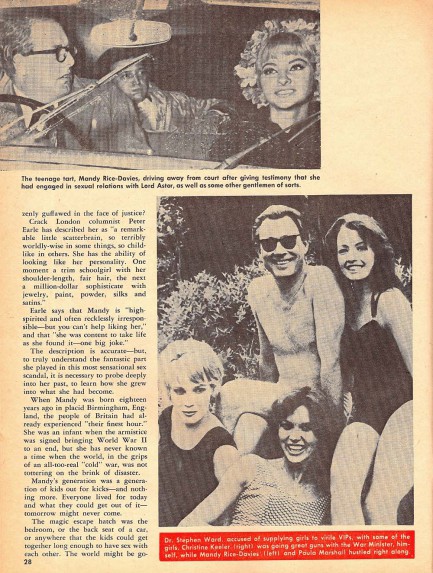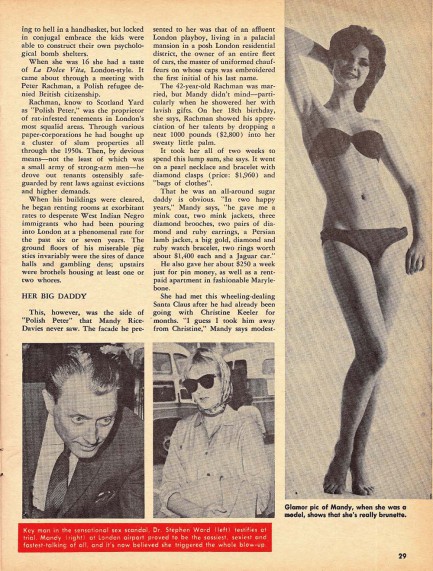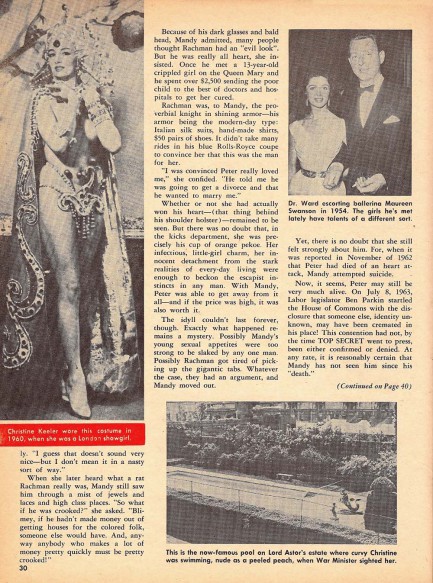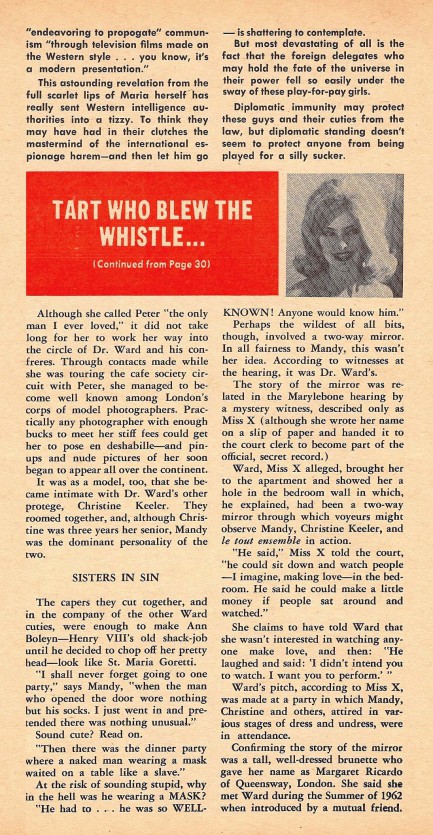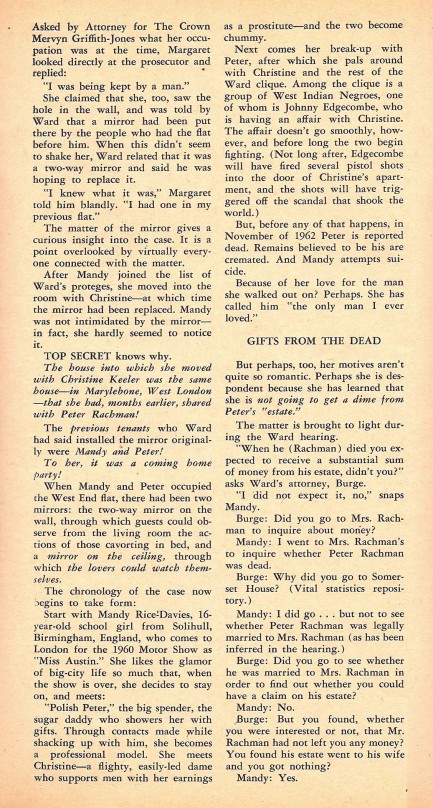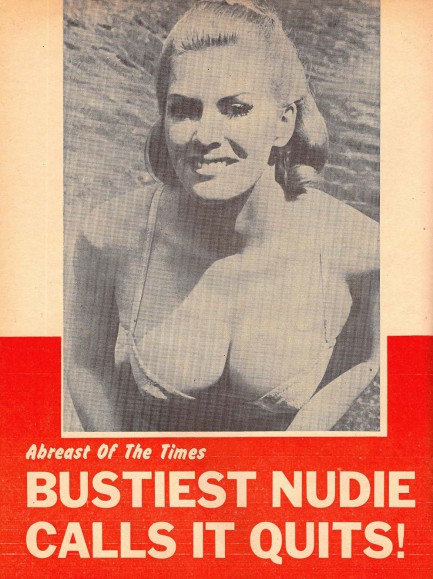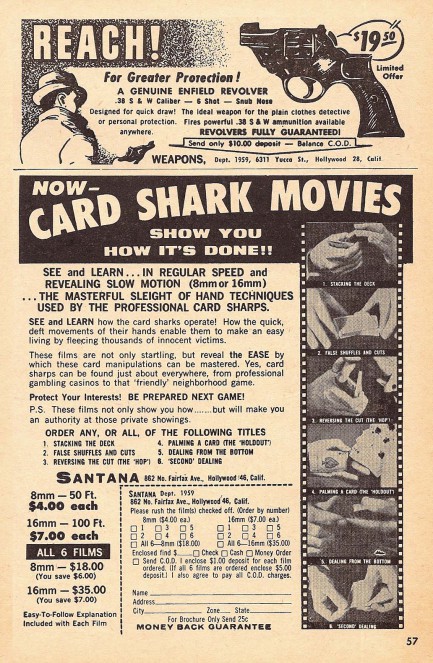 ---
What was it Shakespeare wrote about rough winds and May?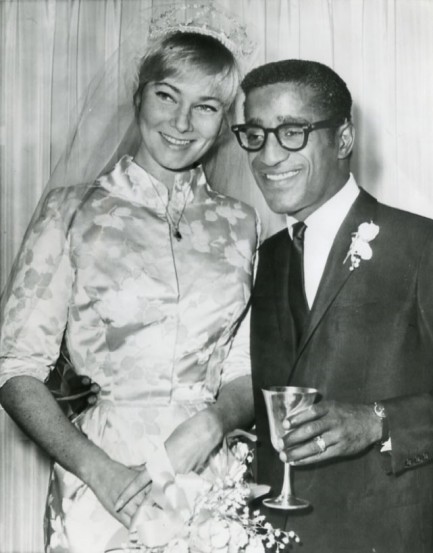 Above is a publicity photo of American singer/actor/comedian Sammy Davis, Jr. with his Swedish bride, actress May Britt. The shot dates from today in 1960, and as you might guess, that was a very bad time for mixed couples. Sammy had for years been making tabloid headlines for dating white women ranging from Tinseltown icon Kim Novak to Canadian singer Joan Stuart, but when he announced plans to marry Britt, a chunk of the general public lost its collective mind. He faced racist banners and chants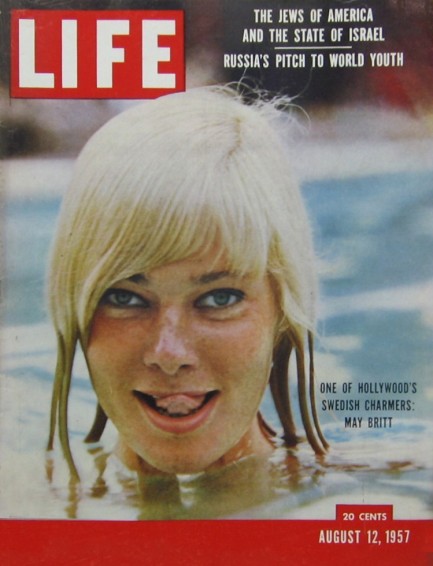 in London, received rafts of hate mail, and was confronted in Los Angeles with the bizarre spectacle of three men marching outside the Huntington Hartford Theater in nazi regalia. Even two admirers, John and Robert Kennedy, allegedly asked Frank Sinatra to tell Davis to delay the wedding until after the 1960 presidential election.
Professionally, Britt had to choose between her career and Davis, because it was quite clear that she would never be hired in Hollywood if she married him. Some websites suggest that she lost little because she was a minor talent at best, but she had appeared in over a dozen films and had made the cover of Life magazine twice before even meeting Sammy, so her expectations of a strong run in Hollywood were in no way delusional. Obviously, she chose love over career, and wed Davis at his home in the Hollywood Hills. Some of the guests at the reception included Peter Lawford, Diana Dors, Barbara Rush, Janet Leigh, Leo Durocher, Shirley MacLaine, Milton Berle, and Edward G. Robinson, Jr. The marriage lasted eight years—not long in the real world perhaps, but an eternity by Hollywood standards.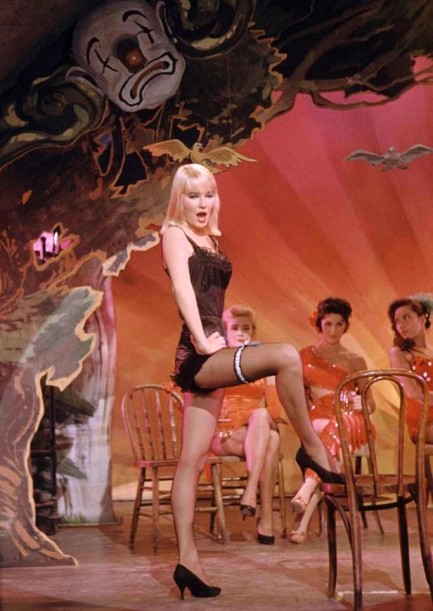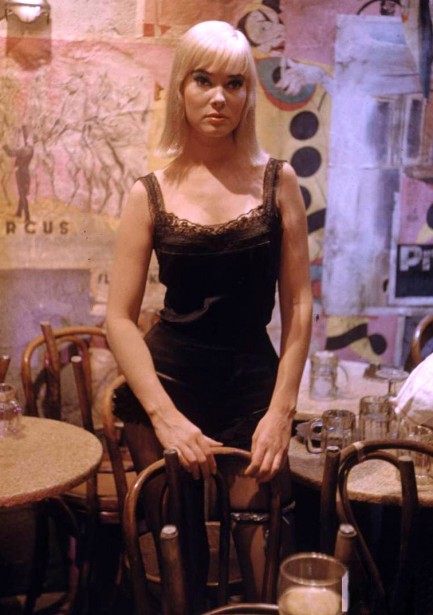 ---