The best-laid plans of mice and miscreants often go awry.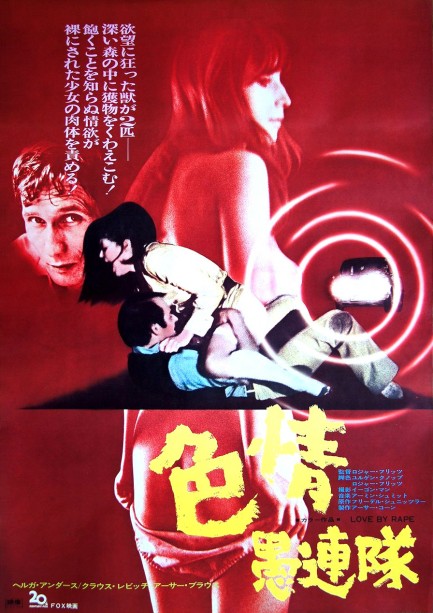 This is a striking poster. It was made for the 1970 West German movie Mädchen mit Gewalt, which in Japan was called Shiki-jou Gunrentai, and in English was called The Brutes, among other titles. Basically it's about two sexual predators who meet Helga Anders at a go-kart track and manage to maneuver her to a remote quarry, where they intend to have their way with her. It's an indication of how strange the movie is that its remainder, all seventy minutes of it, takes place in that quarry. Without getting into too much detail, cooperation between the two guys devolves into a deadly enmity, leading to an ending that will provoke comment. It all sounds pretty dodgy, we know, but it's a serious movie, not any sort of nudie flick meant to appeal to your mini-brain. In fact, the most titillating moment you'll get is when you see Astrid Boner's name in the credits. This is real cinema, with a real attempt at a message. Successful? Well... Mädchen mit Gewalt premiered in Germany in 1970, and reached Japan today in 1971.
---
Which one liked to wallow in crap more? National Examiner or Adolf Hitler?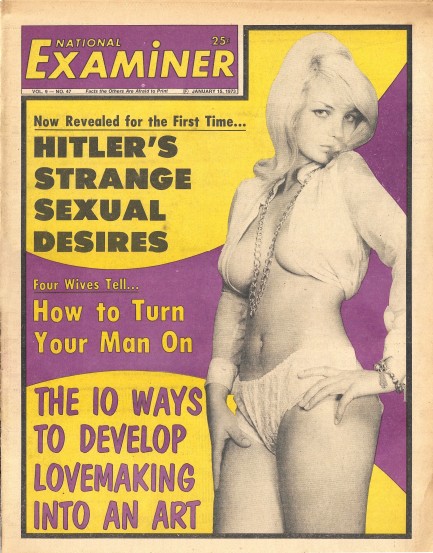 National Examiner offers up a provocative cover on this issue that hit newsstands today in 1973, with an unidentified blonde model and the promise of expert lovemaking tips. Nothing new there. What's different is this issue takes Adolf Hitler's corpse for a gallop around a well-traveled track. The article "Hitler's Strange Desires" digs into der Führer's toilet training, his family background, his private writings and public statements, and comes to the conclusion: sexual pervert! The piece discusses Hitler's "sexual inadequacy and impotence, frail body and softness that was almost effeminate," and reveals how he doted on his mother but eventually felt betrayed by her, stating, "This sudden indignation with his mother could have been caused if he saw his parents having intercourse." The ultimate conclusion is no surprise: "[Because of] his extreme form of masochism [he derived] sexual gratification from the act of having a woman urinate or defecate on him."
As psychological disturbances go, you can take your pick here. Like beer in a Berlin rathskeller, Hitler allegedly had multiple flavors on tap, and they culminated in turning him into a shit freak. That's amusing to consider, but was it anything other than pure bullshit itself? Labeling Hitler a disturbed child-turned sexual deviant was a mini-industry in the decades after his death, and the rumors started by these reports are still prevalent today.
We get it—by making him into a non-human it's easy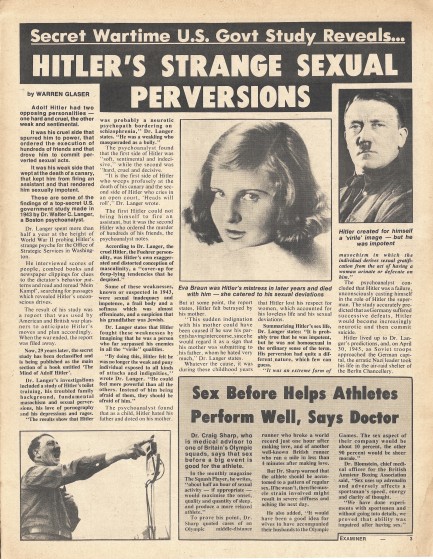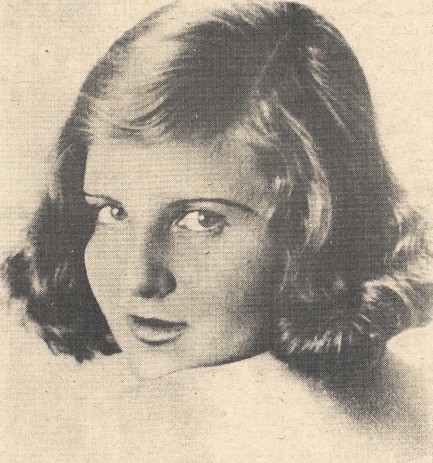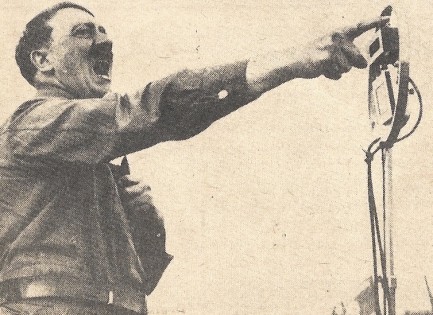 to distance him from the rest of us, but as far as we know there's no evidence he was anything other than a heterosexual who had run-of-the-mill sex, or for that matter that he was anything other than a run-of-the-mill human. Many people would love for the stories to be true, but they're just too easy. We don't blame Examiner for beating that Hitler horse, though. Everybody did it—it sold piles of papers.

Examiner goes for lighter material elsewhere in the issue, with an update on the whereabouts of Canadian actress Ruby Keeler, a story about a wife who makes her husband take her to a swingers club so she can get some strange dick, and a pervy advertisement for instant peepholes we know would be illegal to use today, and which we suspect were illegal to use back then too. Other celebrities who make appearances include Maria LaTour and Monika Zinnenberg. In fact, on closer examination that unidentified cover model might be Zinnenberg. She made the usual slate of bad West German comedies and exploitation flicks during the '60s and '70s before leveraging her front-of-the-camera work into a directing career which she sustained all the way up until 2012. And finally there's a centerspread on the benefits of yoga, featuring stars like Cary Grant, Geraldine Chaplain, and Barbara Parkins touting its benefits. That's about it for this Examiner. Scans below, and more here and here.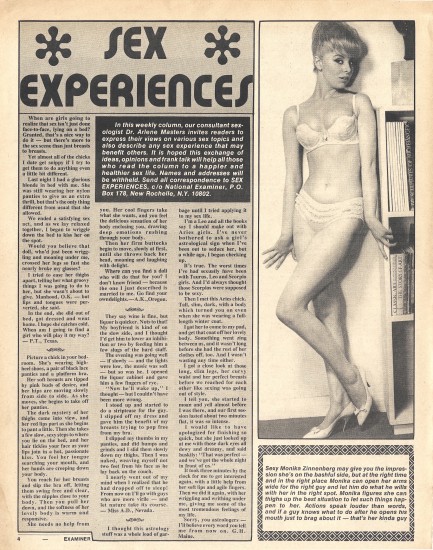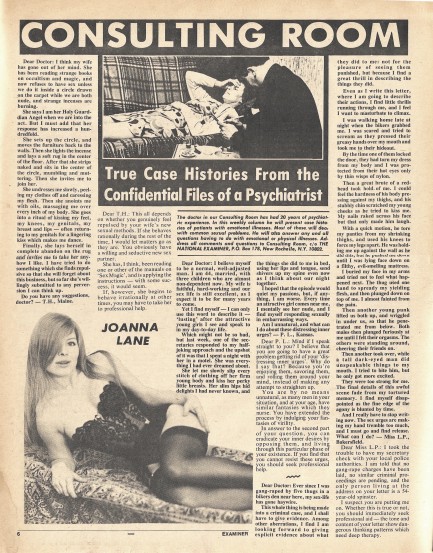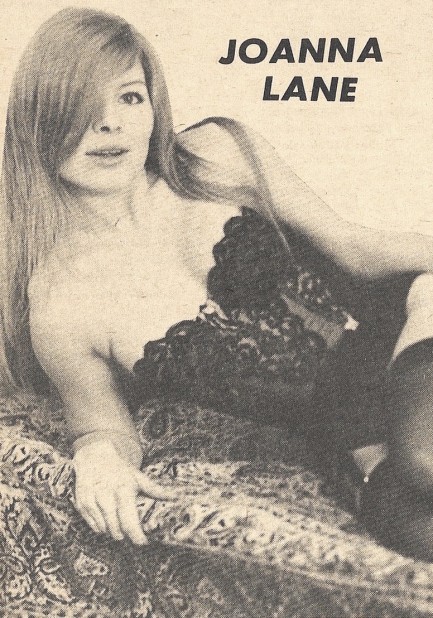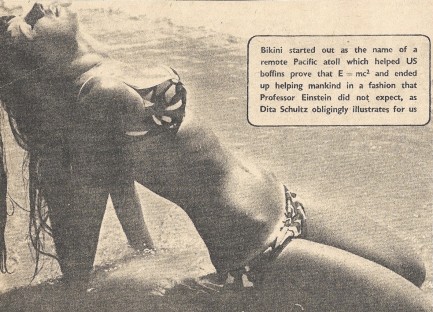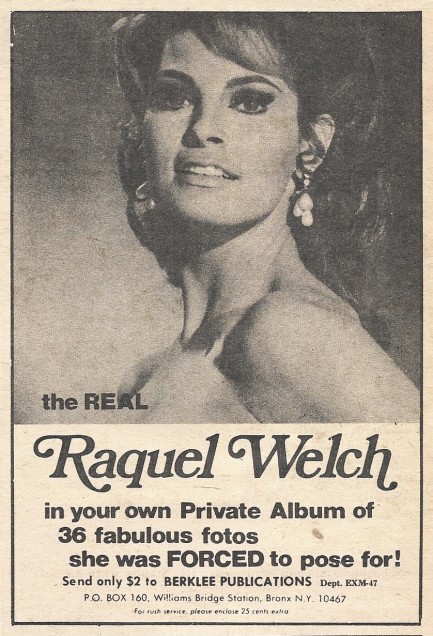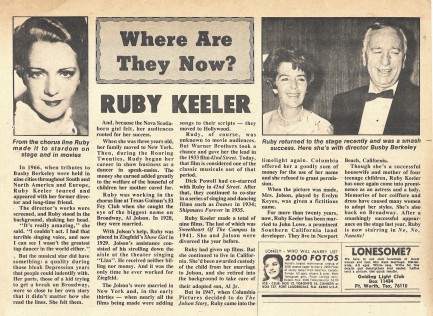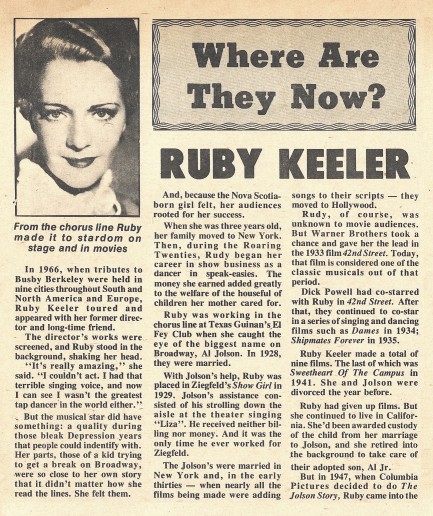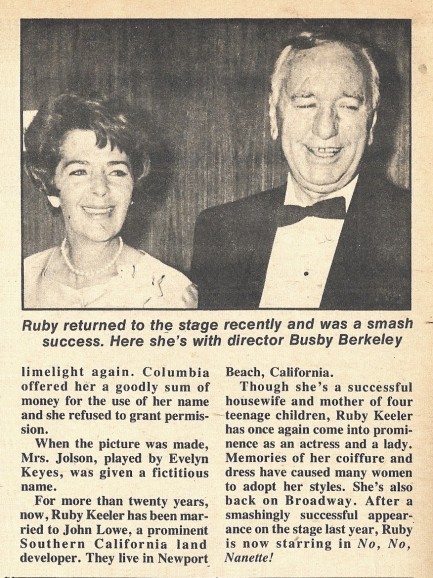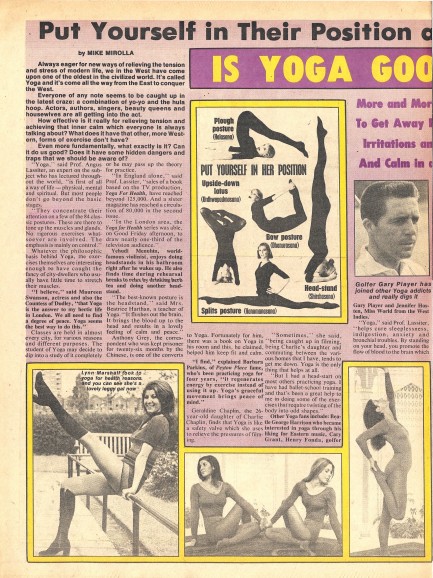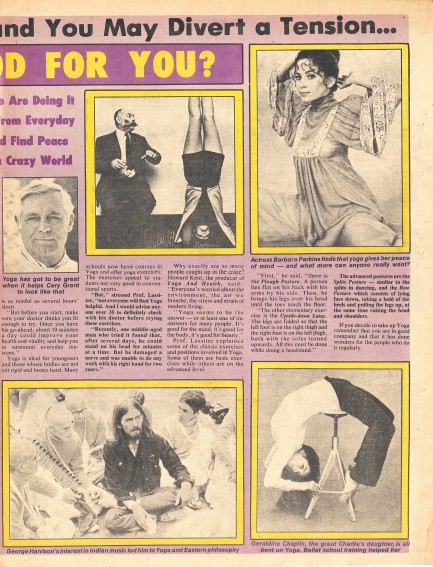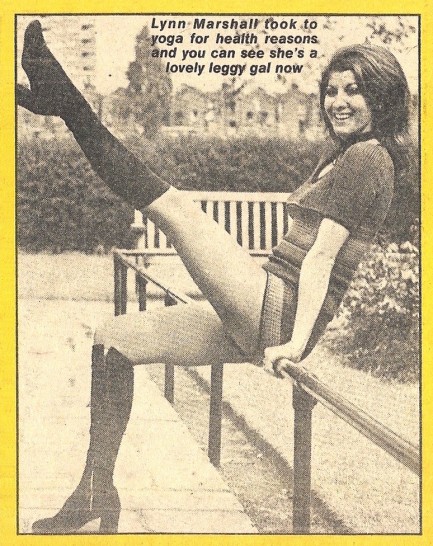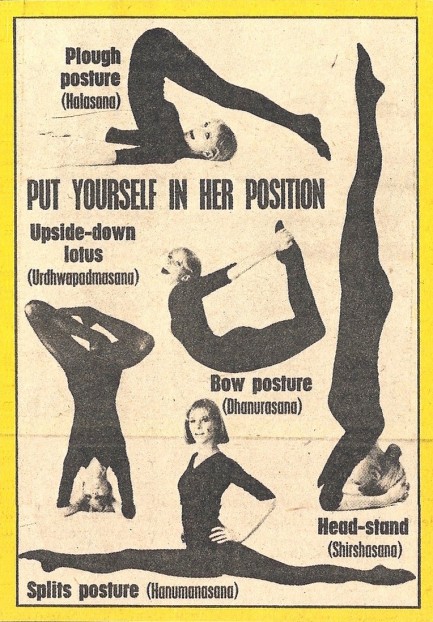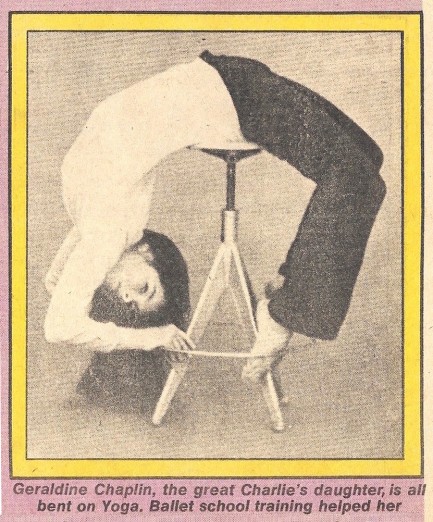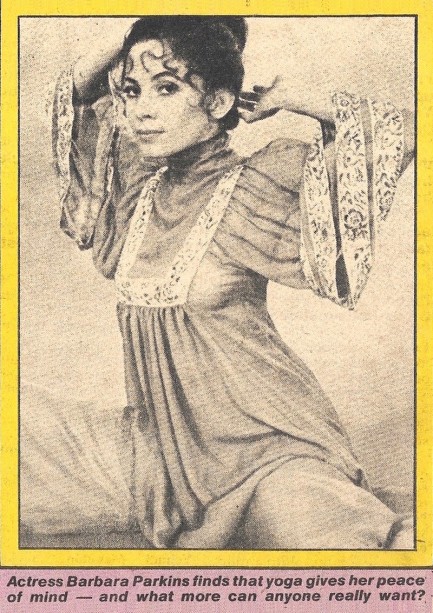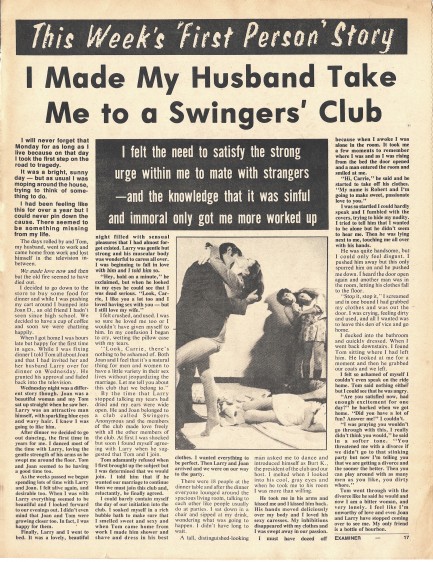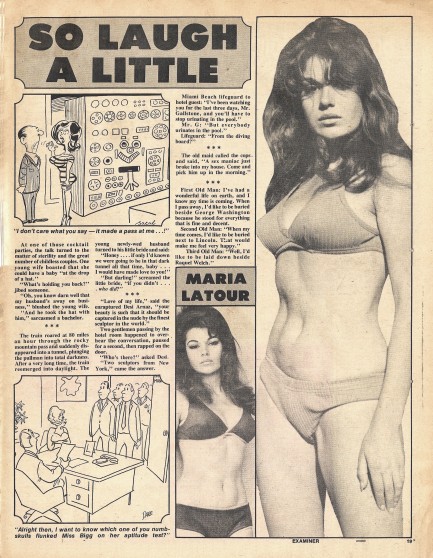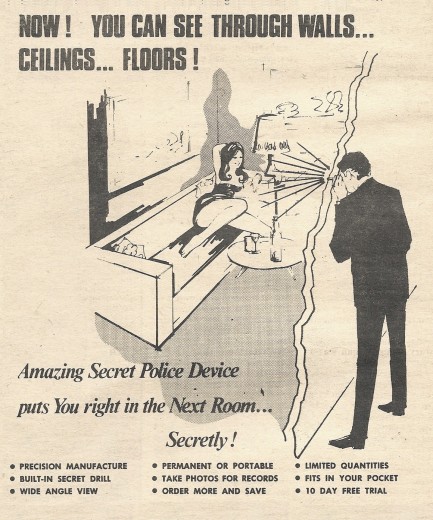 ---