I've already had nine episodes. Once I have you my season will be complete.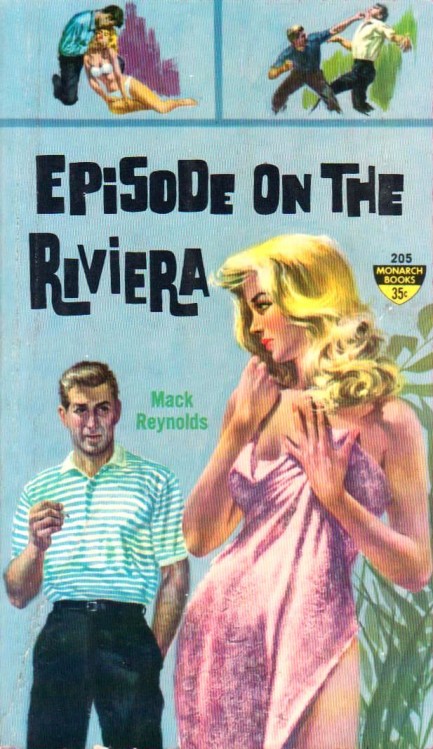 Above you see a cover for Mack Reynolds' Episode on the Riviera, published in 1961 by Monarch Books. If you check Reynolds' Wikipedia profile it tells you that he wrote five sex novels from 1961 to 1964, and that this is one of them. Everyone's got bills to pay, right? Well, we don't know about the other four, but this one isn't a sex novel, or even a sleaze novel. While the language is bit more frank than usual and a couple of then-esoteric acts are implied, it's actually a David Dodge influenced lightweight drama, and it's as confidently put across as anything Dodge ever wrote. Most of the action takes place at French Riviera casinos, beaches, and parties, and in main character Steve Cogswell's travel agency, one of whose customers a particular summer week is Nadine Whiteley, a woman determined to solve what she perceives as her own sexual problem by having an anonymous affair with any suitable swinging dick she stumbles across. Cogswell seems to fit the bill, but he has his own sexual quirks. Just when these two look set to get together, both their exes arrive from the U.S—Nadine's to blackmail her into marriage so he can get his mitts on her money, and Steve's to win him back after she's betrayed him with his best friend. While the sexual problems of both characters are imperfectly handled, overall this one is a winner, an easy and effervescent summer read.
---
You know where you hope this train will take you, but you can't be sure.
We came across this shot of Frank Sinatra waiting for a train and it really struck us. We didn't know the photographer, year or place, but there's this thing called the internet and it has a lot of information on it. Soon we found that the photog was a Frenchman named Luc Fournol, and not long afterward we identified the time as June 1958. As for the place, we'd assumed Spain because of the architecture, but apparently this is the Monte Carlo train station. Sinatra was in town to perform at the famed Sporting Club, and that concert produced another iconic photo, which you see below. And what the hell, just to be completist about it, if you want to hear the concert, which is of course great, it's downloadable here.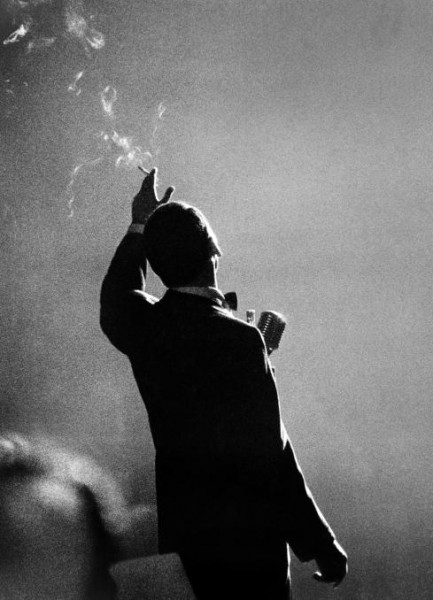 ---
Okay, I'll have one drink. Geez, you dead are pushy.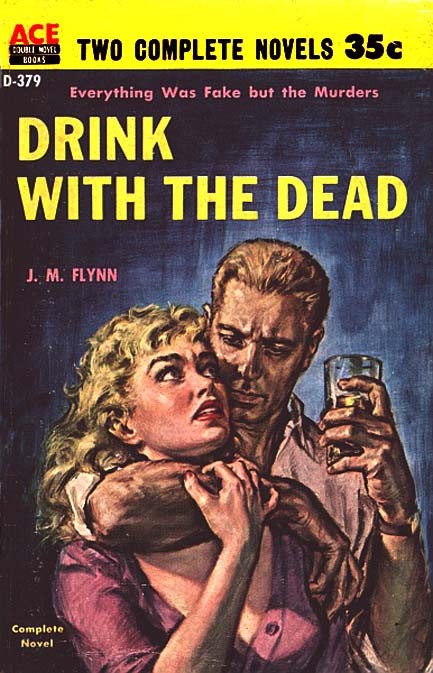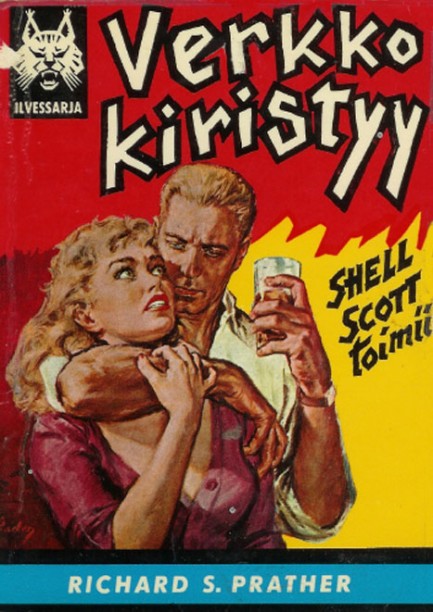 American author Jay Flynn, aka J.M. Flynn, is one of those writers whose real life reads as entertainingly as some of his fiction. He was a heavy drinker with a case of wanderlust, and he set up shop in places like Massachusetts, California, Paris, Mallorca, and Monte Carlo. 1959's Drink with the Dead is considered one of his better books—you see Paul Rader's U.S. cover art above, and as a bonus we've shared Richard S. Prather's Finnish edition of Bodies in Bedlam, which borrows the same image. Anyway, Drink with the Dead concerns a bunch of modern day bootleggers—ironic, considering Flynn got involved in the illegal liquor trade at one point. He was one of those rough and tumble writers that injected a lot of personal experience into his fiction, and whose erratic, hellraising ways always made subsistence a struggle. He spent time on skid row, was hired and fired by a lot of publishers, and refused to give up the booze even after his doctor said it would kill him. He died younger than he should have, perhaps, but left behind a lot of writing. You can find a detailed review of Drink with the Dead here. and a detailed bio of Flynn here.
---