Trevor makes the most of her smoke break by posing for a master.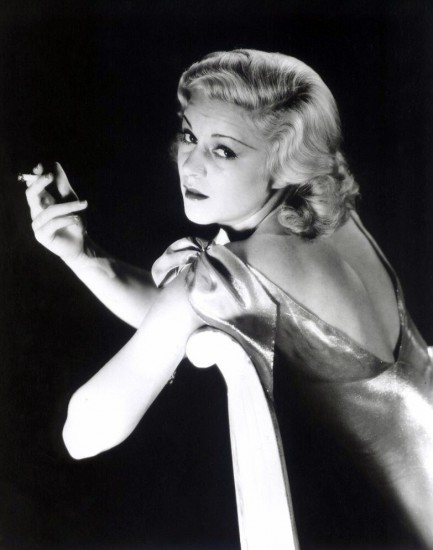 Brooklyn born actress Claire Trevor made more than sixty movies over seven decades, including the important film noir entries Raw Deal, Born To Kill, Johnny Angel, Murder My Sweet, and Key Largo, the latter of which snared her an Academy Award for Best Supporting Actress.
She's good in general, but if you haven't seen her in Key Largo you really should. She's absolutely brilliant in it. She was one of film noir's defining artists, an indispensable participant in it. We're also fond of her in lighter fare such as 1965's How To Murder Your Wife, with Jack Lemmon.
The noirish shot above was used as a reference photo by the legendary Peruvian artist Alberto Vargas. He painted a portrait of Trevor which you see inset just above, and you also see her posing with the piece below. The portrait was commissioned by her employers Fox Film Corporation as a promo image, a type of work Vargas did often, and the studio used prints of portrait as lobby cards. All of these images came about in 1934.

---
When you get on his wrong side, it's the other side of a marksman's scope.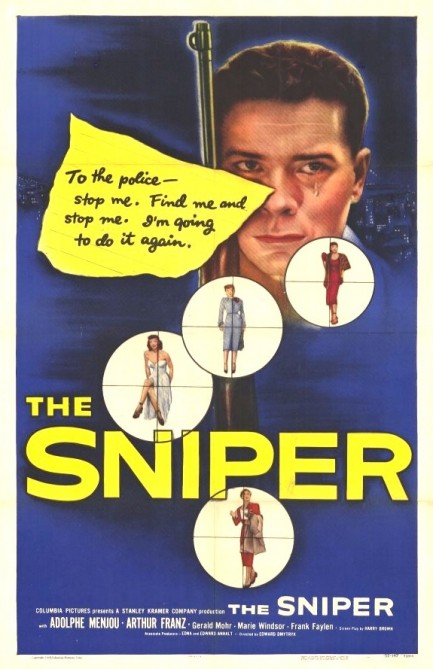 A few days ago we mentioned the Noir City Film Festival and waxed nostalgic about San Francisco. The festival schedule reminded us of noirs we haven't seen in a while, and revealed others we've never seen. On the Noir City bill this evening is a film from the latter category, Edward Dmytryk's 1952 thriller The Sniper. We watched it last night and it more than deserves a slot in a prestigious festival like Noir City. The film was shot in San Francisco, and stars Arthur Franz as a former mental patient named Eddie Miller who is gripped by murderous impulses. Perching in windows and on rooftops, he uses a carbine and scope to target unsuspecting victims. As yet the gun isn't loaded, but his sexual feelings for a female acquaintance catalyze his urges. The expert marksman begins killing, ultimately slaying four women (that's not a spoiler, given the four scoped targets on the poster art). Eddie Miller treads similar ground as hundreds of other cinematic lost souls, but film historians say he was first—American film's first serial killer. This one is worth it both for the movie and for its usage of San Francisco exteriors, which are so expertly and extensively intergrated into the production, we have a feeling Bay Area audiences will marvel over that more than the actual plot. But they should pay close attention to both. Dmytryk is the same director who gave the world Murder, My Sweet and Crossfire. This is top tier filmmaking.
---
Beware the man whose back is against the wall.
Above is American actor Dick Powell, née Richard Ewing Powell, seen here in a publicity photo for his 1948 film noir Pitfall. Powell's career was slow getting started, but when he hit his forties he became a noir stalwart, starring in Murder My Sweet, Cornered, Johnny O'Clock, and Cry Danger, as well a number of more conventional melodramas. We'll have more on Powell later.
---