Hi. I heard you serve tall boys here.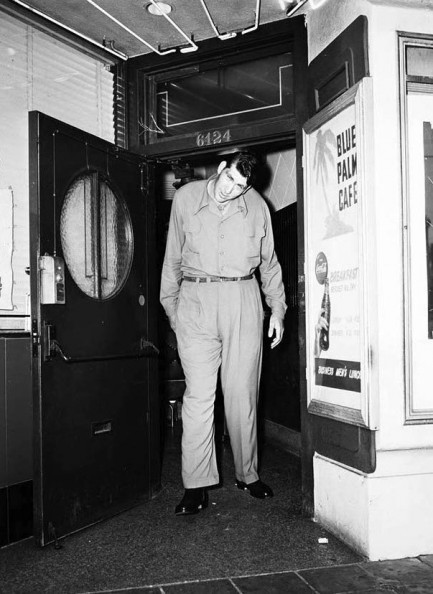 Our girlfriends didn't get it. A tall boy is a glass. They thought it was a chest of drawers. Yes, it's a chest a drawers. But it's a glass too. Mars, Venus, right? Anyway, back in December we watched the shlock jungle adventure Killer Ape with Johnny Weissmuller and Max Palmer, who you see above. Palmer was the tallest human on Earth, according to many sources. Here you see him entering a Hollywood bar called the Blue Palm Cafe, and needing to duck his head to get under the doorway. He was billed as 8' 2". Some sources say he was probably more like 7' 6" or 7' 8". Typical doorways in the U.S. were about 8 feet high, so decide on his height for yourself. Palmer made three films besides Killer Ape—Stone, Invaders from Mars, and The Sniper. The latter film was his debut role, in 1952, and the above photo was made that same year.
---
When you get on his wrong side, it's the other side of a marksman's scope.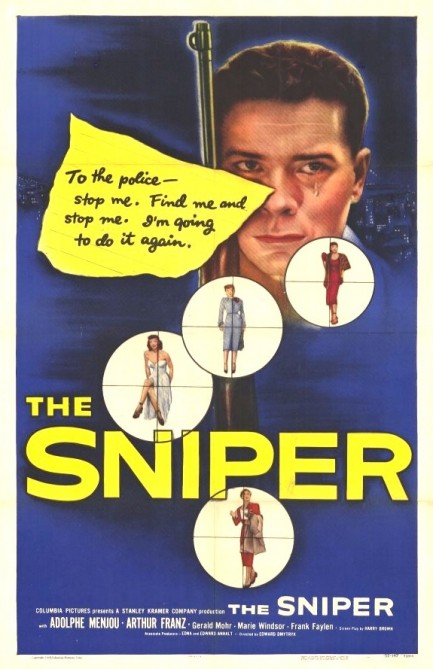 A few days ago we mentioned the Noir City Film Festival and waxed nostalgic about San Francisco. The festival schedule reminded us of noirs we haven't seen in a while, and revealed others we've never seen. On the Noir City bill this evening is a film from the latter category, Edward Dmytryk's 1952 thriller The Sniper. We watched it last night and it more than deserves a slot in a prestigious festival like Noir City. The film was shot in San Francisco, and stars Arthur Franz as a former mental patient named Eddie Miller who is gripped by murderous impulses. Perching in windows and on rooftops, he uses a carbine and scope to target unsuspecting victims. As yet the gun isn't loaded, but his sexual feelings for a female acquaintance catalyze his urges. The expert marksman begins killing, ultimately slaying four women (that's not a spoiler, given the four scoped targets on the poster art). Eddie Miller treads similar ground as hundreds of other cinematic lost souls, but film historians say he was first—American film's first serial killer. This one is worth it both for the movie and for its usage of San Francisco exteriors, which are so expertly and extensively intergrated into the production, we have a feeling Bay Area audiences will marvel over that more than the actual plot. But they should pay close attention to both. Dmytryk is the same director who gave the world Murder, My Sweet and Crossfire. This is top tier filmmaking.
---