Monroe may wobble but she won't fall down.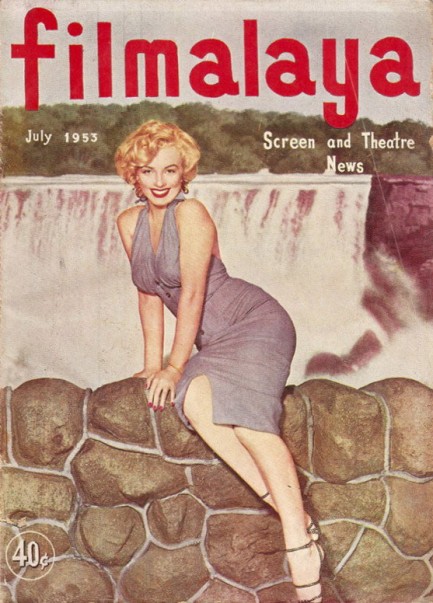 Marilyn Monroe shows up just about everywhere, and here she is yet again where we didn't expect to see her—fronting a Malaysian film publication that appeared today in 1953. The magazine, called Filmalaya, is in English, which marks it as aimed at the British colonial community that occupied the upper stratum of society in Malaysia and Singapore. The cover photo is from a publicity series made when Monroe filmed the movie Niagara in Ontario, Canada in late 1952, and let's just assume her perch is not as precarious as it seems and there's a handy ledge or lawn behind her in case she goes heels up. But if she does, there are other stars in the magazine, such as Joan Collins, Betty Grable, Rhonda Fleming, Ava Gardner, and Nat King Cole.
Filmalaya represents an interesting snapshot into colonial society, as in the article about Queen Elizabeth's coronation in London, which describes the thrills and excitement in Malaysia during the event. Doubtless, the mood around the Commonwealth probably seemed festive when viewed from inside the colonial bubble, but we doubt actual Malaysians were particularly moved. Needless to say, this magazine is rare, but luckily items from Asia are often a bargain, so this cost a mere six U.S. dollars. While the inside is nothing special visually speaking, that doesn't matter when the magazine has this great cover and is such an informative slice of history. We've uploaded a few of the best pages below. Enjoy.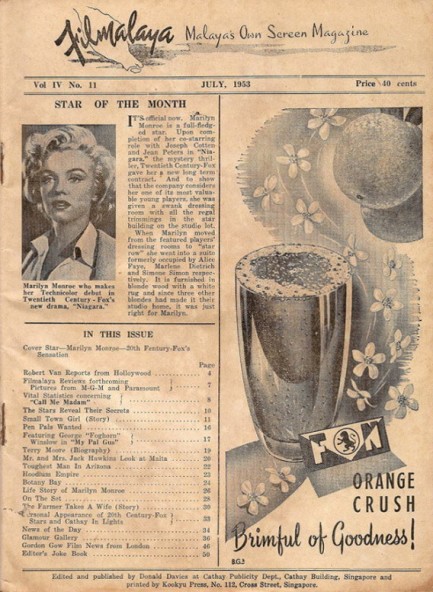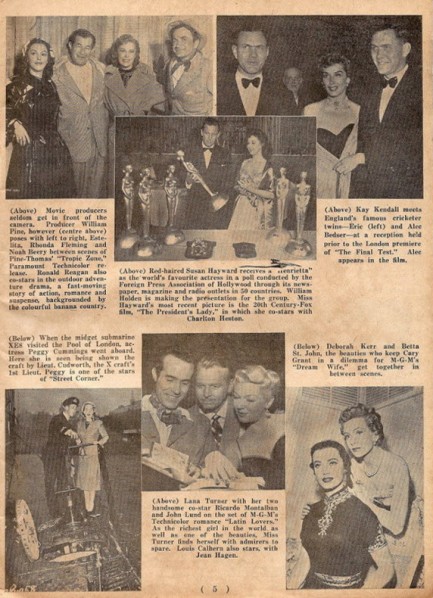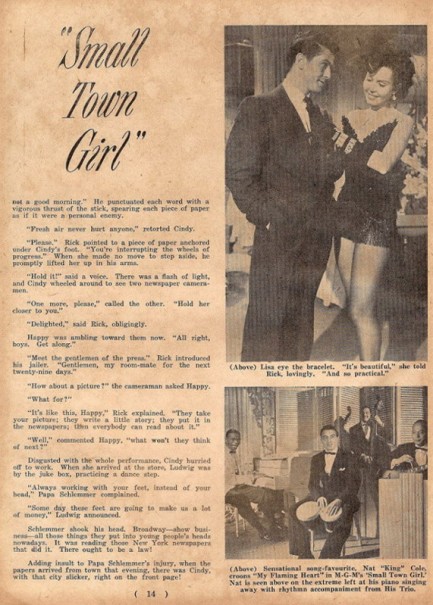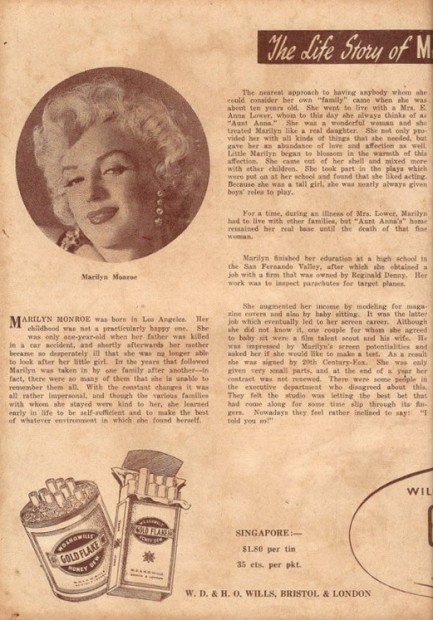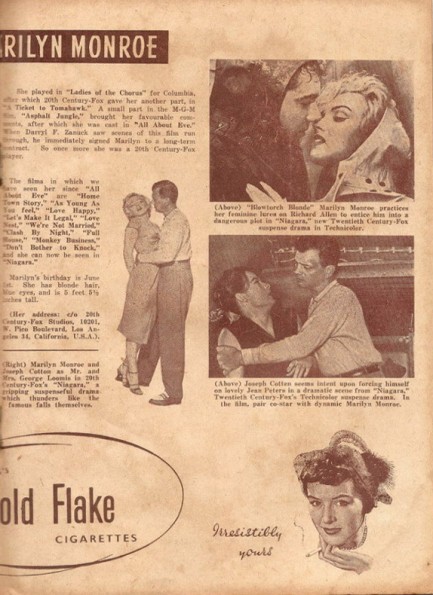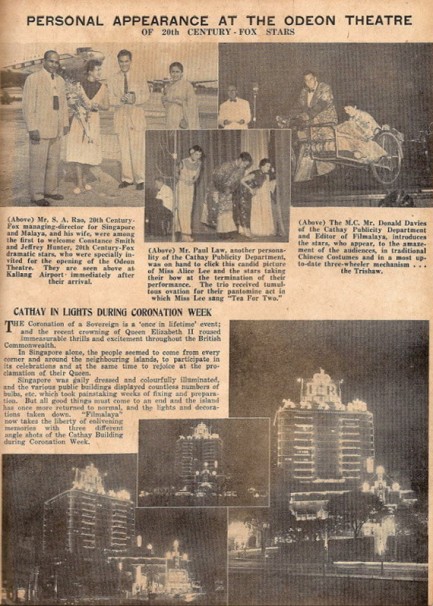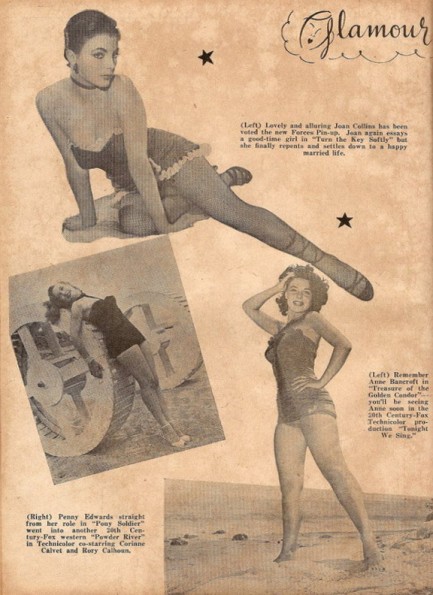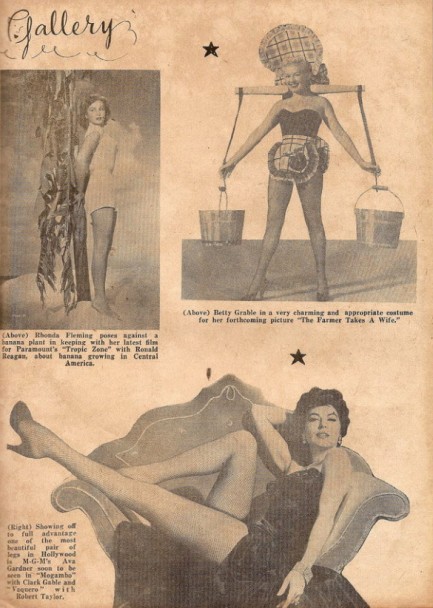 ---
Come on baby, drive me wild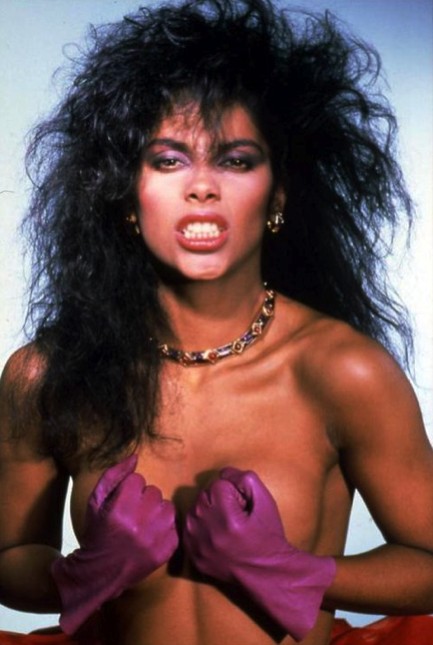 She was born Denise Matthews in Niagara Falls, Canada. She began her show business career as an actress, using the name D. D. Winters. Her first starring role was in Pierre Brousseau's Tanya's Island, one of our favorite bad sexploitation flicks ever, and as eye-catching a debut as you're ever likely to see. After that she met up with the musician Prince and under his tutelage became simply Vanity. Under that moniker she released music of debatable quality such as the semi-hits "Nasty Girl," and "Drive Me Wild," and continued to act in less-than-stellar-movies, but along the way redefined the word sultry. She posed for this feral promo image around 1982.
---