Sabrina covers her biggest assets.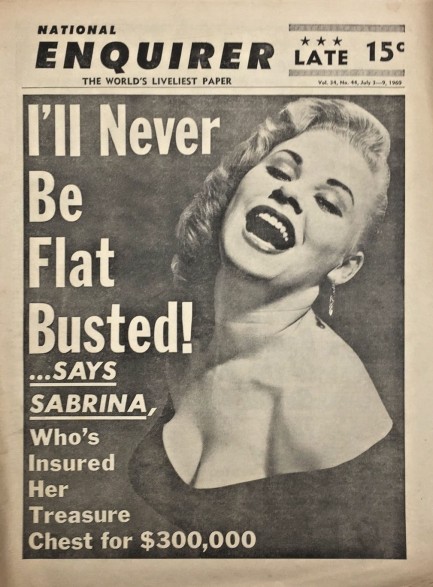 Every once in a while we run across stories about Hollywood stars insuring their body parts. A couple of examples: Bette Davis was famous for her small waist and insured it against weight gain for the equivalent of $400,000; and 1920s comedian Ben Turpin, who was famously cross-eyed, took out a policy of similar value should his eyes ever straighten. National Enquirer insists on this cover from today in 1960 that British starlet Sabrina, aka Norma Ann Sykes, insured her breasts. The tabloid is in fact correct—she allowed her manager Joe Matthews to insure her endowment with Lloyd's of London for £UK100,000. In today's cash that would be about £2.4 million, or $3.2 million. You may think that's excessive, but when's the last time your boobs caused a riot? Unfortunately the weight she carried on her torso led to chronic back pain and a failed attempt at a surgical fix that left her in a wheelchair for the rest of her life. She died in obscurity last year. It was a sad ending for the former sex symbol. But once upon a time she was a one-name star—just Sabrina—and a global obsession.


---
Mid-century tabloid hits all the familiar tabloid notes.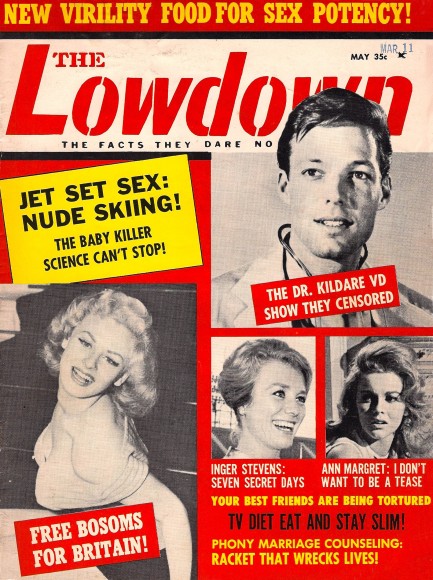 Lowdown makes the rounds in this issue published in May 1965. Inside, Ann-Margret claims she doesn't want to be a tease (fail), editors ask if women are more immoral than men (which they really are, once you take war, genocide, faithlessness, and generally violent tendencies off the table), and June Wilkinson's photo is among those used in a story about women supposedly receiving insurance covered breast implants from Britain's National Health Service.
Probably the most interesting story concerns Swedish actress Inger Stevens disappearing for a week. Lowdown hints at an alcohol binge, which is nothing special (hell, we do those) but while there are plenty of sources citing a 1960 suicide attempt, we found no other mention anywhere of Lowdown's missing week. The story is notable because Stevens would die at age thirty-five of a drug overdose.
Elsewhere you get nude skiing in Austria, Richard Chamberlain and his hit television show Dr. Kildare, the sex powers of mandrake root, and Belgian born actress and dancer Monique Van Vooren endorsing regular exercise. Scans below—oh, and sorry about the quality. Lowdown's printing process caused scanner problems. It's never happened before, so hopefully we won't encounter the issue again.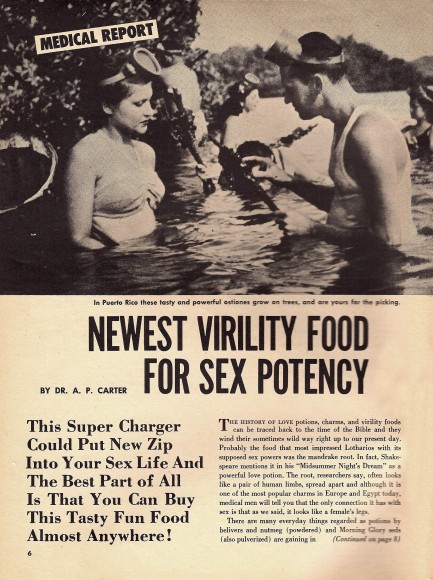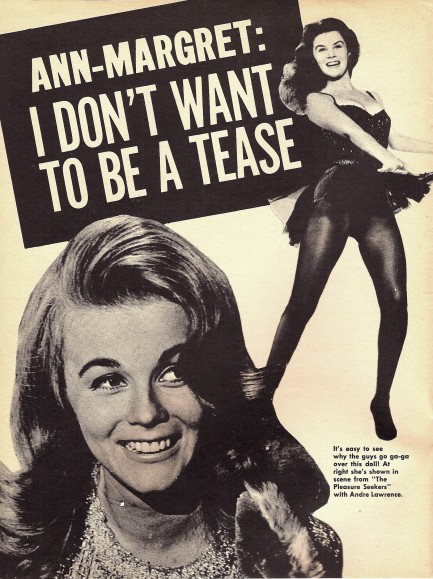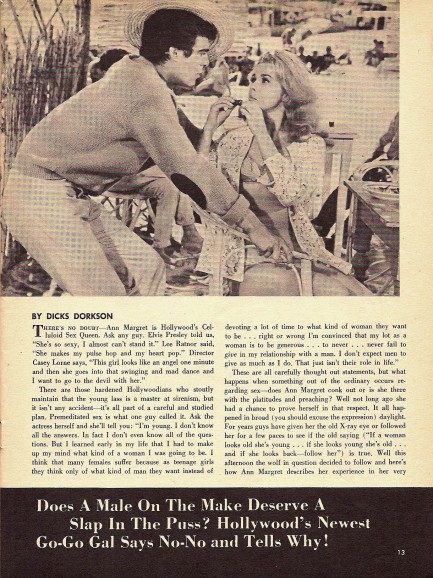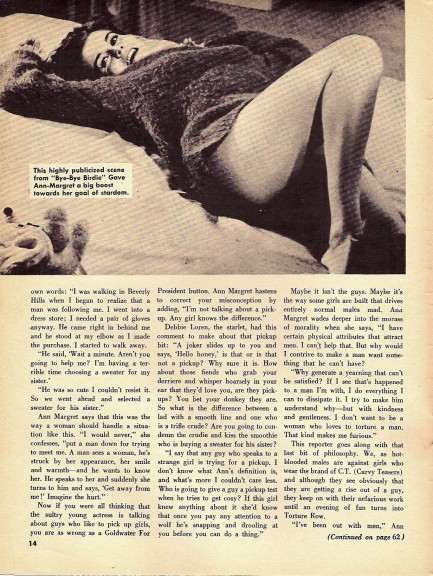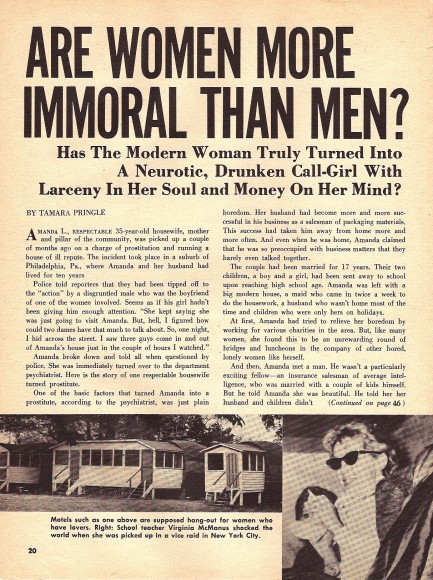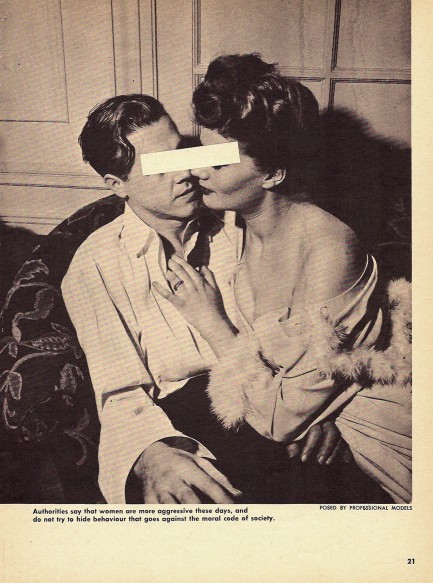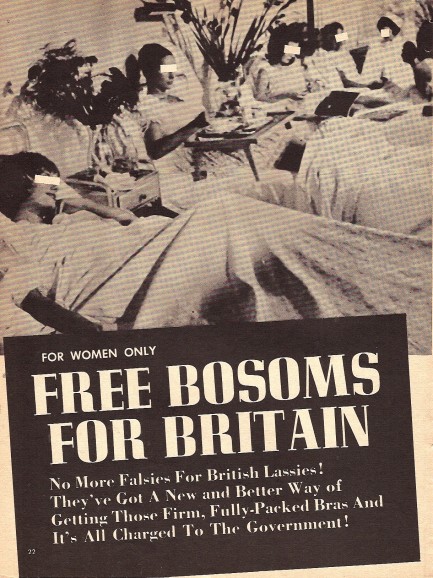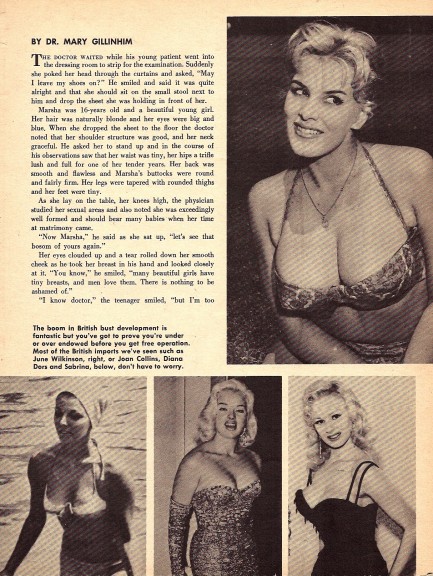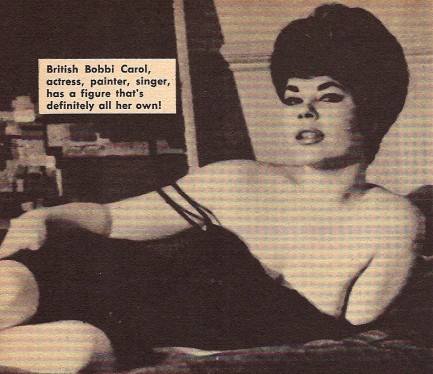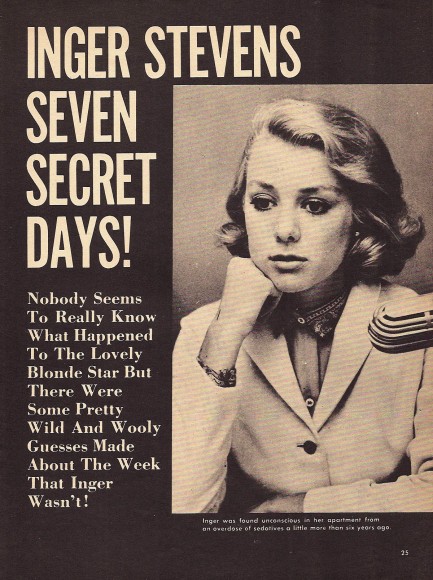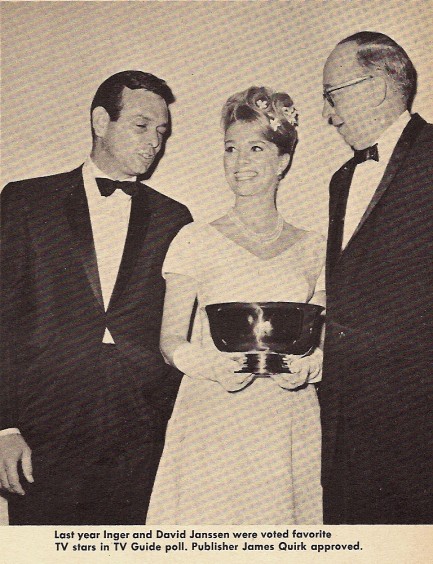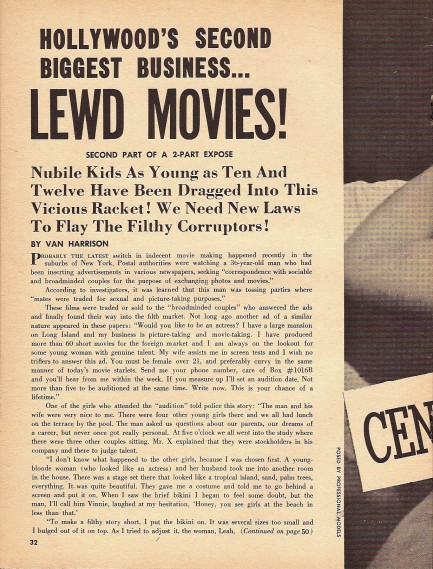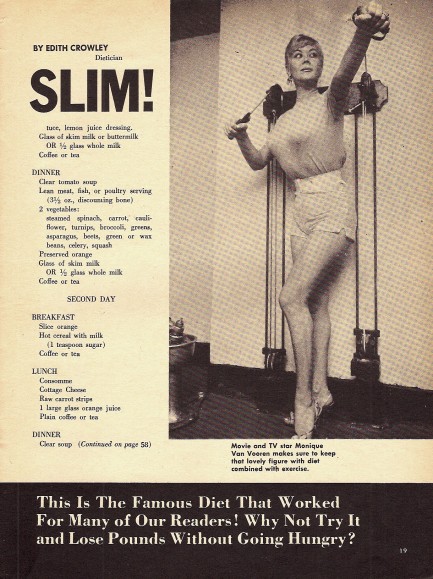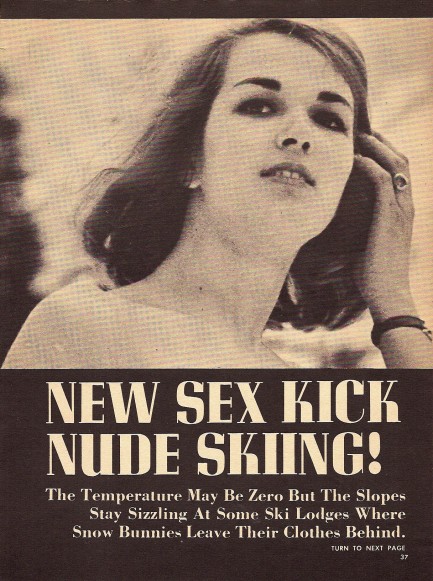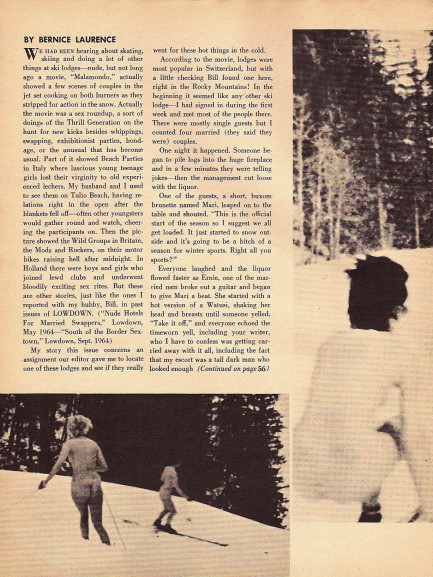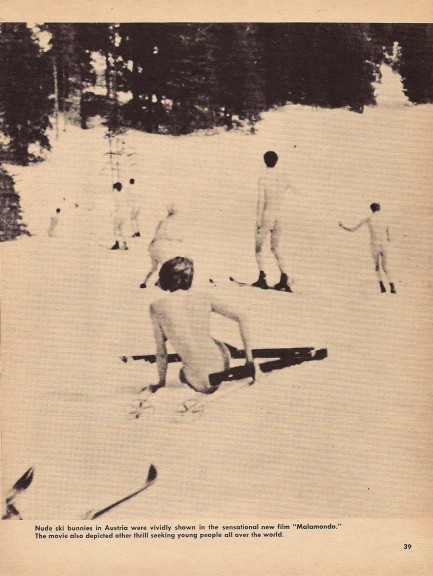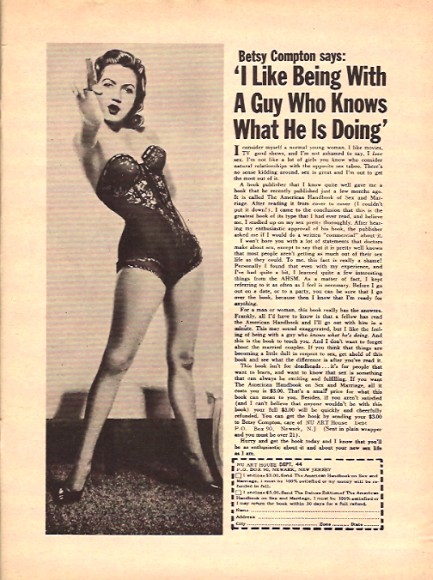 ---
Sabrina slips her top in London and Ava replaces her Spanish bullfighter with an Italian actor.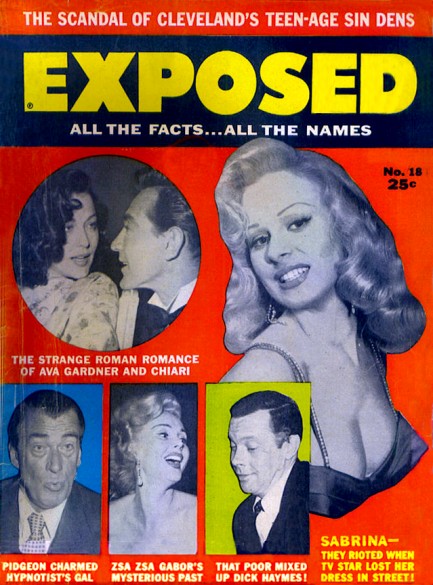 This issue of Exposed from October 1957 gives top billing to British sex symbol Sabrina, aka Norma Ann Sykes, and tells us she lost her dress in the street and caused a riot. How did it happen? During a public appearance in London someone supposedly stepped on the hem of her dress. The garment came off, the Brits went bonkers over her 41-inch bare bust, and Sabrina was so distressed that she fainted, so we're told. Is this story true? We tend to think so, because Exposed goes on to ponder whether the whole fiasco was a publicity stunt. Their ruminations lend the tale just the right element of verisimilitude, so we're going to say yes, it probably happened. Also on the cover of Exposed, like clockwork, appears Ava Gardner. Readers are told she's doing the dirty with Italian actor Walter Chiari. This would have been after splitting with Frank Sinatra but before the official divorce. But wait—didn't we just write about her seeing Spanish bullfighter Luis Miguel Dominguín while also still married to Frankie? Come on people—that was so 1956. Sometimes you have to wonder how Gardner had time for all these affairs, but let's just say that if she liked a man she always found a way to squeeze him in.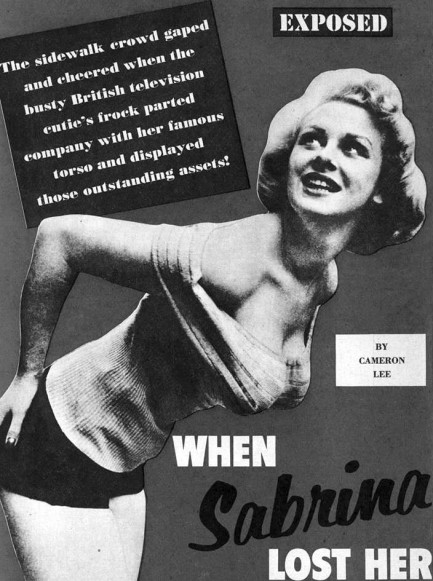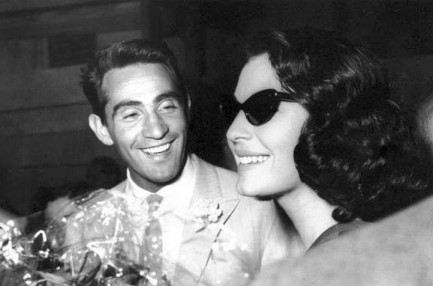 ---