Geez. They're all about me again.
Philippe Halsman shot this sly commentary on fame featuring one of the most famous women in America, Marilyn Monroe, as his subject. She checks out a newspaper, and next to her you can see machines for the afternoon tabloids Mirror, Daily News, and Herald-Express, the latter of which is a publication we've mined often for historical crime photos. In that issue the front page says, "Fight Grows to Keep Chaplin Out of U.S.," a headline that dates the photo to sometime in late 1952. Why was there a fight? People had been led to believe Chaplin was a communist theat to America for saying things like he wanted every person to have a roof over their heads. He wouldn't return to the U.S. for twenty years. So, the tabloids weren't all about Marilyn every issue. Just mostly. Even gossips need a little variety.
---
Suddenly we believe in a Hyer power.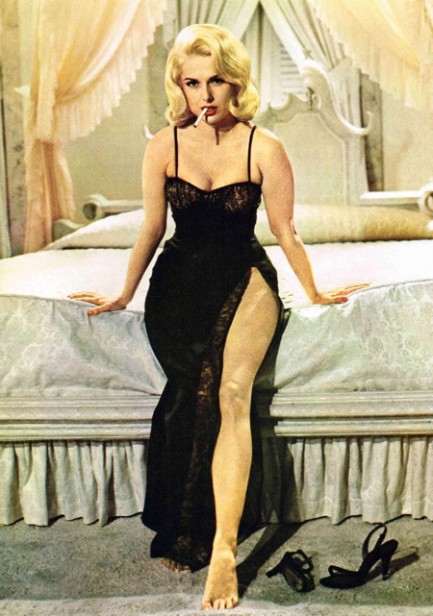 American actress Martha Hyer first appeared in films in 1946, which makes her another golden age actress who is still around today. She was predominately cast in westerns, however did appear in the thriller The Velvet Touch, the comedy Abbott and Costello Go To Mars, and the musical Bikini Beach. This was shot by Lativian-born photographer Philippe Halsman in 1963, and appeared in the German magazine Intim.
---