Sometimes you have to hunt for something fun to do.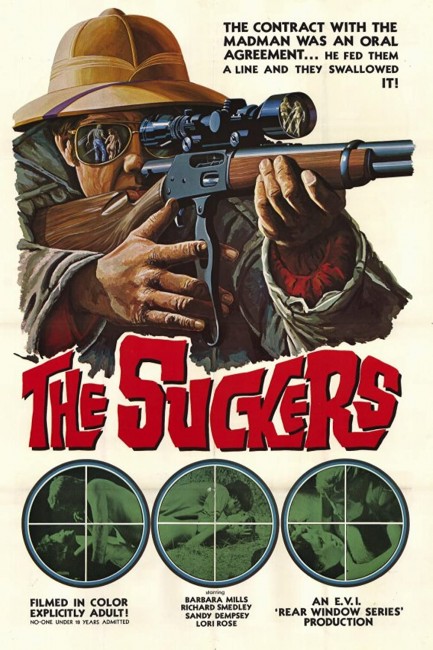 After watching the 1932 hunter-stalks-humans flick The Most Dangerous Game a few months ago we stumbled across a 1972 variation on the theme titled The Suckers. Both movies, surprisingly, were derived from the same source, a 1924 short story by Richard Connell. The Suckers stars Richard Smedley, Steve Vincent, Laurie Rose (aka Misty Dawn), and Sandy Dempsey, and the aforementioned variation is sex. We knew that going in, and we were thinking, hell, this might be fun—a classic pulp story adapted for the sexploitation-happy '70s. But we were wrong. It turns out The Suckers had a $30,000 budget—which is infinitesimal even for a grindhouse flick—and the lack of expenditure shows across the entire spectrum of production, from acting, to staging and blocking, to pacing, to screenwriting and more.
In Connell's short story and the 1932 adaptation the unfortunate guests land on an evil guy's desolate island because their yacht runs aground. In The Suckers, the guests—who are models, an employee of the modeling agency, and his wife—show up voluntarily after being invited. They're soon running for their lives after being told by their host that their sole purpose for visiting is to be stalked by professional hunters. Obviously, there comes a point when they realize survival means fighting back. But they seem unlikely to manage that effectively. Why? Did we mention that they're models? And that the agency guy is a total schlub? Luckily, great white hunter Richard Smedley and his monobrow side with the prospective prey. He's a lardass but at least he has a rifle. With his help, the fashion plates just might make it back to the Garment District alive.
Even though The Suckers is a sexploitation movie, we expected the ratio of skin to action to be roughly equivalent, but the hunting scenes take up only about twenty minutes, while sex consumes about thirty minutes, a couple of sexual assaults take about ten, and bad dialogue fills out the rest of the running time. Except for one sex scene that manages to get pretty steamy the movie is a waste of all those aforementioned minutes. The film's main value, to us anyway, is as an example of what we're referring to whenever we point out that it wasn't just Japanese studios that explored unsavory themes during this period. The difference is those films were artfully made. The Suckers is just gratuitous and haphazard. Its failure is probably why it was later released as The Woman Hunt—because a certain segment of the male population would see it based on that title alone. Those who did were—you guessed it—suckers.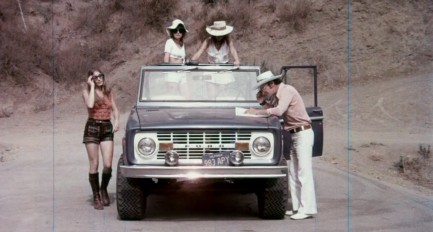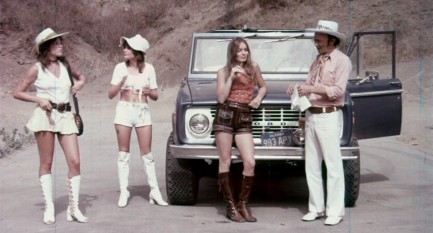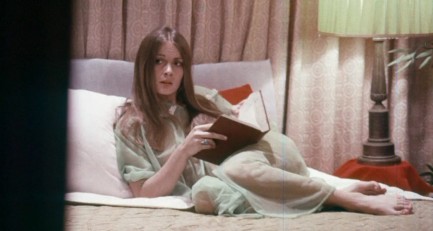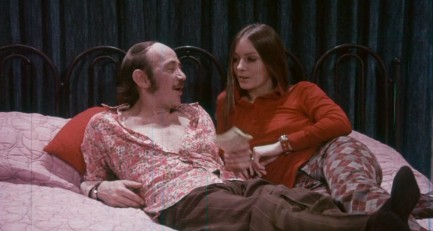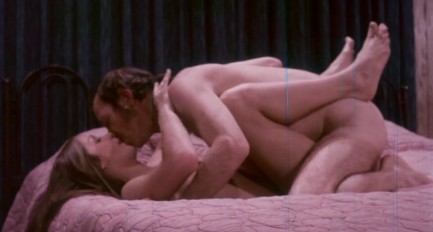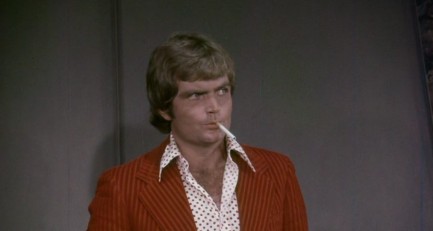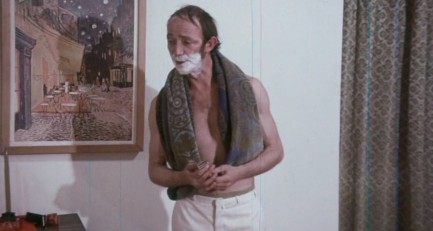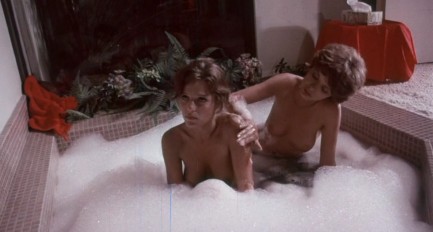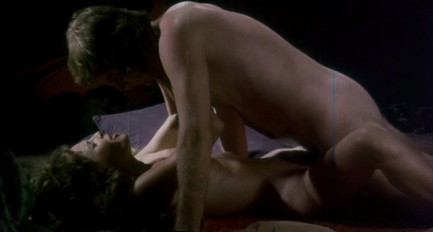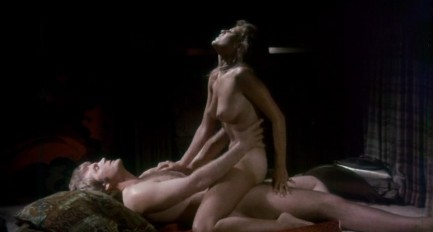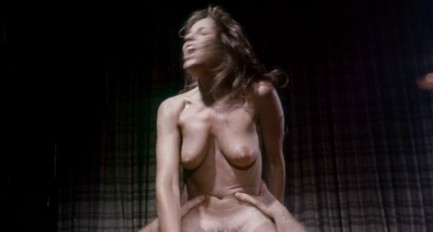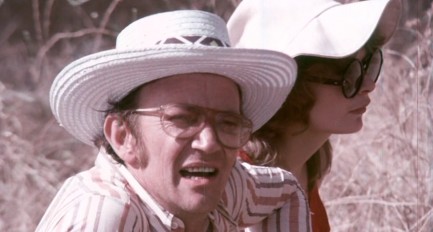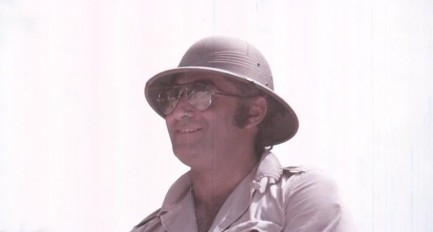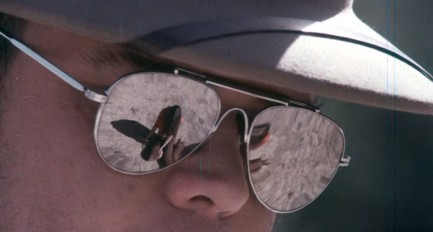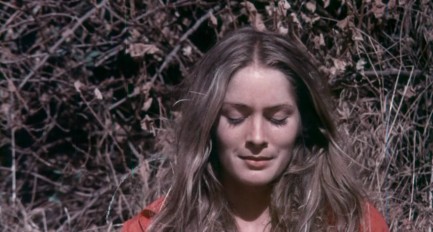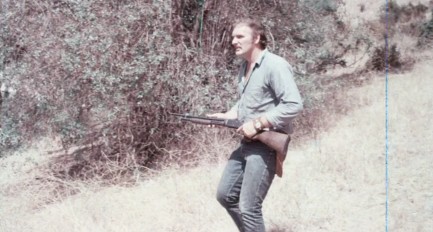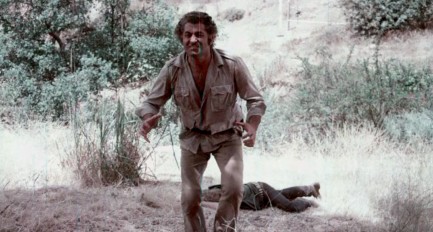 ---
Not only do they bite—the movie does too.
We're pretty brave when it comes old sexploitation movies, but this one was really, really, really, really bad. Four students from some sort of adult girls school are raped one night when they're out on the town and afterward they decide to fight back. They take martial arts, learn to shoot, dress up in black leather jackets (but virtually nothing else), hit the streets and beat the living shit out of the guys that attacked them. Revenge whets their appetites and, naming themselves the Black Alley Cats after their leather gear, they become urban vigilantes. There's more to it—for instance a subplot involving illicit porn movies—but really the production is such a mess it seems rudderless. In tone it's like a Japanese pinku flick, but not cleverly scripted, choreographed, shot, or edited.
However, there are a couple of things of note here: first, this may be the earliest reference to MDA in a motion picture, and yes, they're talking about ecstasy, or MDMA, which was synthesized in 1910, made illegal all over the planet around 1970, became a popular party drug in the late 1980s and remains so today. Second, there's a lot of muff on display here, both male and female. We differ at Pulp Intl. about muff. With respect to the female variety, one of us loves them, and the other doesn't. But since the one who loves them is actually writing this entry, I'll just mention that pubic hair is natural, which makes waxed or lasered pubes a fetish, not the other way around. Just getting that out there.
Anyway, Black Alley Cats is grindhouse of the rawest variety. It was originally rated X, and presumably still bears that designation. In a rational 2013 it would be re-rated an R, but that'll never happen because nothing terrifies the greyhairs at the various ratings agencies around the globe like a visible black penis, and a big one at that. So X it is, which
means you can probably forget about getting the movie in your Netflix queue. But maybe that's just as well.
Black Alley Cats
has some enjoyable aspects—notably Sunshine Woods, a supporting cast of hilariously irredeemable male sleazeballs, and those spectacular bushes (did we mention Sunshine Woods?)—but otherwise this is not a great effort. We have some murky stills below with actual—not made up—lines of dialogue. The movie premiered in West Germany under the English title
Black Cats
today in 1973.

"The third technique will be snatching the groin, destroying the groin, reaching in, ripping away.
Ready? RIP!

"
"No, don't stop. Keep licking me."

"Rub his body. You've always wanted to touch a black man."

"Take your panties off. You're not going to need them tonight."

"What the fuck are them honky bitches doing here?"

"At least they don't cheat food money from their own people."
"That motherfuckin' son of a bitch. What in the hell kind of doctor is he?"

---