Her invasion didn't quite work out as planned.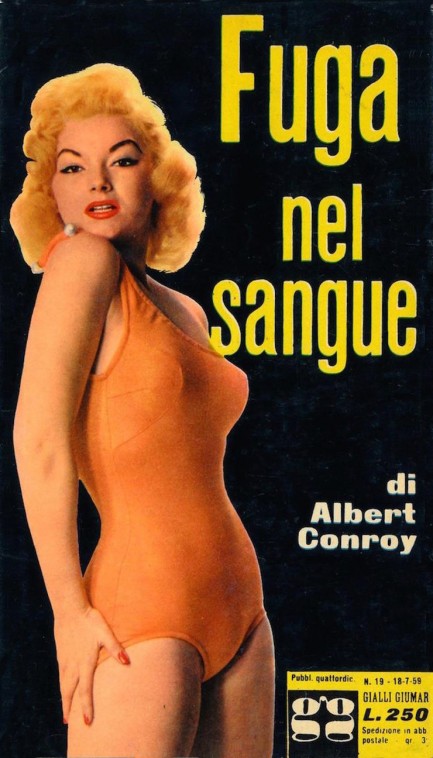 The list of old publishing houses from around the world that borrowed photos of actresses for their covers continues to grow. Discovering these books decades later often means finding incredibly rare shots of women who weren't well known when their images were used, but who later became big stars. This cover for Albert Conroy's, aka Luigi Amerio's Fuga nel sangue from Edizioni Giumar in 1959 features Shirley Kilpatrick. She wasn't one of the ones who later became a big star. We have a feeling her title turn in 1957's sci-fi megabomb The Astounding She-Monster ruined that dream. It was her only credited film role, which just goes to show that no place is harder to conquer than Hollywood. But we love Kilpatrick anyway, and this is a great shot of her. See others here.


---
Looks like she forgot to wear something green.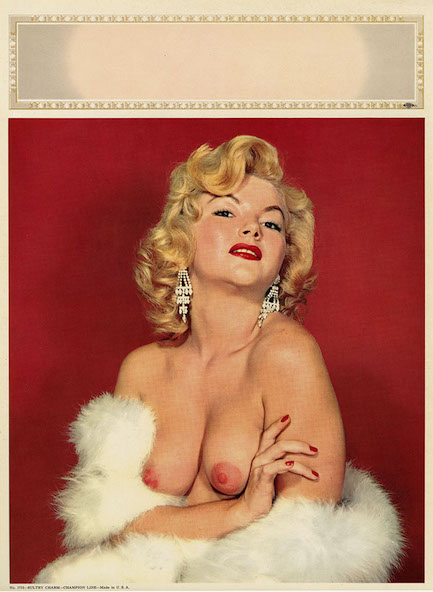 This Champion Line Technicolor lithograph entitled "Sultry Charm" features U.S. model Shirley Kilpatrick getting cuddly with a fur wrap. Kilpatrick was featured in pretty much every men's magazine of her era, in a decade-plus appearing sexily clothed or nude in Caper, Gent, Scamp, Bold, Frolic, Stare, Gala, Tempo... Really, just make up a name and at some point it was probably a magazine and she got naked in it. Or semi-naked. Her heyday was during the pubic-hair-is-obscenity era. In recent years, though, sets of full nudes have been unearthed, and guess what? She doesn't show pubic hair in those either. Ahem. But while the photos are nice, we appreciate Kilpatrick most for playing the she-monster in The Astounding She-Monster, a cheeseball sci-fi b-picture from 1957 that gave us a considerable amount of enjoyment. It's a terrible movie, make no mistake—but in that good terrible way. Kilpatrick, on the other hand, is just good good.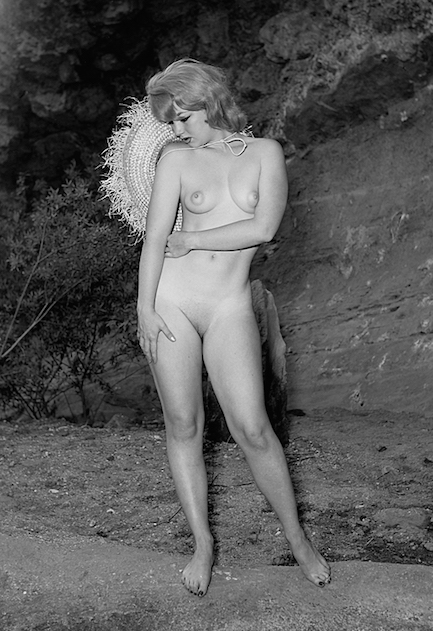 ---
Greetings, humans—take me to your leading erotic dancing establishment.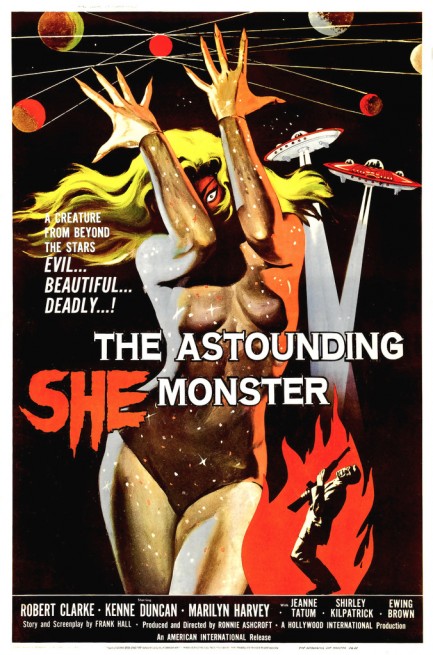 This poster for The Astounding She-Monster is beyond a doubt one of the best mid-century sci-fi promos ever. The illustrator Albert Kallis was responsible for numerous top notch works like The Brain Eaters and Terror from the Year 5000, but we think this one is his masterpiece. We'll get back to him a bit later.
As far as the movie goes, the plot is simple: an alien that looks a lot like nude model Shirley Kilpatrick in a zipback jumpsuit lands on Earth and crosses paths with a group of kidnappers, who with their hostage have invaded a geologist's house. Though Kilpatrick is wardrobed like a stripper or go-go dancer, the filmmakers have a serious goal, which is to show how a celestial emissary immediately sees humans at their most basic—in pointless conflict. When the She-Monster is forced to defend herself she does so, like all strippers do, with her lethal radioactive touch.
This effort from American International Pictures is '50s sci-fi at its worst yet most earnest. The underlying anti-nuclear, anti-violence messages are laudable, but undermined by an $18,000 budget and a four-day shoot rife with terrible execution and unintentional comedy. The stock bear footage alone will have you rolling your eyes. And Marilyn Harvey screaming in panic...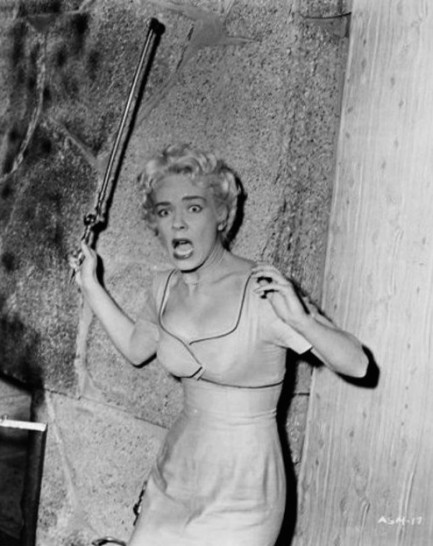 ...as she bolts out of the geologist's house is such a funny sight we had to watch it over and over. We're talking fall-on-the-floor hilarious. Even so, when is the last time you saw an anti nuclear movie? All these cheesy peacenik flicks from the '50s and '60s cared, which makes them—in that way at least—far superior to most of the cynical films being produced today. The Astounding She-Monster premiered this month in 1957.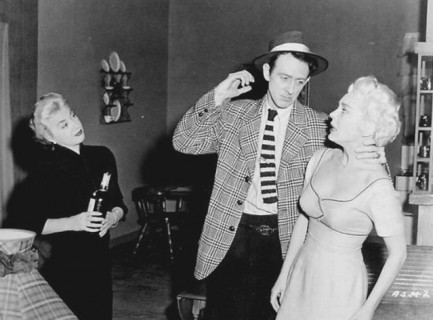 I call this the dreaded claw.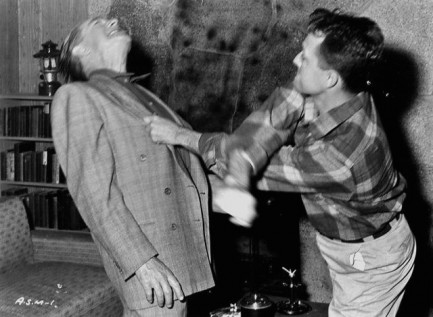 Oh yeah? I call this the dreaded fist!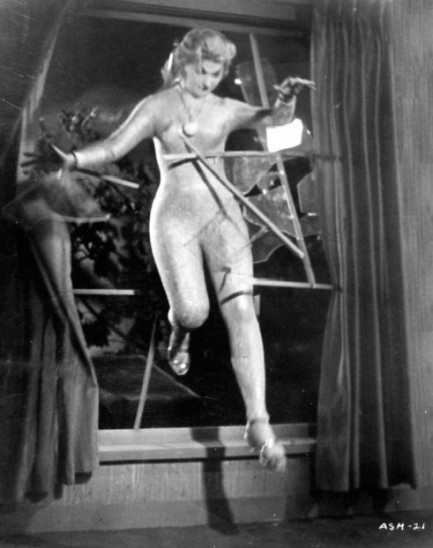 Does anyone want a lap dance?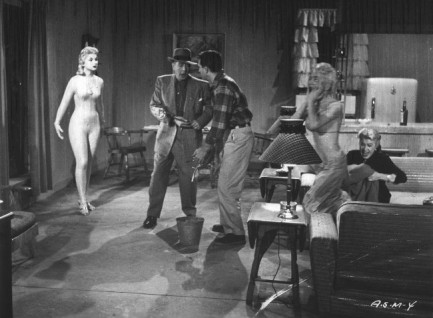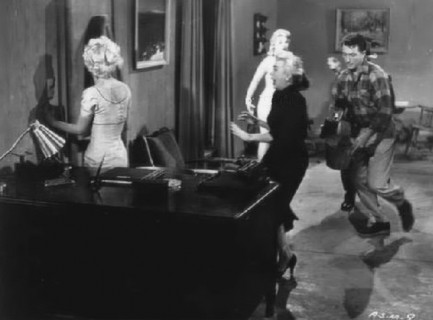 Oh my freaking God! Let's get the fuck out of here!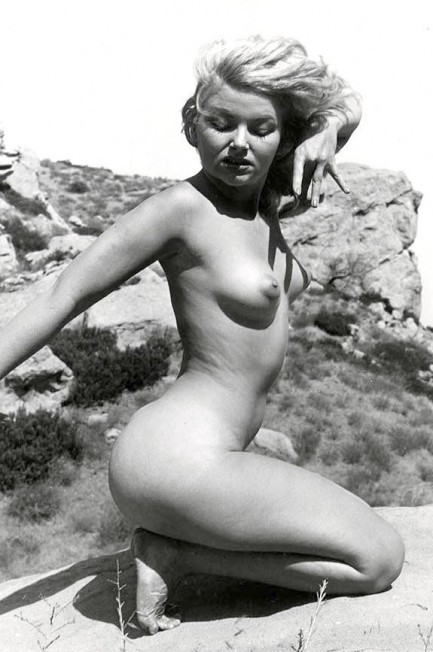 Kilpatrick, during calmer times, catches some rays and practices making creepy space hands.

---